Thank you to Serena & Lily for their partnership on today's post! All thoughts and opinions are, as always, my own.
I've talked about my love for our Serena and Lily Riviera dining chairs and counter stools for a few years now, and if you've been around here a bit you know I praise them for their durability with kids! I wanted to give them the highlight they deserve on the blog here because I truly love these chairs SO much, especially with a young family. We've owned these chairs for over 3 years and I have ZERO regrets in making the purchase. Keep reading to see why!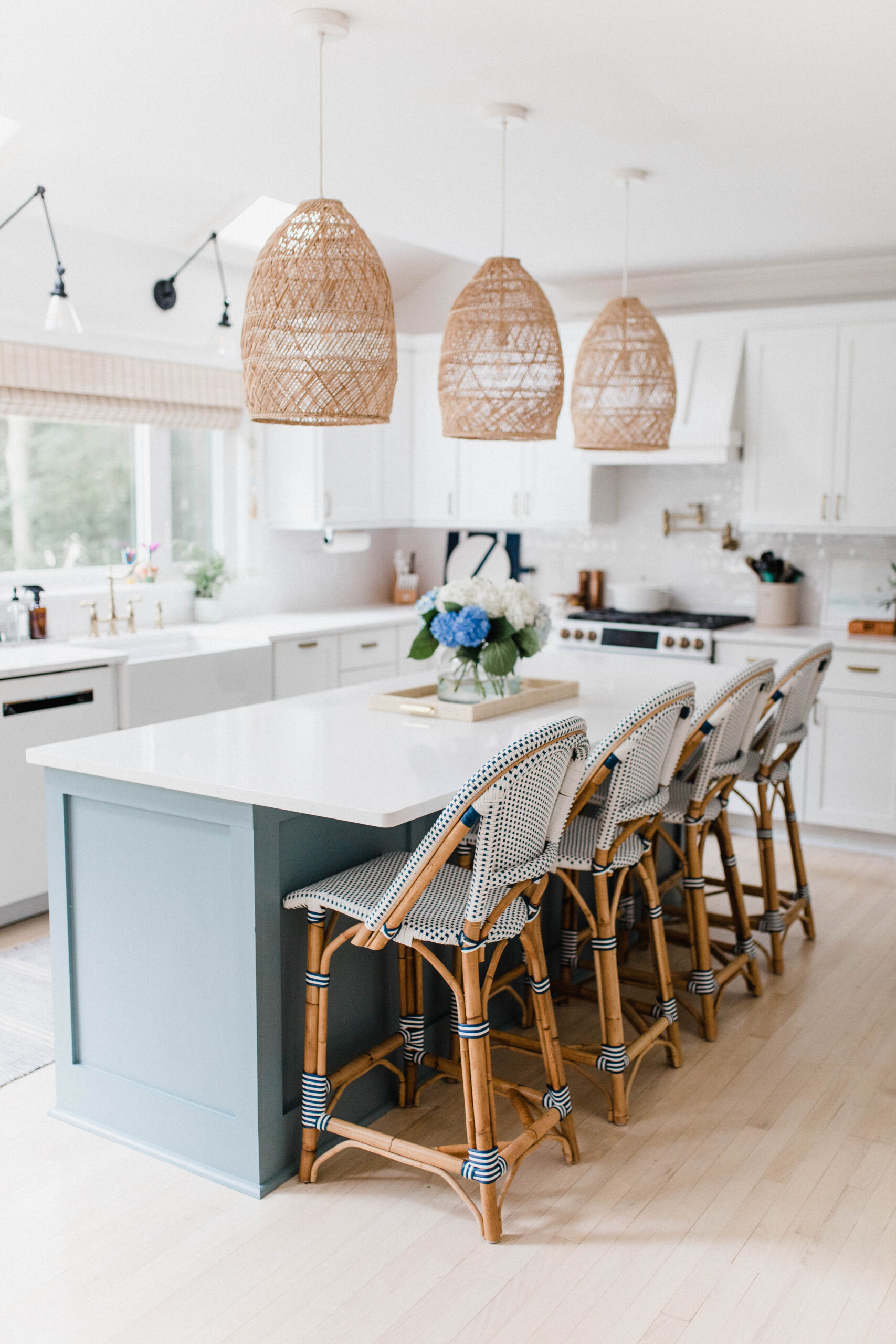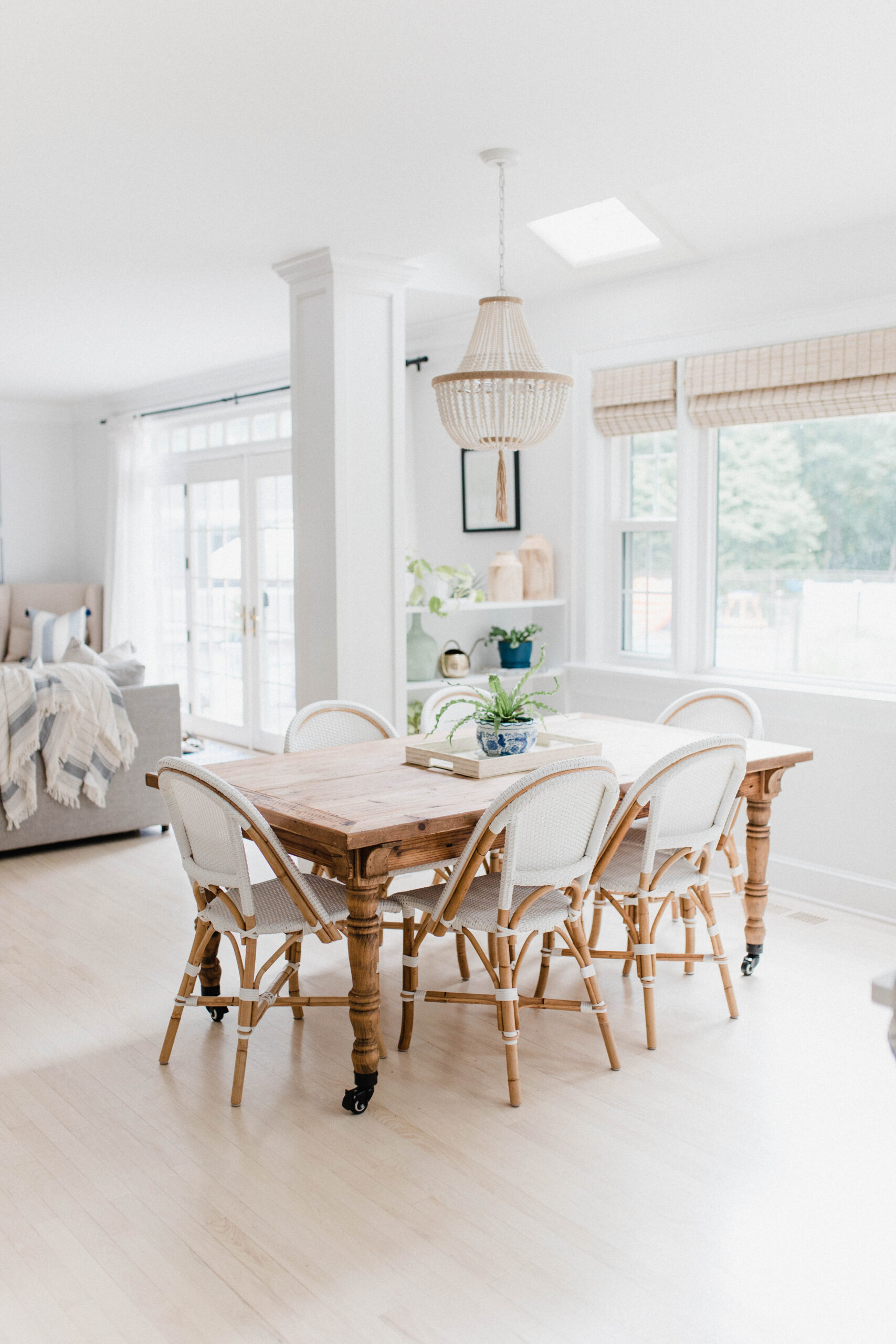 Fabrication
The Serena and Lily Riviera chairs are Parisian-inspired bistro chairs crafted with sustainable rattan and lightweight resin. I was drawn to the contrast of the natural rattan wood with the bright white resin, and loved the statement they make in our dining space. We added the Riviera navy and white counter stools 2 years ago, and then an additional 2 for our kitchen island when we moved into our new home. I truly feel they make the space – the whole vibe of these chairs feels so relaxed and airy. Our home has a coastal, beach-y vibe, and I feel like they fit that style so perfectly.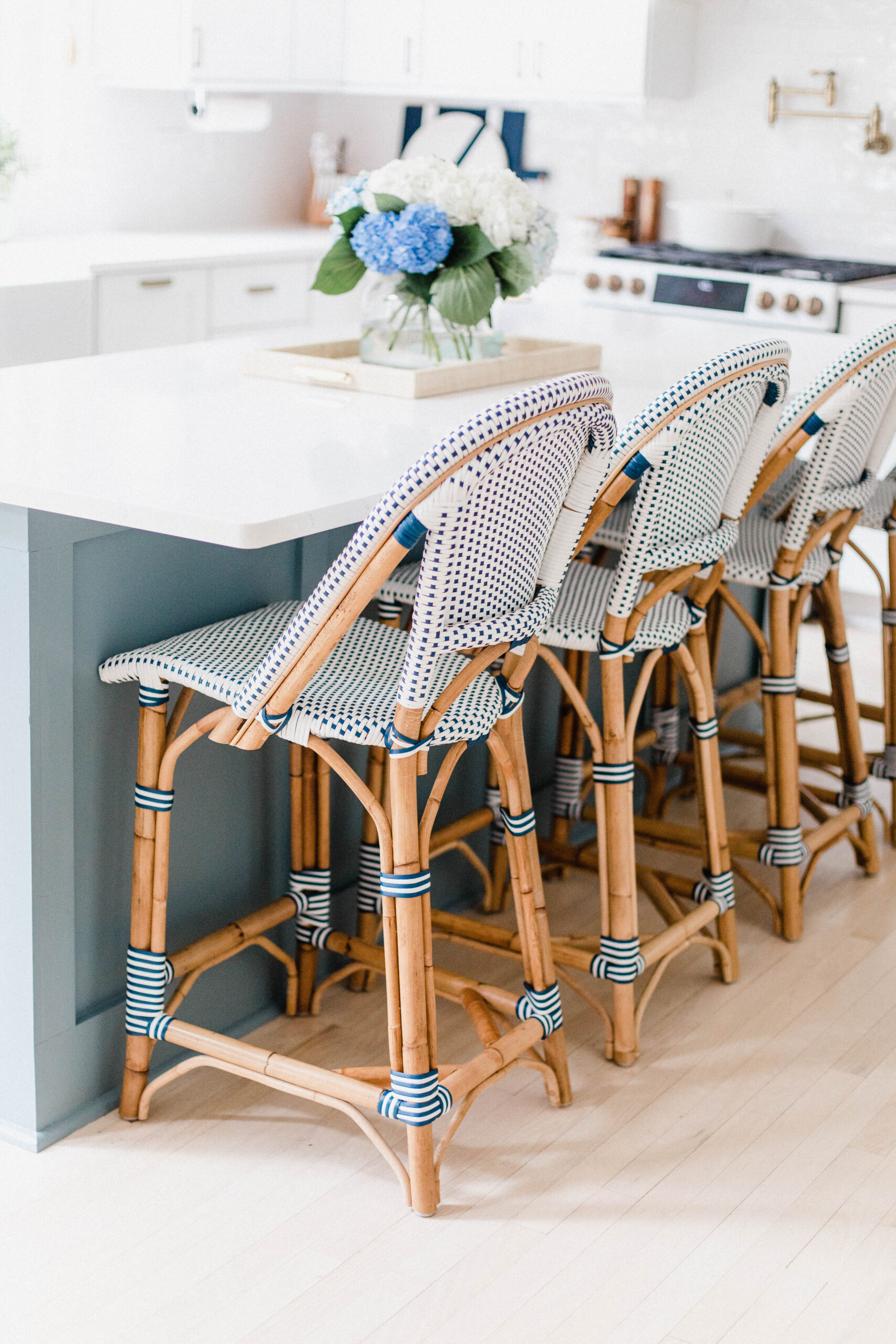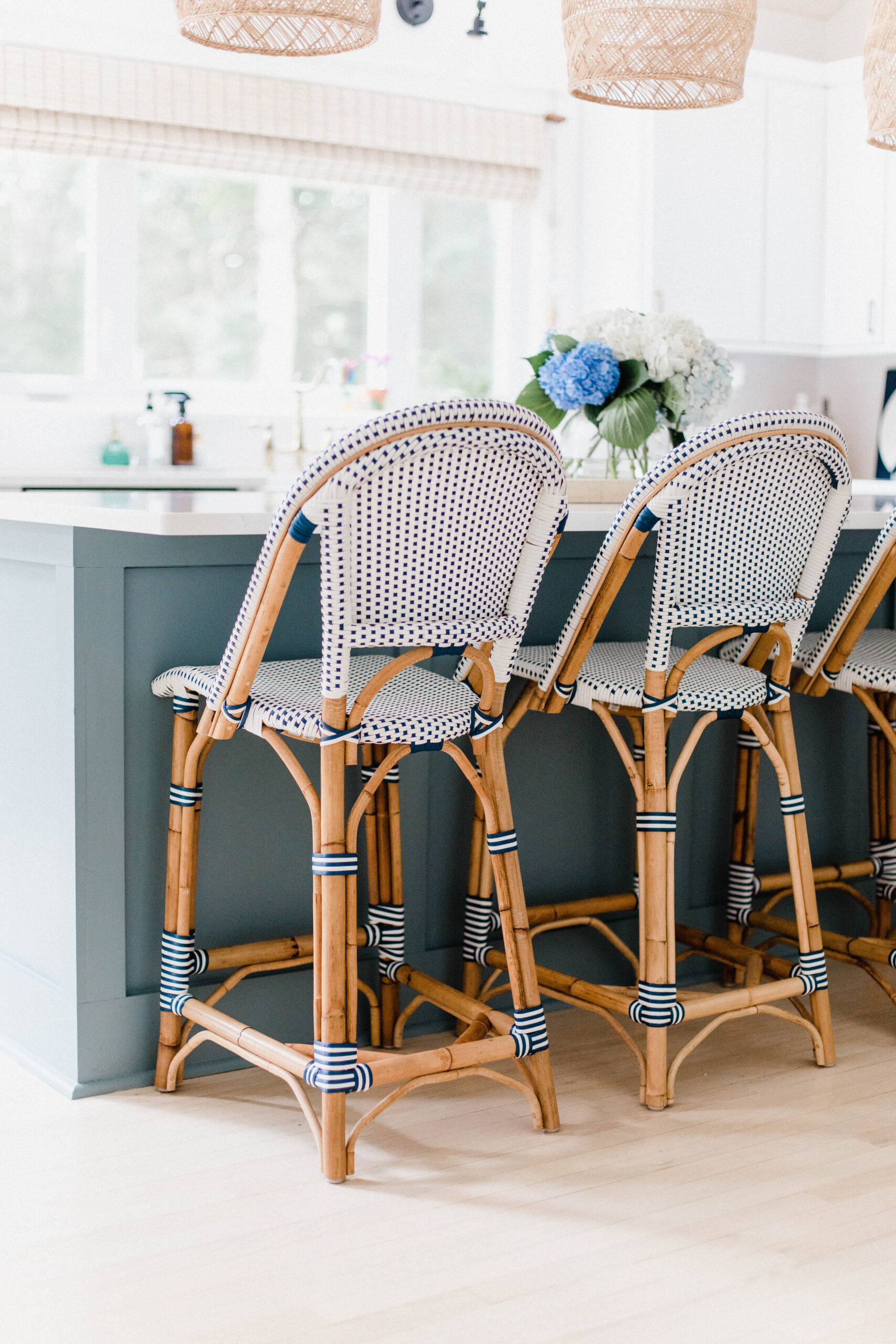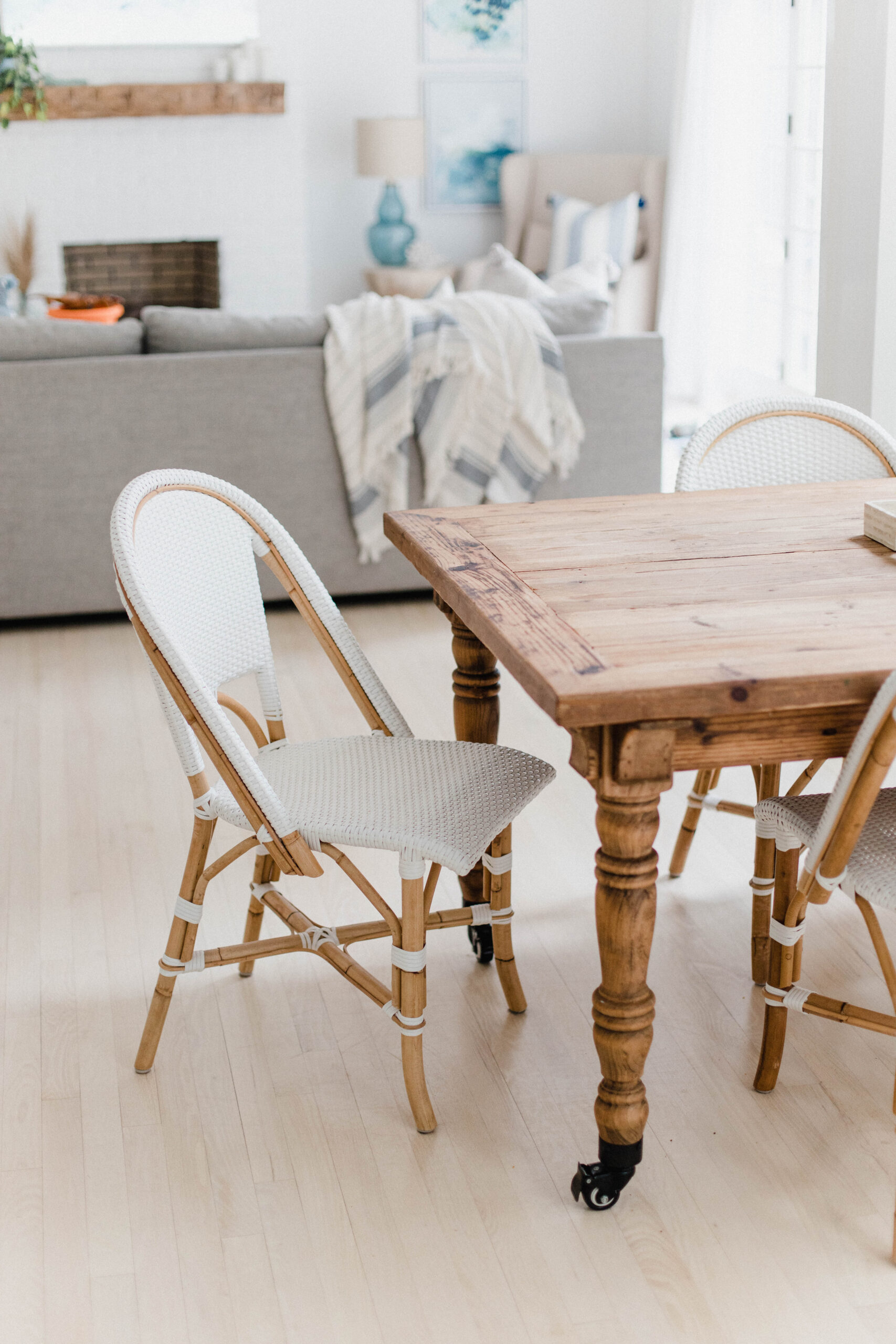 The rattan is hand-bent and hand-shaped, which gives it this beautiful, organic look. The woven lightweight resin seat makes it INCREDIBLY durable and family friendly because they are SO. EASY. TO. CLEAN. Yes, you heard me! I will choose the Serena and Lily Riviera chairs over fabric chairs any day because I can easily wipe and brush out anything my kids manage to stuff in between the crevices. They clean in a snap! I love how the resin is woven together and wrapped around the rattan for this truly gorgeous look. Each chair is a work of art in itself!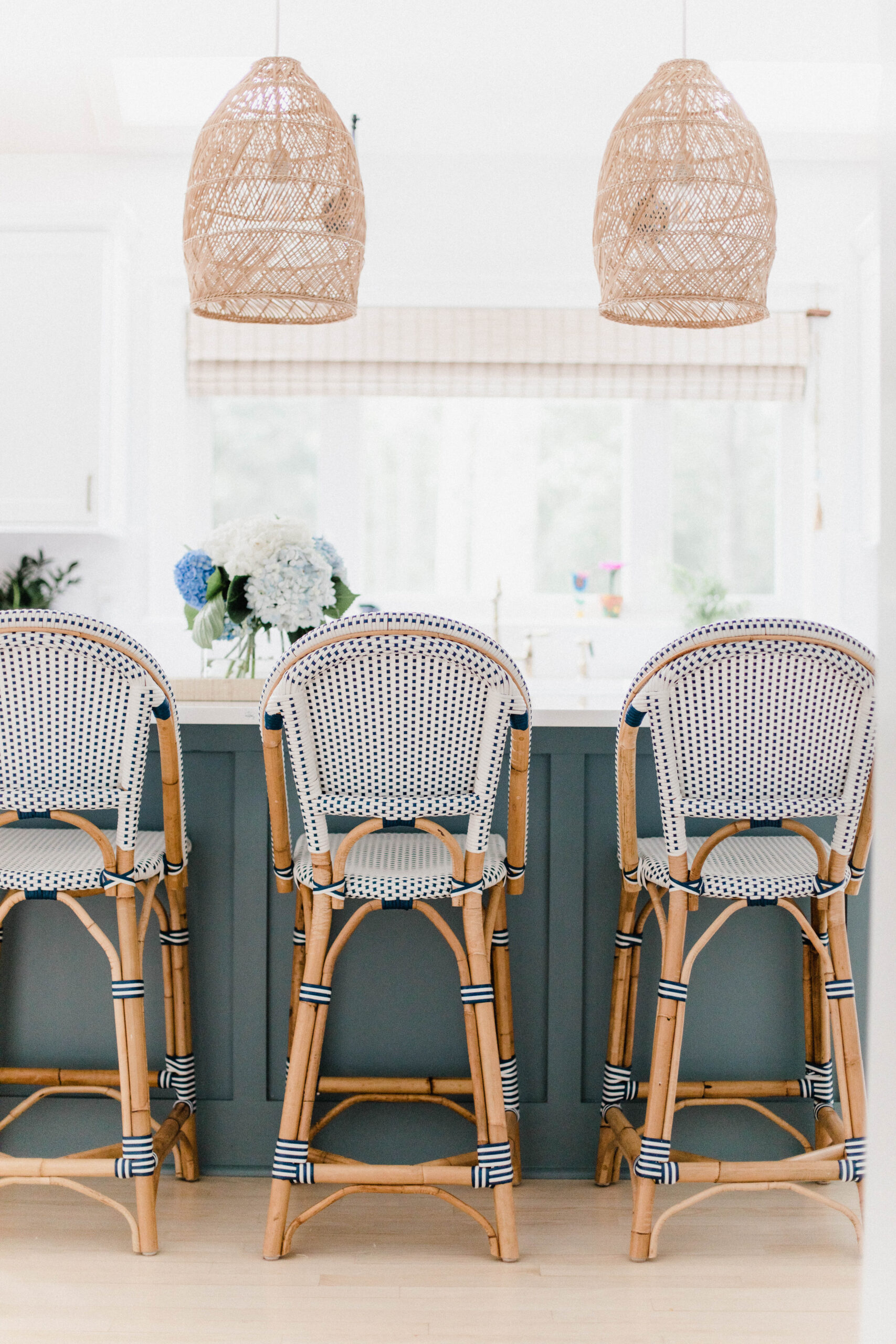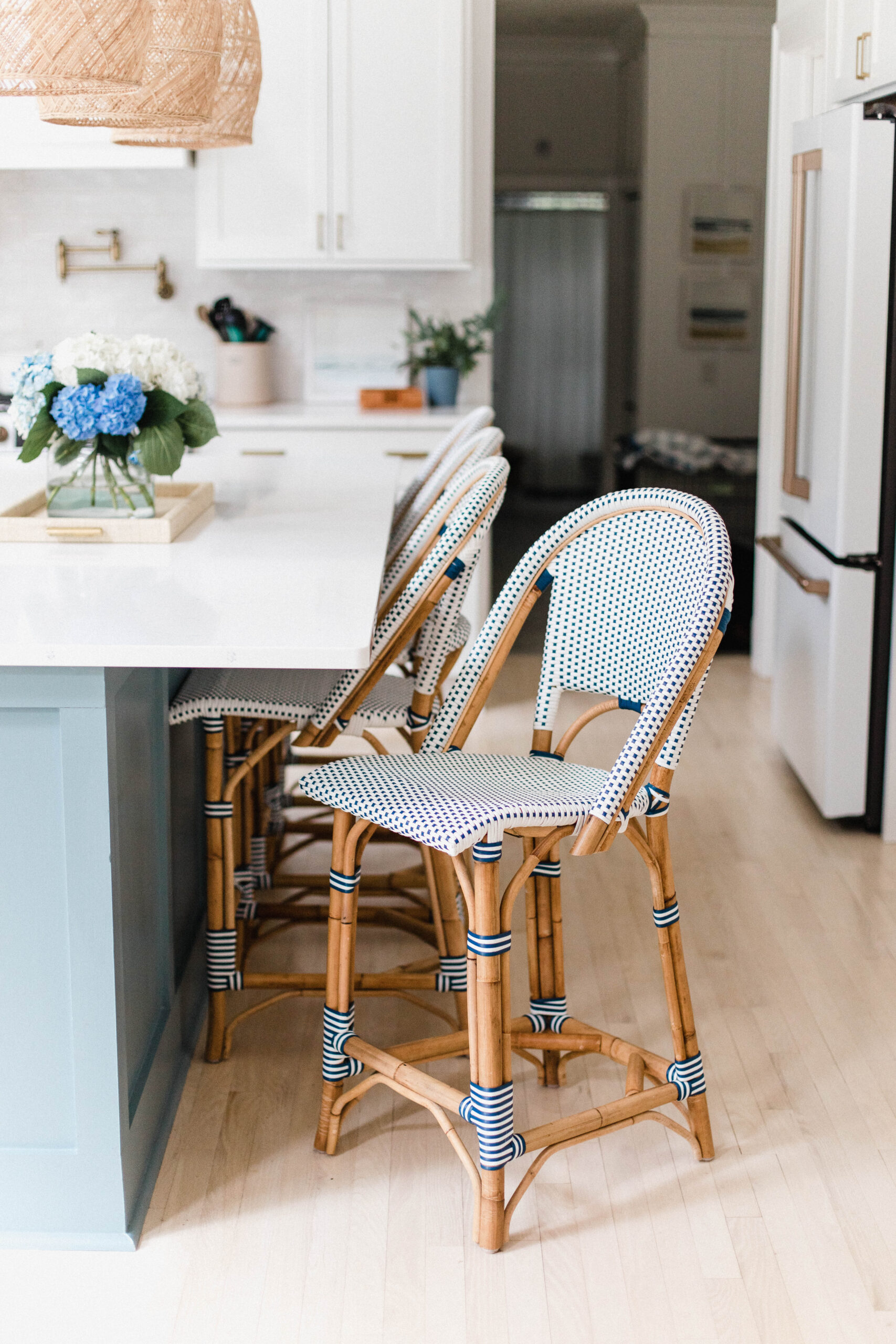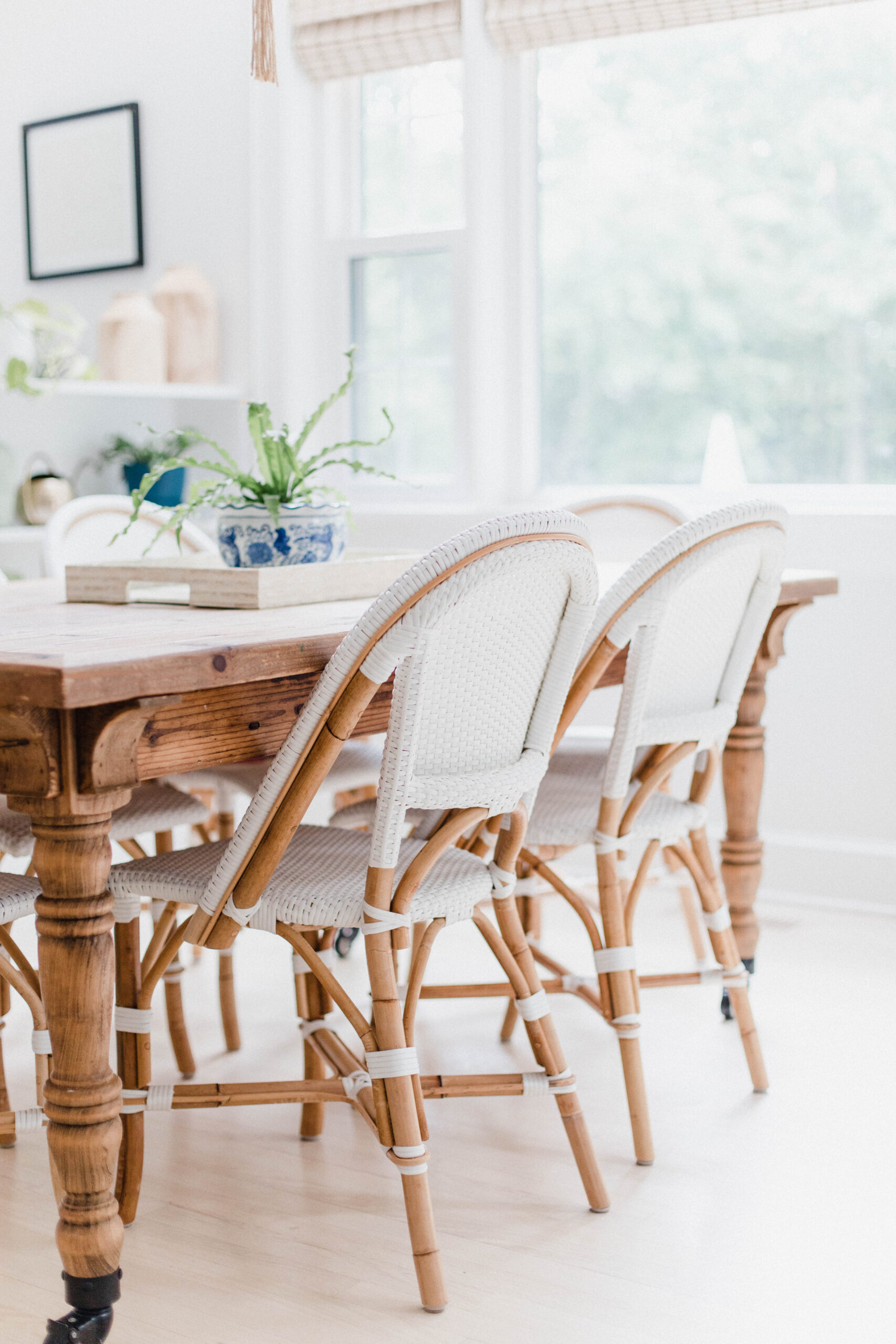 Durability, Cleaning, and Comfort
My trick for cleaning the seat of these chairs is to use a little scrub brush. It helps remove any food (or play doh..kids!) that's stuck! I've spot treated spaghetti sauce stains on our white dining chairs with zero issues as well. Otherwise, I just wipe them clean! They are incredibly family friendly for this reason. These are indoor only chairs, and I do try to avoid any wetness from staying on the rattan portion (for instance…I won't hang a wet towel on the back of the chair). I just want to preserve their beauty for as long as possible because I love them so much.
Not only are they easy to clean, but they're comfortable! They're a substantial size and can hold up to 300lbs. We have the Riviera Dining Chairs in white as well as the Riviera Counter Stools in navy and white. Both are used daily by our family and whoever is visiting as they are in the main areas of our home. My kids push them in and out daily, sit on them, have stood on them (before I nipped that in the bud for safety reasons), built forts with them, sat on them for arts and crafts, and so much more. Zero issues whatsoever!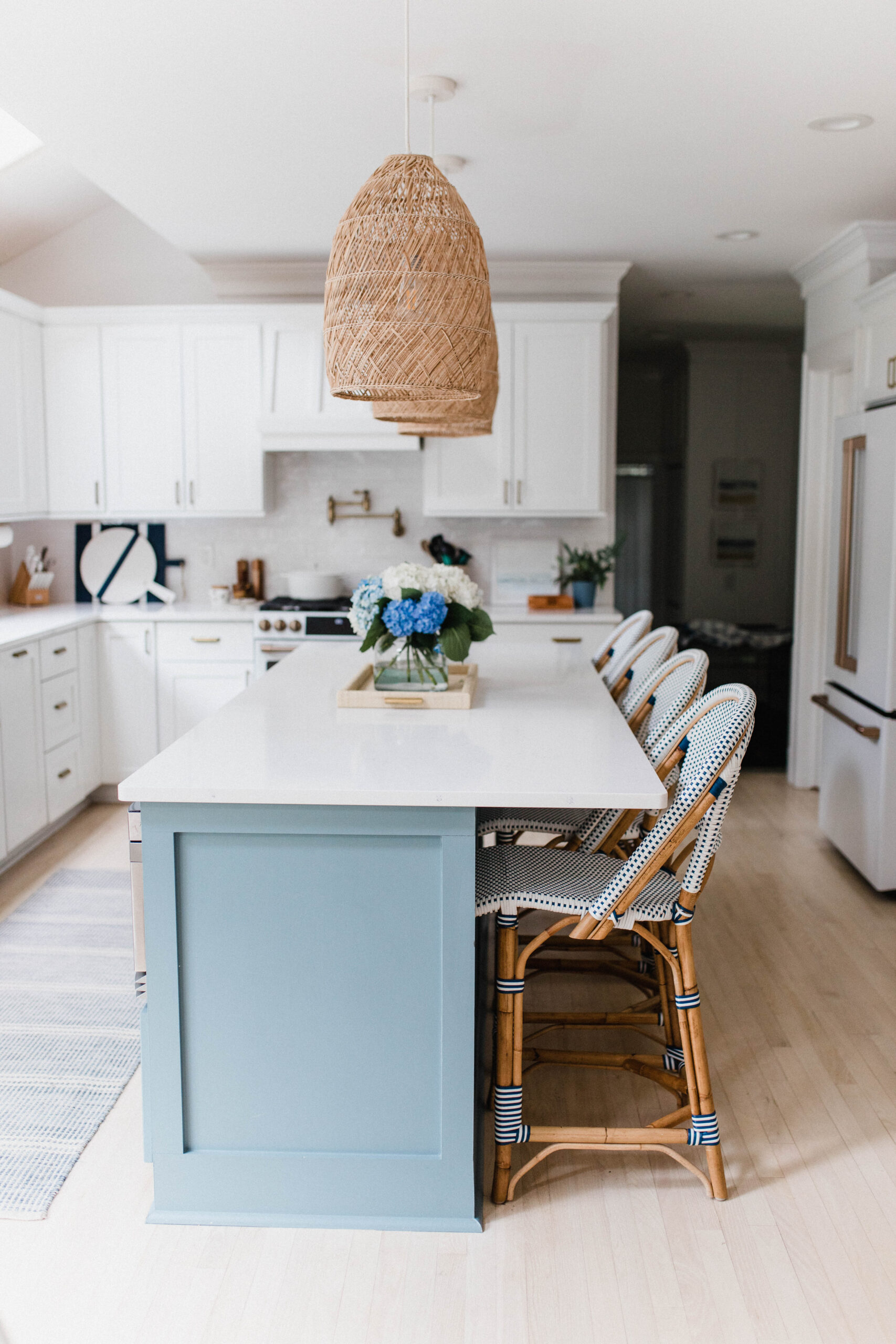 How They Compare
Our previous chairs were painted, and therefore had quite a few chips from being bumped and from the high chair (when we were using one). I love that I don't have to worry about that with these chairs. They've held up significantly better than our previous dining chairs, which makes me have zero regrets in the investment. They're also just SO pretty to look at. The Riviera collection comes in a variety of colors (their sunwashed collection is also stunning!) and I truly believe there's a color for everyone.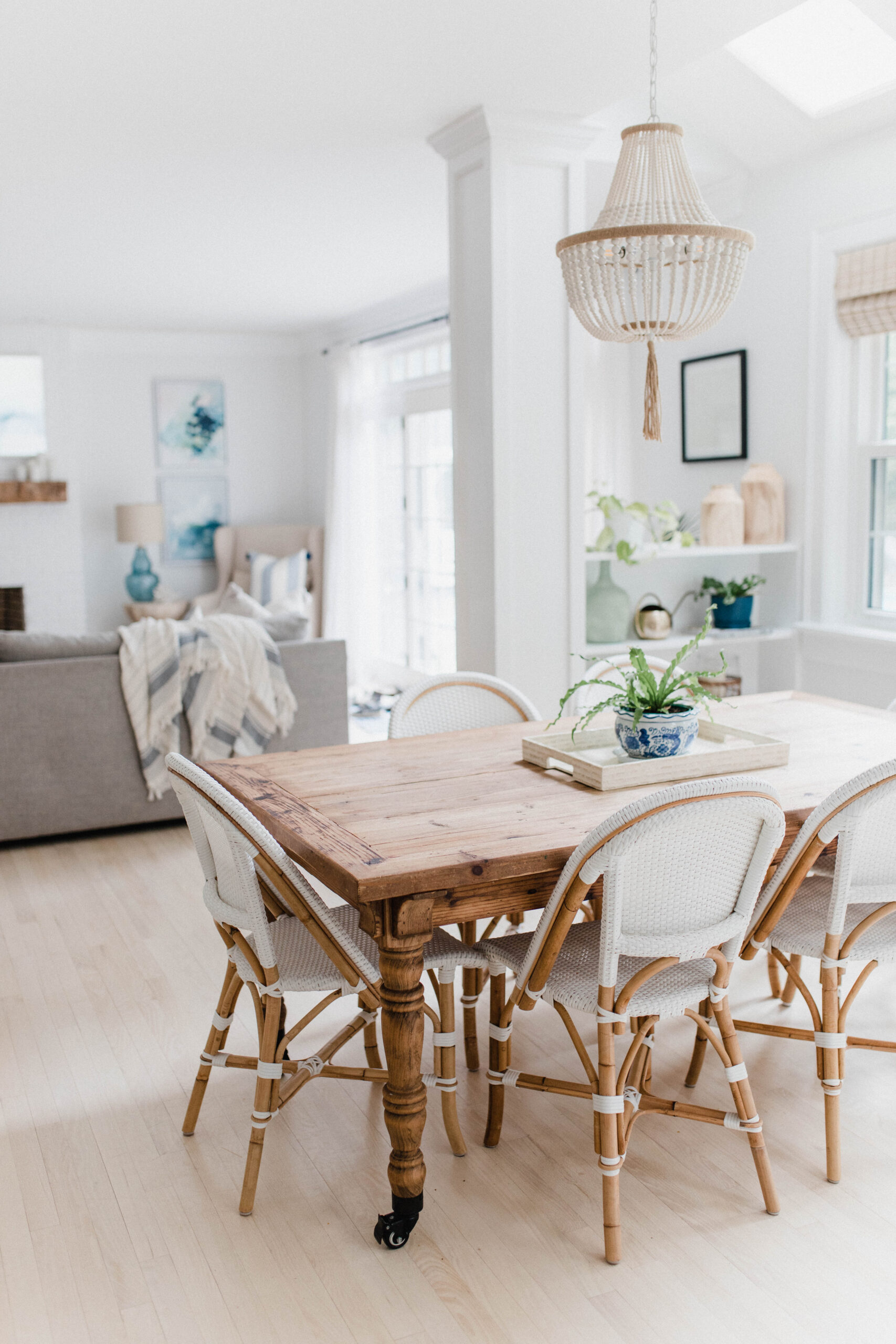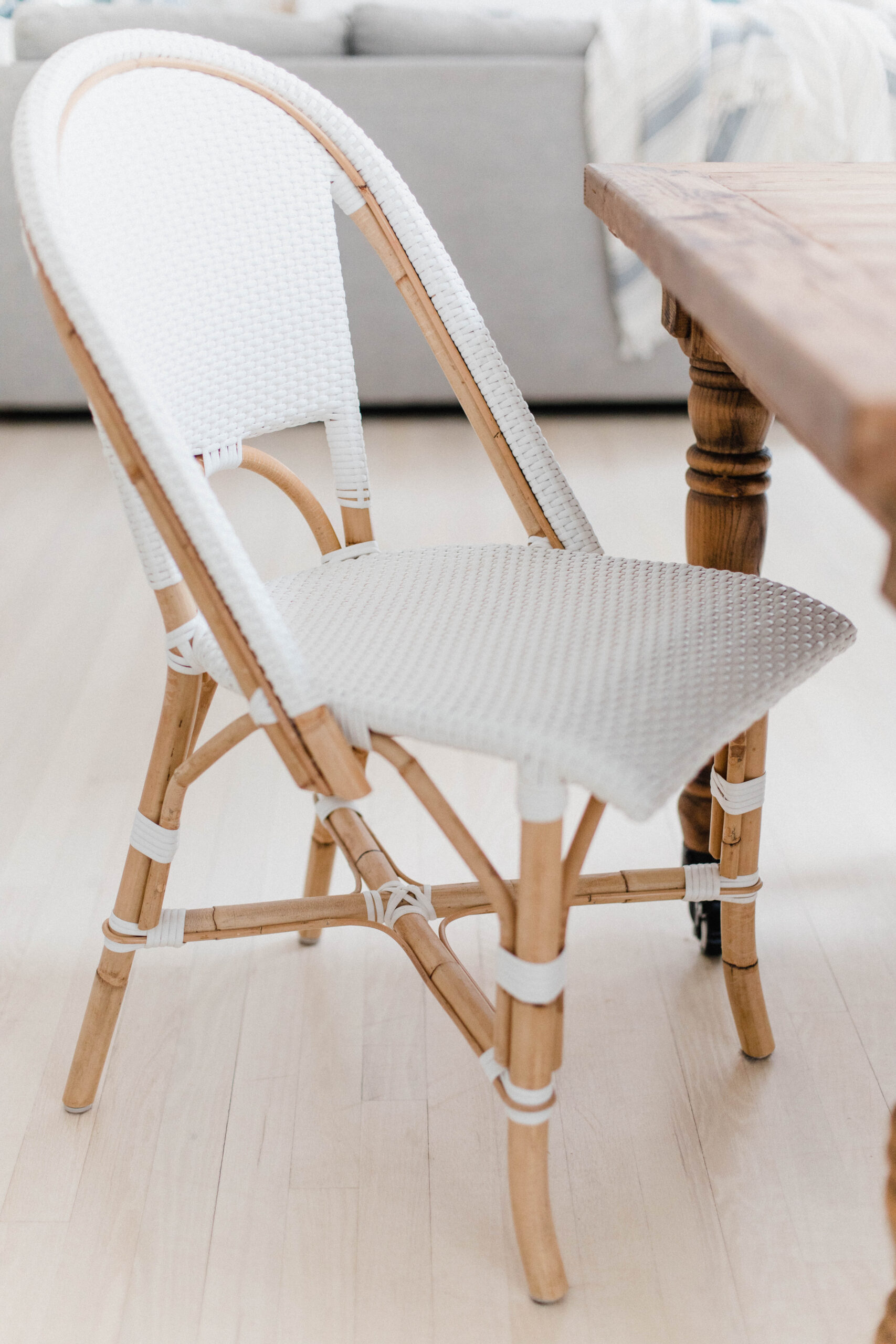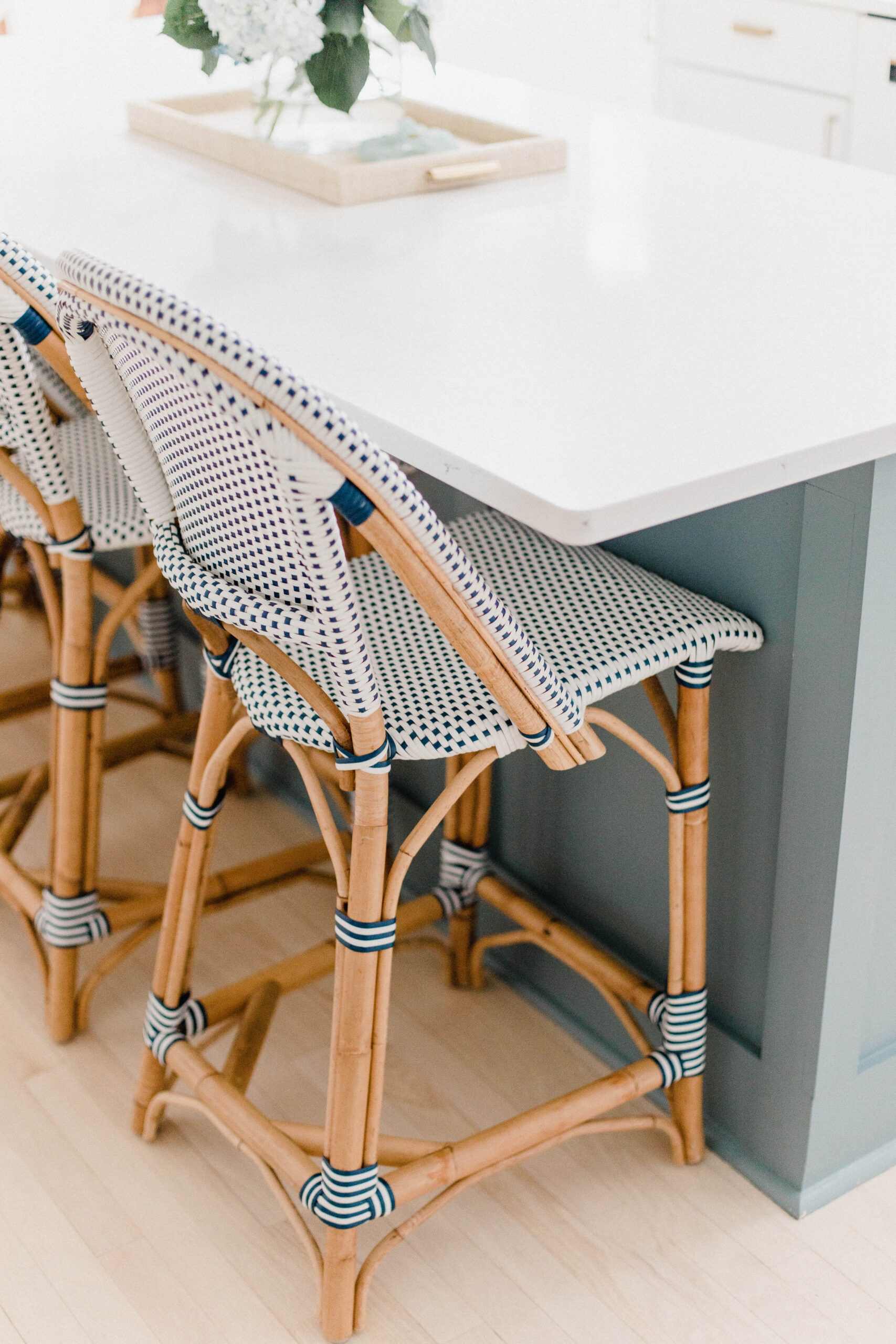 Our Chairs Over the Years
My favorite part about our Serena and Lily Riviera chairs is the memories we've made in them. They are the chairs we sit in for family dinners. The chairs we host holidays in. The chairs we sit on when we have friends come hang. The chairs we celebrate birthdays in. So while they're obviously beautiful, they're so much more than just a chair. I love that they've held up through so many memories so far with so many more to come. And that's why I love Serena and Lily. I know their gorgeous pieces will hold up over the years as our family grows and grows.
Here are some past photos of the chairs!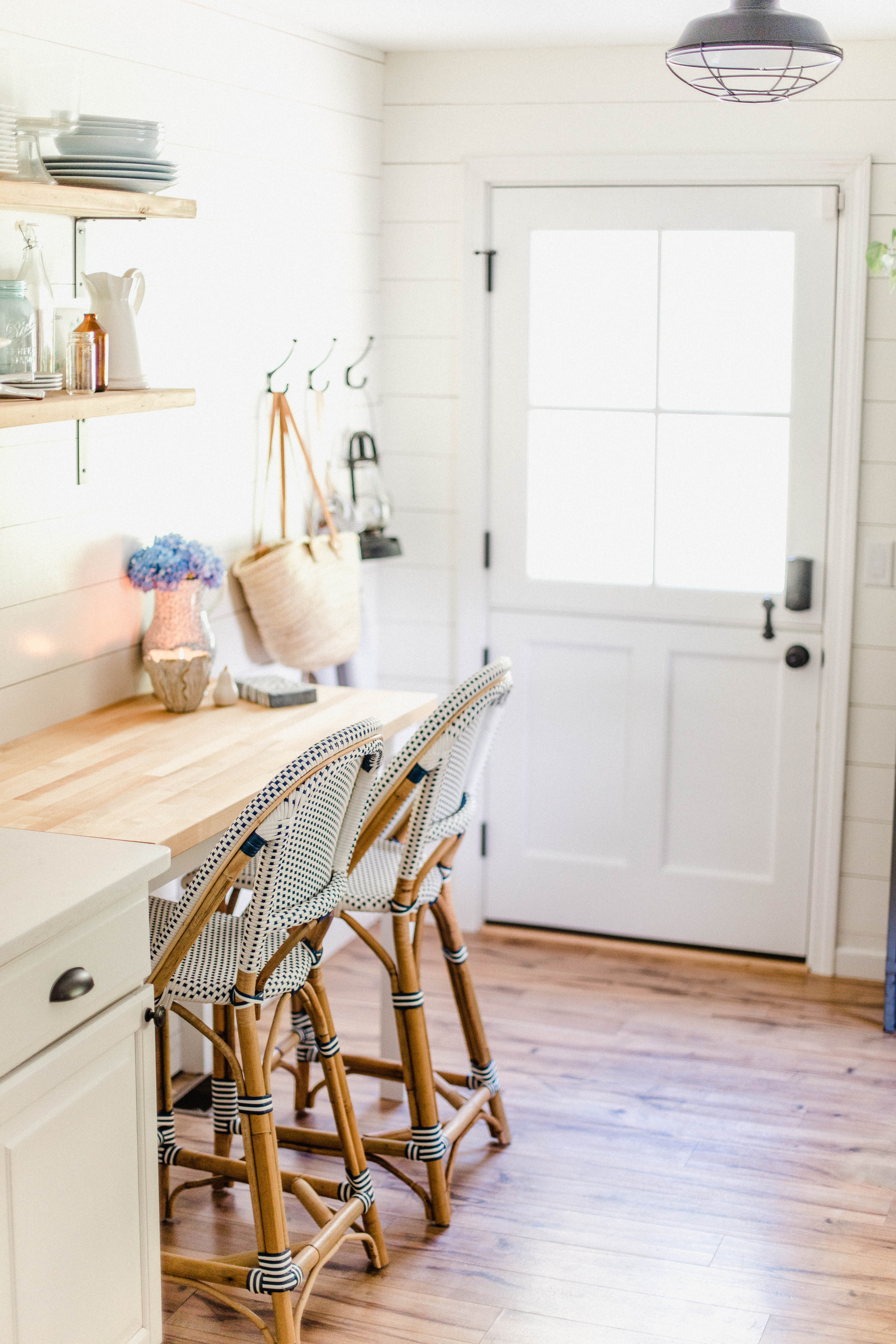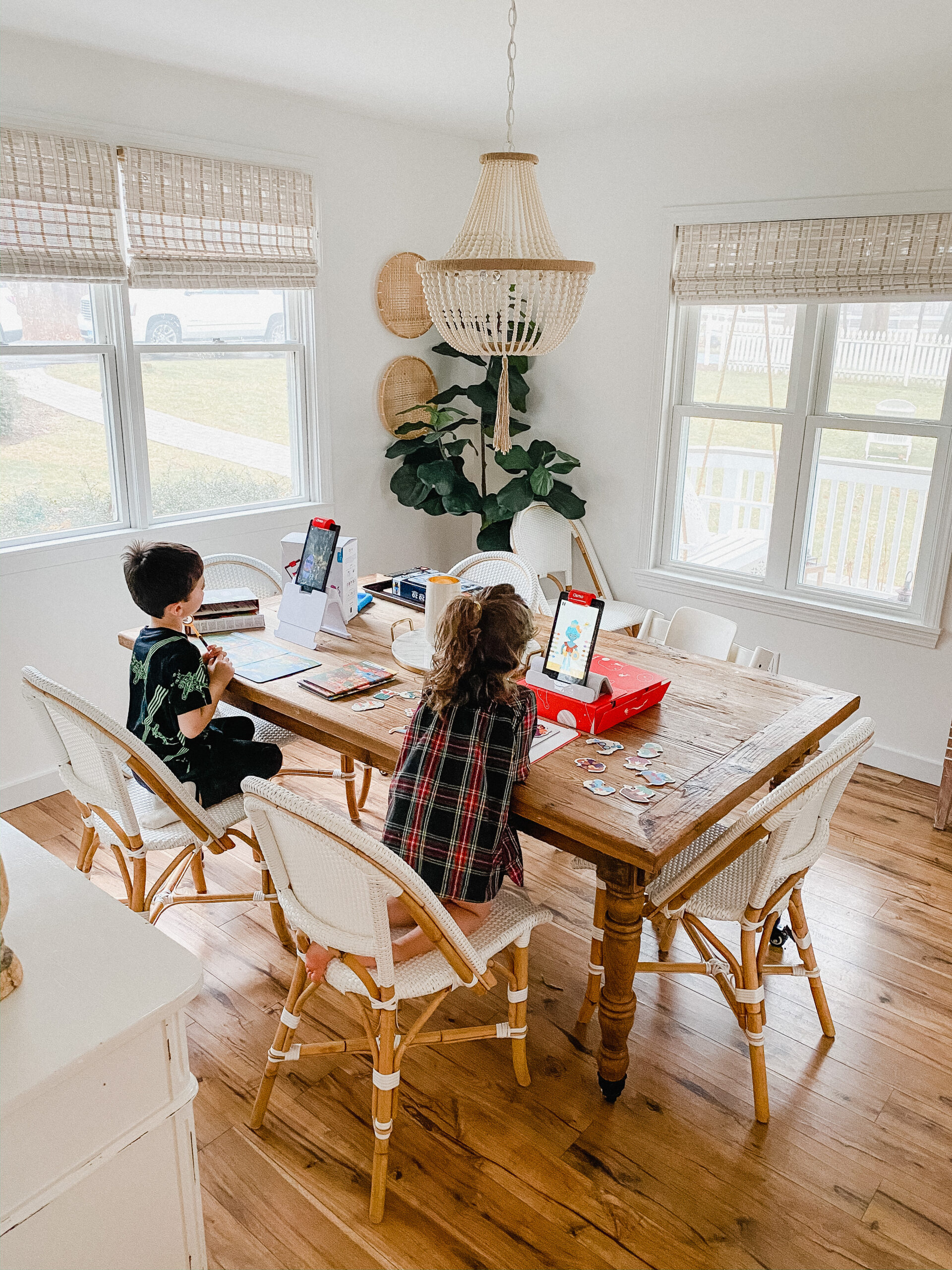 If you can't tell, my love for these chairs runs deep! But I'm truly convinced they are the BEST chairs ever, haha! I fell in love with them so long ago, and I'm so glad they've met my expectations over the years. I literally have ZERO negative things to say about them after living with and using them for this long. If you've been considering the Riviera dining chairs or counter stools, I can assure you there will be no regrets!!
Shop the Riviera Collection below