I cannot believe the transformation this mudroom and bathroom has gone through! Everything is finally complete, and I'm so thrilled to show you the final product. Before I get into all of the details of our modern coastal mudroom and bathroom, let's look at the before of the space! It's a great size mudroom, but we wanted to make it more functional for our family (and also be able to hide all the jackets, backpacks, and more!)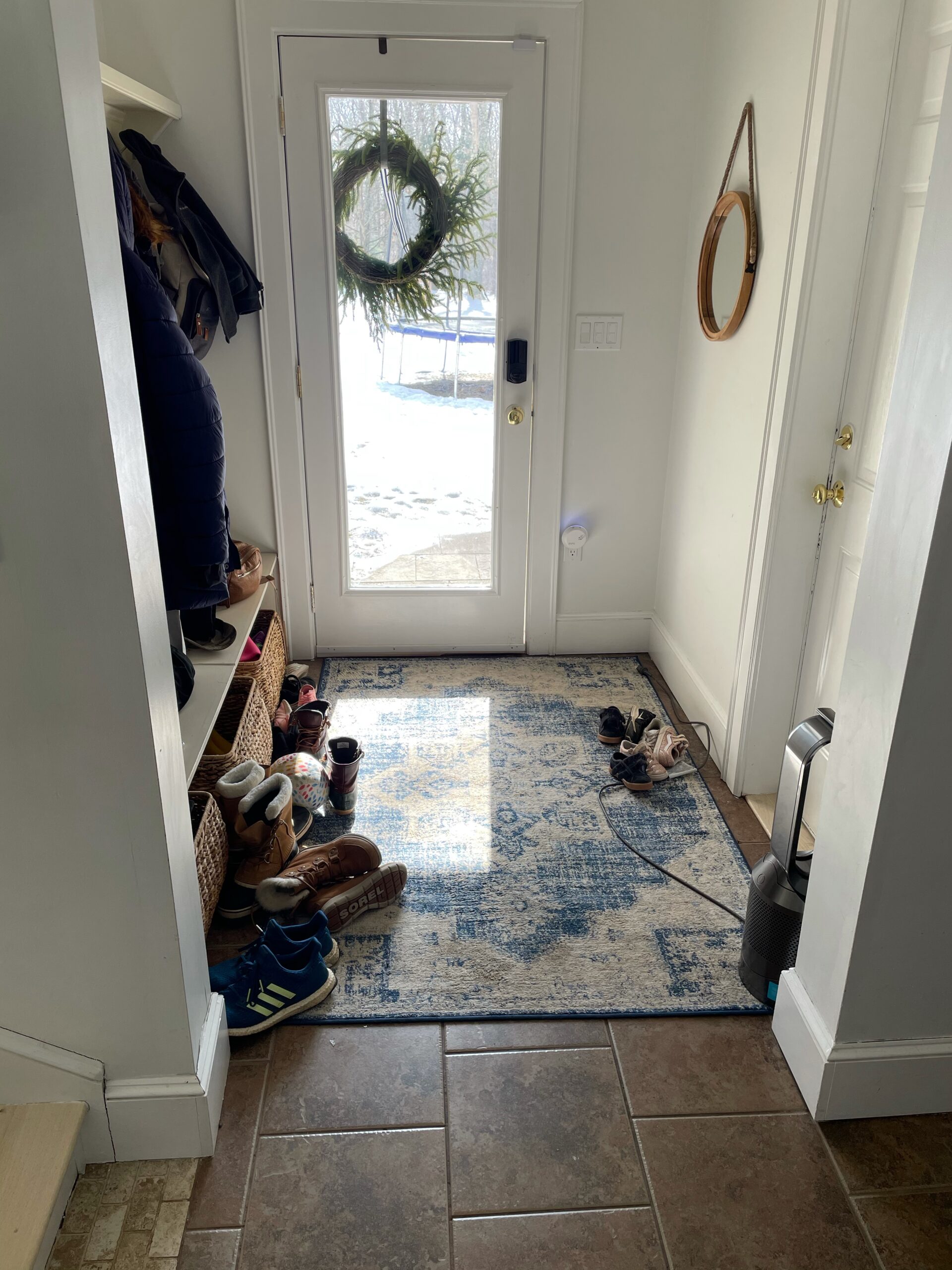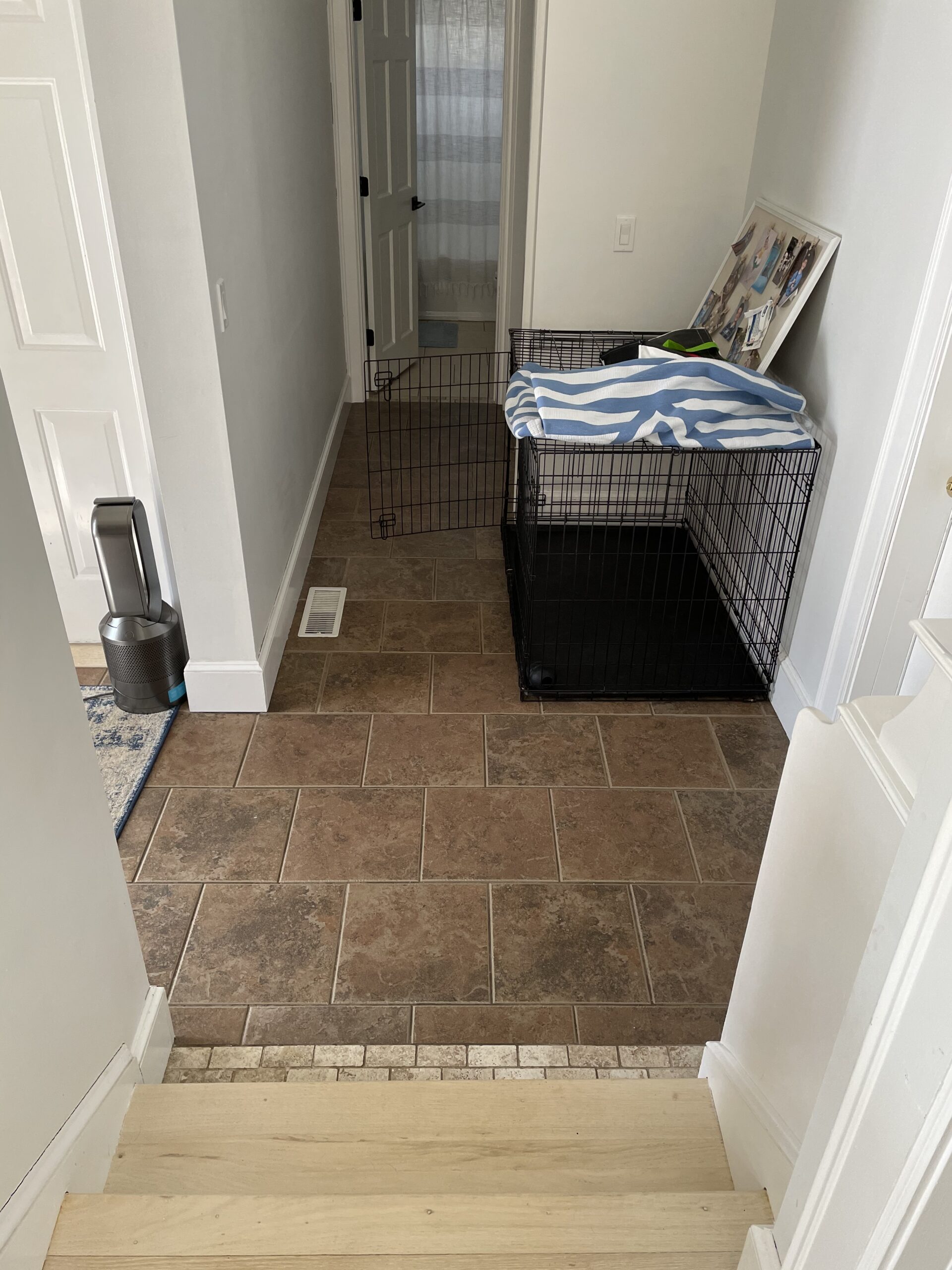 And now…the after! It's now light, bright, and airy! This space has become much more functional for our family and we love it!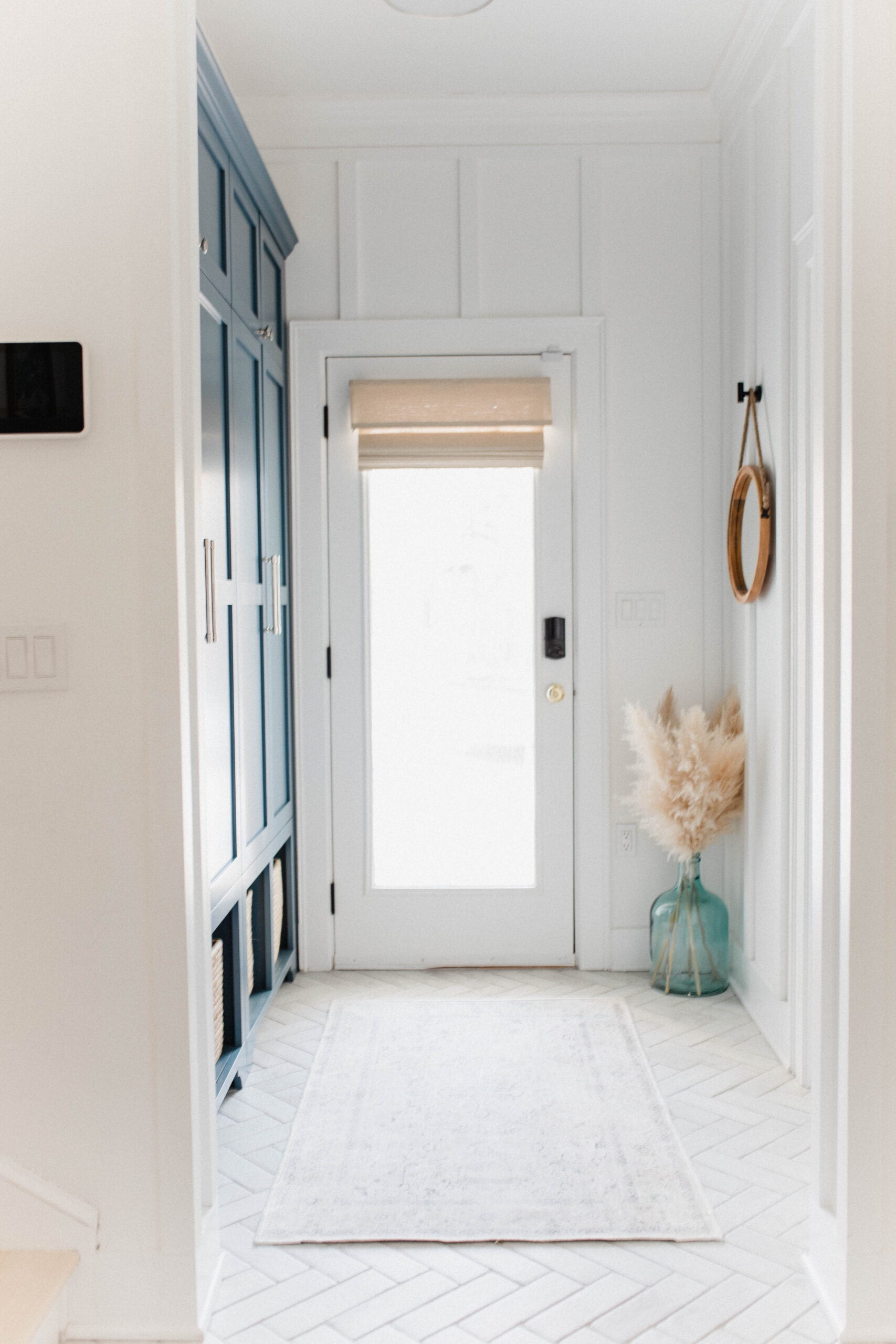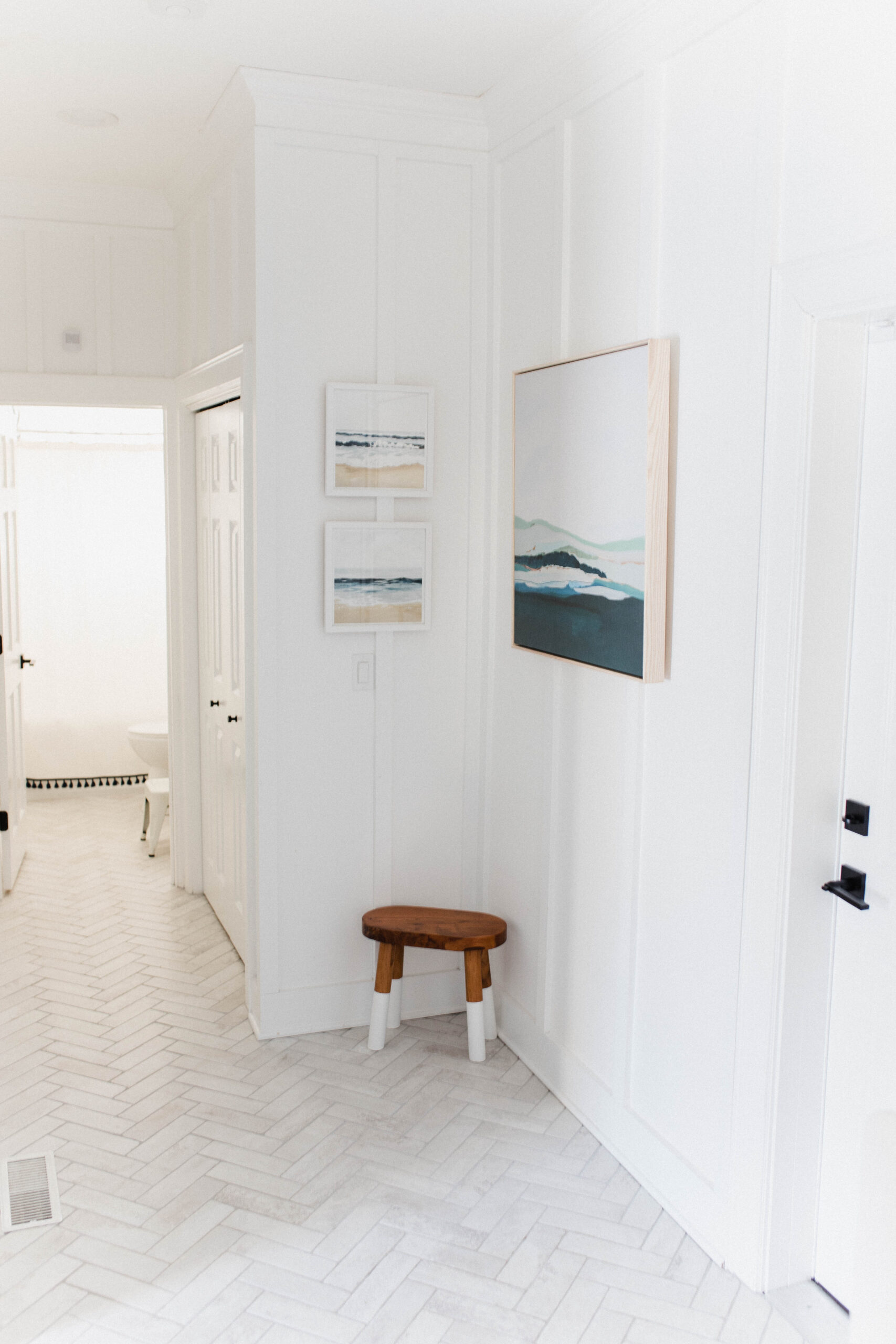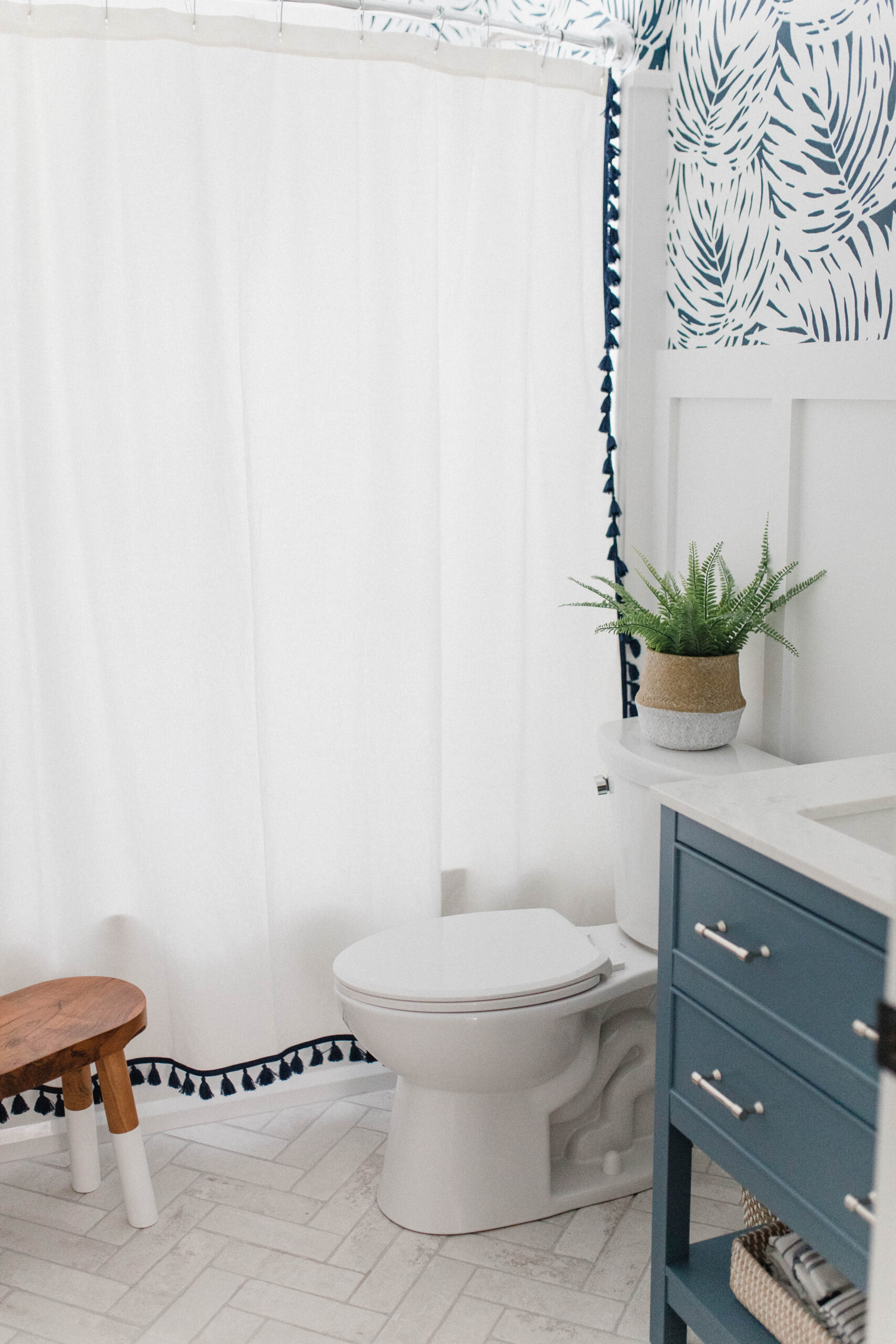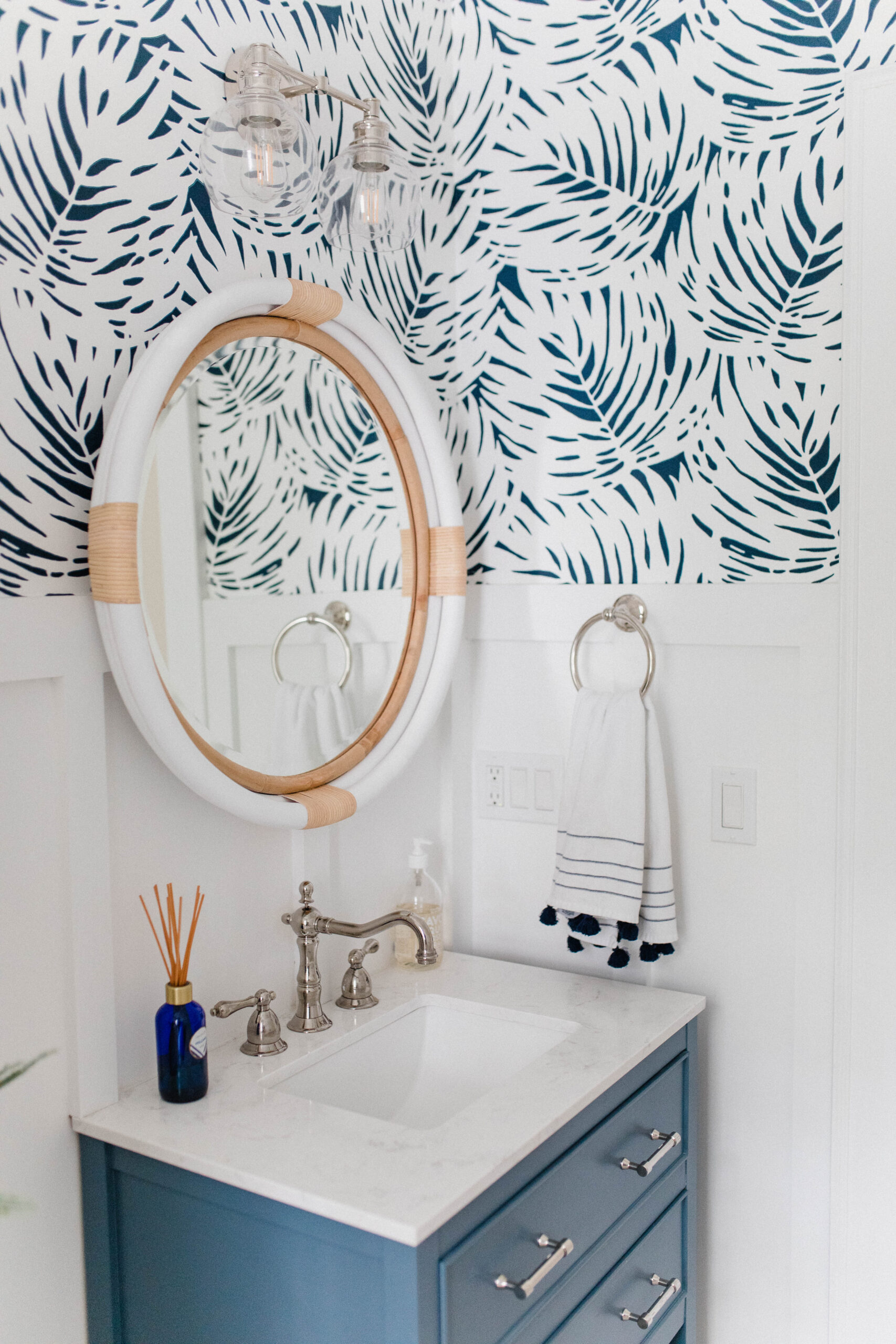 Flooring
I've been in love with herringbone brick forever, and wanted a lighter tone in this space. My friend Travis at Coastal Concepts found the perfect match to what I envisioned with Happy Floors French Quarter in Chartres. I LOVE the herringbone so much – I'm so glad I went with my gut! The grout color is Permacolor #89 Smoke Gray by Latacrite. I wanted something light but not white, and it matches perfectly.
This entire area is located in between our two garages, so it becomes VERY cold in the winter time. So cold that no one uses the bathroom down at this end. This is also where we keep Thor's crate, so we wanted to make sure it was warm enough for him during the winter months! We installed an electric floor heating system underneath the tile so that we can heat the floors in the winter time. There's a little thermostat on the wall that allows us to control the temperature! So far it's made a HUGE difference in the temperature down at this end of the house!!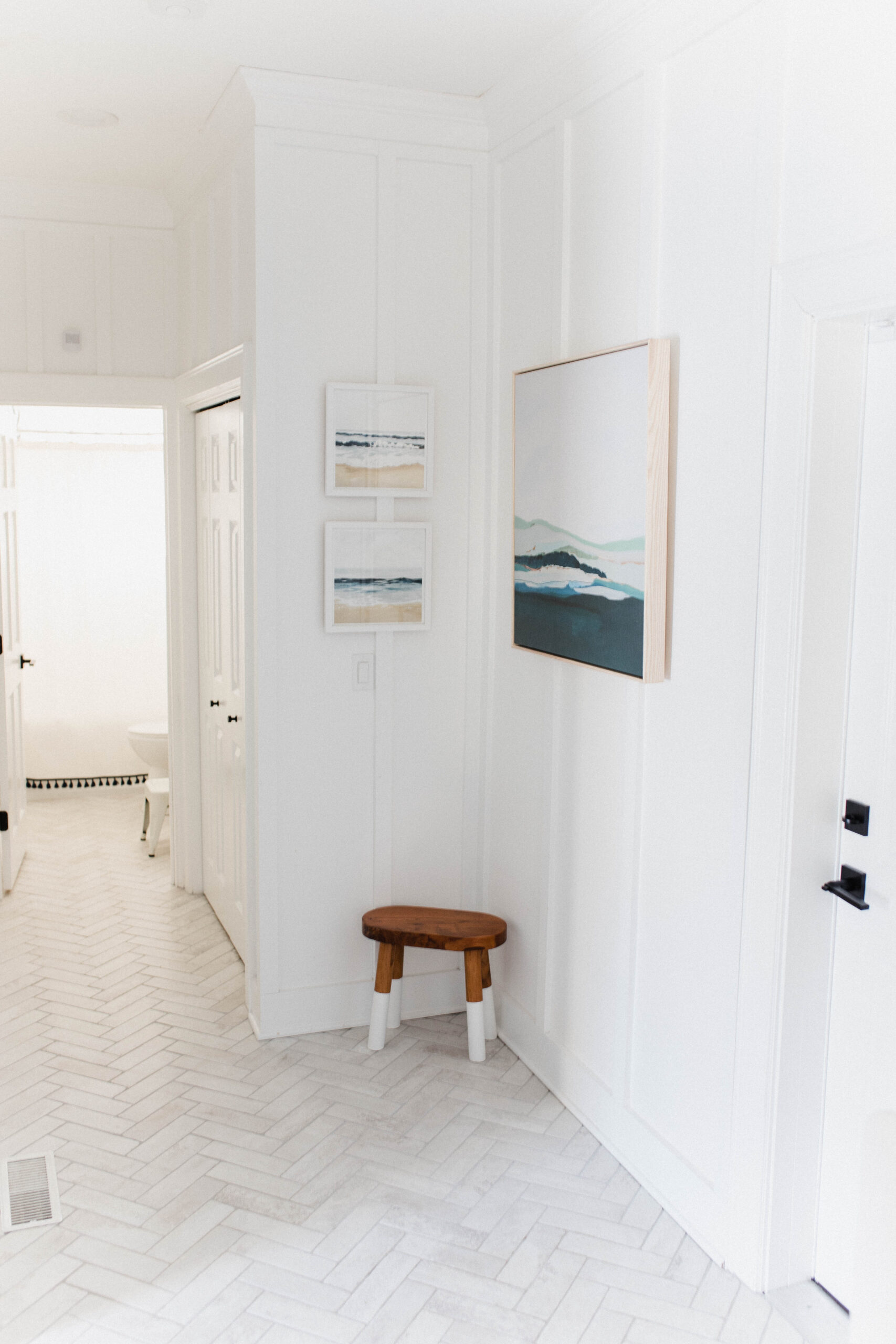 Cabinetry
We wanted custom built-ins for the mudroom area to hide all of the jackets, backpacks, shoes, and other things that get thrown into our mudroom. Our contractor, Fleming Homes, connected us with EHL Kitchens who custom built this set up for us. We have smaller cabinets up top, larger cabinets in the middle, and then an area for baskets on the bottom. Each kid has his or her own basket, and then the fourth is for random things. I am so pleased with how these turned out – even the paint is perfection. I wanted darker cabinets since the walls and floors in this space are so light, so I selected Sherwin Williams Smokey Blue. I absolutely love how the polished nickel hardware I found by Emtek pops against the blue. The cabinets are soft close, too, which I highly recommend with kids! Overall, I couldn't be happier with how they turned out.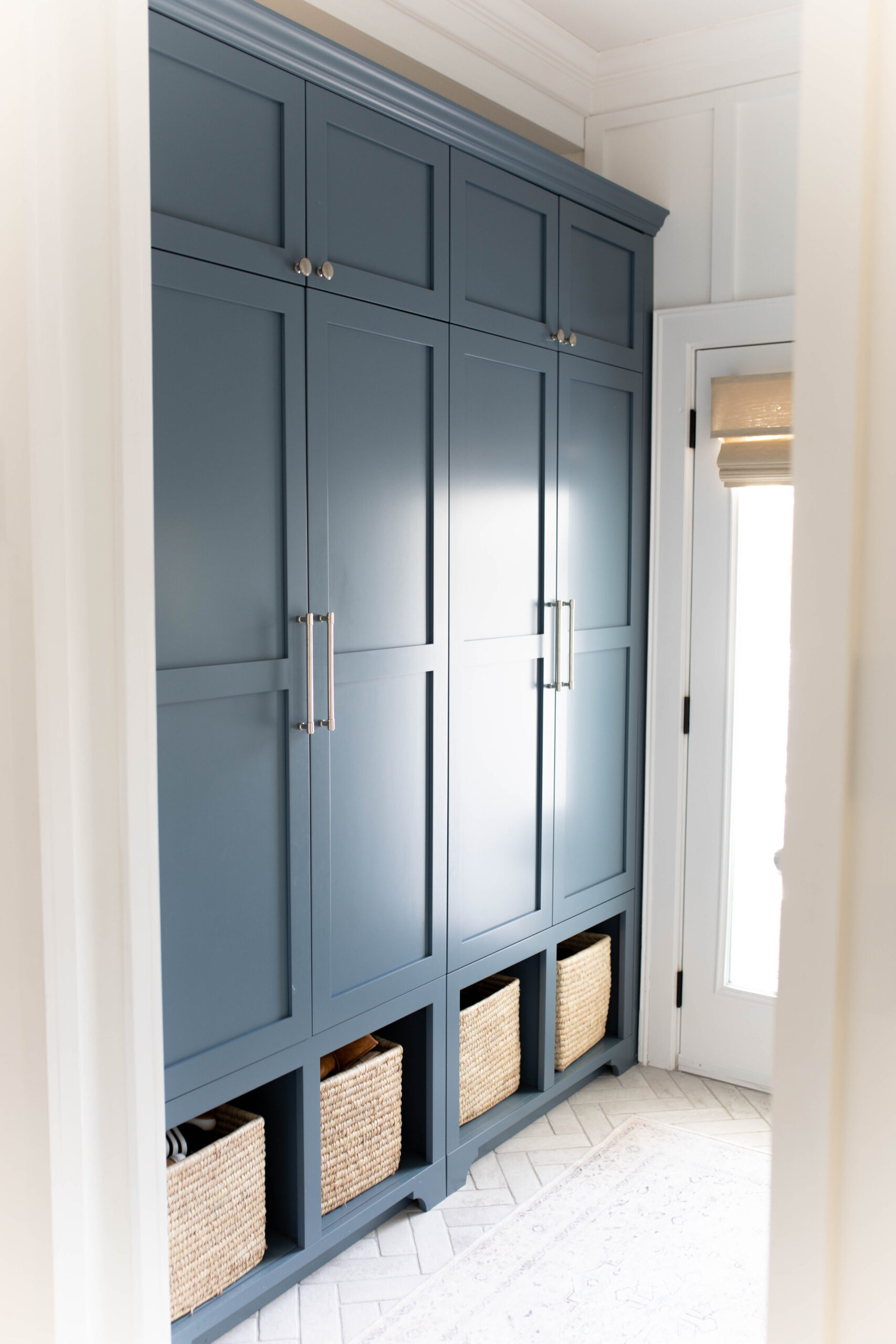 Millwork
Initially I wanted shiplap for this space, but the cost of it was way over budget. That stuff gets expensive! Our contractor from Fleming Homes made the suggestion of board and batten instead, which reminded me of some inspiration photos I had saved of floor to ceiling board and batten. When I came back to the photo, I decided I actually preferred that look for the space! We chose floor to ceiling for the mudroom area, and half board and batten for the bathroom (so I could wallpaper the top!).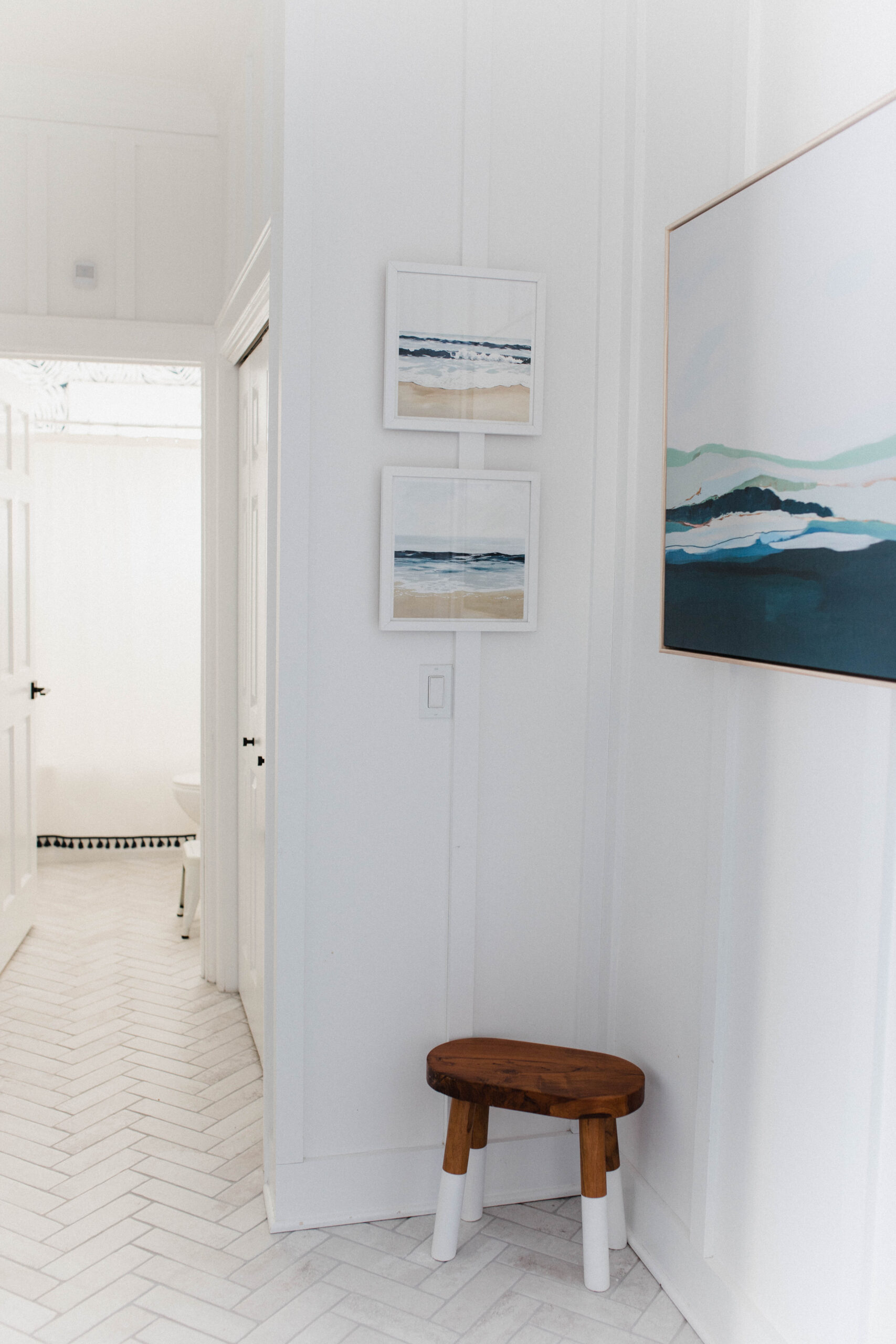 Vanity
I was looking for a specific style vanity that I couldn't find in the color I wanted, so when I came across this one I figured I would take my chances and paint it the same color as the mudroom cabinets. I'm so glad I did! A simple paint and hardware change gave it an entire new look. I love that the bottom is open and feels airy in this bathroom. I replaced the hardware with this polished nickel hardware from Emtek. I loved the contrast of the polished nickel against the blue, so I kept that theme in this space to flow with the mudroom. The faucet is also polished nickel, as well as the light fixture and bathroom hardware. I fell in love with this Montara Mirror from Serena & Lily a long time ago, and it completes the whole look of this vanity!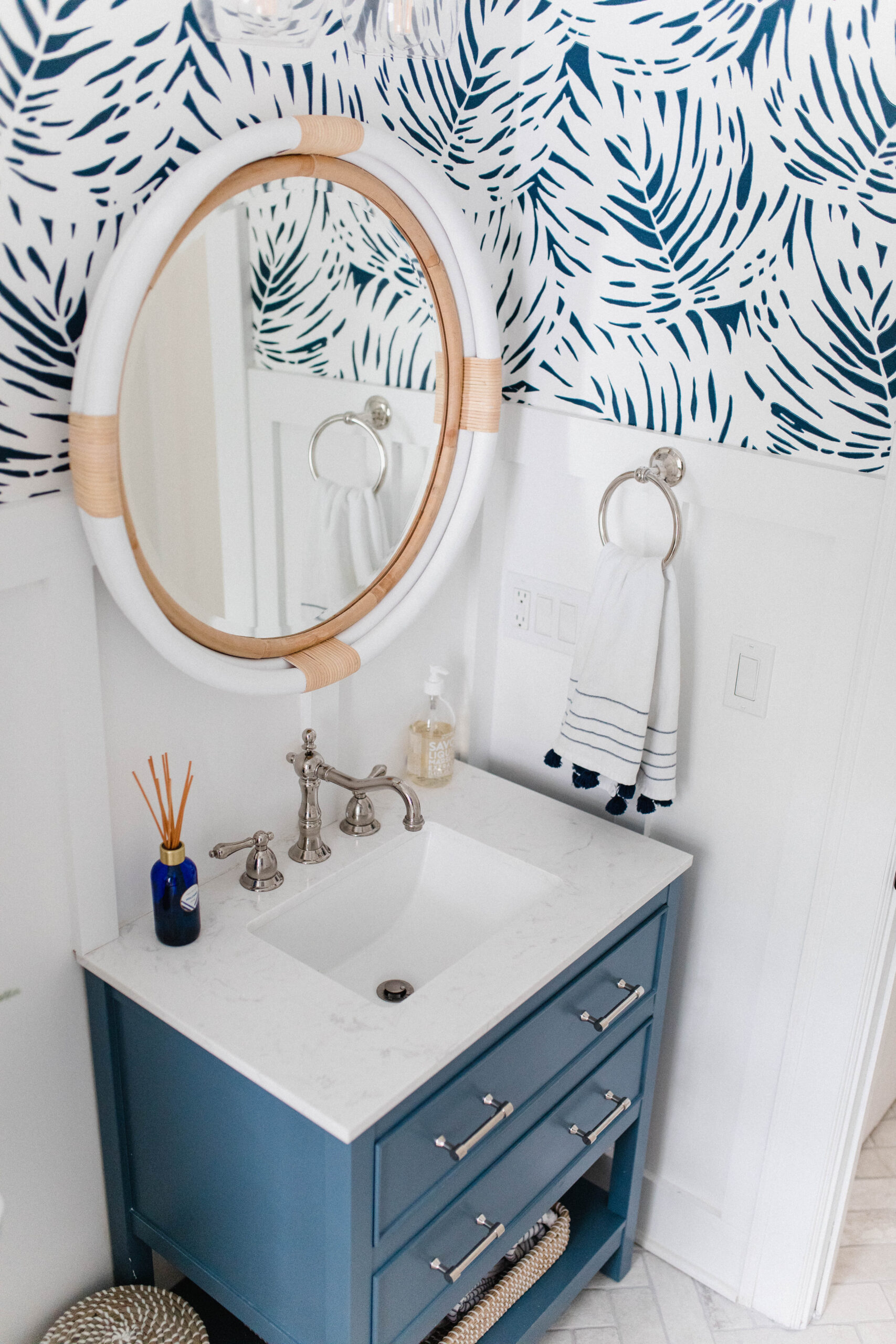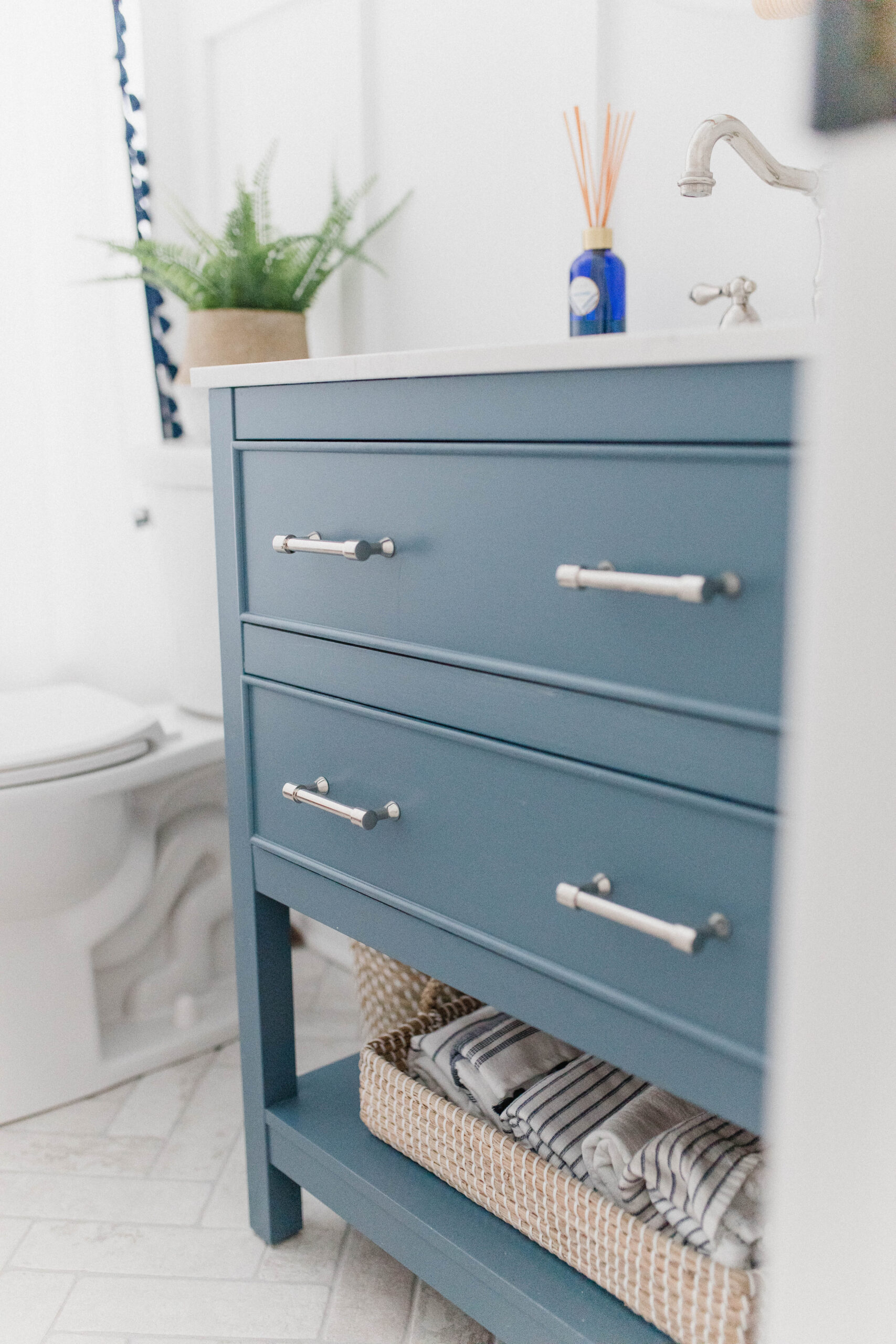 Wallpaper
This Palm wallpaper by Serena and Lily might be my favorite part of the entire space. Granted, it was quite a challenge for me to install myself (they say professional installation required for a reason!) but thankfully I'm not a perfectionist with projects like that. If anything, I look at it like I DID THAT! It's definitely not perfect, but I don't care – I love the look of the palm leaves (facing up!). It truly makes a statement in the space.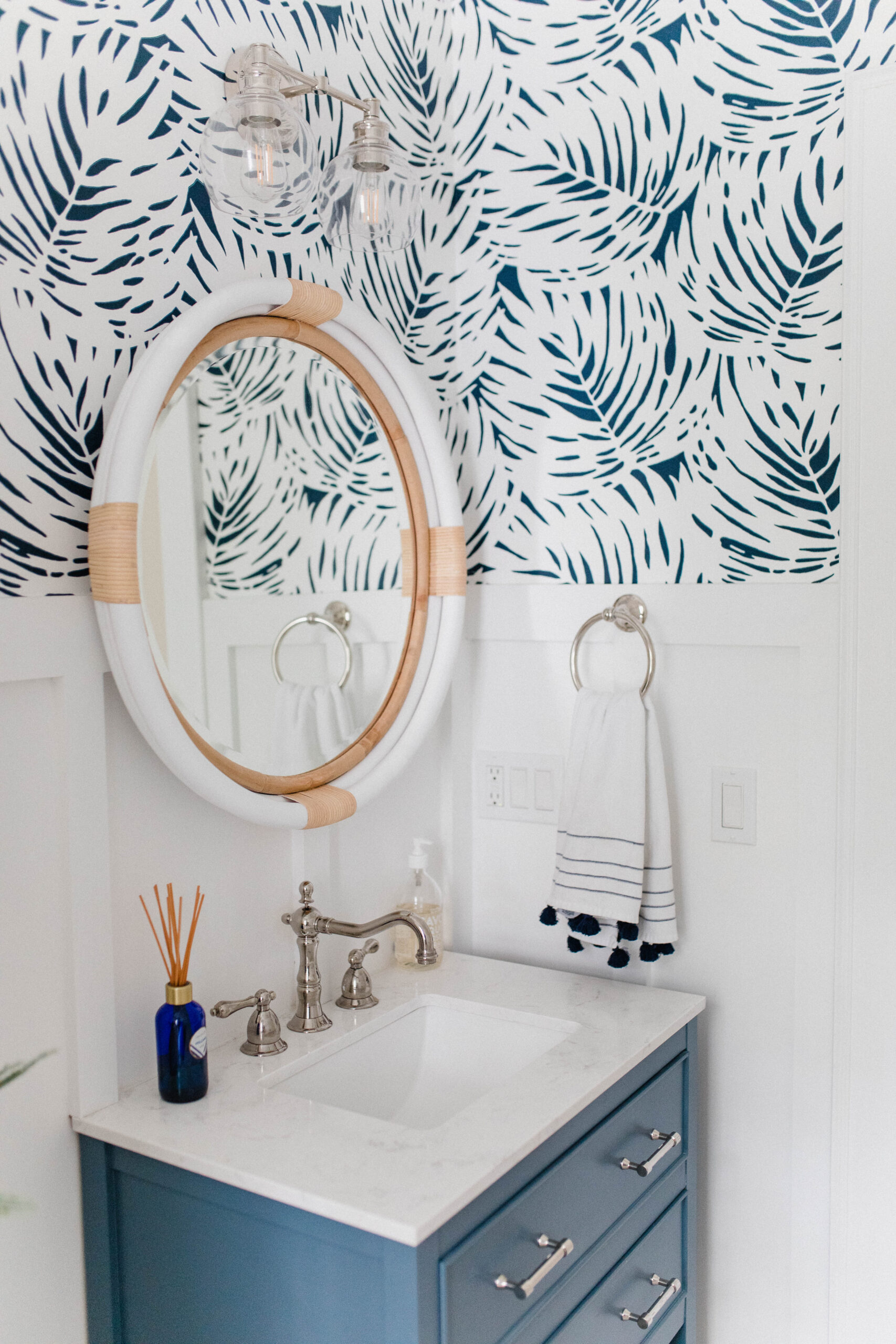 Accessories
I wanted to keep the decor simple and coastal in the mudroom. I went with the Kamran in ivory from Ruggable for the entry area because I wanted it to be washable! I've washed it several times now and it always looks good as new. Yes, it's light, but it hides the dirt! I also added the wooden mirror from my QVC line along with a clear vase and some pampas grass in the corner. We also had Coastal Concepts add this Natural Woven Wood shade by Alta Window Fashions to the back door. It's apart of the Grass Weaves Collection in the color Singapore Talc. We went with cordless in here so it can easily push up and down to open and close. I LOVE the softness it adds to the space.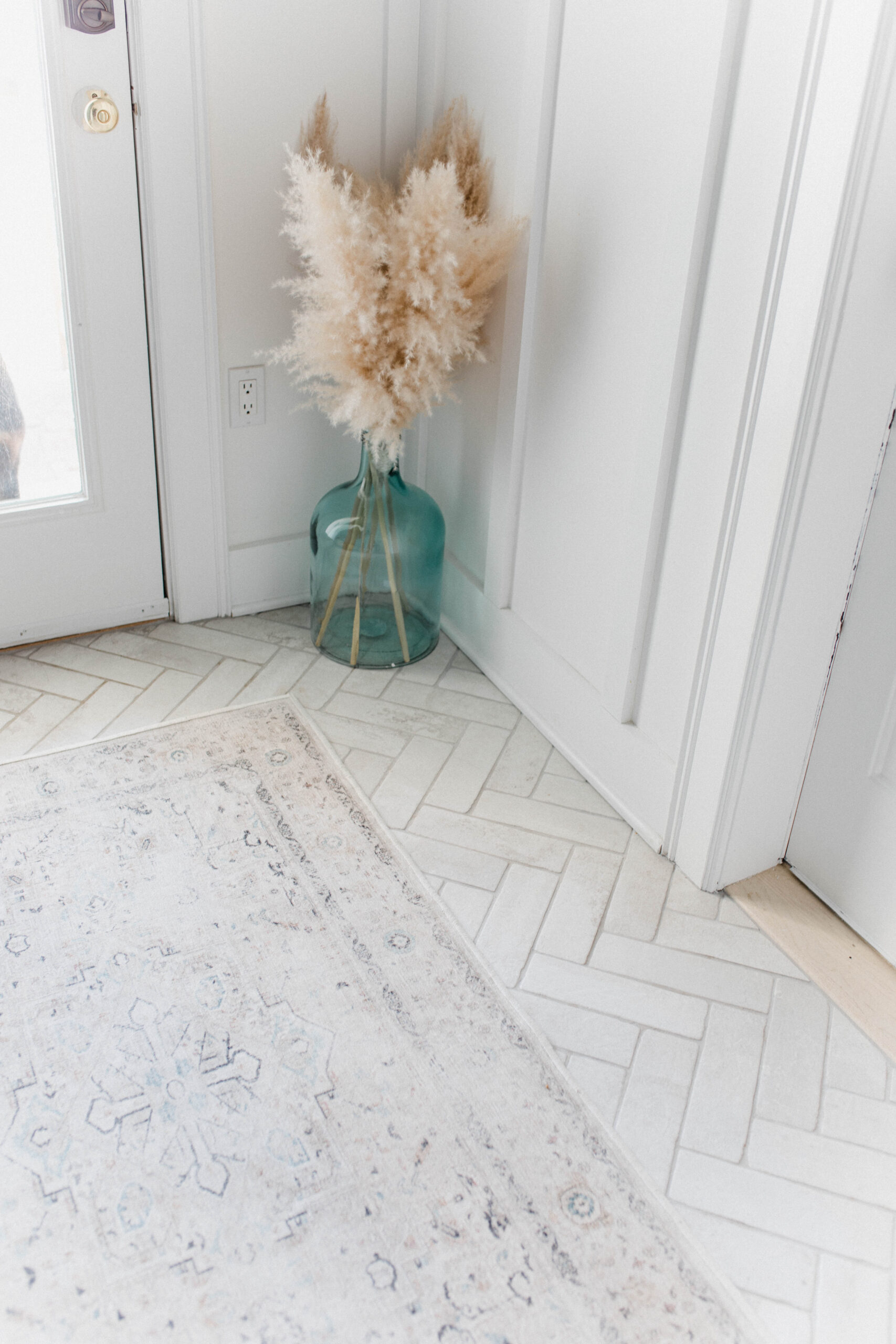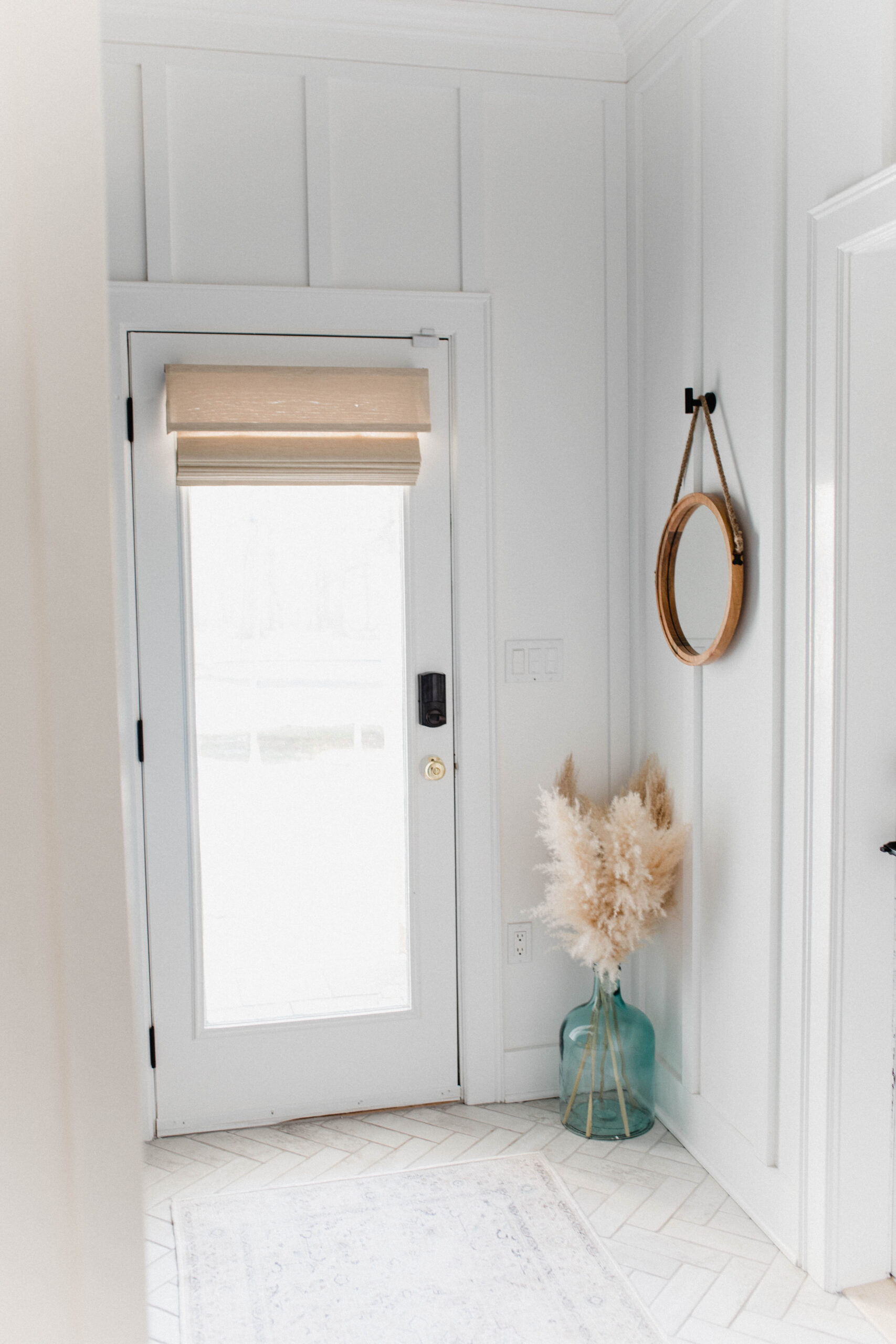 I also added some artwork over where Thor's crate usually goes (we moved it for these photos!) The smaller prints are from Alison Junda and the larger print called Pacific Seascape by Caryn Owen on Minted. The millwork makes a large enough statement that I don't need artwork on the large wall running into the bathroom, but I love how it added some color to his crate nook!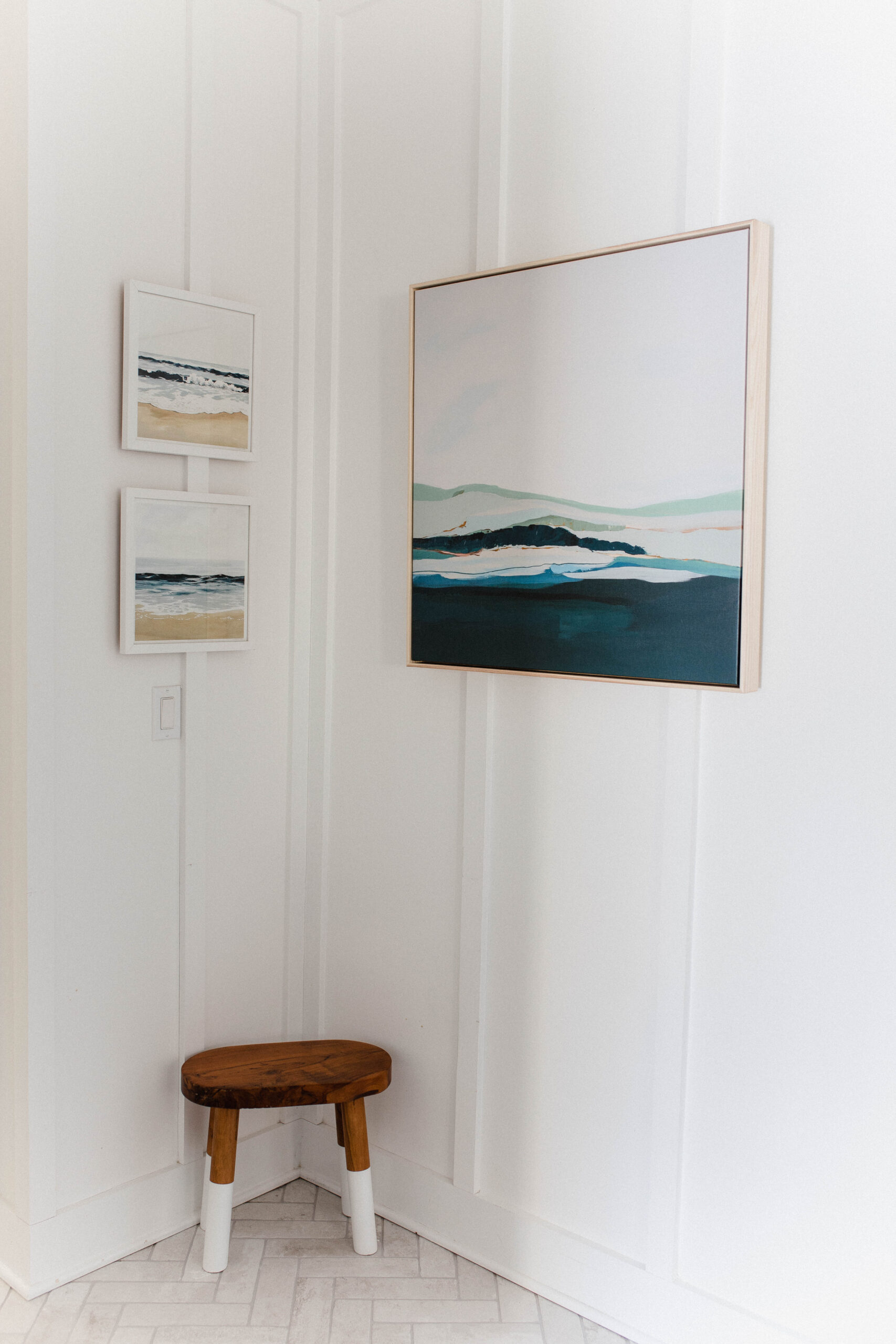 I fell in love with the Montara mirror from Serena and Lily, and felt it fit perfectly in this space! I also grabbed these Bellport guest towels, which are incredibly soft and absorbent. This is the most used bathroom by guests on our main level, so I wanted something durable. I folded the unused ones underneath the vanity in a basket from my QVC line. I added this Dip-Dye Stool in the corner for some guest towels or other accessories. This bathroom is actually a full bathroom, but we opted to not change the tile in the tub area. It's not my preference, so I added this fun French Tassel shower curtain from Serena and Lily. I love the pop of navy blue fringe!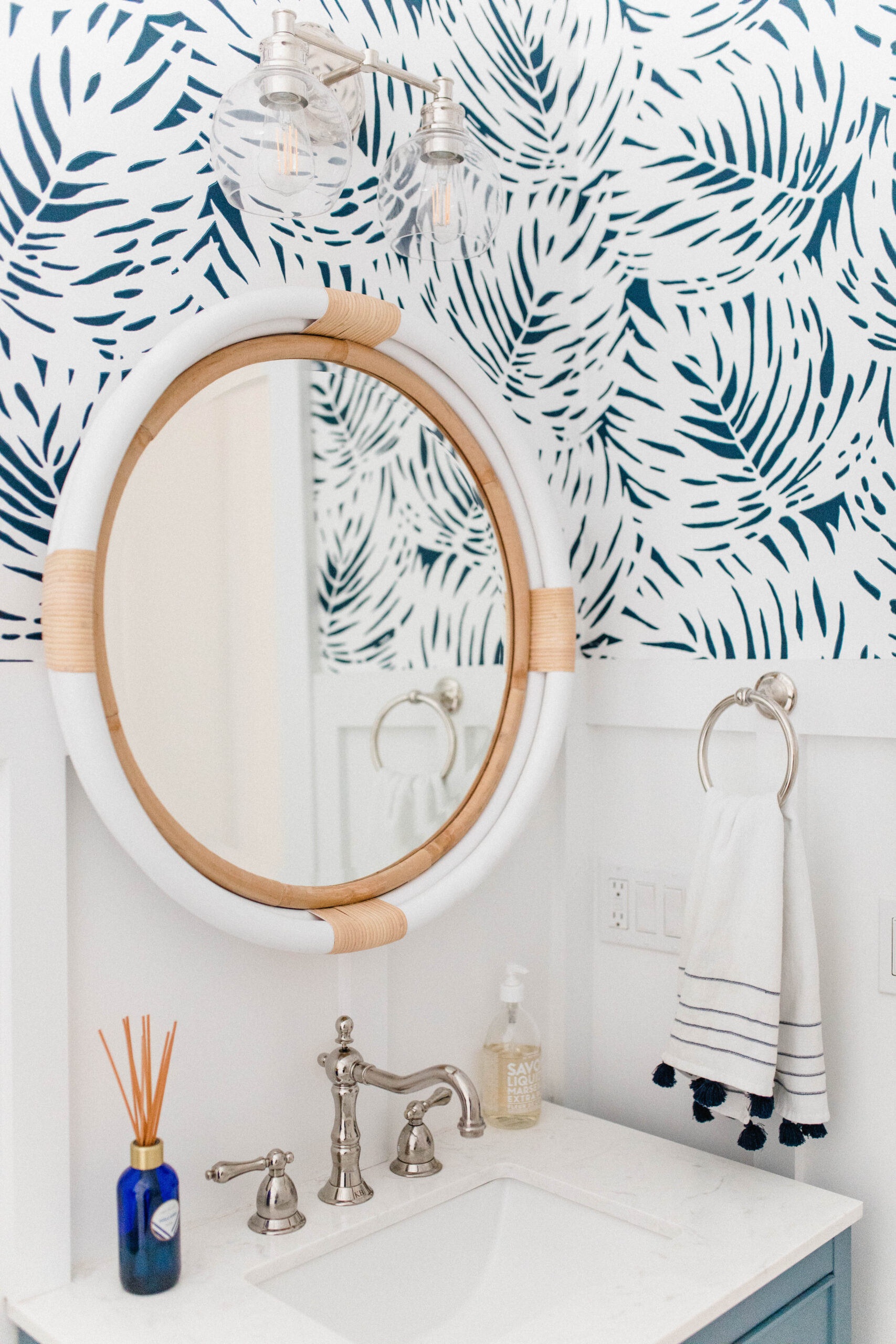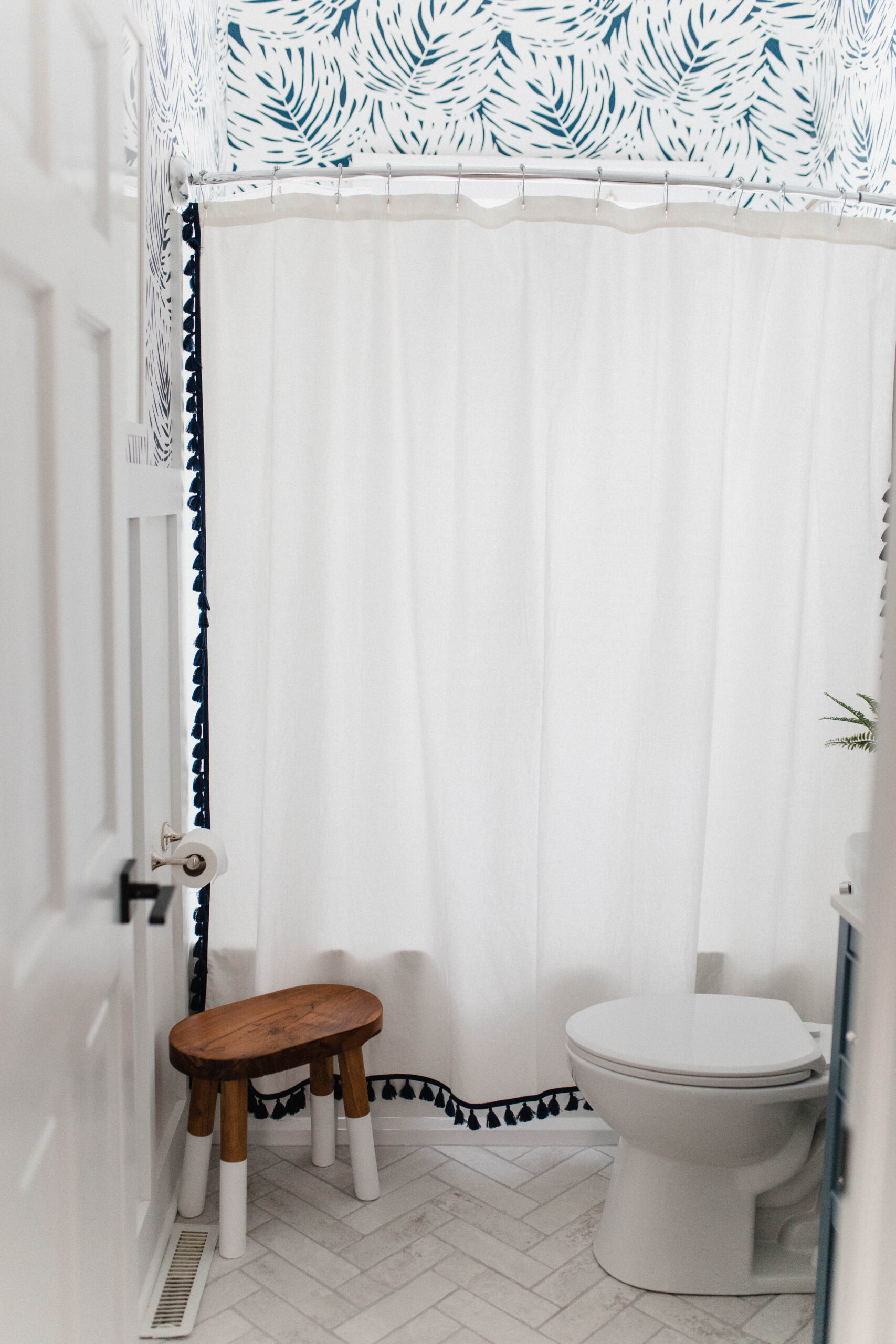 I am so thrilled with how everything turned out, and I'm so thankful for our wonderful contractors. They saw my vision and made it happen! If there's any details I missed, drop a comment with your questions below! 🙂