This past year I was determined to find skincare products that actually show improvement in my skin. Skincare can be quite an investment, but it was one I was willing to make so I could feel confident without makeup on. I came across Jordan Harper and Barefaced on Instagram and decided to try one of her regimens through her skin quiz. After using her products for a few months, I decided to try her personalized skincare consultation to figure out the BEST regimen for my skin. I've been using her products for almost a year now, and I feel my skin has never looked better! Below I'm sharing my current routine. Yes, it's quite a bit of money – I can't deny that. But if you're looking to invest, I highly recommend the products below. I finally feel confident in make-up free skin! The below photo is completely unedited – I took this the morning before writing this post.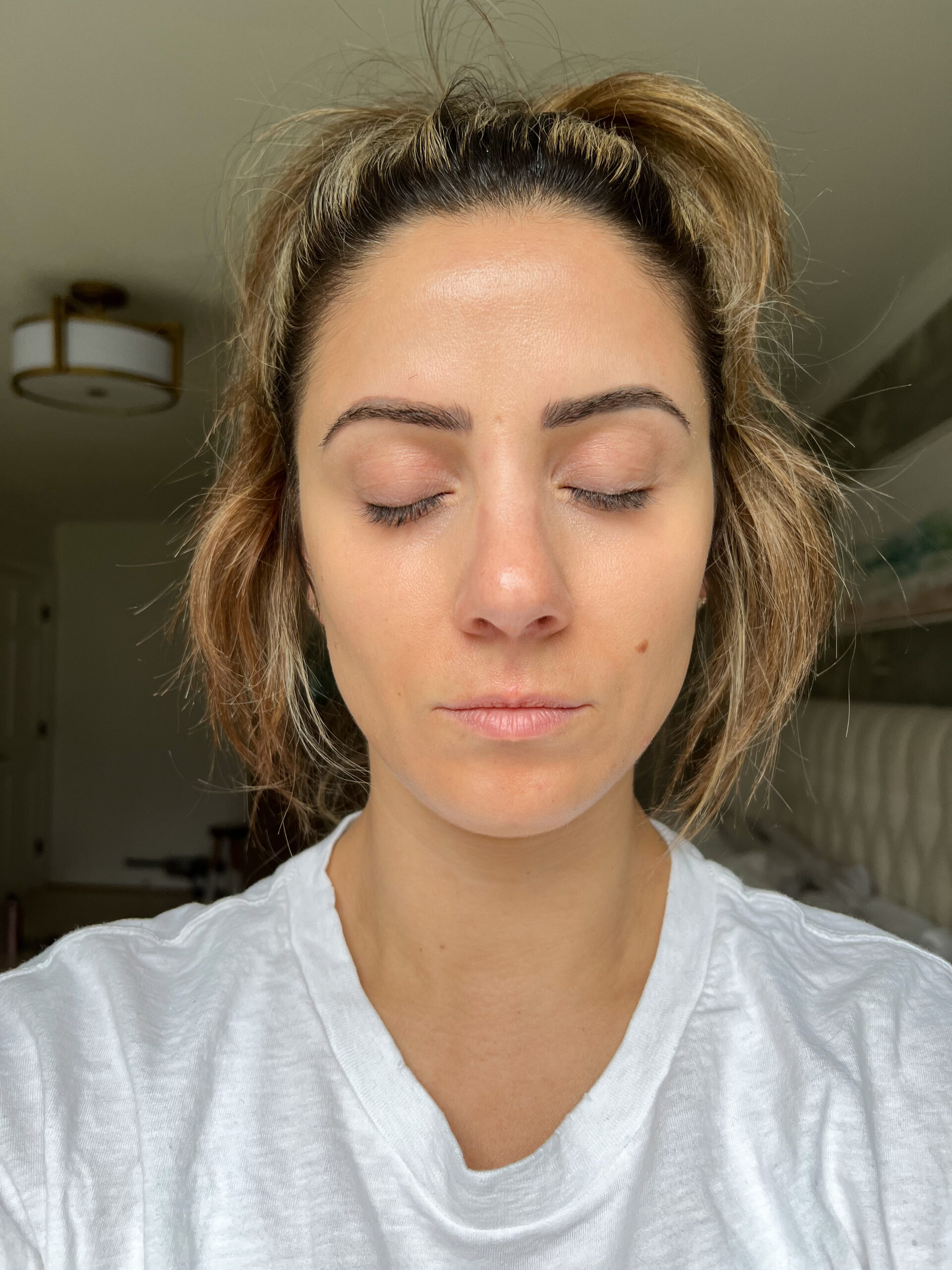 Here is my current morning and evening routine!
Morning Skincare Routine
**For all Barefaced products, you can use the code LAURENM10 for 10% off your first time purchase!)**
I use the products below in the following order:
Revision Skincare Papaya Enzyme Cleanser: This cleanser was recommended to me by Barefaced, so I've been using it since! It dissolves dead skin cells to reveal brighter and smoother skin, and I've been happy with it!
Barefaced Toning I Pads: I've been using these toning pads for over a year and they've been amazing at controlling hormonal breakouts!
Revision Skincare C+ Correcting Complex: My skin is sensitive to certain Vitamin C serums, and this is the only one it's been able to tolerate. Yes, it's $$$, but my skin is very happy with it. If your skin cannot tolerate ascorbic acid, this might be a great one to try.
Revision Skincare D.E.J. Eye Cream: This eye cream has significantly improved the appearance of fine lines around and under my eyes.
Barefaced Brightening Serum: This brightening serum has completely transformed my skin. I had some dark spots and scars from previous breakouts, and it's significantly lightened their appearance.
Barefaced Overachiever Serum: This serum does it ALL. I noticed a huge change in any red areas and the overall appearance of my skin when I added this into my routine.
Revision Skincare Hydrating Serum: My skin feels much more balanced using this hydrating serum. I haven't experienced any significant dryness over the winter with the addition of it!
Elemis Pro-Collagen Marine Cream: My holy grail moisturizer – I love this cream SO much. It's lightweight, not greasy, and I swear makes your skin feel like butter.
Equilibria Daily Treatment Oil: I love adding a couple of drops of this treatment oil to seal everything in! (My code is LAURMCBRIDEBLOG).
Barefaced Tinted SPF: I heard someone say that if you're not using SPF, you're essentially throwing all of your skincare products down the drain. That really sat with me! I've been diligent with my SPF for a while now, and I love this tinted version. I can get away wearing this and the below eye product on no-makeup days!
Colorescience Total Eye: If you have signifiant dark under eyes like me, this stuff is GOLD. It's a tinted eye cream that works like a corrector. It lightens the area while treating and protecting it! I'm so glad my esthetician introduced me to this product – it's such a game changer.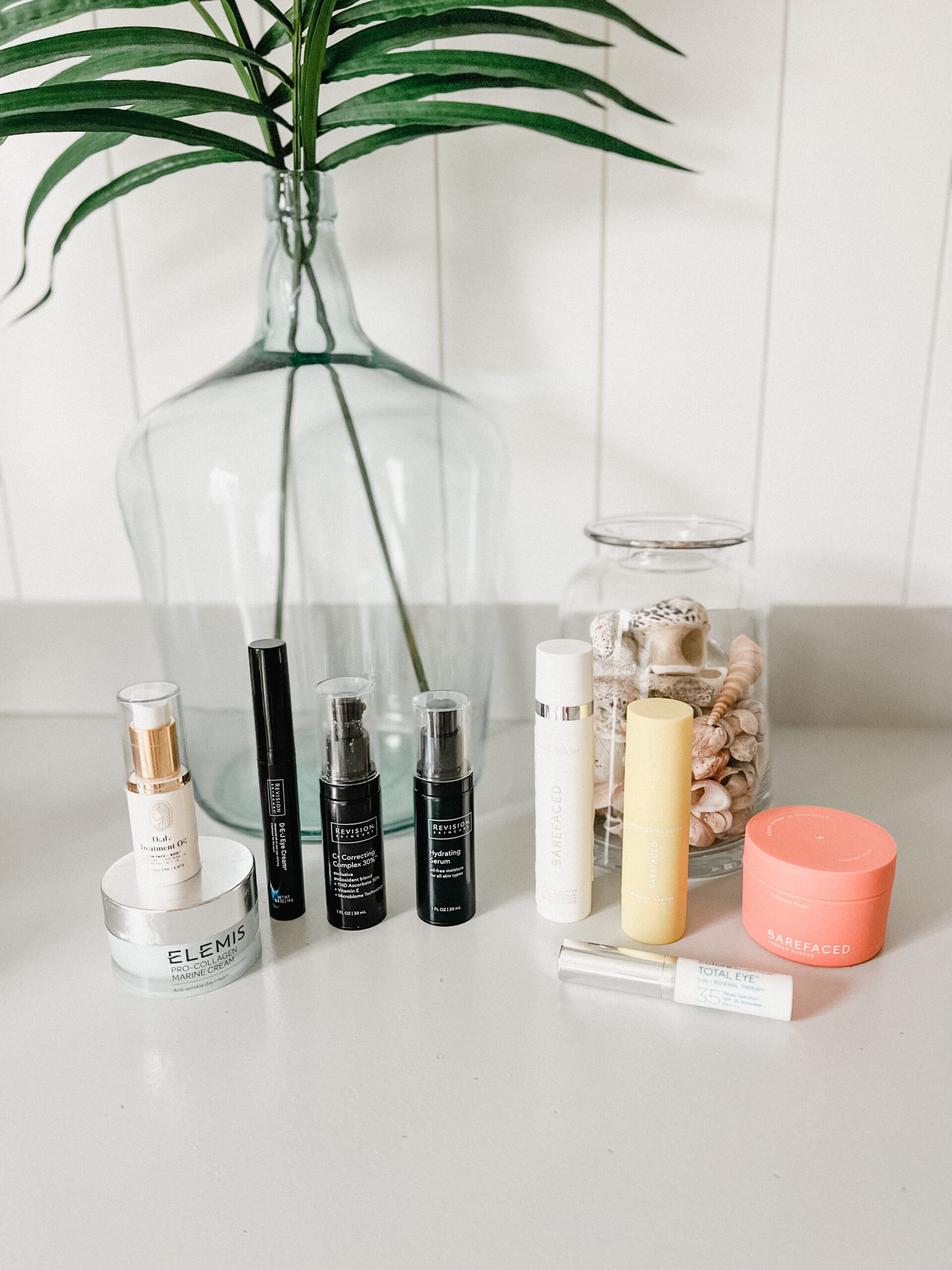 Evening Skincare Routine
My evening routine isn't much different! I do alternate using a few other products which I'll explain below. I use all of the above products, unless otherwise stated below.
Elemis Cleansing Balm: This is my go-t0 makeup remover. It even gets waterproof mascara off! Super gentle and a little goes a long way. I'll use this BEFORE the Revision Skincare Papaya Enzyme Cleanser.
Barefaced Glow Peel Pads: These pads help exfoliate and brighten your skin! I use them three times a week in the evening in replacement of the Toning Pads. On nights I use these pads, I do NOT use the Toning Pads, Brightening Serum, or Retinol.
Barefaced RetinAL Skin Therapy: This product is actually stronger than retinol but much better tolerated, if you're someone who struggles with that! It literally does everything – improves fine lines/wrinkles, stimulates collagen production, helps fade sun spots and smooths skin tone, and increases cellular turnover. It's the best! I use this product every night with the exception of the nights I use the Glow Peel Pads. I'll use this product AFTER I use my Hydration Serum and BEFORE my Elemis Moisturizer.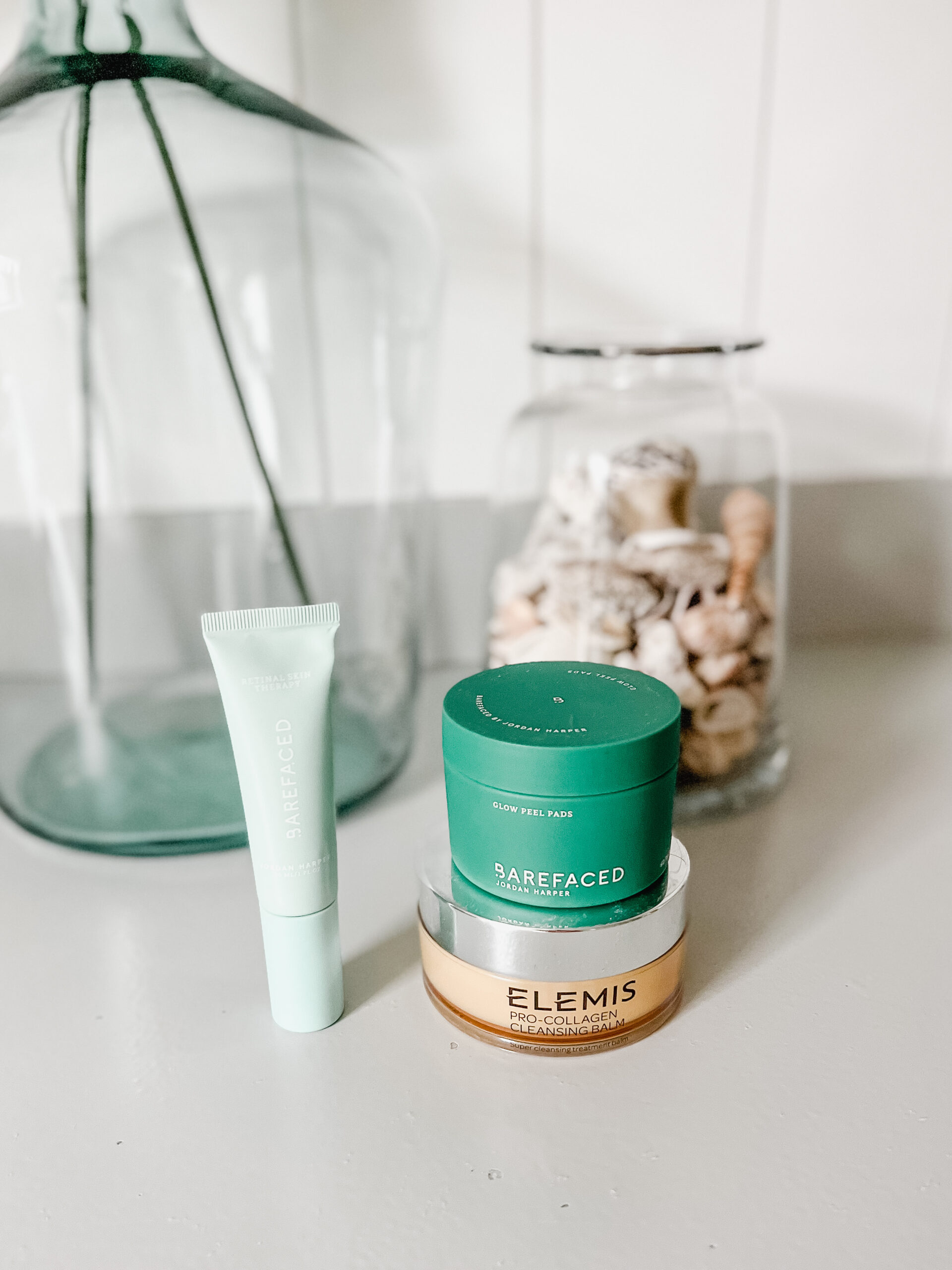 Here's a before and after of my skin after using these products for about 6 months. I did have Botox in my forehead and in the middle of my brows, too. There are no filters on the photos.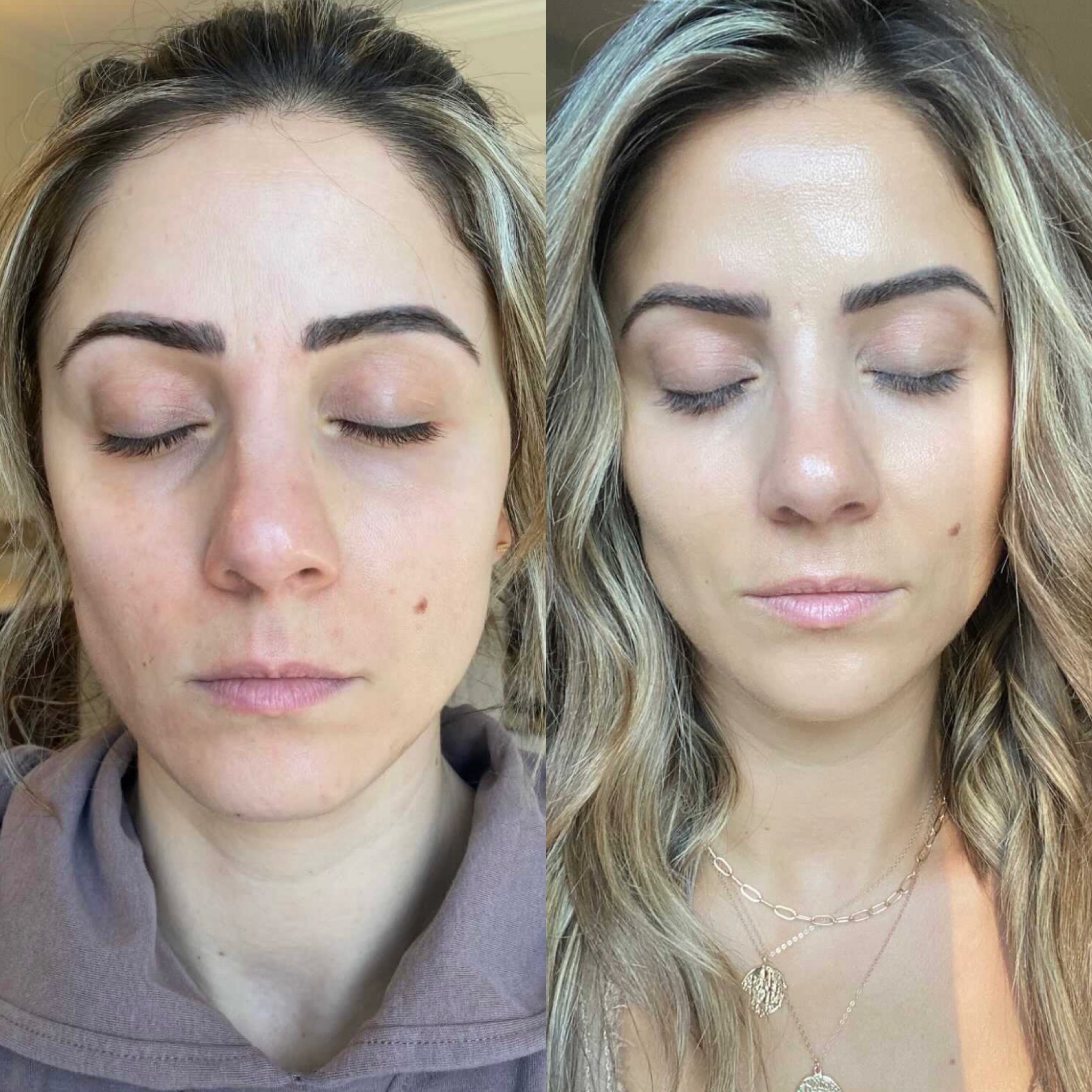 The difference is crazy! I'm so thankful for this regimen. It's pricey, but I'm willing to omit other things so I can have my good skincare. If you'd like to try Barefaced, my code LAURENM10 gets new customers 10% off!