This post is written in collaboration with Aveeno® and SocialStars. All thoughts and opinions are my own.
Poncho: c/o Isabella Oliver // Pants: Target // Shoes: c/o Clarks // Hat: Target (similar) // Bag: TJMaxx
I've always loved a houndstooth print, and it's so fun on this poncho! While this poncho is actually a maternity brand, I love that it can be worn even when I'm no longer pregnant. It will be great during those postpartum weeks when baggy clothes are necessary! Also, little secret? I'm totally wearing a belly band to hold these jeans up. They are definitely NOT maternity, but I love them! And at under $30, they're a total steal and fit REALLY well. I'm really impressed because I feel like that rarely happens for me with inexpensive jeans. And of course, as you read from earlier this week, these black booties are really perfection. I'm so happy I added them to my shoe closet. I feel every gal needs a great pair of casual black and cognac booties because they go with just about everything. You'll be set for the season!
I've said this on here before, but this pregnancy has been so awful on my skin. And the past few weeks I've been SO ITCHY. I moisturize my entire body regularly, but recently my normal products have not been working. I've even tried just standard coconut oil and Vitamin E oil to see if my skin was really dry and needed major hydration. Unfortunately, that didn't even work. Can any pregnant mama relate?! I remembered back to when I had chicken pox as a kid and taking "oatmeal" baths, as my mom called them. She's a huge advocate for colloidal oatmeal anytime my son has had a rash associated with a fever, so when I saw that Aveeno®'s Daily Moisturizing Body Wash contained colloidal oatmeal I figured it was worth a try.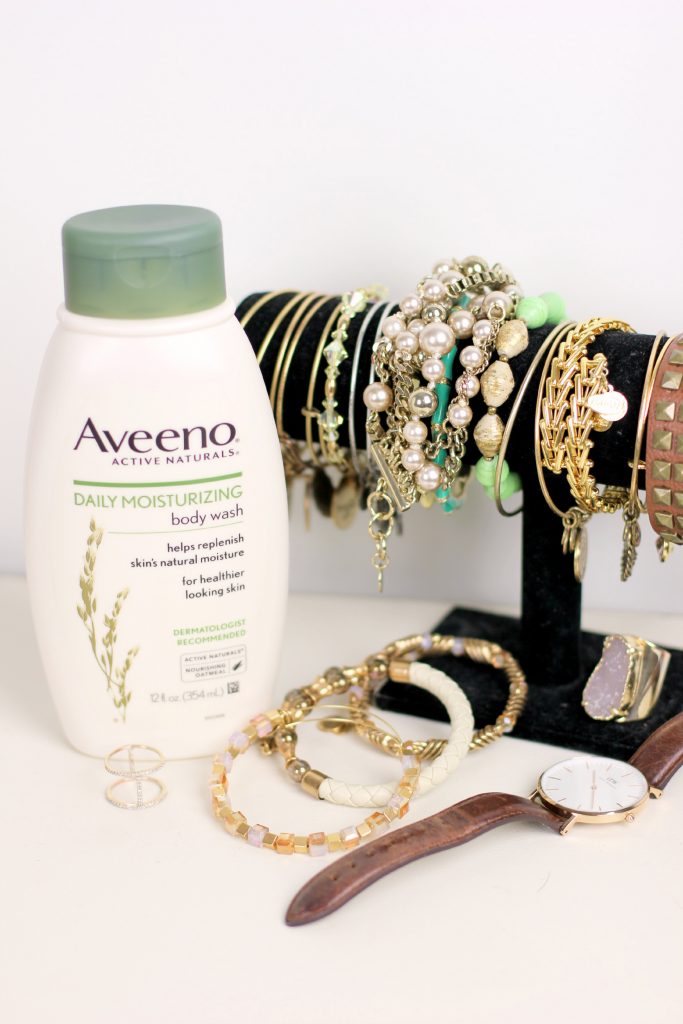 I am super pleased to report that it's greatly helped reduce the itching I've been experiencing. It doesn't leave my skin dry and alleviates the itch even before I apply lotion. So if you're an expecting mama dealing with that itching skin, or your skin is suffering from the season change, give Aveeno®'s Daily Moisturizing Body Wash a try!
What are your thoughts on this classic houndstooth print?