This Boho Glam Baby Girl Nursery post was sponsored by Babies"R"Us. Thank you to the brands who support this blog!
Boho Glam Baby Girl Nursery
You know the commercial on TV that shows the first time mom compared to baby #2? Yeah, it's true! I realize that now that I'm a mom of two. I remember being so neurotic with my first born, and now I can barely remember how many weeks old Noelle is. That sounds horrible, but I think it's more so that I'm so much more laid back this go around! If only being a first time mom would've been the same way…I probably would've saved myself the few grays I've obtained since then.
Anyway, it's probably for that reason that it's taken me so long to get Noelle's nursery finished (and it's not even totally complete yet…I still need to install her chandelier which is currently in our dining room because I've yet to find a replacement). I remember being in complete panic mode to finish Landon's nursery, whereas this time it wasn't even a priority. I figured she would be sleeping in our room for the first few months anyway, so no need to rush the process. This just allowed me more time to make her room completely perfect and what I envisioned!
I knew I wanted a mix of boho and glam for her nursery. I envisioned a seamless blend of whites, beiges, pinks, and purples with pops of gold throughout. I wanted to incorporate some wood and natural fibers, as well as lace and ruffles for texture. I chose Benjamin Moore's White Dove for her wall color which I knew would be the perfect base for the room.
This over-dyed Turkish rug was the inspiration for the colors of the room. I absolutely loved the mix of pink and purple, so I played off that with other details throughout the nursery. The Aden and Anais crib sheet was the absolute perfect shade of purple to match the rug, and I added this adorable ruffled pink pillow for an additional pop of pink. The gold polka dot and calligraphy pillow completed the boho glam look I was going for.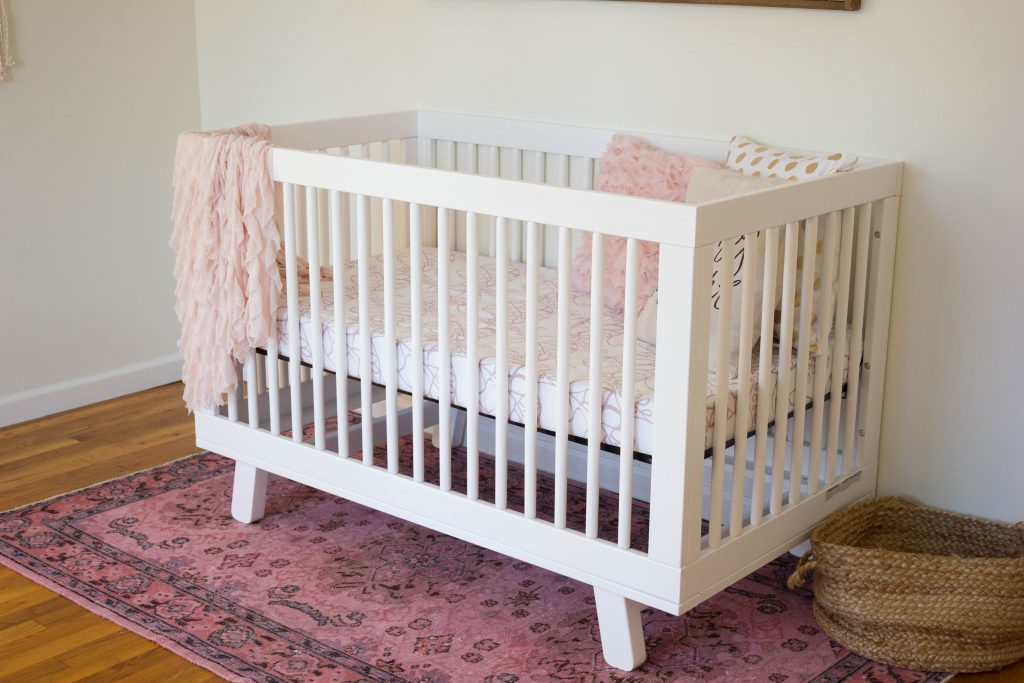 Noelle's crib is the Babyletto Hudson 3-in-1 crib; I was drawn to its modern look as opposed to the more vintage look of Landon's crib. This was one of the key pieces on our registry, as well as our Delta Children Avery glider. I love the trio of rattan mirrors on the wall next to the glider; it really ties in the boho look!
While we already had most of the baby items we needed for Noelle, we still needed some extra things including an additional crib, glider, and some crib sheets to go with the room decor. Utilizing the Babies"R"Us registry made it super easy to tell our family and friends the items we needed! The Babies"R"Us Baby Registry is great for so many reasons. First, you earn up to 10% on all purchases made from your registry (hello free money!). Second, they make returns SUPER easy. I ended up receiving a bunch of newborn diapers and it was a quick swap for size ones (Noelle grew out of newborns quickly)! Babies"R"Us standalone stores now have a Personal Registry Partner at the registry desk, and Category Experts for Gear, Nursery, Wardrobe, and Baby Care on the sales floor. This is so great for first time parents because it takes away that overwhelming feeling I remember having when I first stepping into the store to register for baby #1! As a second time parent, I still chose the Babies"R"Us registry because of the great benefits and ease of registering. If you're local to a Babies"R"Us, you can attend their Registry Party on January 16th!
Stay tuned for part two of Noelle's boho glam nursery reveal, and be sure to use Babies"R"Us for your baby registry (and congrats, mama!).
To see the FULL reveal of this nursery, click here!