Want to see how we brought this Bohemian Girl's Nursery them to life? Keep reading.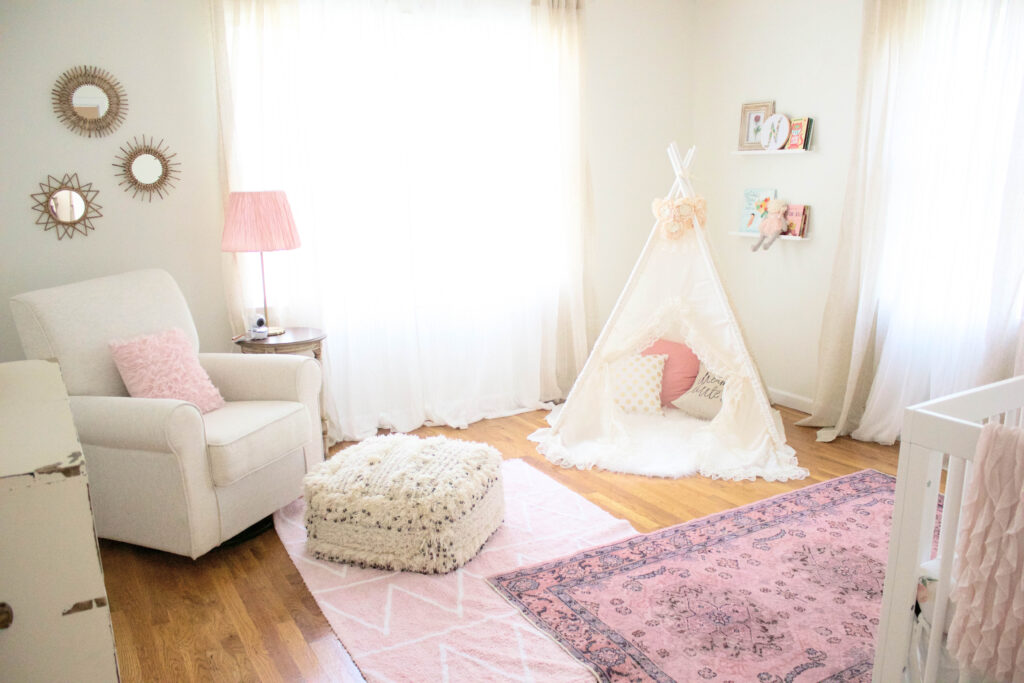 Noelle's nursery has quickly become one of my favorite rooms in our home. Located on the west side of our house, her room is filled with the perfect amount of light for a good portion of the day. Her room is the smallest of the three rooms upstairs, but it's the perfect size for a little girl. I had a hard time going with any type of "theme," and I gravitated towards a slightly whimsical, bohemian look. It's finally completely, so here's a look at Noelle's whimsical, bohemian nursery!
Bohemian Girl's Nursery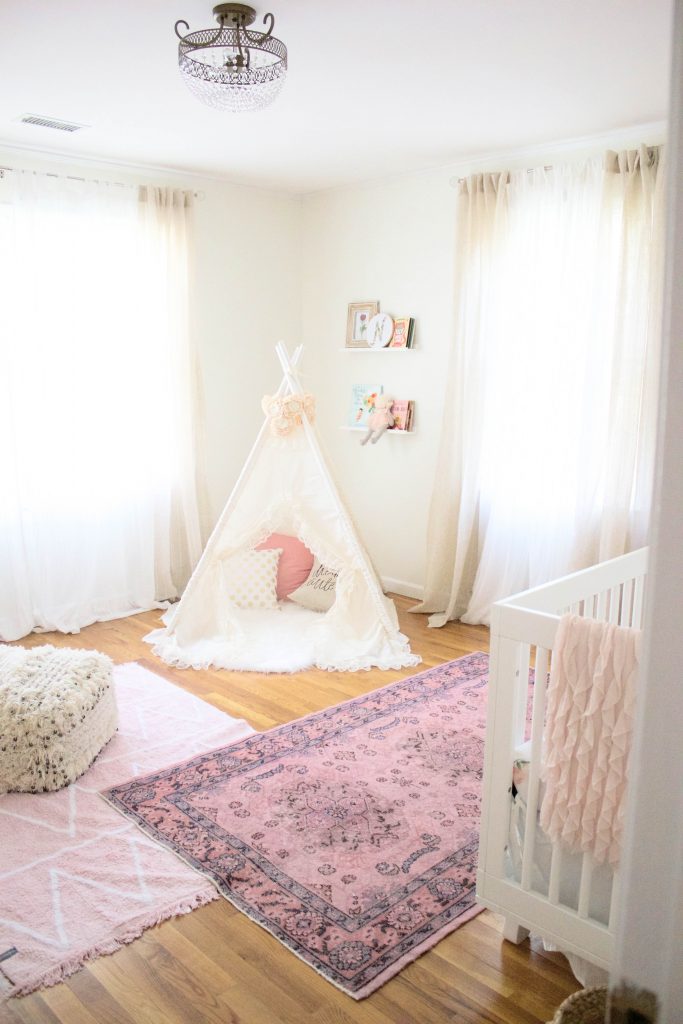 My inspiration for her nursery started with this pink and purple overdyed Turkish rug. I saw a similar one in my friend's bridal shop and just about died. I knew I needed to own one for myself, and luckily I found one online! I also fell in love with pink and white rug from Lorena Canals, so I layered them on top of each other for a fun look. I really love how it turned out!
Because of the statement the rug makes, I knew I wanted white walls. I really wanted the rug to stand out. I choose Benjamin Moore's White Dove, and I absolutely love it. Keeping the walls neutral was of no question. I've never really been one for colorful walls!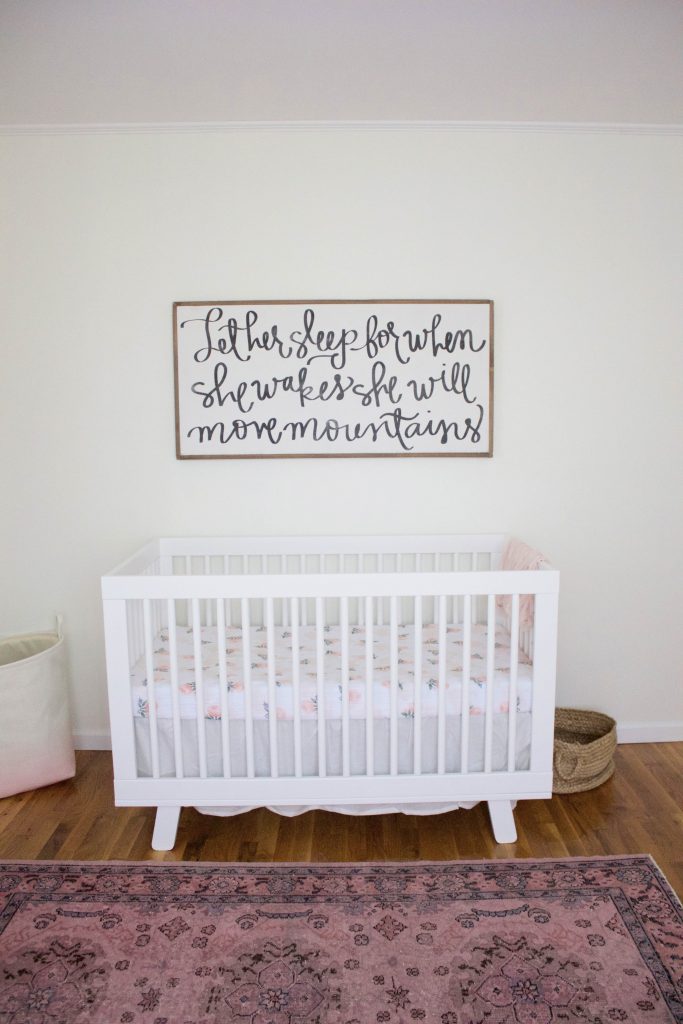 Noelle's crib is a more modern style than her brother's. I chose the BabyLetto Hudson 3 in 1 crib because I loved the clean lines. We are currently using Little Unicorn's new crib sheets and I absolutely love the designs. Above the crib we hung this sign from House of Belonging. I just love what it says, and it's one of my favorite parts of the room!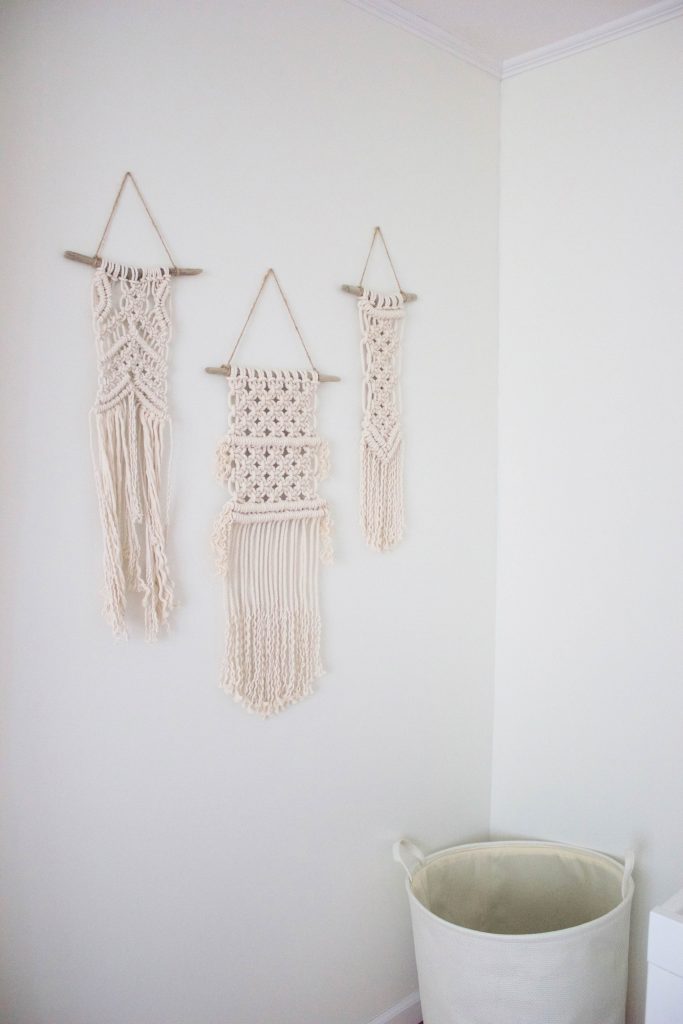 To the left of her crib is these beautiful macrame hangings from Tallulah Tallulah. Their intricate details just gets me. I love that it adds a little boho vibe as well.
Noelle's Sugar Shacks teepee makes for the perfect reading nook when she's of age. I made the area super cozy with sheepskin rugs and layered pillows. I recently added these shelves behind the teepee where I have some assorted photos, books, a doll, and this embroidered letter N from Twink Louise.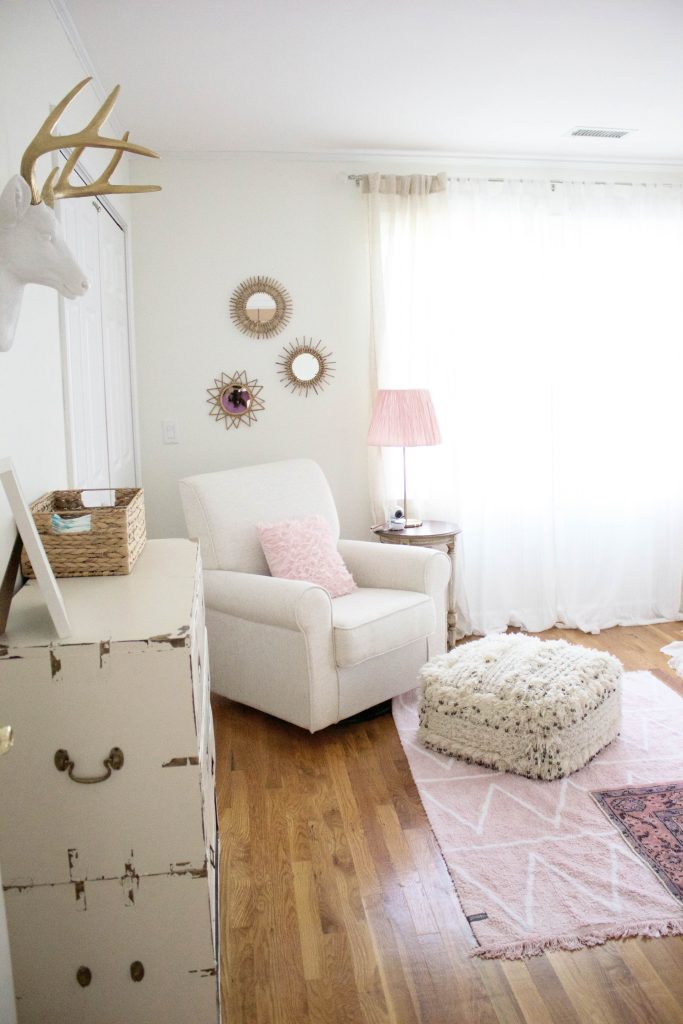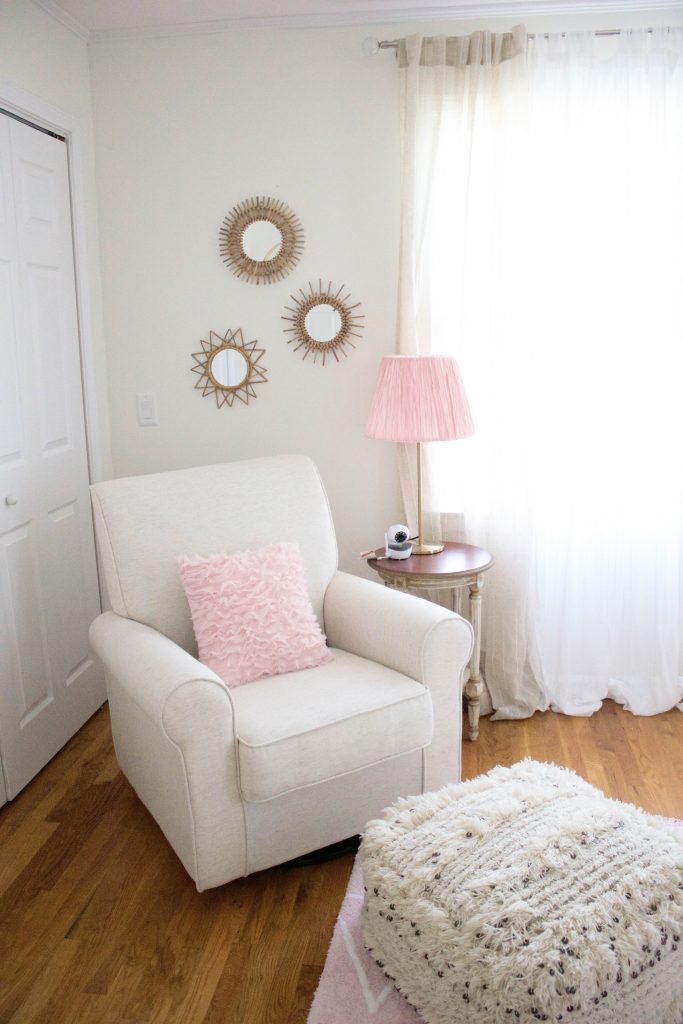 The chair in her room is from Delta Children and is so comfortable! I like to sit here and nurse her occasionally, or rock her to sleep if she's fussy and Landon allows me. The "sand" color is perfect for her room's color scheme. Behind it are these three rattan mirrors that I added for some texture and a touch of boho. The natural wood really pops against the white walls.
I've never used changing tables for my babies (I have no rhyme or reason for that, I just always change them on a blanket on the floor!). Instead, I love using vintage dressers for some character. This dresser in Noelle's room is actually an old campaign chest that I purchased off a Facebook sale group. I love the gold details to match her room, not to mention the history behind it! It's the perfect size for a little girl. She has a fairly large sized closet, so I didn't need a huge dresser. And it fits perfectly in this space!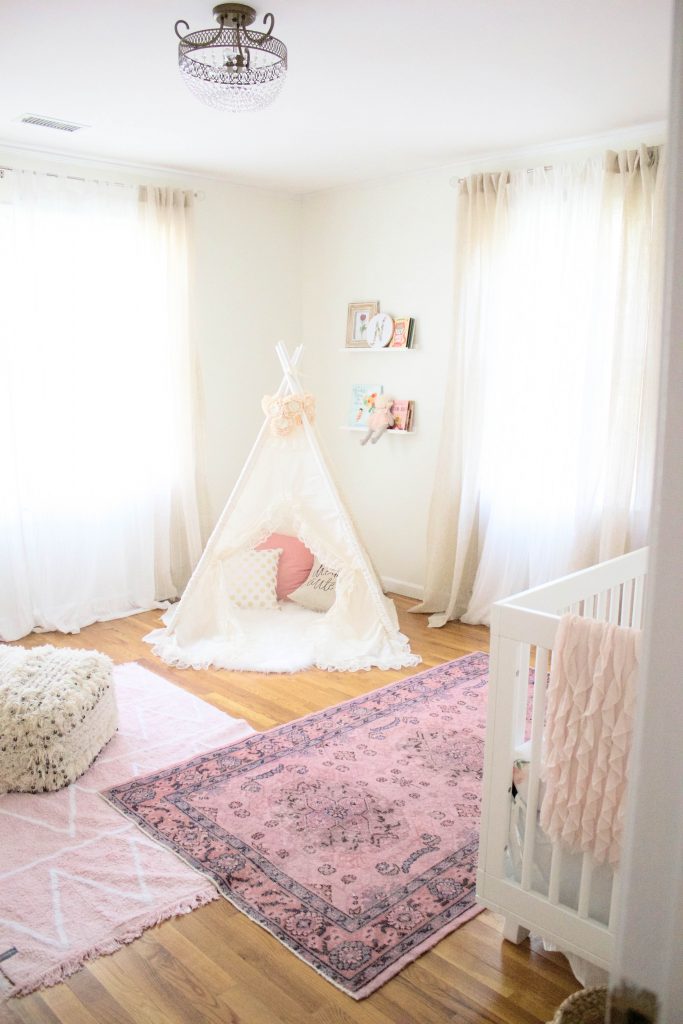 The light in her room is actually from Home Depot. I was going to put the crystal chandelier in our dining room in her room, but found this semi-flush mount instead. I actually like it better!
Her room is a whimsical place that makes me smile every time I walk in. I'm sure it will change as she grows, but I'm loving the current state! Sources are below!
Wall color: Benjamin Moore White Dove
Rug: EBay
Rug: c/o Lorena Canals
Crib: c/o Babyletto
Crib Sheets: Little Unicorn
Wall sign: c/o House of Belonging
Macrame Wall Hangings: c/o Tallulah Tallulah
Curtains: Ikea, TJMaxx
Teepee: c/o Sugar Shacks Teepees
Pillows: Ikea, Hobby Lobby, Parris Chic Boutique
Shelves: Amazon
Hoop Embroidery: c/o Twink Louise
Lamp: Ikea
Chair: c/o Delta Children
Mirrors: Urban Outfitters
Ottoman: World Market
Dresser: Vintage
Dear Head: c/o Wall Charms
Light: Home Depot