Thank you to Diaper Genie for sponsoring today's post!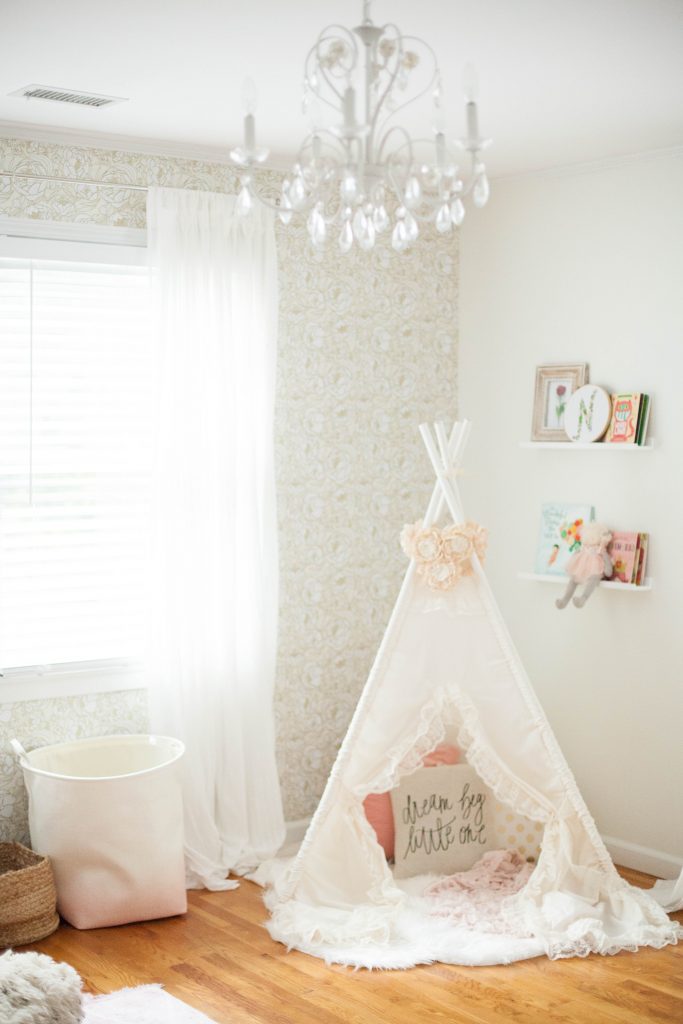 We've made a few updates to Noelle's nursery since you last saw it here, so I wanted to share them with you today. Her room is everything I've ever envisioned for my little's girls room, and is the perfect blend of whimsical, bohemian glam. I can't wait to have it evolve as she gets older.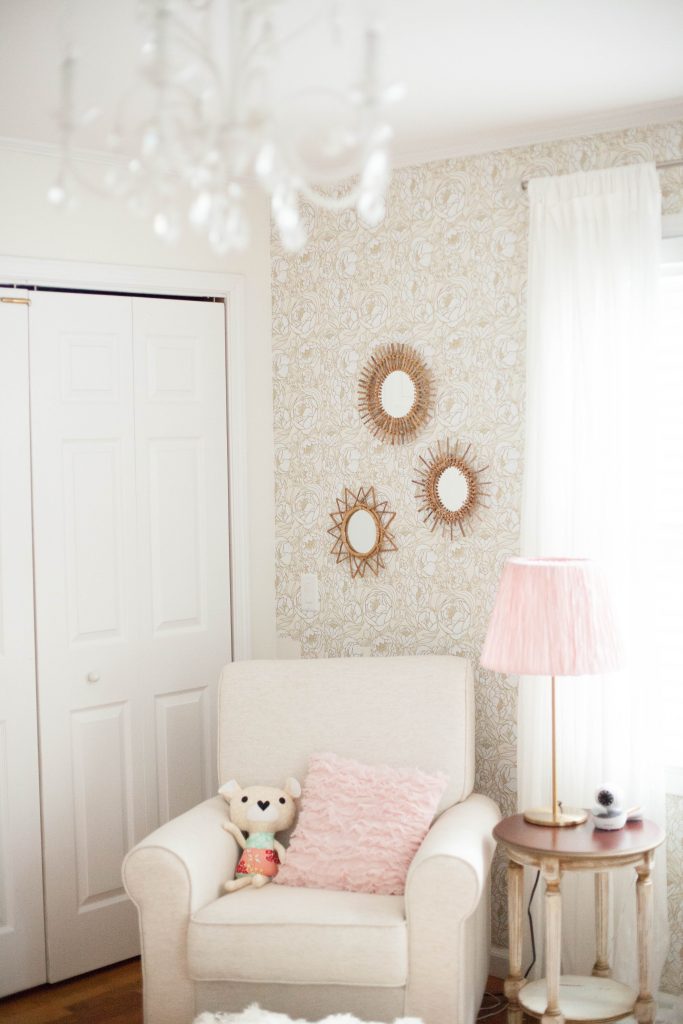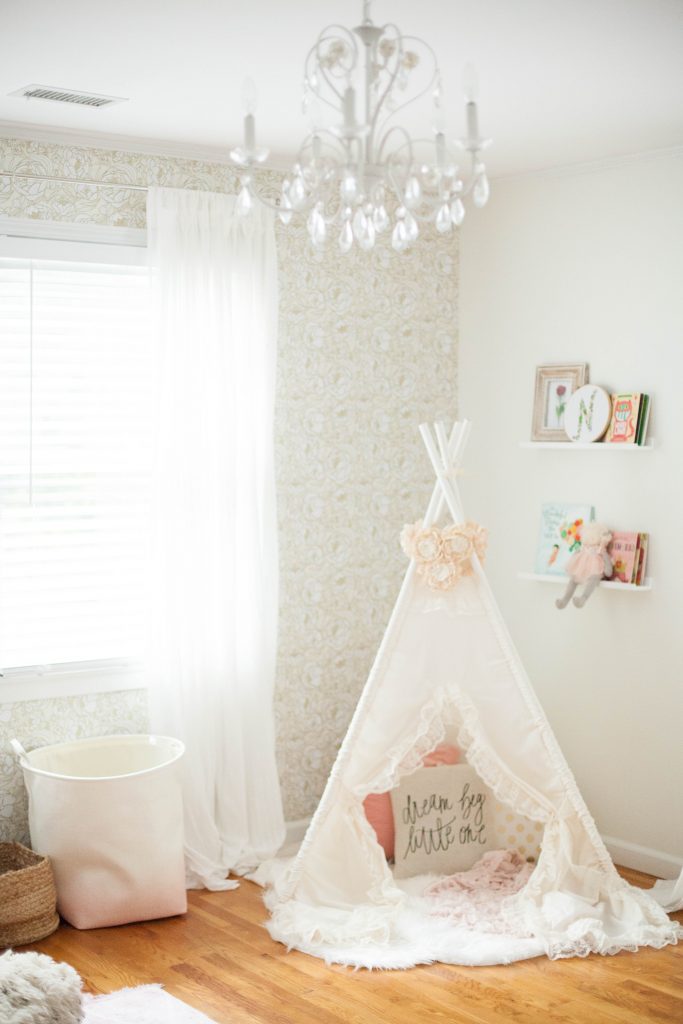 First, we recently added this gorgeous wallpaper accent wall. I would've loved to have it on the wall her crib is on, but I wanted it to be visible from the hallway. This wallpaper is the Peony print from Chasing Paper. I had seen it in another blogger's daughter's room and knew I had to have it in mine. I love the glamorous detail it adds to the room!
Second, my wonderful husband changed out the light fixture. If you remember, this chandelier was actually the one above our dining table which I recently replaced with something a little more rustic looking. I've always wanted a chandelier in my daughter's room, and I love the look of this one! It adds just the right amount of sparkle without going overboard.
Third, we added blinds to her windows and changed out the curtains. I NEEDED something to darken her room because Noelle is such a crappy sleeper. I got room darkening blinds from Home Depot in just a simple faux white wood. They darken the room just the right amount and have helped with her sleeping situation (although not much, but that's because she clearly loves me so much she can't close her eyes!).
Last, I added a Diaper Genie. I know, this might not be the update you're expecting, but it's surprisingly a REALLY great one. I remember getting conflicting reviews on Diaper Genies when registering for our first child. Half of my friends said it was a must-have while the other half said they didn't see a need for it. We opted to not get one at the time. Then came the second child in diapers. And now? Necessary. Even with Landon newly potty-trained. Here's why. We live in a two-story home and I change diapers on both levels. The bottom level isn't so bad because I can just toss the diapers in the regular trash in our kitchen. But upstairs? Well, we only have small garbages in our bathrooms. And those get filled REAL quick with diapers. And then they stink up the entire second floor since we aren't emptying those garbages as frequently as our main trash. I finally had ENOUGH and got the Diaper Genie.
Seriously such a great investment. It's eliminated the smell and also cut down on our garbage! Diaper Genie now has their Expressions line which has designer sleeves (sold separately) that fit over the Diaper Genie for some added style to your nursery. There are 5 different styles including pink, blue, and gray, but naturally I chose one of the pink options for Noelle's room. I don't quite know why I waited so long, but I'm happy I finally caved!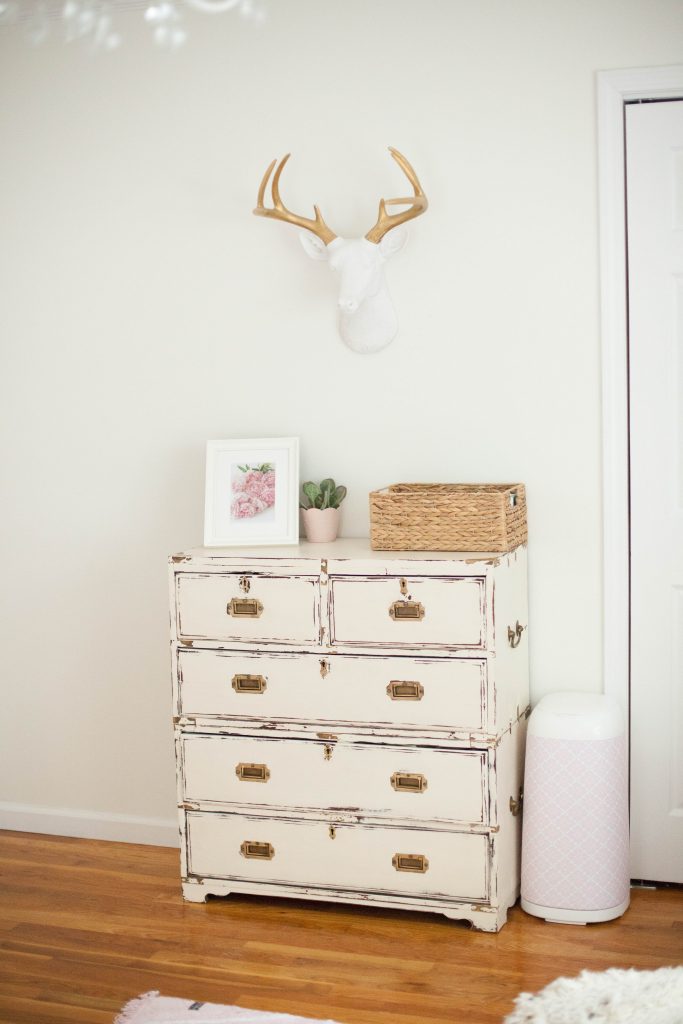 I'm debating adding shiplap to the crib wall, and I need to layer one more rug under these two. I would also like to add more storage, and I have a fun closet update coming later this month!
For the full source list for Noelle's whimsical, bohemian nursery, check out this post!