I've mentioned in the past that I've tried out Evereve's Trendsend box, and I've got another fun box to share with you today! I'm partnering with Evereve and a Trendsend stylist to curate a box of my favorite items, and you can request for them to be in yours too! I've got a special offer at the end of the post, so keep reading to check it out!
Evereve is a women's contemporary retailer that features over 100 brands you know and love like Free People, 7 for All Mankind, Sanctuary, and more. Trendsend is their at-home stylist service where customers fill out a style profile and have a stylist put together a box of 6 items that create 2-3 looks she thinks they will love. Customers simply keep what they like, and send the rest back! It's hassle free, and you have full control over how often you receive a box – on order or on demand.
I love the versatility of the items I received, so I put together a few outfits to show you!
OUTFIT 1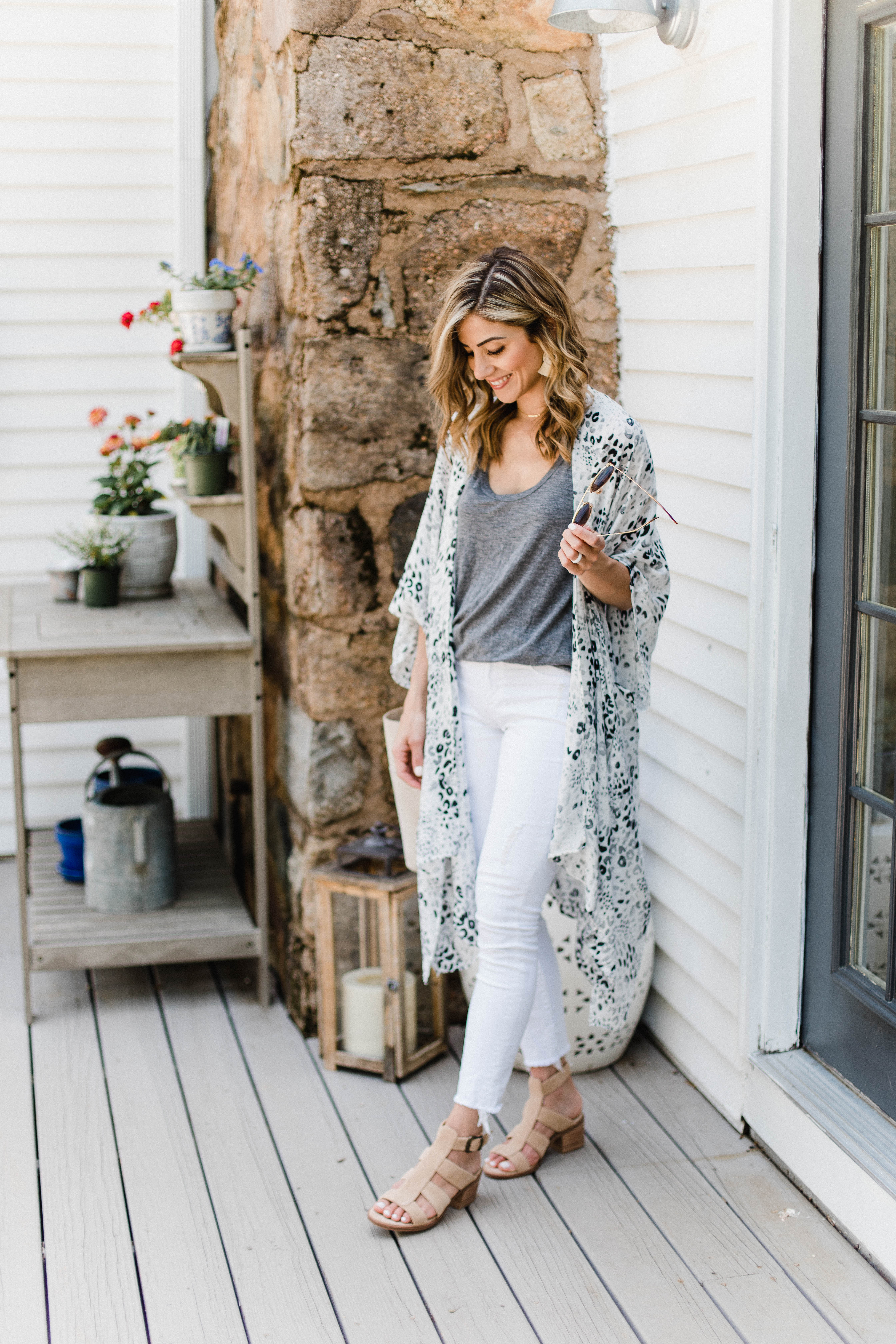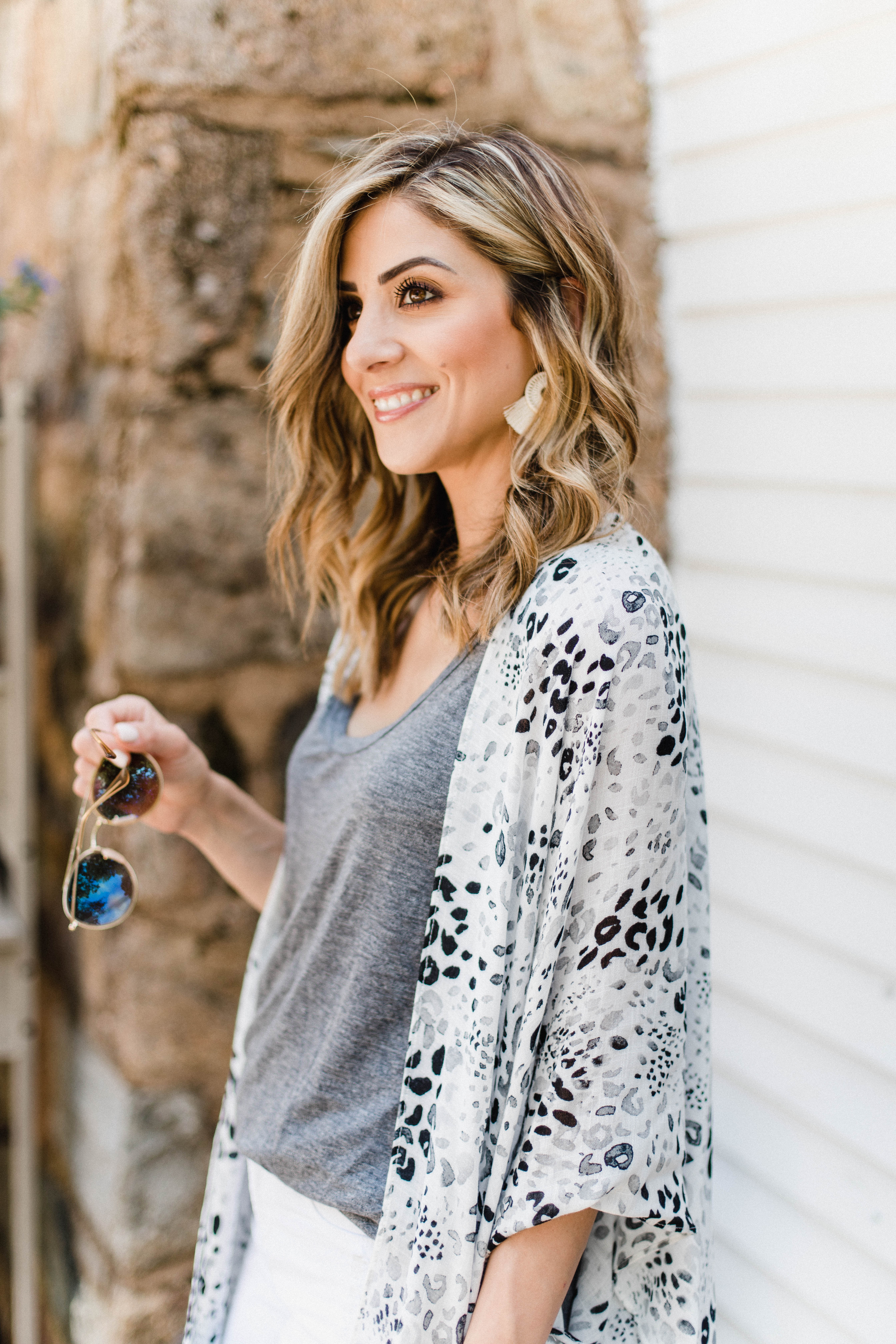 Leopard Kimono: I love how neutral this kimono is, especially for those who aren't into color! It's incredibly lightweight and flows, and looks great styled with jeans (as I have here), a skirt, shorts, or a dress. One size fits all in this one!
Mila Tank: I love the simplicity of this tank for layering! It comes in a variety of colors and fits TTS. I'm in an XS here.
Articles of Society Carly Crop Jeans: These jeans fit like a dream! They're incredibly comfortable, have a mid-rise fit, and have the perfect amount of light distressing. The only note I'll make here is the front pockets are not functional! They fits TTS, I'm wearing a 25. I love where they hit on the ankle, too.
OUTFIT 2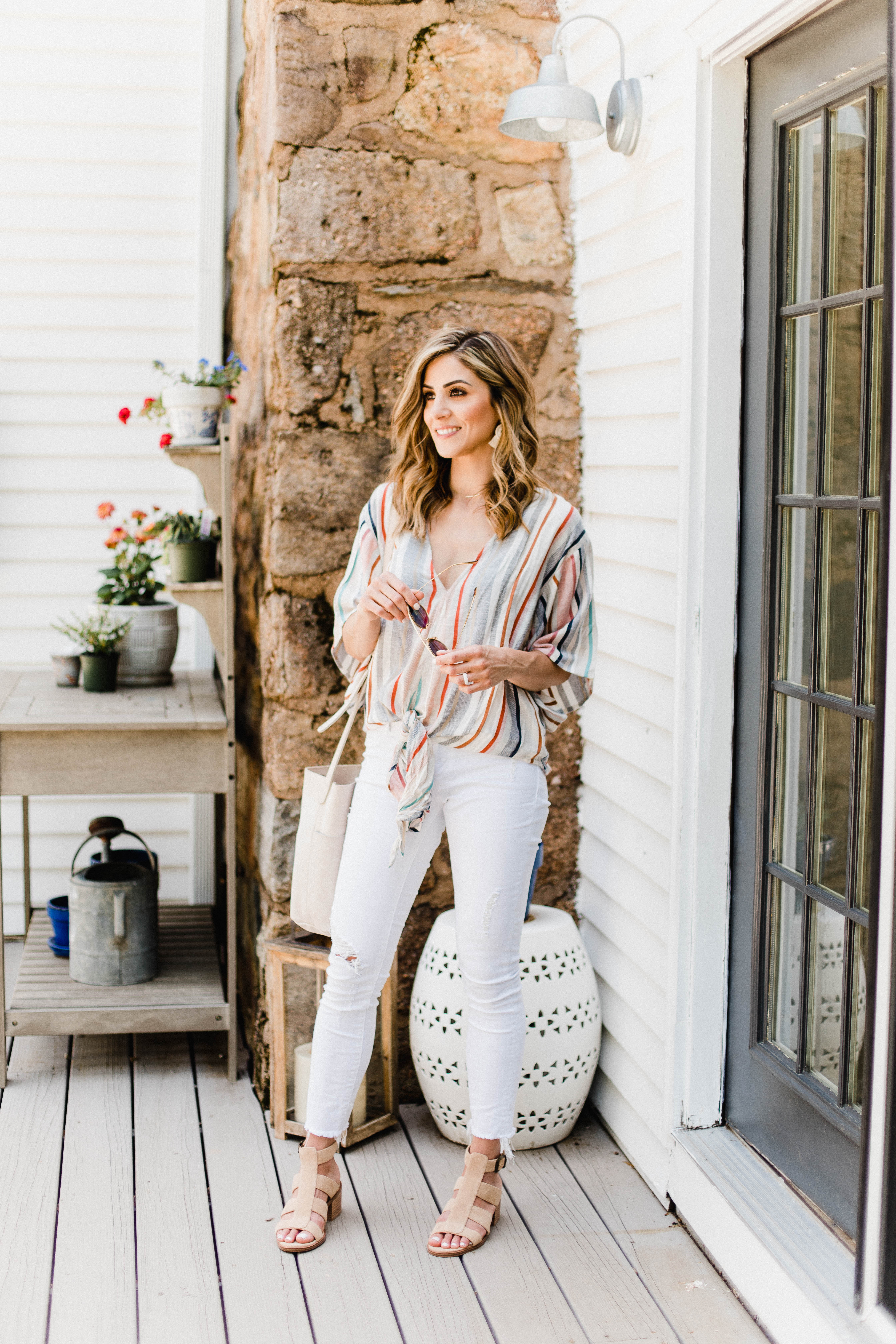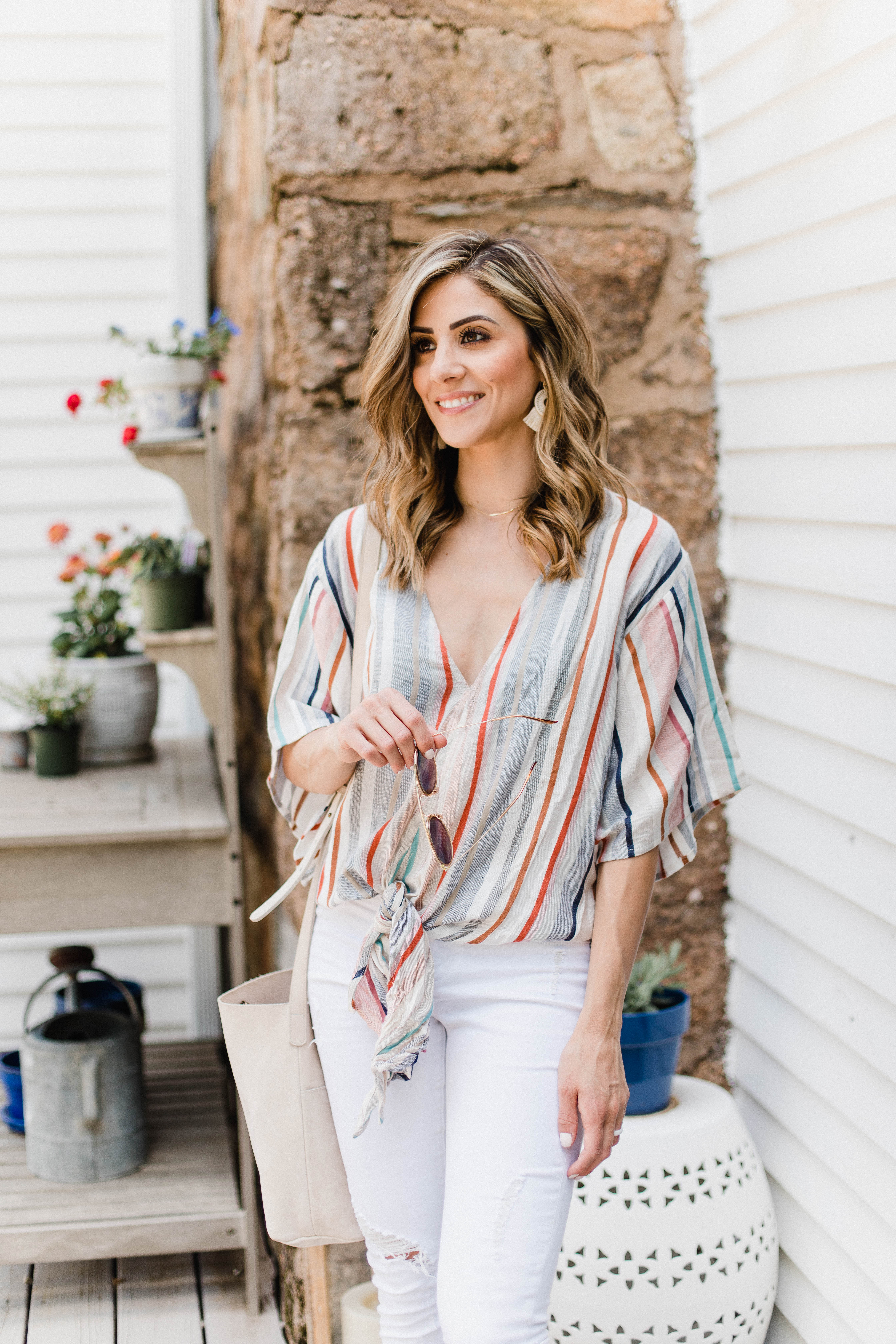 Multi Stripe Tie Front Top: This top is a fun summer addition to your closet, and can be styled with jeans, a skirt, and shorts! I love the mix of colors, and there's also a coral and gold version right here. I'm wearing a size small and I feel it fits like a true small (meaning one size smaller would be a bit better on me!).
Same Articles of Society jeans!
OUTFIT 3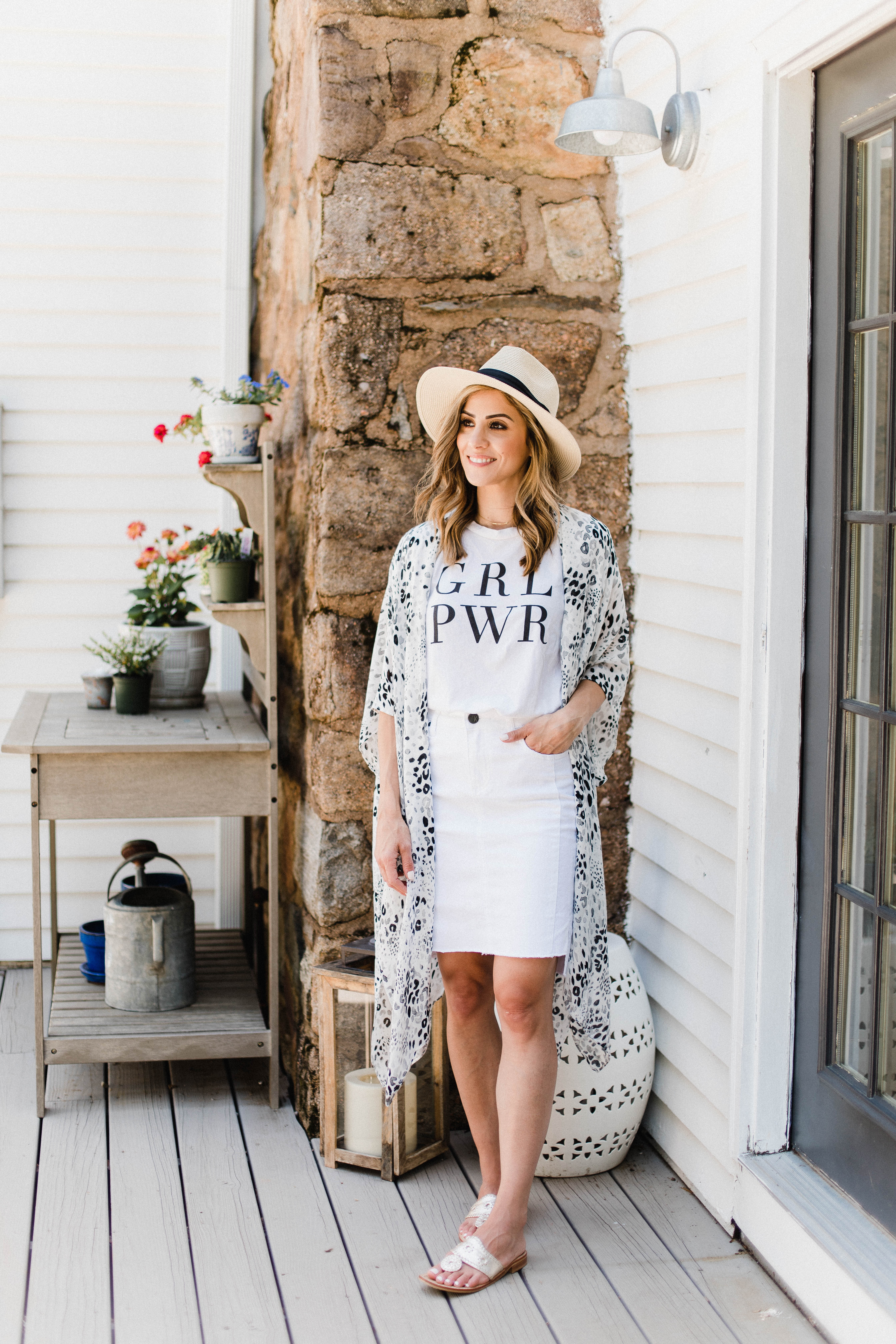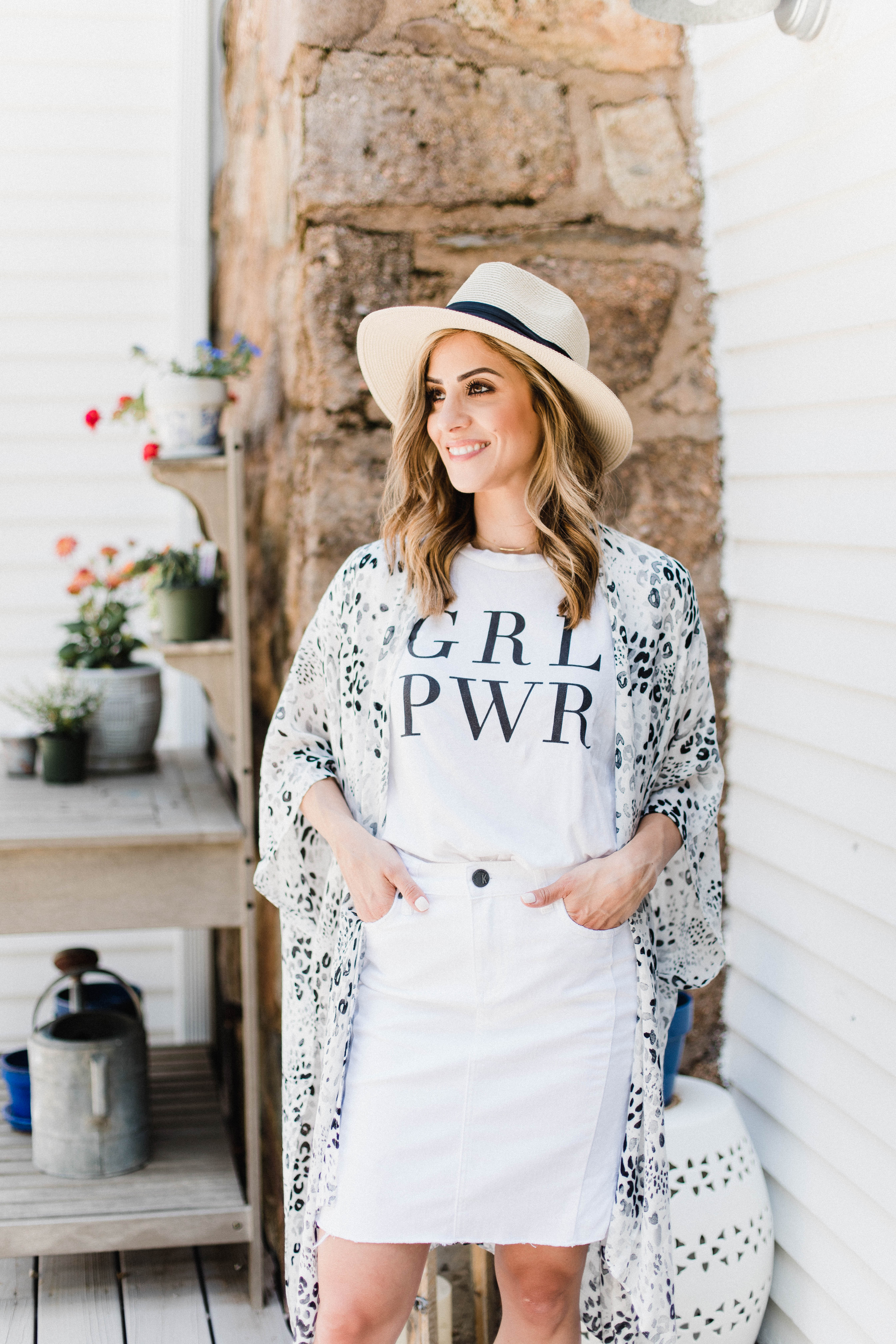 GRL PWR Crew Neck Tee: My former Spice Girls loving self is obsessed with this tee! I love a good graphic tee, and can also appreciate the simple white and black colors of this one. It's really fun to style in the way I have it above, but also great over a maxi skirt, with shorts, or whatever you like styling a graphic tee with! I'm wearing an XS here and feel it fits TTS. It's not too tight, and has a relaxed fit.
Kut from the Kloth Step Hem Skirt: I love a good denim skirt, and especially love the length of this one! It's got a slight step hem which adds some unique detail, but I love the overall simple style of this wardrobe basic. I'm wearing a size 0 here and feel it fits TTS.
Same leopard kimono as featured in outfit 1!
OUTFIT 4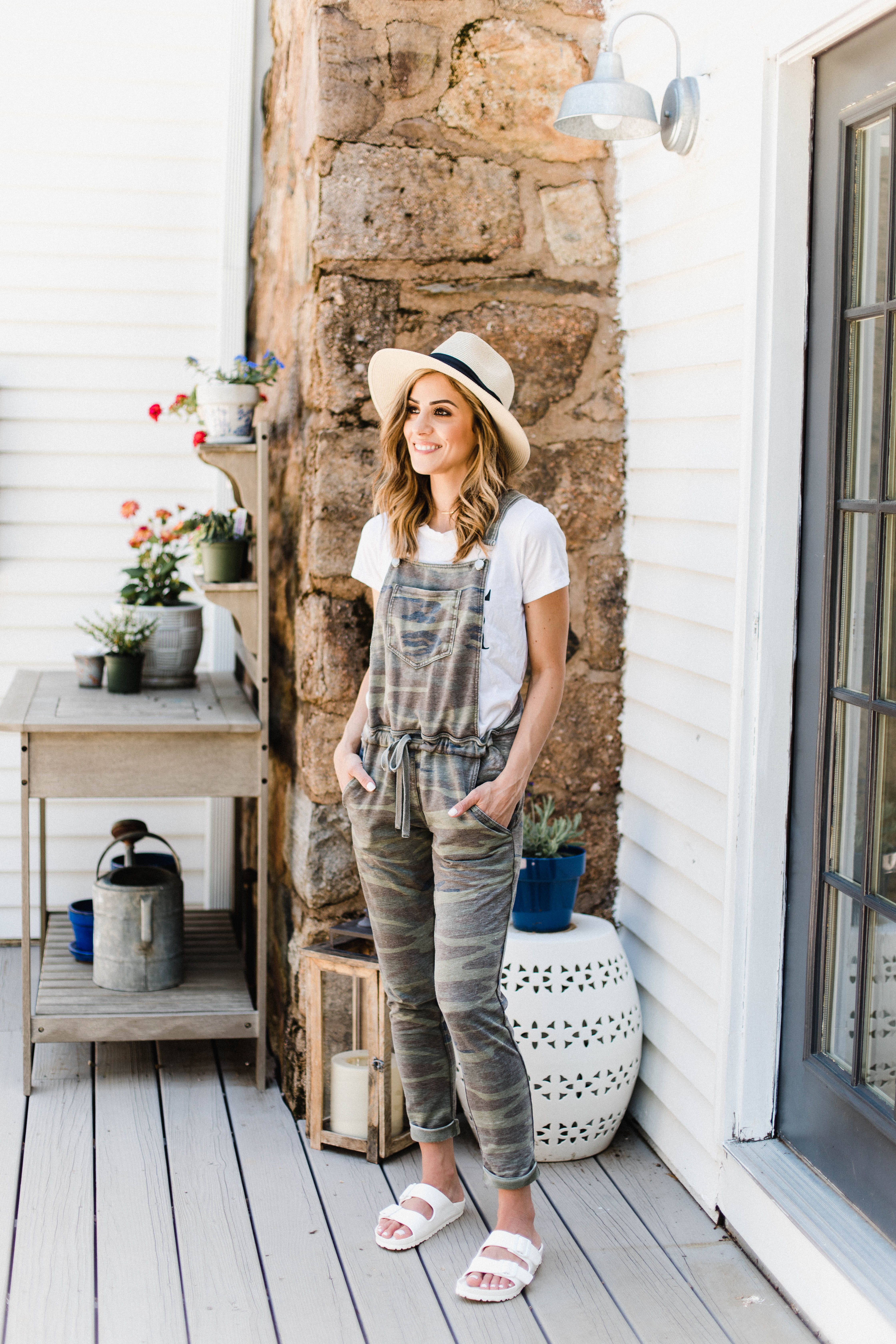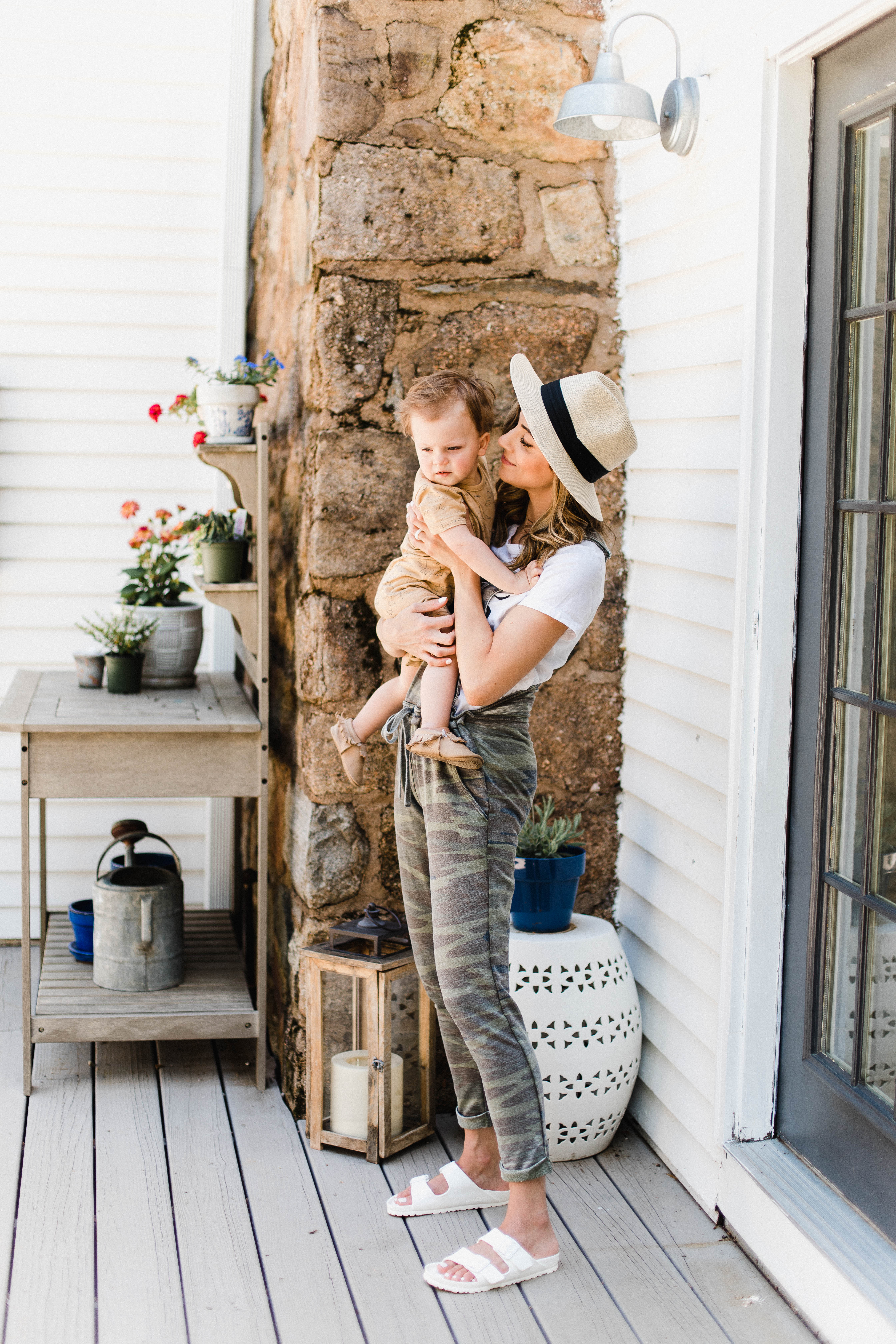 Z Supply Camo Overalls: These are the softest and most comfortable overalls I've ever put on my body! They're great whether you're just laying around the house or running around on the go! I'm wearing an XS here and they fit TTS. I like the drawstring waist, too! They come in a few other colors if camo isn't for you!
Same GRL PWR tee as in outfit 3!
Weren't those great items?! I love each and every one of them! Evereve has been kind enough to offer you guys 20% off your first box for new customers when you sign up by clicking HERE! All you have to do is fill out your Trendsend profile and place your order. When your box arrives and you checkout, your 20% off discount will be applied to your order! If you keep 4 or more items (new or old customers!), you get 10% off (in addition to the 20% if you're a new customer…making it a total of 30% off!). Evereve is also running a promo that any box styled in June gets 10% off..which can be stacked with all of the previous discounts I mentioned! That means if you're a new customer, you can get up to 40% off your box and if you're an old customer, you can get up to 20% off your box! Woo! CLICK HERE to take advantage of those savings and give Evereve Trensend a try!
SHOP THE POST

Thank you to Evereve for partnering with me on today's post, and providing providing these items for review! As always, all thoughts and opinions are my own.