How To Install Pergo Flooring
Let me just start by saying that I always choose to tackle the biggest home projects at the worst possible times. I was going on 9 months pregnant, dealing with a toddler with a husband who was at the height of his busy season all while trying to move into our new home. And now our baby is here, which means there's even less time to do anything. And the truth is? Things still aren't complete. It has taken us forever and a day to complete even the smallest project because this is real life and we have to prioritize our family over house projects. So this has taken us way longer than I would've originally liked, but what can I say? Things happen. You understand that, right? I don't think I know one person who sets out to complete a home DIY project by a certain date and actually completes it by said date.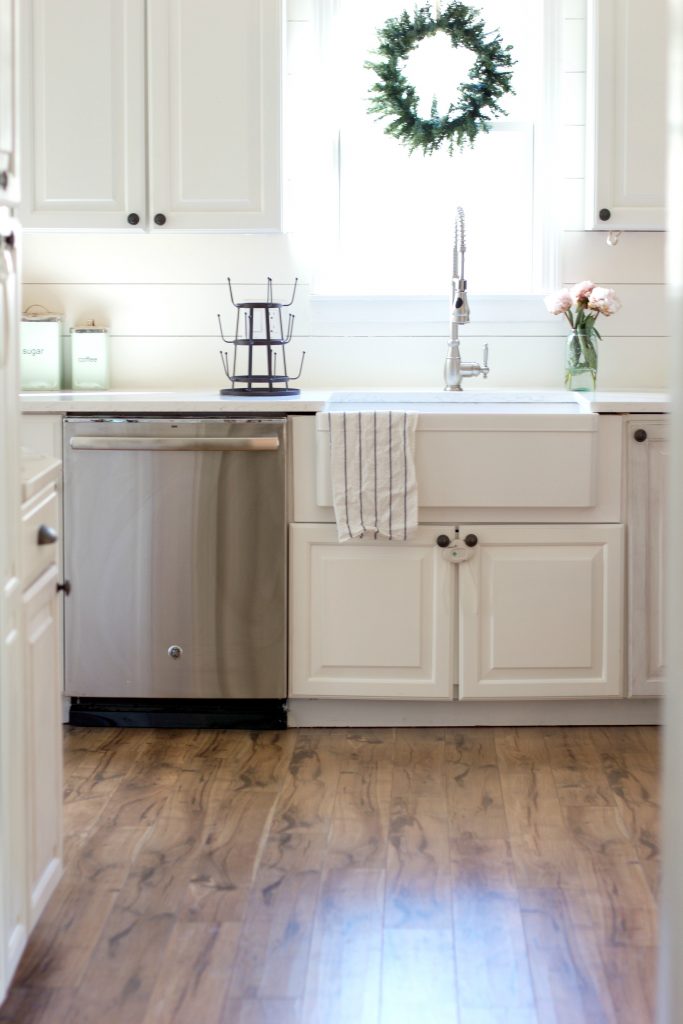 For this reason, we had to hire help for my husband to complete this floor install. You can see my previous Pergo posts here and here for why we chose to go with Pergo laminate and the maintenance of the flooring. This post will be about how to install Pergo flooring, and my first suggestion is to have at least one other person there to help you. It goes by a lot quicker if you have an extra set of hands or two to measure, cut, and help piece it together. We asked my husband's apprentice to assist, since he has a love for all things DIY related and claims to be a "pro" from watching "This Old House." 😉
Before installing anything, we had to prep our floors. We had tile in our dining room, which was a lengthy (and filthy) process to rip up. There was also old Pergo flooring in our kitchen (the color was not my taste) that came up very easily. The beauty in Pergo is that it can be installed over most old flooring, but we wanted to remove everything to avoid a height difference between our existing hardwood in the living room and the two rooms we were installing in. Once everything was removed down to the subfloor, we were good to go.
We first downloaded the copy of Pergo's flooring essential guide on how to install laminate flooring. We also watched videos on Pergo's YouTube channel to help us fully understand the process. I will tell you, it takes a bit to get the click-lock method down. My husband and I weren't doing it right at first, but we then found that using an installation kit was what we needed for success with install. It includes a tapping block, pull bar and spacers that help the boards click and lock correctly, which ensures secure joints. The YouTube channel was the key to our success.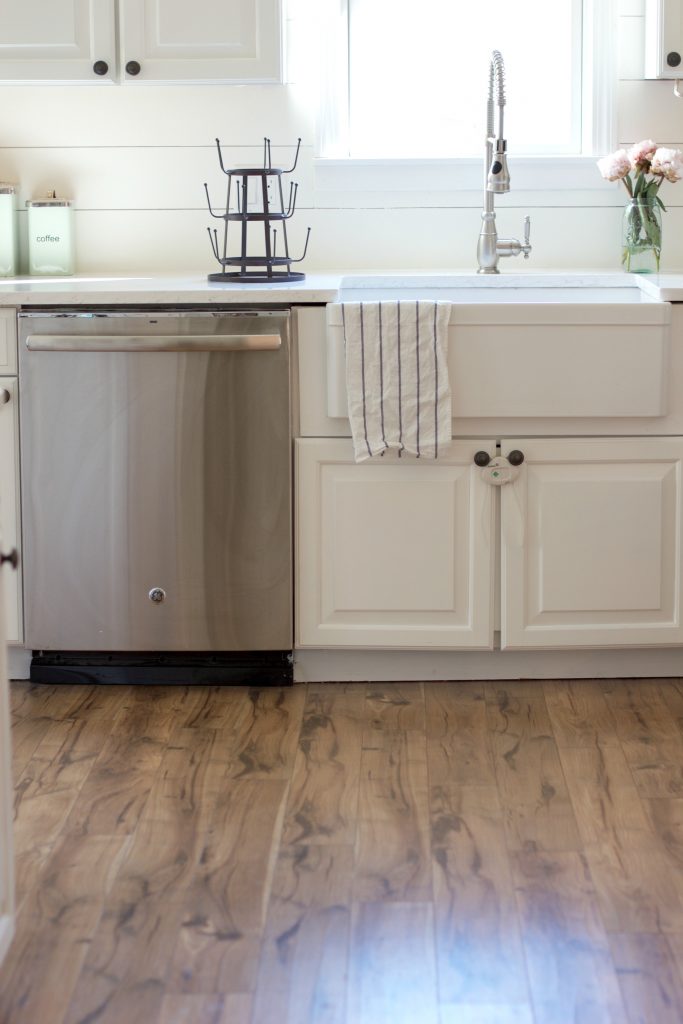 Some key points to keep in mind during install:
There NEEDS to be a 3/8ths inch gap between the boards and the wall on all sides. The boards will expand and contract with climate change, and if there's no room for the boards to move, it will cause them to lift and essentially ruin your beautiful floors. Use the spacers that come in the installation kit, as they are already sized accordingly.
There should be at least 12 inches between joints, from row to row. Don't make this mistake. We did, and had to start all over (ask my husband how happy he was about that). If there isn't at least 12 inches, the pressure of the boards shifting can cause issues and the floor to gap.
Make sure the boards are clicked in correctly. We didn't at first and had a difficult time installing the first and second row because we were worried about ruining the boards. The installation kit will make your experience easier!
Overall, once we got the hang of how the boards click together, installation was easy! The only time consuming part was cutting around air vents and our kitchen cabinets because they're on an angle. The boards cut really easily, much to my surprise. And because Pergo laminate is so forgiving (difficult to scratch, stain, etc), we had not ONE issue with board damage during install.
We highly recommend choosing Pergo for your laminate flooring needs due to the ease of installation and high quality of the flooring. Use Pergo's store locator to see what local retailer carries the brand and all the tools you need for install!