How To Pack a Diaper Bag for Two Kids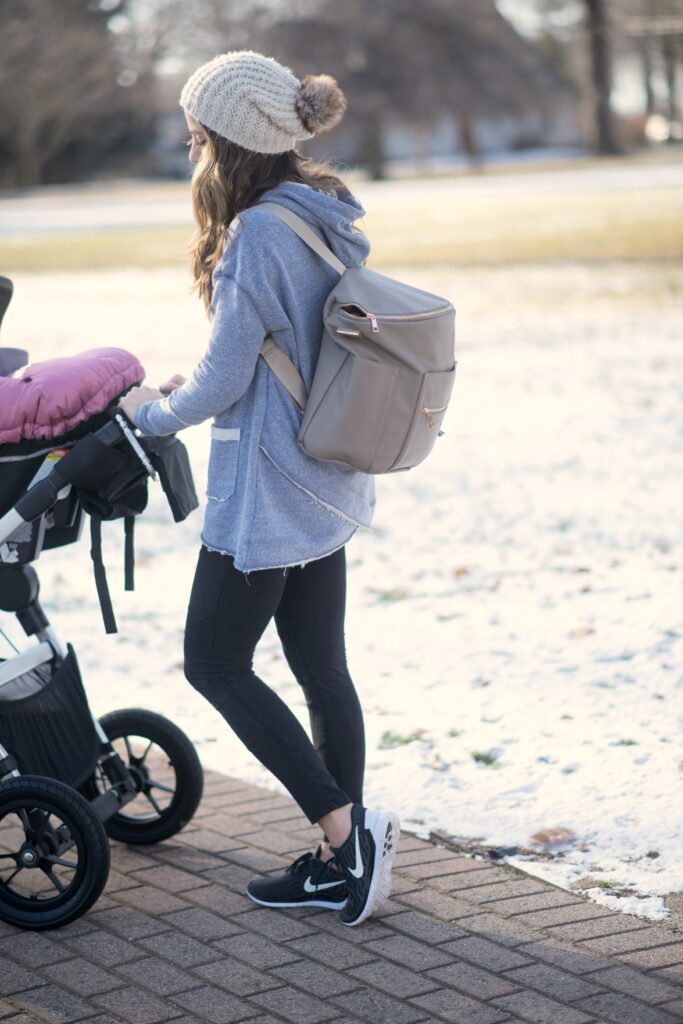 As a first time mom, my diaper bag was equivalent to a Mary Poppins bag. I carried everything under the sun in that thing because I was terrified of being away from home and needing something. This worked against me because I never ended up actually needing half the stuff in there, and it made my already heavy diaper bag even heavier. Now with baby #2, I feel I've been able to streamline my bag much more realistically for two children. Today I want to give you my tips on how to pack a diaper bag for two kids.
(Top: c/o Evy's Tree // Leggings: Nordstrom // Sneakers: Nike // Bag: c/o Fawn Design)
You'll notice the list below is the bare minimum, but here's what's always in my diaper bag:
For my newborn:
3-4 diapers
Wipes
A burp cloth
A change of clothes
A hat (during the winter)
My nursing cover
(I would include a pacifier but my children hate pacifiers)
For my toddler:
2 diapers
Wipes
A water cup
Snacks (usually a pouch because they're easy, an apple and his favorite Annie's Cheddar Bunnies)
MAYBE a change of pants. Maybe.
For myself/other things:
A portable changing mat
Hand sanitizer
Lip balm
Hand wipes (like Wet Ones…I get the travel packs)
That's it. Yes, really. I no longer carry a purse; instead I'll throw my wallet, lip gloss if needed, and whatever else I may need that day right in the bag, which usually isn't much because we are rarely out for an extended period of time.
Some tips:
I only pack for that outing and that's it. No need to overpack if we won't be needing what's in it. Streamline!
Keep your bag in the car. I do this in the summer, but during the colder months I bring my diaper bag inside because otherwise the wipes turn into solid bricks (ever happen to you?!). I've learned that this makes trips out to the car much, much easier. I also keep a stock of books in a separate bag in my car for my toddler so he's occupied during the drive.
Use a diaper bag that converts to a backpack. Mamas….this has been my saving grace. Being hands free is priceless!!!! Fawn Design recently sent me their bag to try out and I'm absolutely smitten with it. Not only it is large enough to carry what I need, but it's also not overly heavy AND coverts to a backpack. This makes trips out of the house so much easier. I can put the backpack on, have my toddler in one hand and the infant seat in the other. Trust me when I say you need this!
You'll find streamlining your diaper bag will also make it easier to find what you need. I can honestly say I've yet to need anything additional than what I listed above. Do a stock check before leaving the house and only fill what's absolutely necessary.
And again, if you need diaper bag recommendations for two kids, Fawn Design has my heart. I've tested out MANY diaper bags (seriously…I've been on the hunt for one that carries enough for 2!), and this one tops the list!
Want to see more colors? See how Lynzy is styling her blush pink bag over on her blog here!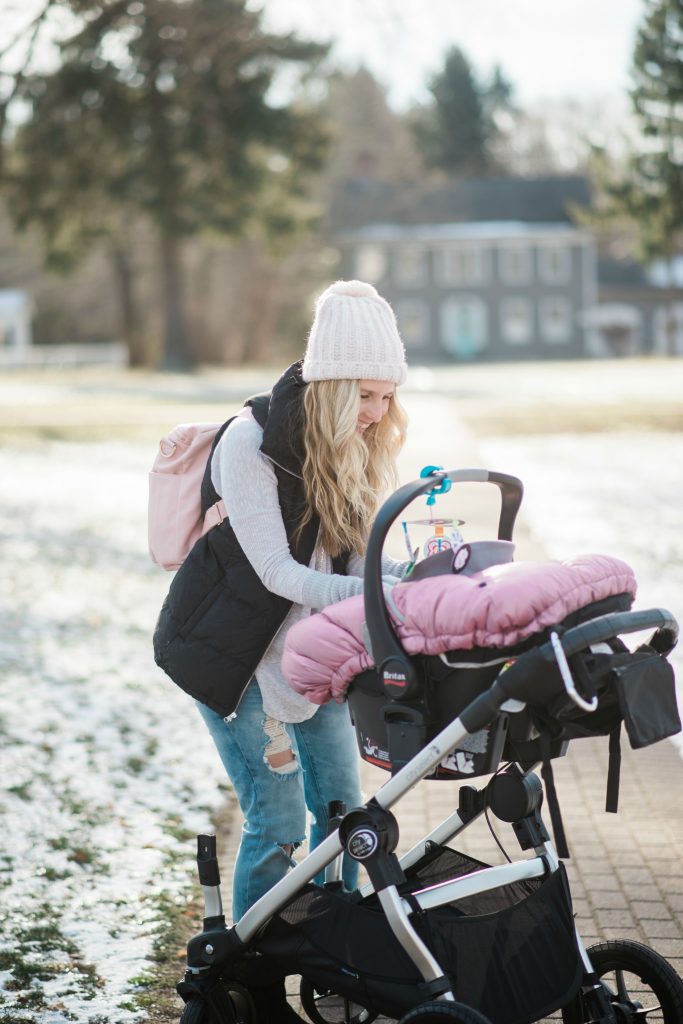 Thank you to Fawn Design for sponsoring today's post. While this was gifted, I truly LOVE this bag and use it every day.