Are you ready for the BEST Baby Registry List EVER? Keep reading!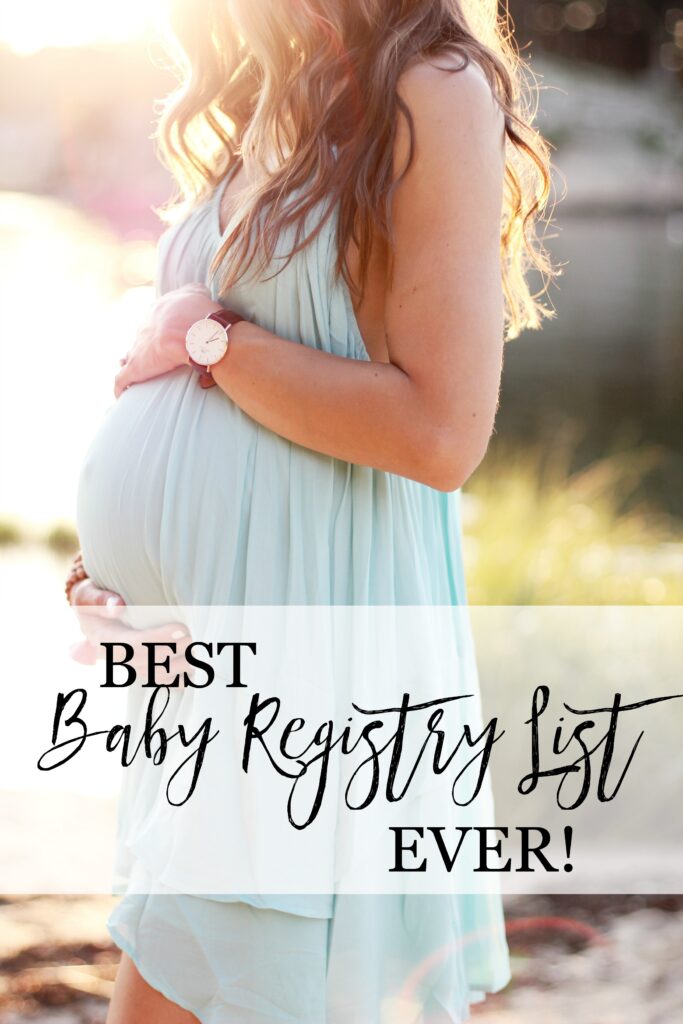 It's here…the BEST baby registry list, filled with items I've tried and tested myself! These items are ones I live by with my children, so I wanted to share a cumulative list with you. I'll be adding to it as I go!
Best Baby Registry List
BEST BABY REGISTRY LIST: SLEEP
Aden & Anais Swaddle Blankets: I'll always love these blankets. They're soft and easy to swaddle, and also come in cute prints. We have many things from the Aden and Anais line, but I do prefer their bamboo cotton because of how soft it is.
Buttermilk Babies Swaddle Blankets: These were sent to me for Noelle, and I have to say they are hands down the softest swaddles EVER. They also maintain their softness with every wash.
Little Unicorn Swaddle Blankets: Other great options, and I'm obsessed with the prints!
Woombie: This is fantastic for swaddling in the early days, as it zips up and keeps baby's arms tight! Landon was never able to bust out of this one.
Halo SleepSack: True story, my son still slept in his up until about 6 months ago. And my daughter is currently using them. These are great during that in-between stage of no swaddle and no blanket because they keep baby warm without the risk of it covering their face. We swear by these and have them in all sizes.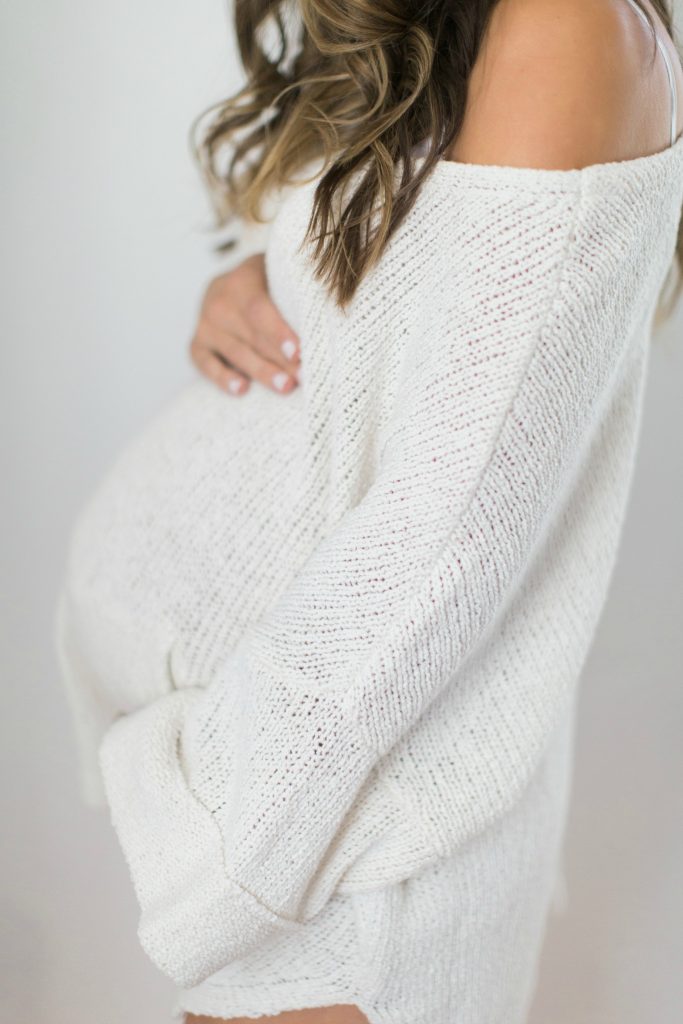 (Photo by Alicia Ann Photographers)
BEST BABY REGISTRY LIST: TRAVEL
UppaBaby Vista: This is our current double stroller. I love that it converts to a double with a simple click of the seat. It comes with a bassinet as well, and the seats can be arranged multiple ways. It also closes incredibly easily, which is necessary! The undercarriage is HUGE and perfect for shopping trips. Seriously, I've thrown my groceries in there before.
Quinny Moodd Stroller: This stroller is pretty neat and worth mentioning for a single stroller! It's incredibly easy to open and fold up, and can be used from birth with an infant seat adaptor. The modern design is super sleek as well.
BOB Revolution Jogging Stroller: I had a single BOB for Landon, and used it every single day during the warm weather months. I even brought it on the beach! It's a fantastic jogging stroller and glides with ease. My son absolutely loves it and would look forward to sitting back with his snack while mom jogged. We used it daily for our playground workouts. I was gifted an old model of the Duallie, but I'm also interested in the Baby Jogger City Summit x3 double jogger as well. I'll update you if I get the chance to try it out!
Chicco KeyFit 30: Noelle hates the car seat and this is the only one she doesn't totally scream her head off in 😉
Chicco NextFit: This is the convertible car seat we have for Landon, and I love how easy it is to install. Car seat installation is my nemesis and this one can be installed basically one handed.
Maxi Cosi Pria 70: We have this convertible seat for Noelle, and I love how soft it is.
Ergo Four Position 360 Baby Carrier: I prefer the Ergo once baby is a little bigger (3+ months), but it's really a fantastic carrier. I used the original Ergo a lot so I could be handsfree with Landon, and it's currently getting a workout with Noelle. It's also a great option for dads (if your husband is like mine and refuses to wear a wrap) because it's a little more masculine looking. The 360 allows front facing as well!
Solly Baby Wrap: I love using this wrap when the babies are itty bitty. It's easy to tie without being bulky, and I love the soft patterns and colors it comes in. All my babes have loved it too.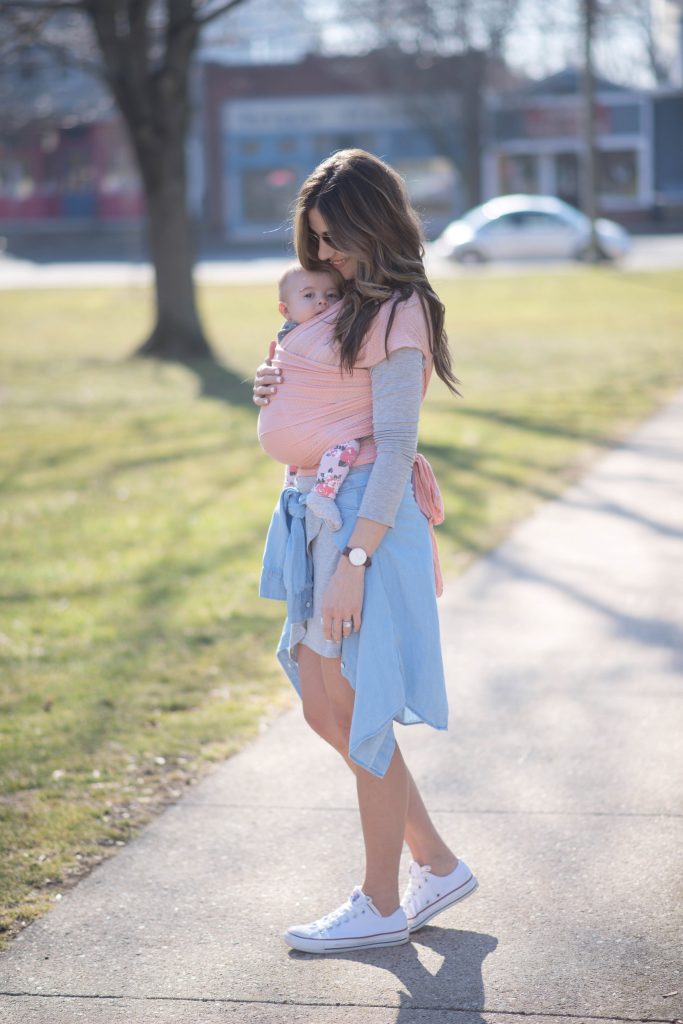 7am Enfant Car Seat Cocoon: I literally received comments on this baby product DAILY. It's the best invention ever! It slides right over the car seat and keeps baby warm during the cold weather. Since heavy jackets and snow suits are a no-no in car seats, this is a great option as it doesn't compromise the integrity of the harness. I wish I had this with Landon, but I am so happy to have it now. I highly, highly recommend adding this to your baby registry!
BEST BABY REGISTRY LIST: DIAPERING/LAUNDRY
Pampers Swaddlers: Pampers will always be my favorite diapers. We've used many other brands and these are the only ones to stand up against messy poops. I signed up with Amazon Subscribe and Save and they're delivered to my doorstep every month.
Dreft Stain Remover: The best stain remover EVER. It even gets out the nasty yellow breastmilk poop stains! I always spray it right on the stain as soon as it happens and it comes right out in the wash.
Desitin Maximum Strength: I've tried a variety of diaper rash ointments, and this is the only one that LITERALLY works after the first treatment. I refuse to buy anything else.
BEST BABY REGISTRY LIST: BATHING
Eurobath: My husband is the bath man, and this is his favorite tub to use for the kids. He actually still bathes my son in it because it takes less time to fill up than the actual tub and the size is still accommodating!
Skip Hop Moby Smart Sling 3-Stage Tub: I personally love this tub (you can see my post here) because of the mesh sling for when babies are really little! It's also easy to drain and not as huge as the other tub we use. So this is my preferred tub when I'm doing baths.
Puracy Body Wash: This was a random Amazon find, but I love the simple ingredients and light scent of this body wash. It's also inexpensive!
Aden & Anais Washcloths/Towels: I love that the towels are the perfect size for the babes, and the softness of the washcloths. They're the only washcloths I'll use!
BEST BABY REGISTRY LIST: HEALTH/MEDICINE
Infant's Acetaminophen: Always necessary to have on hand for when a fever strikes.
Infant's Ibuprofen: Same as above, for when baby is over 6 months.
Gerber Soothe Colic Drops: These colic drops were fantastic for Noelle. Her stomach was so irritable (as most babies are the first 3 months), and this calmed her down quite a bit.
Highland's Colic Tablets: I used these before I knew about Gerber Soothe, and they really helped with my son's gassy belly. I refused to go anywhere without them at one point!
Gas Drops: Also great for those gassy moments.
Baby Nail Clipper: I actually prefer to file my baby's nails because I'm terrified of clipping them, but I've used these for nail trimming!
NoseFrida: Best nose sucker ever. The concept looks totally gross, but I've yet to suck my kids snot, so trust me when I say it's good 😉
Windii: Another totally crazy concept, but this totally worked when Noelle was suuuuper gassy the first 8 weeks!
Rectal thermometer: Honestly, I've found that anything other than a rectal is not accurate, so I typically use this one when baby is little.
Crane Humidifier: This is always good to have on hand during the winter or when baby has a cold. It really helps break up congestion and helps them sleep better overnight when they aren't feeling well.
Owlet: You can read my post all about this right HERE. I love the peace of mind this provides! Also, if you purchase through this link, you receive $20 off.
BEST BABY REGISTRY LIST: BREASTFEEDING/BOTTLING
Organic Bamboo Nursing Pads: These are great because they're SO soft and washable. They also are great for the early stages when your nipples are sore because they won't stick to your nipples.
Earth Mama Angel Baby Nipple Cream: I became a huge fan of this nipple cream when I had Landon. It's a great natural option and free of lanolin if you're allergic!
Lanolin: This go around, my cure for sore nipples was letting breastmilk air dry on the nipple followed by lanolin. It really helped with any soreness, and I still use it from time to time when Noelle is going through a growth spurt and nursing around the clock.
Lansinoh Disposable Nursing Pads: These are great for leaky boobs! Some women leak more than others, especially with a let down, but it's always good to have these on hand.
Gilligan & O'Malley Nursing Bras: I always go for the cheap Target kind because they get milk stained! But I also am not gifted in the boob area, so I'm not sure how these would hold up with bigger boobs. These also have no underwire, which I like while nursing.
Lamaze Cotton Spandex Sleep Bra for Nursing and Maternity
: This is a great sleep nursing bra. My nipples were very sore the first couple of months, so wearing a nursing bra to bed with a nursing pad helped avoid any chafing.
Medela Pump in Style Advanced: This is the pump I swear by because it works wonderfully and I've never had an issue. I also love that it comes with a car adapter and battery pack if needed. I used this bad boy while exclusive pumping and it worked great the entire time!
Pumpin Pals: These flanges are much more comfortable than the ones that come with the pump! These saved me while EPing.
Simple Wishes Handsfree Pumping Bra: This is the best handsfree nursing bra, EVER. Take if from a former exclusive pumper! It doesn't cause the milk bottles to sag and keeps everything contained. It's also easily adjustable.
Sarah Wells Bags Breast Pump Bag: I prefer to have a stylish breast pump bag for pumping on the go, and Sarah Wells has a beautiful variety to choose from. These are great for working mamas! The quality is top notch.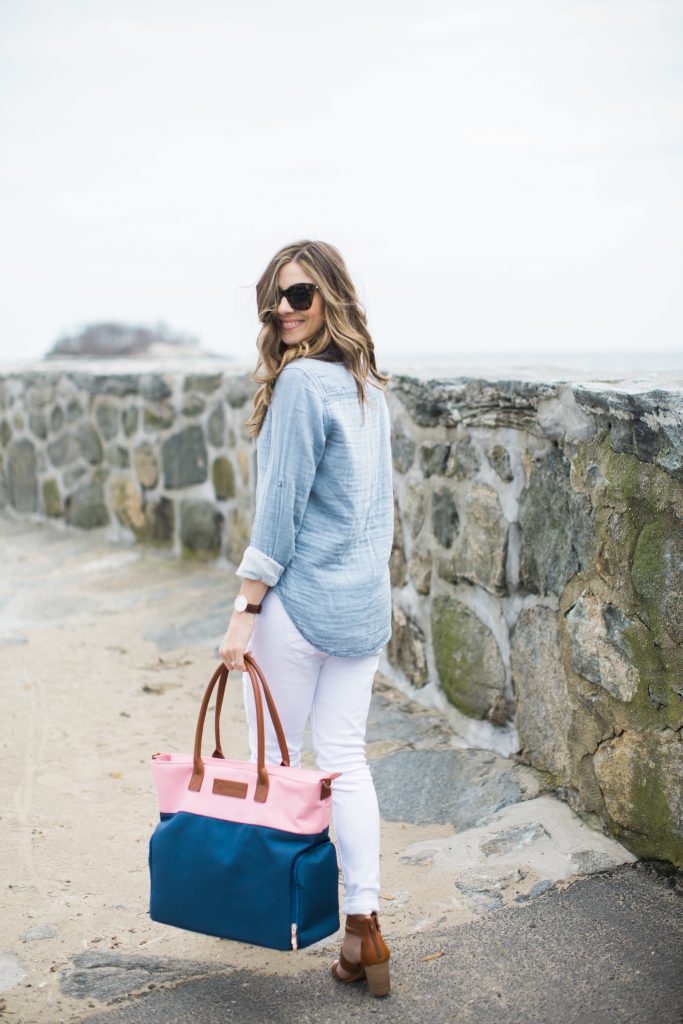 Pumparoo: This is another creation by Sarah Wells, and I love it because it's a bag for your pump parts! I throw my parts in here in between pumps. It's also machine washable. This is great for sticking in the fridge in between pump at work.
Target Breastmilk Storage Bags: There are the best breastmilk bags I've found for the inexpensive price. I've yet to have one leak!
Comotomo Baby Bottle: These bottles look and flow like an actual breast, and we had no issues with Noelle transitioning to and from the botlle with them!
Munchkin LATCH Bottle: We also tried this bottle out and I LOVE that the nipple acts almost like an accordion so it moves as your baby moves around and prevents them from unlatching. Great for those distracted babies and to avoid any gas/colic! I posted about these here.
BEST BABY REGISTRY LIST: FEEDING
Bumkins Bibs: These were my favorite bibs with Landon, and I loved that they could be washed in the dishwasher! They held up great and are still in perfect condition.
Burp Cloths: Instead of fancy burp cloths, I bought these Gerber cloth diapers. They do the trick and are cheap! Otherwise, I love the Aden and Anais Burpy Bibs.
Munchkin Soft-Tip Infant Spoon: I love these spoons for baby food!
BEST BABY REGISTRY LIST: FURNITURE/EQUIPMENT
Jenny Lind Crib: I love the vintage look of this crib, and the price is unbeatable. It was easy to put together, and I love that it converts to a toddler bed.
Babyletto Hudson Crib: This is Noelle's crib and I love the modern look of it. It's priced higher than the Jenny Lind but it still a great option. It also converts to a toddler bed as well.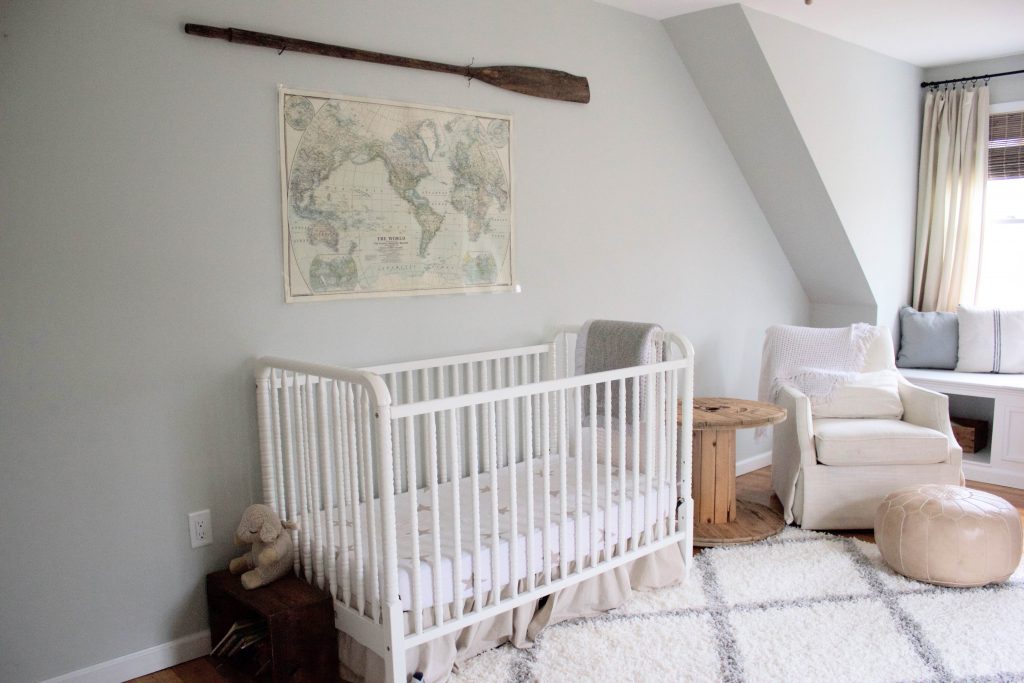 Rock 'n Play: Basically, you can't be without this ever. This was our lifesaver during the first few months of both babies' lives! Also a great option for reflux babies.
HALO Bassinest Swivel Sleeper: Noelle was only in this for a short while, but I liked the convenience of having her at bed level right next to the bed. It also swivels and the side lowers for easy access to baby. This is a great option for the early months before baby transitions to the crib.
Safety 1st Crib Mattress: This one is affordable and also soft. And don't forget the waterproof cover in case accidents happen!
Fisher-Price Bouncer: Both of my kids loved this thing, and it's a great little chair to occupy them in. The vibration always seemed to calm my kids down, too.
Fisher-Price Swing: Not quite sure what I would've done without this thing! It was a LIFE SAVER in the early days of both kids and was also the place many naps happened!
Delta Children glider: This is a fantastic glider for the price! I love the neutral look, and it's a chair that is classic in style.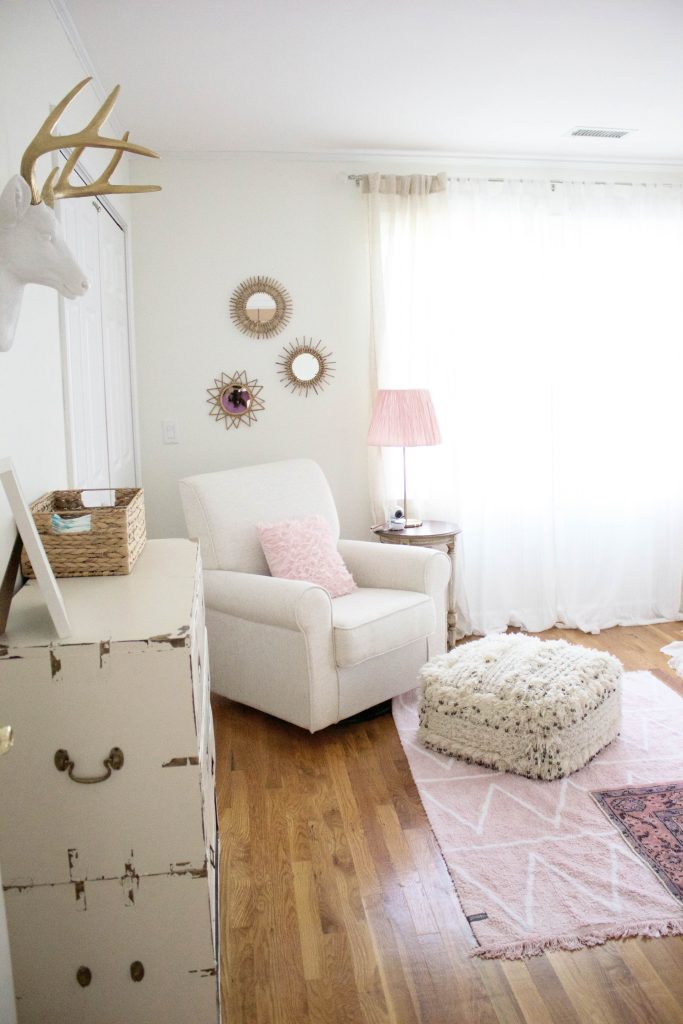 Changing pad: I never bought an actual changing table, and instead used this changing pad on antique dressers.
Motorola Digital Video Baby Monitor: We purchased this after we had Noelle and I wish I had it sooner! This monitor is way better than the last one we had, and I love that multiple monitors can be added on. The battery also lasts awhile too, which was our issue with the last monitor.
BEST BABY REGISTRY LIST: EXTRAS I RECOMMEND
Fawn Design Diaper Bag: I explained why I love this diaper bag in this post, but it's seriously the best! So much room for two kiddos and I love that it can be used as a backpack.
DockATot: I swear by this item. Noelle actually took decent naps in it, and we just used it for her to sleep in on vacation! I've also been using it to help her sit up (if she falls backward, there's padding!), AND it made for a great changing station in the car while we were traveling. I love that it's easy to bring wherever we're going, so I also use it for naps when I visit my mom. Use code LAUREN10 for 10% off!
Baby Einstein 2-in-1 Lights and Sea Activity Gym and Saucer: I just posted this item here! I love that it doubles as an activity gym and saucer. Noelle absolutely LOVES the saucer mode and plays in it frequently.
Skip Hop Explore & More Activity Arch Gym: Noelle LOVES this gym! She's currently crawling around too much to stay on it, but she still enjoys it when she's not on the move. I love that the arch can lower for tummy time, too. There are a variety of functions each little animal makes, which is great for stimulation. Noelle approves!
The Best Baby Registry List is going to continue to grow, so save this post to keep checking back!