I'll never forget the first time we gave Landon a bath as new parents. Four hands apparently weren't enough and we were freaking out about him crying or slipping out of our hands. I remember the feeling of sheer panic as we tried to maneuver this little guy and wash all the nooks and crannies of his baby rolls! I can't help but laugh at ourselves looking back during those first weeks of new parenthood. Those are some of my most cherished memories with my husband because we were learning the ropes of being parents together (as we still are!). When Noelle was born, we were brought right back to those early bath time moments since it had been so long since we'd washed a newborn!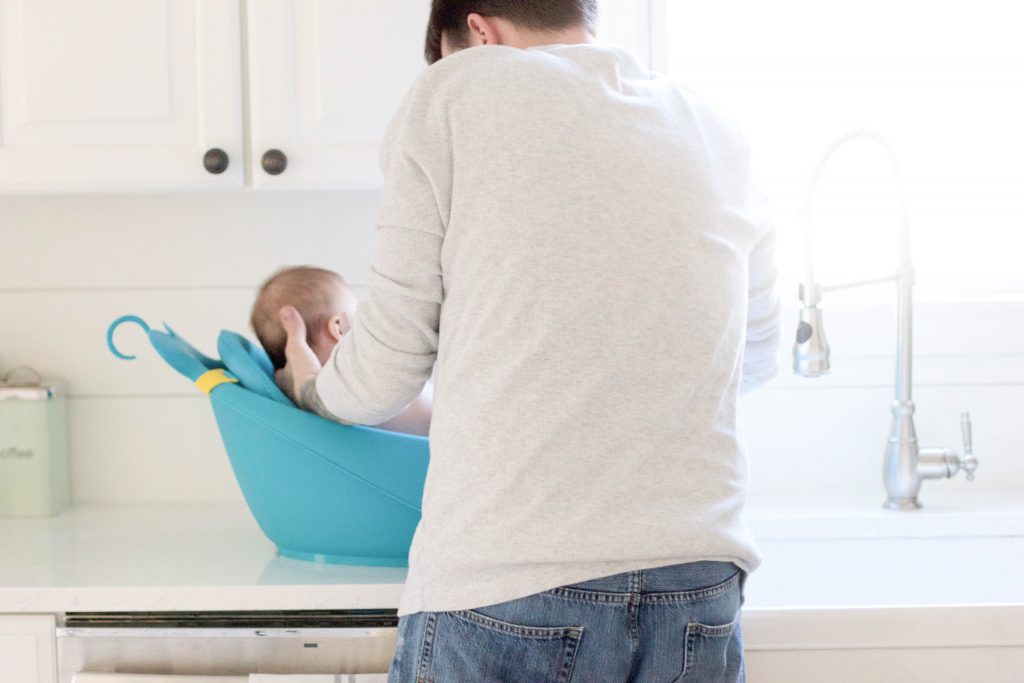 As parents of two, we've got bath time pretty under control. My husband is actually the bath man because it's his one on one time with the kids at the end of each day (since I'm home all day with them). He LOVES bath time. We've both learned some tips for an easier bathtime with baby over the past couple of years and today I'm partnering with Skip Hop again to share them with you!
Find the right tub. This is kind of a big deal to me and my husband. There are a million baby baths to choose from, and we've tried them all. I wanted a tub that could grow with baby and adjust to their different stages of development. I haven't been fully satisfied with any of the tubs we've tried until Skip Hop sent me their new Moby Smart Sling 3-Stage bathtub. I LOVE that it grows with baby through 3 different stages: Newborn, Infant, and Sitters. It comes with their Mesh Smart Sling which locks into two different ergonomic positions to provide support and comfort to sensitive areas, like behind baby's knees. The upper position is for newborns 0-3 months and the lower position supports infants learning to sit. Then once baby is sitting upright, the sling is removed completely. This tub is the perfect size and not HUGE like the one we were using before (seriously, huge), and comes with a swivel hook so it can be hung on the showerhead or towel bar. There's also a drain plug for easy draining and it doesn't leak!
Cover baby to keep them warm. I can't remember who exactly taught me this trick, but it's a good one. I remember feeling so rushed during the first few baths I gave Landon because I didn't want him to freeze. I learned that if you keep a cloth over baby, it keeps them significantly warmer during bath time. I used to use a simple wash cloth, but I love Skip Hop's Moby Warm-Up Baby Bath Cozy. It has a color changing whale patch that turns white when the water temperature is 93 degrees F or higher, and changes back to blue when it falls below 93 degrees F. I also love that it's antimicrobial, which is one of my necessities with bath time products. We've been using this during Noelle's bath time and we love it!
Get yourself organized. This should actually be the first thing you do. We like to have everything we need ready to go to minimize the time baby is undressed (especially if it's cold). This means we have the towel, diaper, and pajamas already laid out. Everything we think we might need is within an arm's reach.
Wash hair last. We like to wash baby's body first, and then her hair, to reduce the amount of time the baby is completely wet and, therefore, cold! And again, we keep baby covered with the Moby Warm-Up Baby Cozy while her hair is being washed.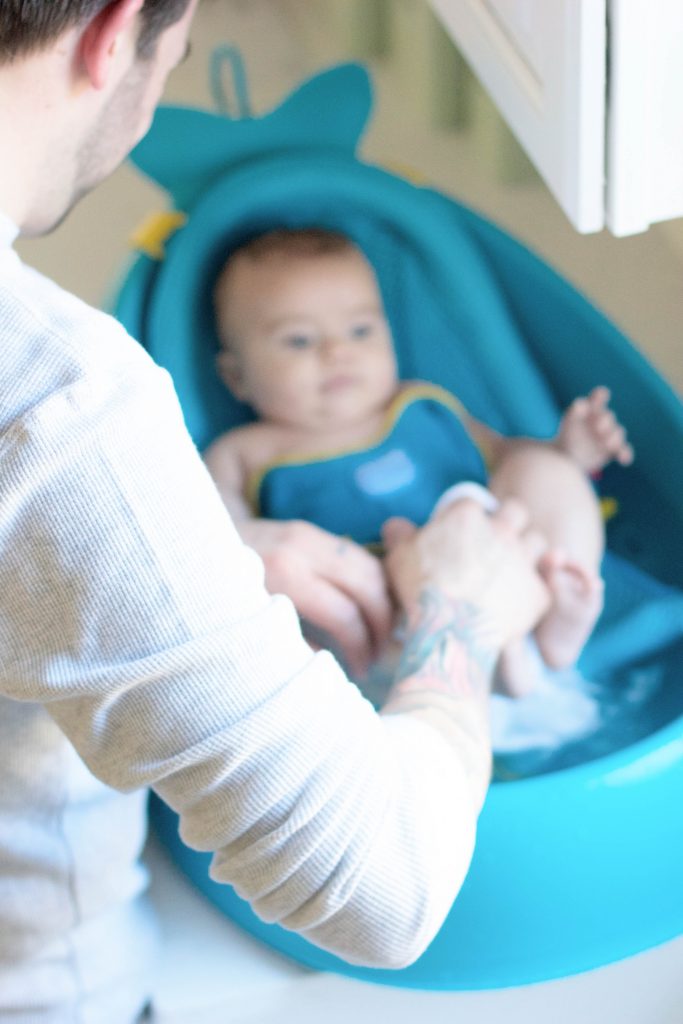 Have big brother or sister help! If this applies, it's SUCH a good way to get the big kids involved. Landon loves helping hand my husband the washcloth or soap, and just enjoys being present in the process. It's so sweet to watch how he looks over her!
Those first few baths can be so nerve-wracking for first time parents! We've been lucky, and our kids have always loved the bath. Keeping them warm during the process has definitely helped reduce crying time! I have a huge registry post in the works in the upcoming weeks, and Skip Hop's NEW Moby Smart Sling 3-Stage Bathtub is definitely on the list for bath time essentials! I love Skip Hop's "Must-Haves Made Better" outlook, and they are truly devoted to designing the best essential baby products to make parenthood a little easier. Because who doesn't want that? 🙂 You can grab the Skip Hop Moby Smart Sling 3-Stage Bathtub and Warm-Up Baby Cozy at www.skiphop.com. Hope these tips make bath time a little easier!
Thank you to Skip Hop for sponsoring today's post!