I remember hating on the black nylon breast pump bag so much when I first started exclusively pumping for Landon. I started searching for a more stylish bag, one that could accommodate my pump, supplies, and also act as a handbag in the process. If you were a follower back then, you remember when I came across Sarah Wells and her amazing breast pump bags. Her Maddy bag carried me through over a year of exclusive pumping, in style!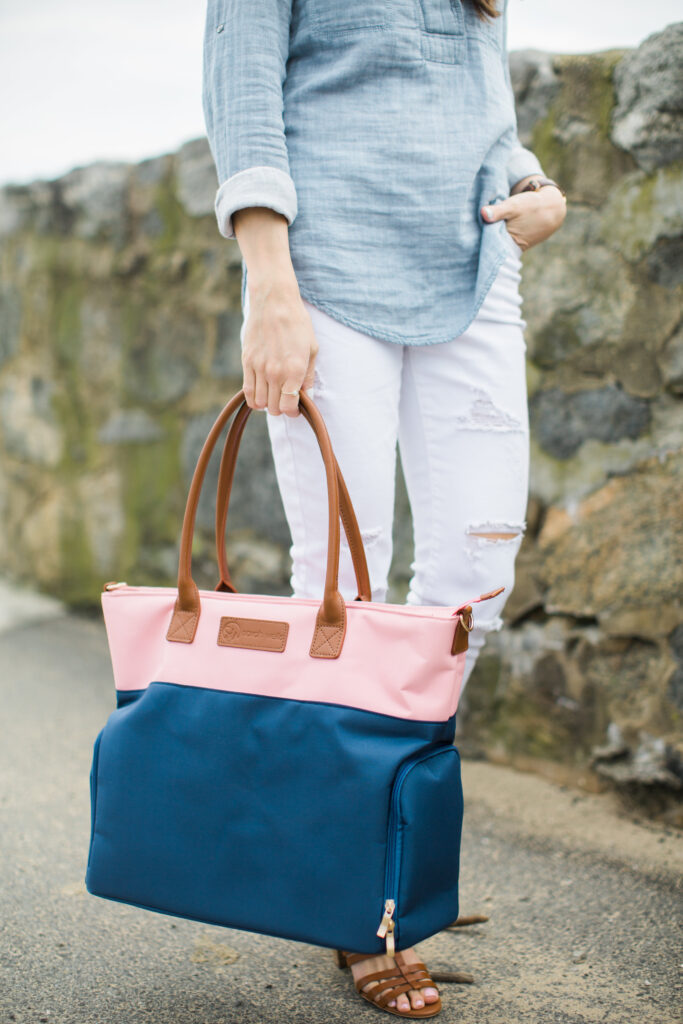 Now a seasoned pumper, and second time mother, I am still loving on the entire Sarah Wells brand. Sarah's newest member of the collection is this gorgeous Abby bag, named after her newest daughter! I'm sporting the pink and navy Abby in these photos, but it also comes in Teal and Gray which you can see over on Tiffany's blog!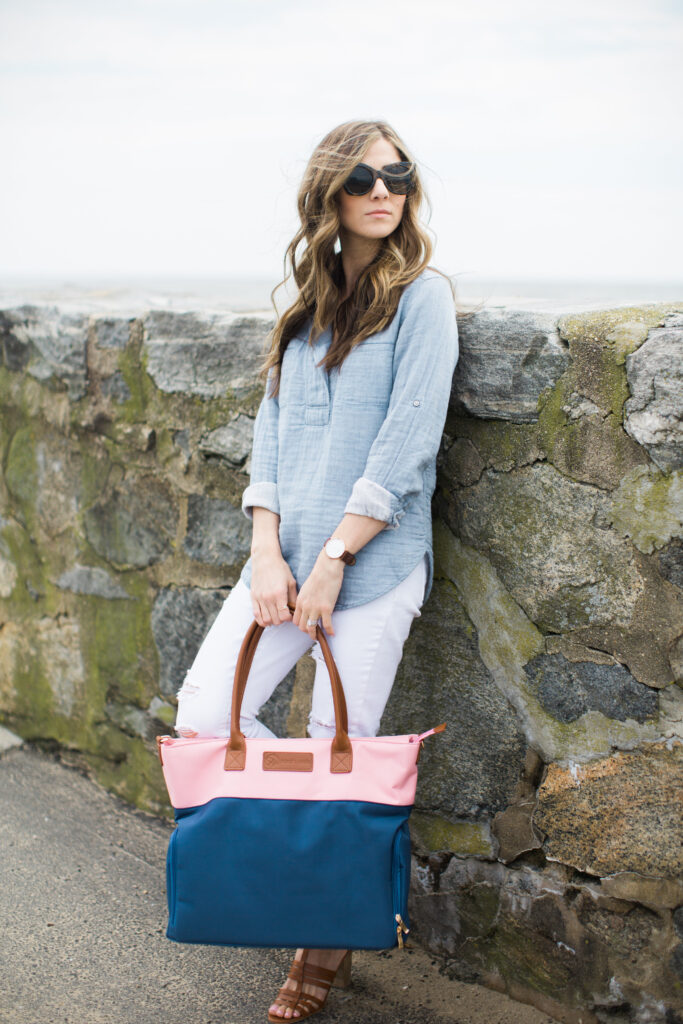 The Abby bag is the FIRST breast pump bag with genuine leather accents on the handles, cross-body strap, and logo patch. This means the handles will wear in and hold up well over time. The remainder of the bag is made of microfiber, which is durable and easy to clean (perfect for wiping up milk spots)! The Abby fits the following portable pumps: Medela Pump in Style (with or without a case) and Freestyle, Hygeia, Freemie, Spectra, Ardo and Ameda.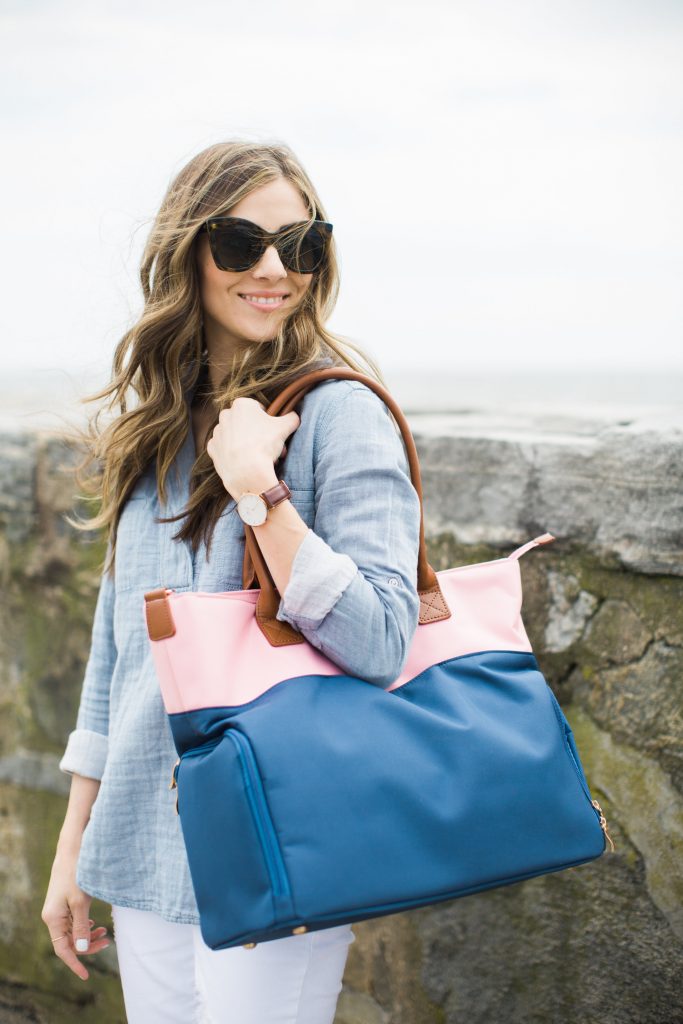 (Photos by Alicia Ann Photographers)
Top: Lou&Grey (similar) // Jeans: Old Navy // Shoes: c/o Sole Society // Sunglasses: Le Specs (similar) // Bag: c/o Sarah Wells Bags
The Abby has thermally-lined pockets on both sides for your breast pump, accessories, and pumped milk, which will keep cold within the pocket for up to SIX hours with ice packs! That's so convenient for me because that means I'm not carrying a cooler around all day! It's sized perfectly to carry all of your pump supplies and more, including a laptop. It is the ultimate bag for the working, pumping mom!
If you remember my recent post on tips for the working/pumping mom, today I'm sharing with you a short list of supplies you'll need while pumping away from home. The Abby will help you do that!
A stylish breast pump bag. Perfect for working moms who want to keep their pump discrete, or any mom looking for some style! The Abby bag is my current recommendation, but ALL of Sarah's products are fantastic!
Pump parts. Flanges, membranes, tubing…everything you need to connect to the pump is key.
Bottles (and tops to go with the bottles!) Bring enough bottles for as many times as you need to pump, or bring storage bags to place the milk into.
Coconut oil. A little coconut oil goes a long way. It acts as a lubricant for the flanges and makes things a whole heck of a lot more comfortable.
Hands-free bra. This is SO important. I love the Simple Wishes brand! This will allow you to multitask while pumping, whether you're eating lunch or finishing up some work!
The Pumparoo. I expressed my love for this in this post, but it's so important to have if pumping at work or on the go! Shove all your pump parts in the Pumparoo, place it in the fridge, and VOILA! No cleaning necessary during your work day. Throw the parts in a bowl of hot, soapy water once you're home for the day!
A nursing cover. I like to cover everything up while pumping; just a personal preference. A nursing cover comes in handy!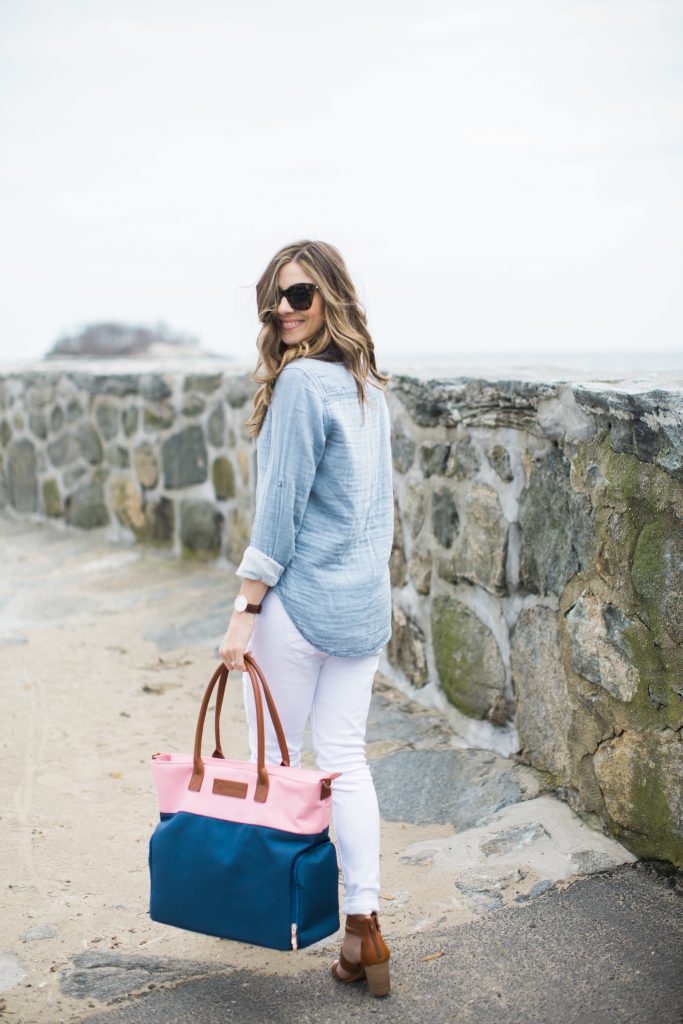 Sarah has been kind enough to offer up one Abby bag, in your preference of color, to one lucky reader! Enter via the widget below, the giveaway will run until May 9th 11:59PM EST! If you don't want to wait, you can purchase the Abby on sarahwellsbags.com and use the code THANKSLAUREN at checkout for 15% off (until 5/31/16 11:59PM EST). GOOD LUCK!