Tips For Pumping At Work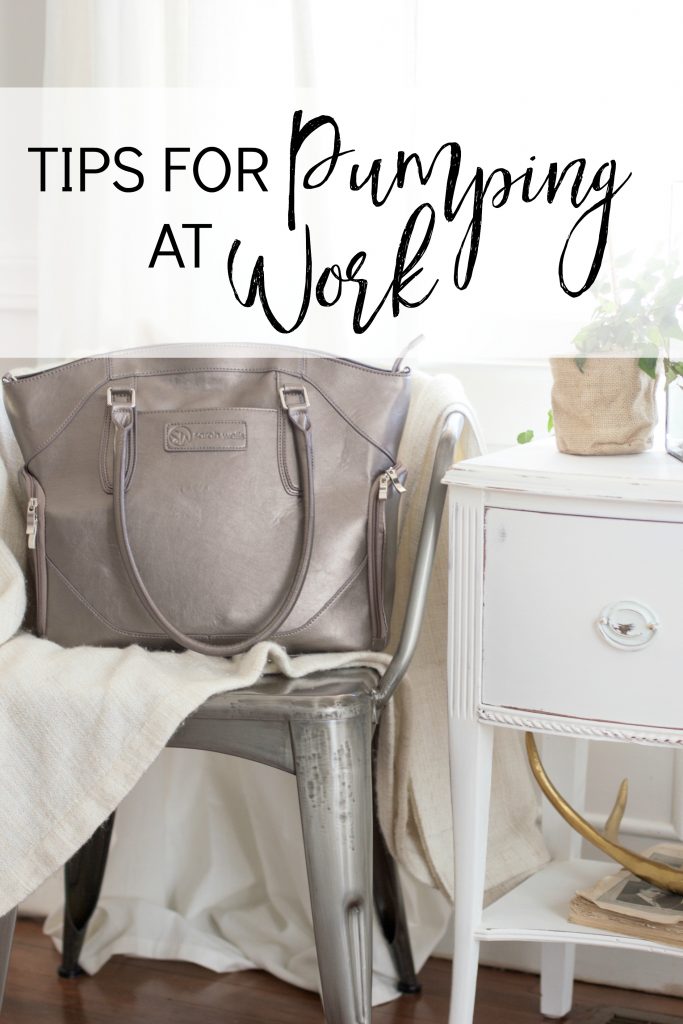 As a former exclusive pumper and current nursing working mother, to say I'm a professional at pumping would be an understatement. I wanted to share some of the best tips for pumping at work with you all. If I actually counted how many times I've pumped, it would be well into the thousands. Pumping can be quite daunting for a working mother because it requires taking time out of your work day (several times) to complete the task. I'm frequently asked how I make this process as easy as possible while working, so today I'm sharing with you, all of my tips for pumping at work. I'm including some of my favorite products that make things a little easier as well!
Figure out your pump times. I typically pump once every 4 hours for about 15-20 minutes. Plan accordingly and make your employer aware. Your work place is required to provide you with a space to pump (and NOT a bathroom) and allow you time to do so. Each state has different laws, so check out yours here. If your employer EVER gives you a hard time, you need to make it known that that's illegal. Trust me, it happens, and it's really frustrating when it does. You should never feel like you can't pump for your baby. If pumping is your choice, don't let anyone question your decision or make you feel badly for doing so!
Get a double pump. TRUST ME. You single pump moms, I don't know how you do it. A double pump takes less the amount of time and gets job done quicker. Insurance will now cover it, so get on it!
Invest in a breast pump bag. You can use the bag your pump comes with (if yours actually has one!), but I advise moms who are in a professional setting to invest in a nice one, if it's feasible. I love Sarah Wells Breast Pump Bags because they don't look like those awful black nylon breast pump bags. It looks just like an oversized handbag or work bag, which makes the fact that you're carrying a breast pump a little more discrete! I also love them because they're large enough to double as a purse as well. When I'm working, I throw any necessities for the day in the larger part of the bag (wallet, phone, etc) that way I'm only carrying ONE bag and have everything I need. It's been really convenient!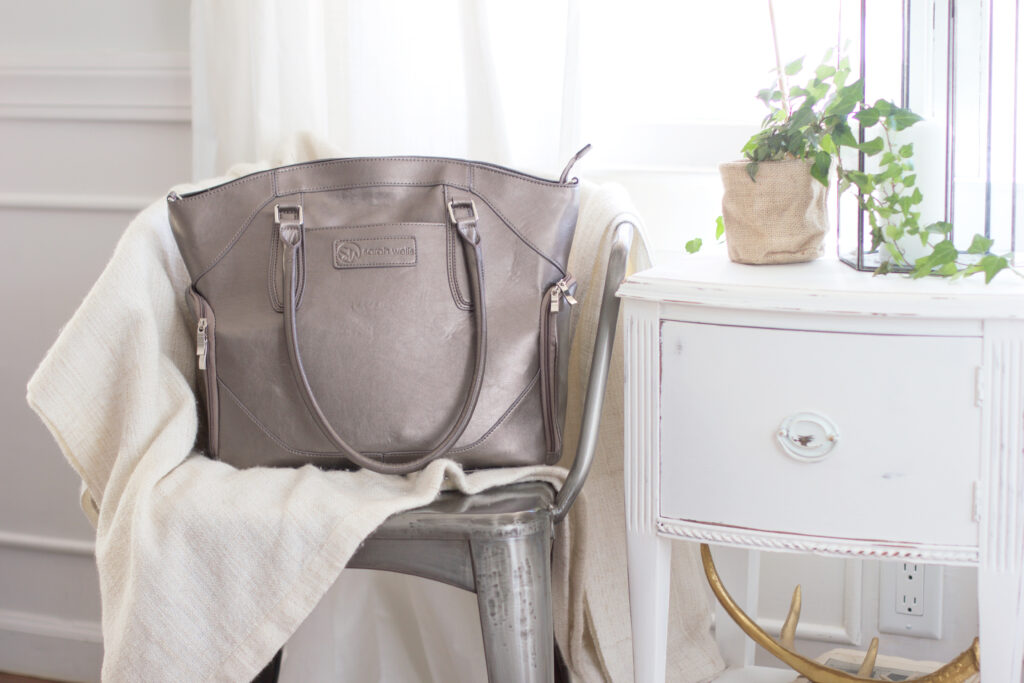 Pack your nursing cover. I have a really discrete looking nursing cover so that people don't actually know what I'm doing. I throw it over me while pumping and people wouldn't know the difference. I've also used regular ponchos!
Carry a bag for your pump parts. Before I discovered the Pumparoo (keep reading), I used to carry my pump parts in a Ziploc back. When I was done pumping, I would throw the bag in the fridge (no rinsing needed!) and just wash them when I got home at the end of the day. This also keeps everything sanitary. Now I use the Pumparoo, also by Sarah Wells. It's a concealed, insulated bag for your pump parts! I like that no one knows what's inside of it, and there's a wet and dry area. It's also machine washable which is a bonus, and eco-friendly since its reusable! I throw my parts in there when I'm not pumping and wash them at the end of the day.
If you are the type of person who needs to at least wash the flanges, carry some breast pump wipes! I don't bother with this since I don't clean in between pumps, but they're great and easy to use if you feel the need to!
If you don't have fridge access, carry a small cooler (most pumps come with one!). If you own a Sarah Wells bag, there's room for a cooler too (at least my Medela one!). Keep an ice pack in the cooler (this one actually comes with one) and place your pumped milk in there until you get home. Don't worry if it's not ice cold, breast milk can actually sit at room temperature longer than you think.
Use breast milk bags for storage. If you're an over supplier, those little milk bottles might not be enough for you. I always carry around some breast milk bags in the event I fill my bottles and need more storage. Luckily they don't take up much space, so pack a bunch in there. These are my favorite because they don't leak when thawing!
Use a hands free bra. If you aren't already using one, I am so sorry I'm the first to tell you. Using a handsfree breast pump bra is a game changer! I love this one from Simple Wishes, as I feel it holds up the best. I've totally pumped while making phone calls, eating lunch, finishing work, etc. I'm a big on multi-tasking while pumping (I pump while I do my makeup in the morning!), and there's no need to waste than 20 minutes if you don't have to!
If you have a place to keep them (like a desk), I advise getting a second set of pump parts to keep at work. It's less to carry around! I don't have this option, but it would be great if I did! However, I did find having a second set helpful for cleaning. It lessened my washing time because I would just switch out the set every day and throw the dirty set in the dishwasher.

Pump on your way to and from work, if you need to! I can't speak for driving laws (so maybe check that?!), but I always pump while driving! I have a car adaptor for my Medela pump and hook up as needed. This is helpful for long commutes!
Carry a small container of coconut oil. This is more for your comfort. I rub coconut oil on my areolas before every pump in order to lessen friction and pulling. I keep a small baby food jar of it in my bag for when I'm working!
Keep a small burp cloth in your bag for easy clean up. No one likes milk stains on their clothes, so a quick wipe down of both boobs before putting your outfit back together will ensure everything stays looking good!
Pumping at work can be intimidating and daunting, but it doesn't have to be. It will take you a few times before you get the hang of it, but you'll soon be a pro. Hopefully these tips for pumping at work help you to be successful at the process!
MORE PUMPING TIPS: Exclusive Pumping Tips // A Guide to Weaning from Exclusively Pumping // How to Multitask While Pumping // A Day in the Life of a Full-Time Working, Exclusively Pumping Mom