Before becoming a mom, I always envisioned myself breastfeeding my children. As a nurse, I'm aware of the benefits of breastfeeding and I knew that was the way I wanted to go. However, breastfeeding did not go as planned when I had my son. You can read about our breastfeeding struggles here and here.
As a result of our issues, I began to exclusively pump. If you asked me at week 2 if I thought I would continue to do this at week 17, I would tell you you're insane and I would rather die. Well it's week 17. I'm not dead. And while pumping is for sure a struggle, I have found ways to make the most of it without completely driving myself crazy. (Update: I made it to 13 months!)
I consider myself somewhat of a pumping expert at this point, so I thought I'd share my exclusively pumping tips and tricks with you in case you are a mom who has to pump. Warning, this is an insanely long post. But I felt it necessary to include everything on here for your knowledge instead of breaking it up into smaller posts. So to the exclusive pumper, I hope this finds you well!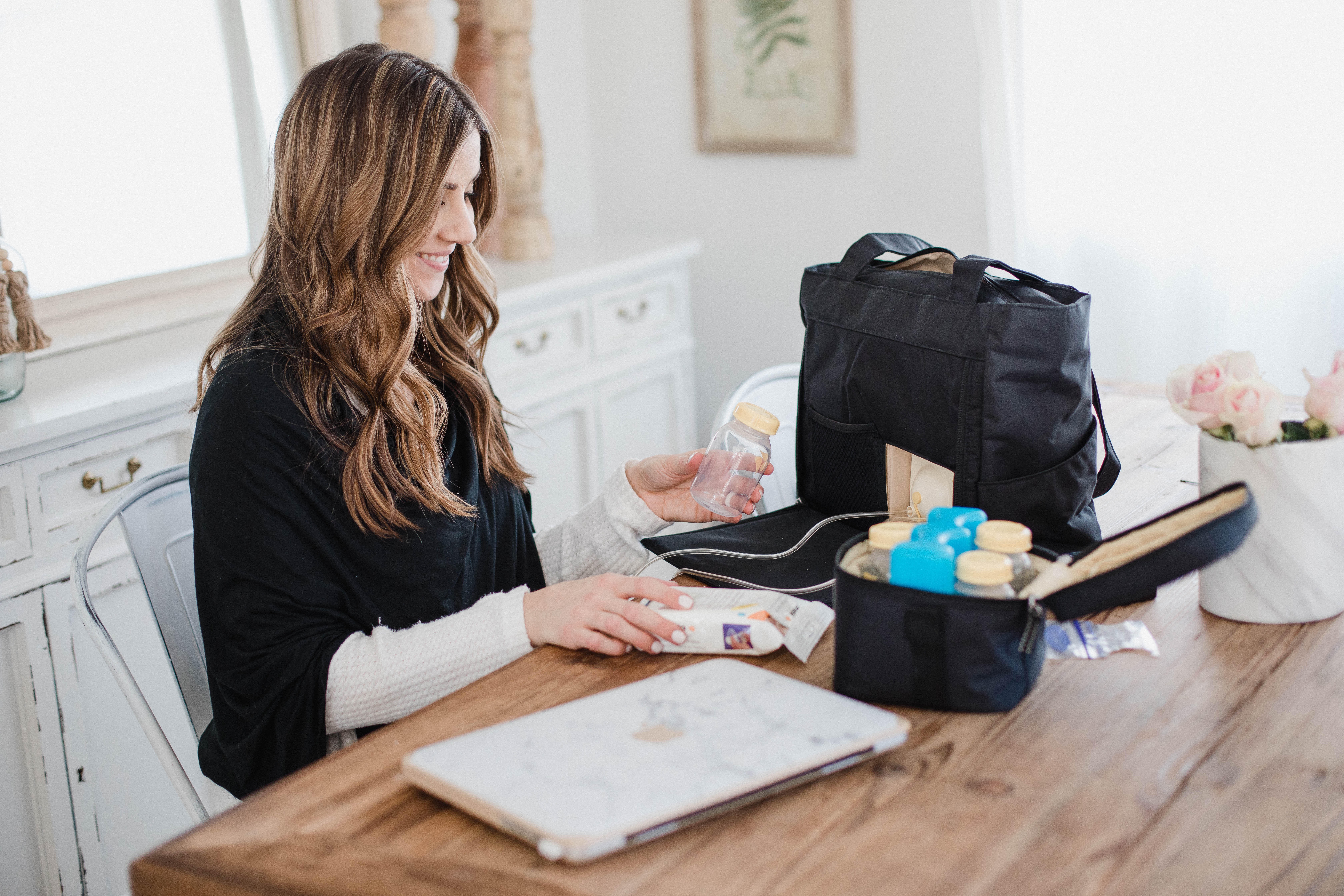 PUMPING SUPPLIES:
Before you start, you need to make sure you have the correct supplies to make your pumping life a little easier. It can become overwhelming and frustrating very easily, so it's crucial that you do everything you can to make it better!
Buy a good pump. There are many different types of pumps out there, all with pros and cons. My pump of choice is the Medela Pump in Style Advanced, which is one of the top of the line non-hospital grade pumps. If you can get your hands on a hospital grade pump, do it. They are more efficient! You can rent them from your local medical supplier or hospital. However, my PISA has been a champ. It's a little bulky to bring out and about and it's also an open system (closed system pumps can be shared, open systems are not supposed to be shared because milk can get in the tubing and pump mechanism), but from the pumping support group I'm apart of on Facebook, the PISA triumphs all closed system pumps. I also love that it comes with a mini cooler to store milk on the go. I pump in my car a lot because of my job, so this is helpful! Also, insurance companies cover the costs of certain pumps, so definitely check that out before making your breast pump purchase.
Get a supportive pumping bra. I registered for this one and it gets the job done, but when I was introduced to the Simple Wishes bra, my life and pumping experience changed. My nipples are hidden and don't look like one of those fembots from Austin Powers, plus it's adjustable and SUPER supportive, especially when the bottles are full. It's worth the $40, I promise.
Buy multiple pump parts. I was using the same parts and washing them all day long, and basically wanted to rip my hair out. Then I got smart and purchased a second set. And I may even buy a third because they aren't expensive and are totally worth my sanity. Also, make sure you are using the appropriate size flange. That makes a huge difference in comfort! A lactation consultant can help you with sizing.
A second set of tubing. I purchased a second set, one for my travel bag and one for home. I also had a fear of something happening to one set and not being able to pump, so I feel better having a backup set.
Pumpin' Pals can be your best friend. These flanges fit most breast pumps and are angled down so you can lean back while pumping. This saves you major back pain!
CLEANING:
Like I said before, buy multiple pump parts. This will make cleaning much more manageable!
For the first couple of months I thought I needed to clean my pump parts every time I pumped. Oh my GOSH, was I stupid. That was so much work, there's no way I would've lasted this long! My lactation consultant told me to put my pump parts in a plastic bag in the fridge. By doing this, you only have to wash your parts once a day!
When I wash my pump parts, I keep a bowl of hot soapy water in my sink so my pump parts could soak overnight. I used to not let them soak and would just wash them and call it a day. I found that milk residue builds up in the little nooks and crannies of the parts which can mess with their performance. By soaking them overnight, it loosens up any built up residue and ensures a thorough clean. Also, the dishwasher makes them super easy to clean!
Buy a drying rack, or keep a dish towel on the counter (this is what I did because I had no room for excessive drying racks) for your parts to dry. They need to be completely dry before use or they won't work as well!
For pumping on the go, I use these Medela Quick Clean Breast Pump and Accessory wipes. They sanitize everything super quick which is great when you're in the car or out somewhere! I was a hermit for the first two months of pumping until I found ways to make pumping OTG work!
For quick sterilizing, I use these Medela Quick Steam bags. These bags are amazing for sterilizing bottle nipples, pacifiers, or anything of that nature. Plus you get 20 uses out of one, so they last a long time!
DIET:
DRINK. LOTS. OF. WATER. This is so crucial. I find that on days I'm insanely busy or forget to fill my water bottle in the morning, I end up with a significant drop in supply. Buy yourself a cute water bottle, use fun straws, WHATEVER, just make sure you're keeping hydrated. I promise you it's so so important.
Eat a healthy diet. And keep up your calorie intake. I've always been a healthy eater, but I found it's even more important that I stay on top of this while pumping. There have been multiple times where I just didn't find the time to eat, or I pumped BEFORE eating, and I ended up severly light headed and almost passing out. So I try to make sure I'm taking in enough calories, and especially enough protein, and I always have a snack while I'm pumping. Larabars have become my best friend because they're high in good fat and filling.
Eat milk producing foods. Oatmeal is known for this, so I'll eat a cup of oatmeal in the morning if I didn't put out as much as I usually do with my morning pump. At the same time, you want to avoid foods that decrease supply. Large amount of peppermint, sage, thyme, and parsley can cause a drop in supply. I was significantly overproducing at one point and my LC told me to drink peppermint tea every day. I woke up one morning after a few days and literally had like NO milk. Not fun.
PUMPING TIPS:
Use your pumping time wisely. Pumping can take up to 30 minutes, so I try to make the most of this time. I prefer to not feed my son while pumping because I want that bonding time by holding him. So I will grocery shop online, blog, finish work, respond to e-mails, or even play with the baby in his bouncer while pumping. Multitasking is great because it takes your mind off how much you're producing, which results in you producing more. It's a win-win!
That being said, it's OKAY to disconnect from the pump if you need to. Don't feel tied down. You can always go back to pumping later. If 15 minutes is all you got, there's nothing wrong with that!
Don't use the highest setting on your pump. You want to pump at the lowest possible setting to get a flow going. This will protect your nipples and makes pumping painless. Pumping on the highest setting runs the risk of a blood blister on your nipples. And ain't nobody got time for that.
MASSAGE. MASSAGE. MASSAGE. Massage before pumping for about 10-15 seconds. This homogenizes your foremilk and hindmilk (my lactation consultant called it the "milk shake") and helps loosen up those milk ducts. And massage during pumping. You will notice you empty a LOT quicker when massaging! And the less time it takes, the better for us busy moms!
When you're finished pumping, it's good to massage and hand express to make sure all the milk has emptied. If not, you run the risk of a clogged duct which can lead to mastitis. This video has a great tutorial on hand expression.
Lube up your flanges or areolas with coconut oil. This feels SO much better when pumping. There's less tugging which results in a more comfortable pump session. Plus, coconut oil is a natural antibacterial!
YOU DO NOT NEED TO PUMP OVERNIGHT IF YOUR BABY IS SLEEPING THROUGH THE NIGHT (after 12 weeks). You can if you are worried about supply, or have trouble keeping your supply up. But the day my son started STTN was the day I started skipping that nighttime pump. Yes, my boobs were the size of bowling balls at first, but eventually my body adjusted and now my tatas are used to not emptying for 7-8 hours overnight. If you were nursing, and your little one started STTN, you wouldn't be waking up to pump or nurse, right? Right. So it's not necessary. Praise Jesus, Hallelujah. As a result, your first morning pump will be HUGE (mine is 12-14oz!) and it may take you a while to empty. But you'll be well-rested. 🙂
Change the membranes of your pump every 6 weeks (at least with the PISA). This helps with the suction, and makes the pump work more efficiently.
TIPS TO BOOST MILK SUPPLY:
To build a good supply, you need to pump every 2-3 hours for the first 12 weeks. I know, this sucks. There's no other explanation for it. But this is how often your baby would be nursing anyway. As I got closer to 12 weeks, I would pump every 3 hours, and after the 12 week mark, I extended my pumping time to every 4 hours. Once you hit that 4 hour mark, pumping gets sooooooo much easier. I promise. I am thoroughly looking forward to dropping to 4 pumps per day.
Hand express after pumping. This helps get every last bit of milk out of the ducts. This video has a great explanation and demonstration on how to hand express.
Kelly Mom has some great recommendations here (http://kellymom.com/bf/pumpingmoms/pumping/pumping_decrease/) on how to boost supply, and also what's normal and not normal as far at pumping goes.
Power pump. Here are some easy instructions on how to do this. It's a pain, but works.
BREAST MILK STORAGE AND HANDLING:
Do not shake breastmilk. It's normal for the milk to separate and for cream (fat) to form a layer on top and stick to the bottle. Shaking breast milk can damage it! More on that here. Gently swirl the milk in the bottle until the fat comes off and the milk homogenizes again.
Breast milk storage guidelines – check out this link . I find it easiest to keep fresh milk out to give at the next feeding since freshly pumped milk is good at room temperature for at least 4-6 hours. My lactation consultant actually says it's good for 24 hours because breast milk contains antimicrobial properties. That kind of creeped me out, so I stick to the 4-6 hour rule. I freeze any extra milk I have left over. I usually have 3 bottles (2 in the fridge, one fresh) at all times, and the rest goes in my freezer. I recently purchased a deep freezer so my milk would last longer.
If you're unsure about how long the milk as been sitting out for, smell the breast milk. Actually, just always smell it if it's been sitting out. It shouldn't smell at all, so if it does, TOSS IT. Nobody likes spoiled milk.
These are my absolute favorite breast milk storage bags. I've dealt with one too many leaks with another brand, and found these bags the best for the job. When thawing milk, I put the bag of frozen milk into a ziploc bag and then into a bowl of warm water. The ziploc bag is a precautionary measure for leaks! Also, when freezing milk, lay the bags FLAT in the freezer. Once they are frozen, you can then store them in an ice bin or freezer bag and it saves on freezer space. Keep the oldest bags towards the front and the newest bags towards the back so you use the oldest milk first! Just a tip 🙂
We use Playtex Nursers for our little one, and they have a really amazing breast milk storage kit that I've come to love. I can pump and store milk directly into the liners which helps make sure every drop of breast milk is accounted for! I'm sure other bottles have similar storage kits, so do some research!
Other products I love:
These breast pump bags by Sarah Wells have my heart. I own FOUR and they're a must have for any EPing mom who wants to EP in style. They're so well made, and her customer service is impeccable. I cannot speak highly enough about this woman, and she EPed for her daughter so she gets it!
Earth Mama Angel Baby Nipple Butter is great for healing the nips, AND for lubing them up prior to pumping! But I also love just regular old coconut oil as well.
Some extra information:
If you are trying to wean from exclusively pumping, check out this link. I have yet to do so, so I'll be referring back to it!
Do not be afraid to pump out in public. I was, and for too long. I was literally a hermit for 12 weeks! But now I pump away from home, and I actually find it easier because I can multitask (yes, I totally pump and drive all the time!). So don't be afraid! Medela makes a car adaptor for their breast pumps that is just what you need to pump in your car! 🙂
Join a support group. It will save you from going insane. I don't even know the ladies in mine, and I love all of them to pieces. They have heard some crazy rants and been there for some major tears, and have encouraged me to keep up my hard work all while letting me know it's okay if I can't do it anymore. If you're an exclusive pumper and are interested in joining my group on Facebook, let me know and I'll send you an invite.
Try to relax. Stress can affect your milk supply, and believe me, I KNOW pumping is stressful. Which is why you should join a support group even more!
Set short term goals for yourself. Personally, I plan on making it to 6 months of pumping and re-evaluating my quality of life. If I'm too stressed, too miserable, unhappy, and it's affecting my marriage and mothering ability, then it's probably not good to continue. But if not, I plan to extend my goal to one year. I take it one day at a time because every day is different.
I know that is TON of information, but I hope that is helpful to you if you need it! Pumping is a huge commitment, but very doable if you decide this is best for you, baby, and your family. The biggest point to take home is to NOT let this affect your family life. You need to be happy and enjoy your time as a mom, and I doubt you want to look back on your feeding experiences as negative. So if pumping isn't for you, THAT'S OKAY. What matters is that your family is happy and healthy.
If you're an EPer like me and need encouragement, never hesitate to shoot me an e-mail or comment. I will cheer you on, cry with you, help you through difficult days, and remind you that YOU ARE AN AMAZING MOM all at once. 🙂 Happy pumping!
***UPDATE 9/10/14: I do respond to every and all comments on this post with links to the support groups! I will personally e-mail you back if you leave me a comment requesting the information.***
Other pumping related posts:
A Guide to Weaning from Exclusively Pumping
How to Multitask While Pumping
A Day in the Life of a Full-Time Working, Exclusively Pumping Mom