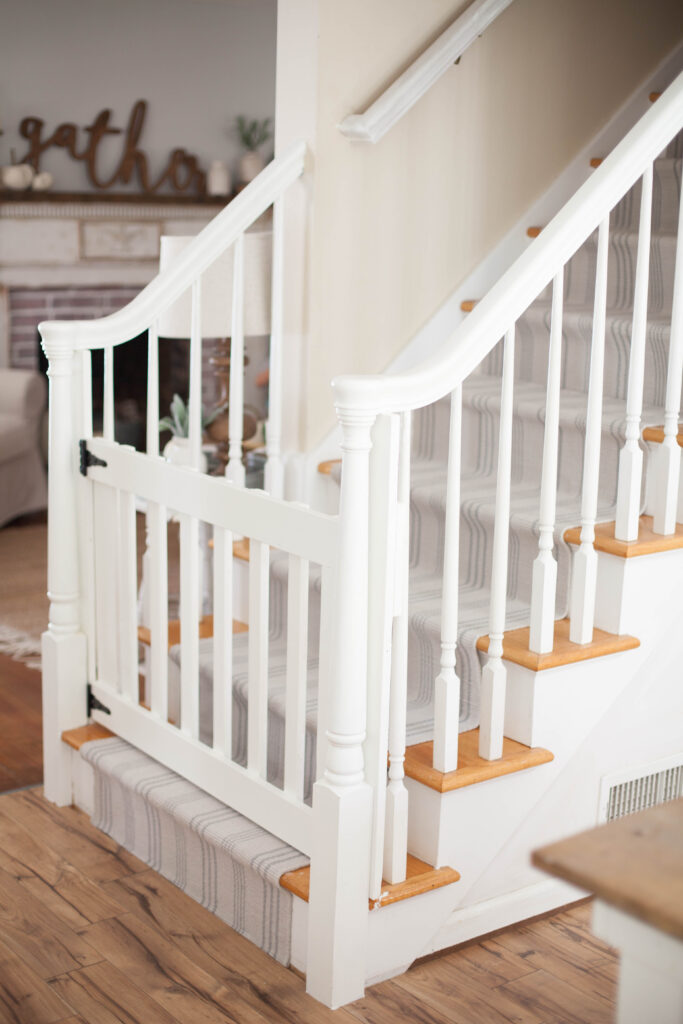 After living in a condo with carpeted stairs, it was definitely an adjustment to hear my dog go up and down our wood staircase in our new home. To say he sounded like an elephant was an understatement, and the stairs have irked me since we moved. I've tossed the idea of carpeting them around for the past few months (also because I feel it's safer for the kids), but didn't want to worry about ruining the wood floors. One of my Snapchat followers (you guys rock!) suggested adding a stair runner, and when I found this tutorial from Southern Hospitality I knew I had to attempt it. So today I'm sharing how we made our DIY stair runner and solved our loud stair problem!
I purchased 3 of these Dash and Albert rugs (8 feet in length, but 2 12′ can work too!) from WayFair to cover the length of the stairwell. I wanted something light that would blend in with the house since the stairwell is the first thing you see when opening the front door. I liked that this rug is a light gray that will easily hide dirt, but is bright enough to lighten the space. I also liked the texture and thickness.
To start, my husband used his laser level thing (that's my technical name for it!) to make a line down both sides of the stairwell measured to the width of the rug. You can do this with a ruler as well, but the laser made it SUPER easy. My husband then put carpet tape along each side of the line.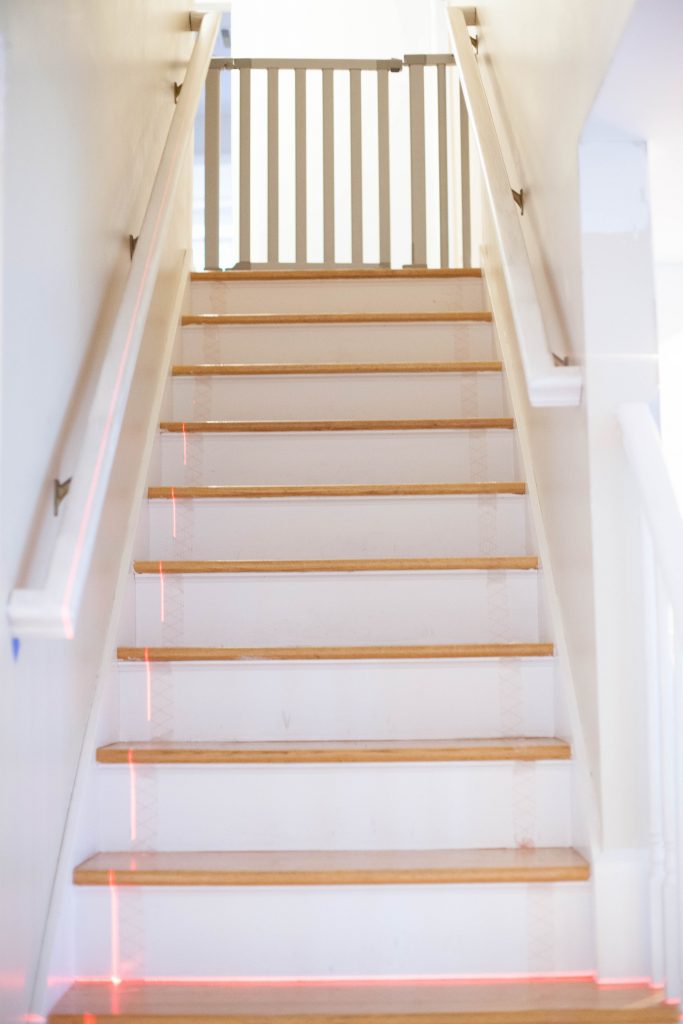 Our original plan was to staple the rug underneath each stair lip, but our stairs have a small piece of decorative trim right underneath the lip. I didn't want staples showing either, so we chose to put a piece of carpet tape right below each stair lip as well. We also added a piece of carpet tape towards the back and front of each stair, creating a box. We did this as we worked our way down each stair with the rug. The arrows below show you exactly where we put tape on each stair.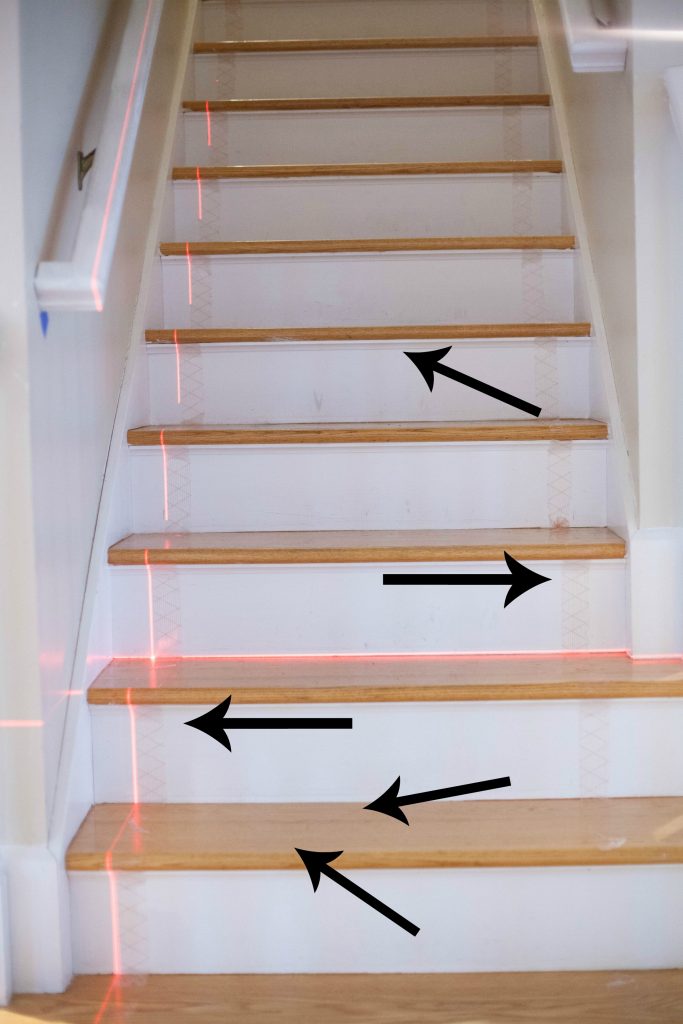 Starting at the top stair, we slowly made our way down adding tape to each step as we went. We continued to measure each side of the stair to ensure our rug was staying aligned properly. When we reached the end of a rug, we cut it at the base of the stair so it would essentially be seamless. You can barely tell where we started and stopped a rug.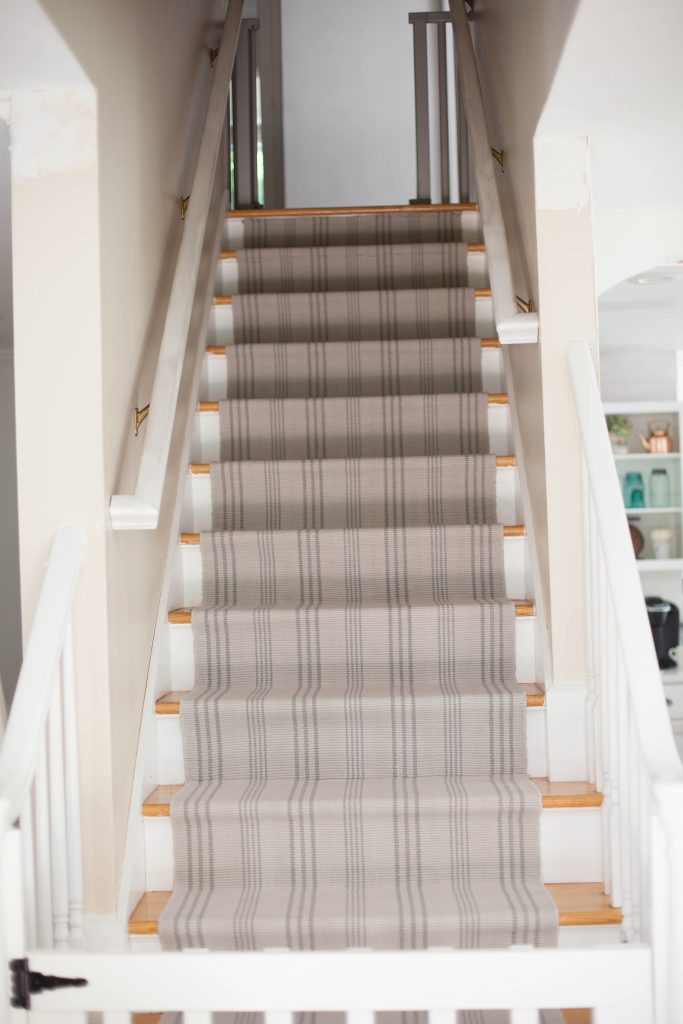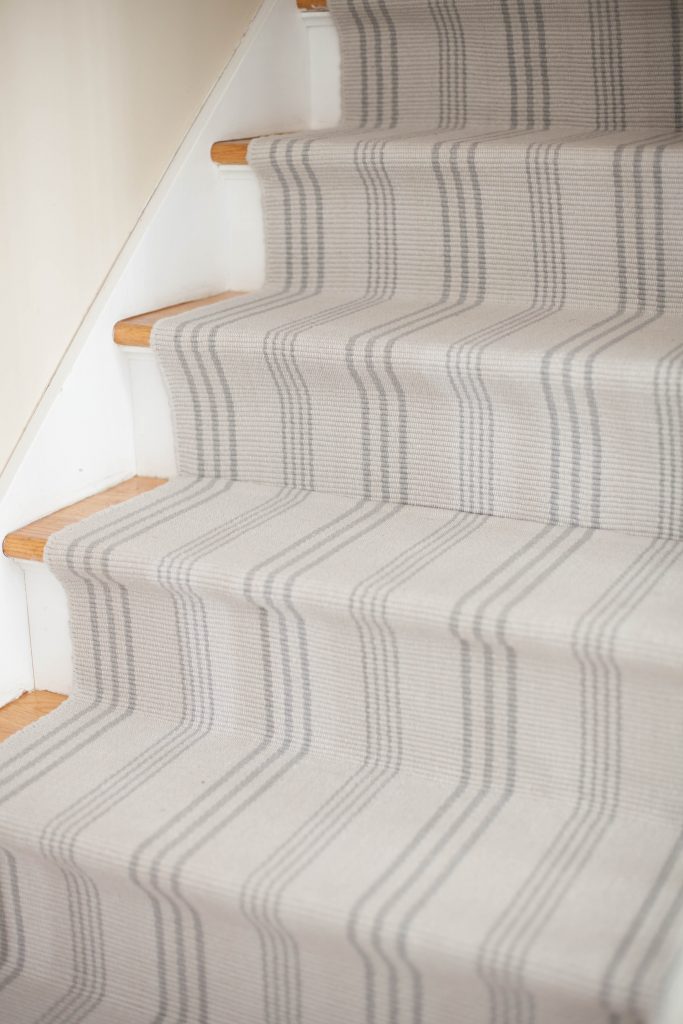 To finish, we strategically placed a few finishing nails where it was needed to secure the rug in place. Finishing nails are basically invisible when done right, and also super easy to remove. The rug is pretty secure with just the tape in those specific spots, but I liked the added security.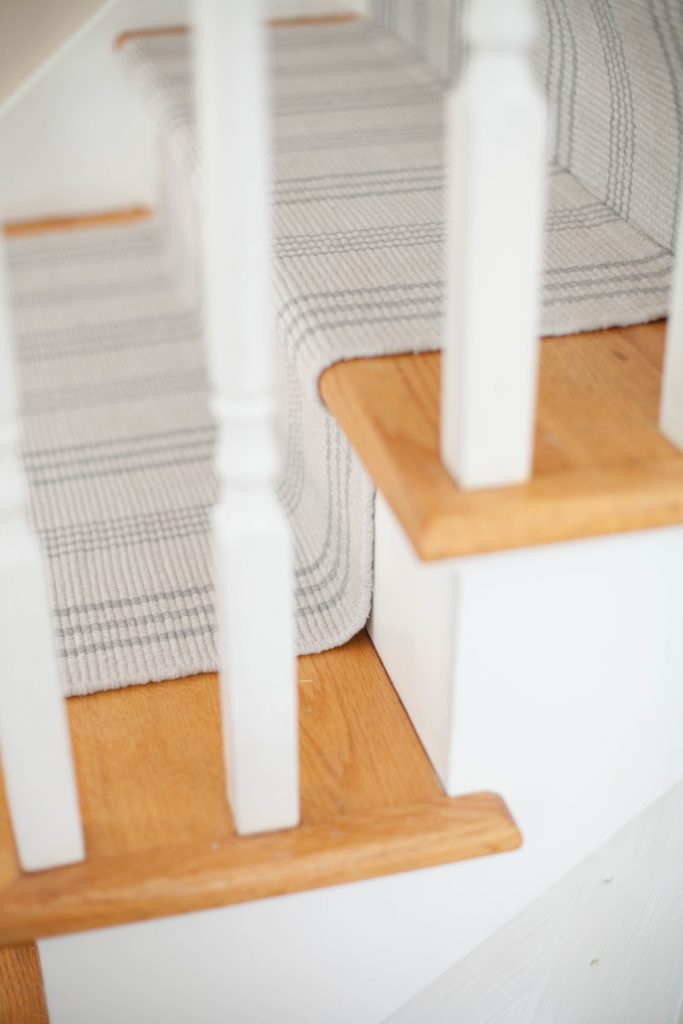 You can see what I mean about that small piece of trim below. The carpet tape helped secure the rug below the stair lip properly.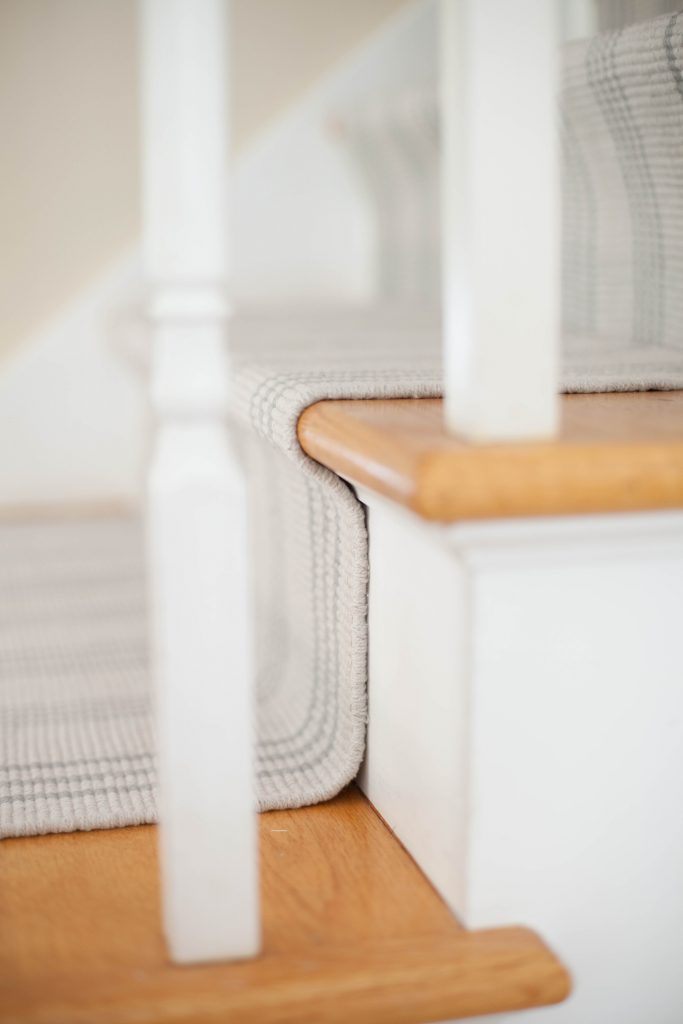 I am SO happy with the result!!!!!!!!!!!!!!!!!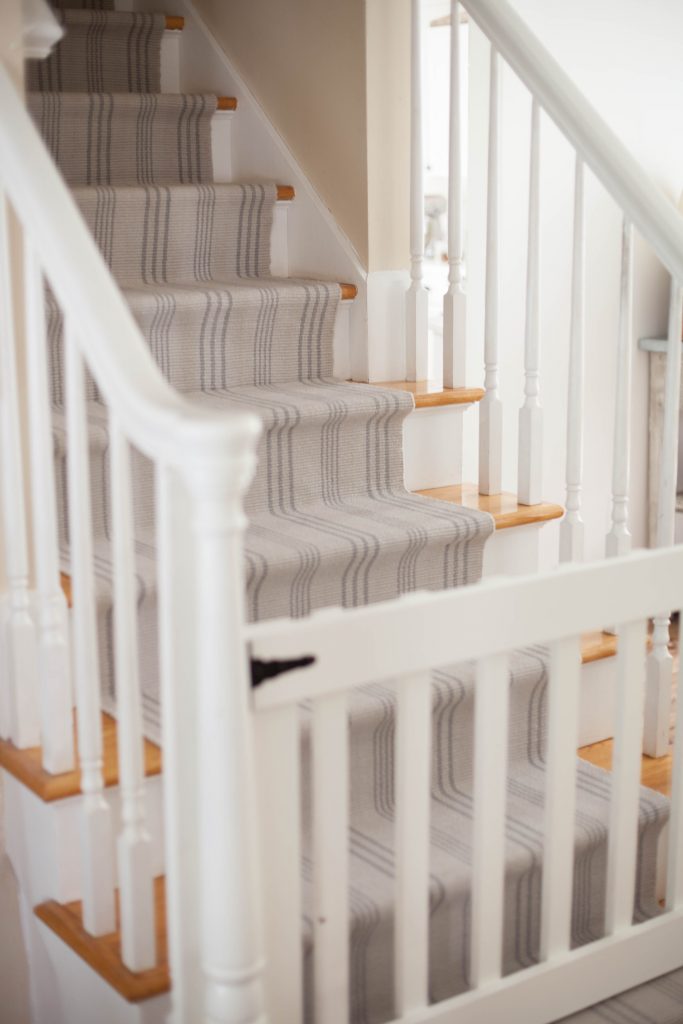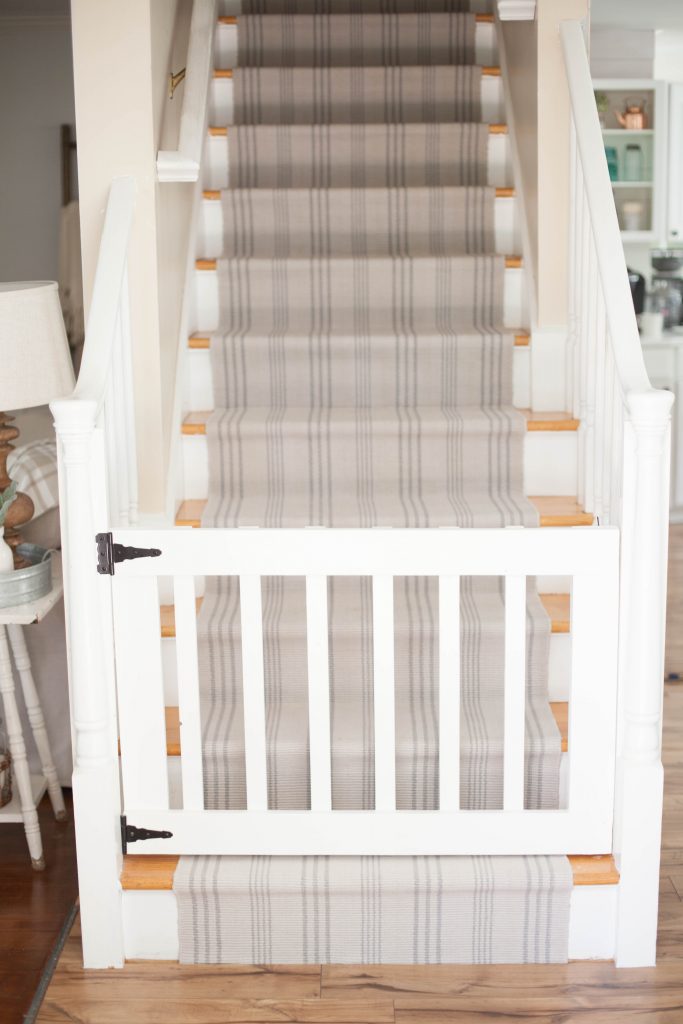 I like this option because it's not permanent and doesn't ruin the stairs underneath the rug! Eventually (years from now) I want to refinish the wood on the stairs and upstairs in our house, and I didn't want to worry about added work when the time comes. 🙂
This is a great solution for now and so far it's held up well! I know many of you have asked about the baby gate you see here, and I promise that post is coming next. Stay tuned! 🙂