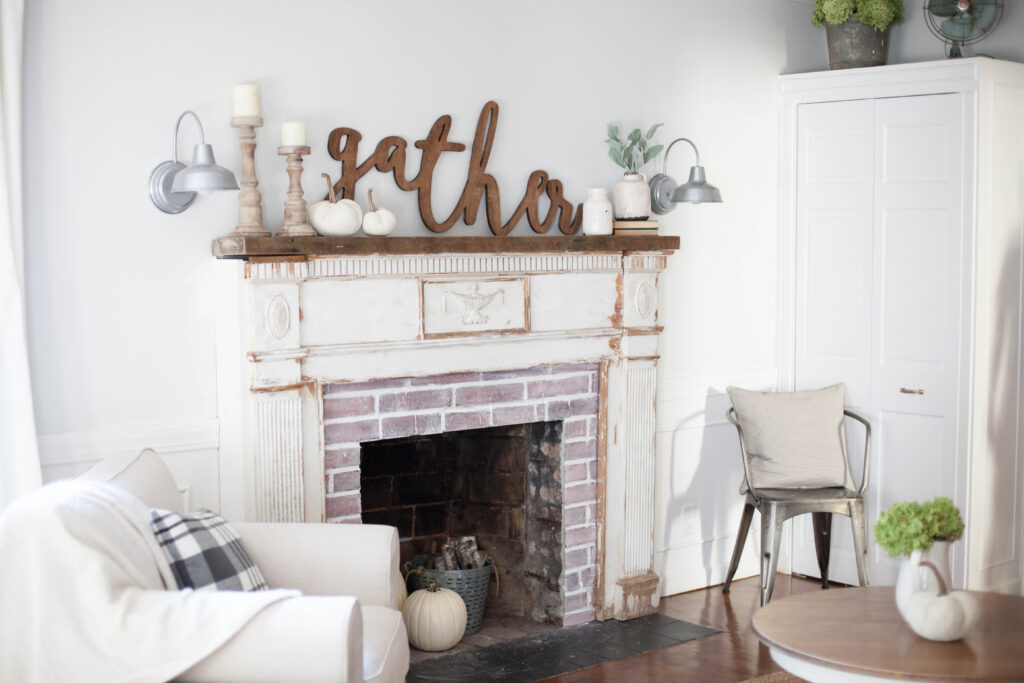 My husband and I have been married for almost 7 years. While it amazes me it's been that long, I find it absolutely hilarious comparing our newly married selves to now. At this point, my husband knows exactly what to expect from me (and me of him). Which is why it was no surprise when I presented this project to him on the phone a few weeks ago.
Me: "Babe!"
Him: "What now."
Me: "So I was browsing this tag sale website—"
Him: "Great, what am I going to have to do now?"
Me: "Well I found this antique mantle that I HAVE TO HAVE. HAVE. TO. HAVE. And it's priced REALLY well for an antique mantle (I think)."
Him "You think?"
Me: "Yeah! Anyway, I need it. I'm thinking we can just rip down the old one and pop this one right on the fireplace."
Him: "We?!"
And that's how it started. A few days later, this antique mantle was dropped off at my house. Once he saw it in person, my husband actually thought it was pretty cool. Which made it easier to convince him of the project. That's how things usually happen. 🙂
To prep, we removed the old mantle and encasing that was built directly on the fireplace. Luckily it came off pretty easily with no damage. But then I was challenged with removing the 5+ layers of paint that were left on the brick. I had plans to hopefully white wash the brick underneath, so I set out to find a product that wouldn't burn my face off and remove the paint easily. I also always keep the kids in mind and only use products with no harsh fumes or odor when working inside. I went to my local True Value and picked up Back to Nature Ready Strip. The guy there assured me it would work, and he was right! It took some elbow grease, but we were able to strip it down enough where I could whitewash it without issues. I'll have a separate post on the whitewash process for you in a bit.
There was a cement lip on top of the brick that we had to even out, so my husband drilled holes through the cement using a drill bit he has for work and then chipped away at it until it became as even as possible. If you follow me on Snapchat (laurmcbrideblog) you remember this part! (And yes, we kept the kiddos separate from the area during this time).
After that, we needed to build a box to mount the mantle since it was only the front face of it. Otherwise, we would have this problem you see below.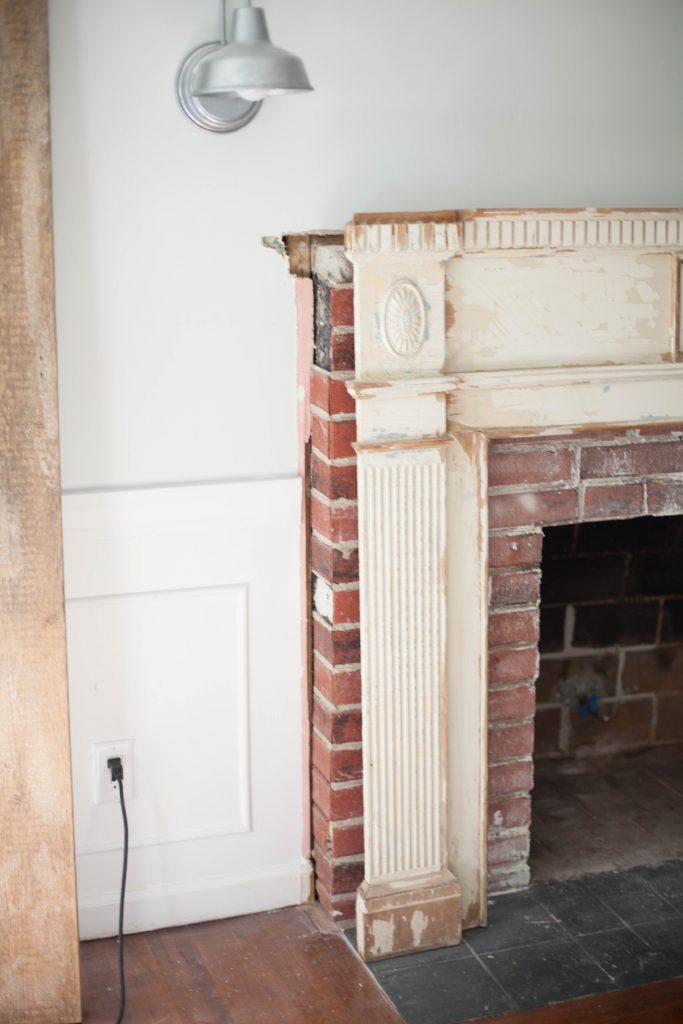 So my handy husband used some wood to build a box the length of the mantle.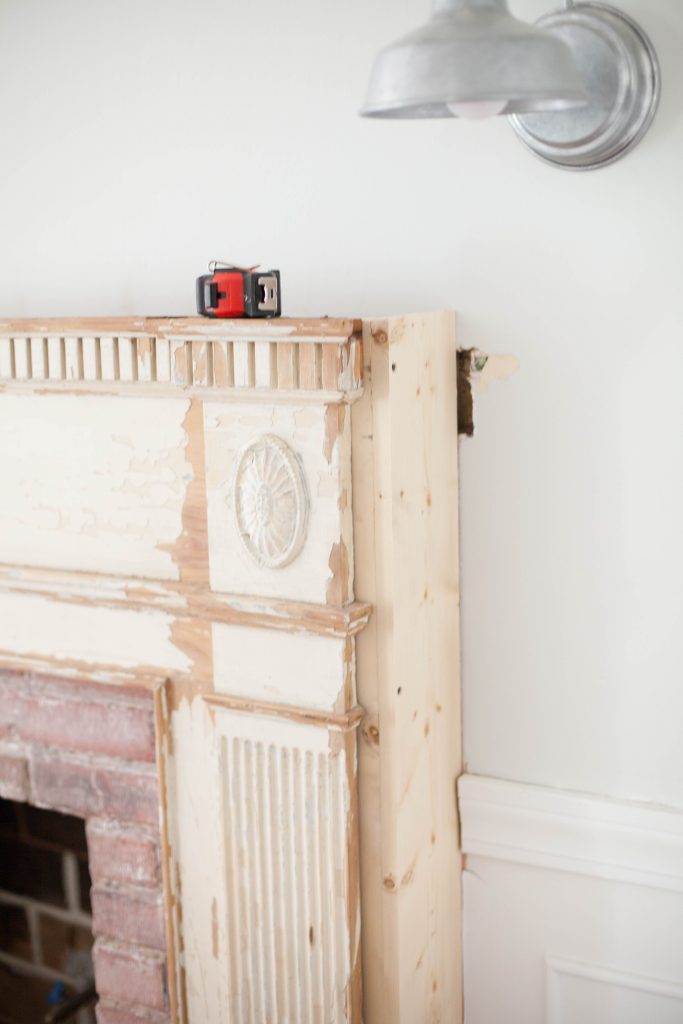 Since the box was directly drilled onto the brick, we were able to mount the mantle using our nail gun and small finishing nails strategically placed so they're out of sight.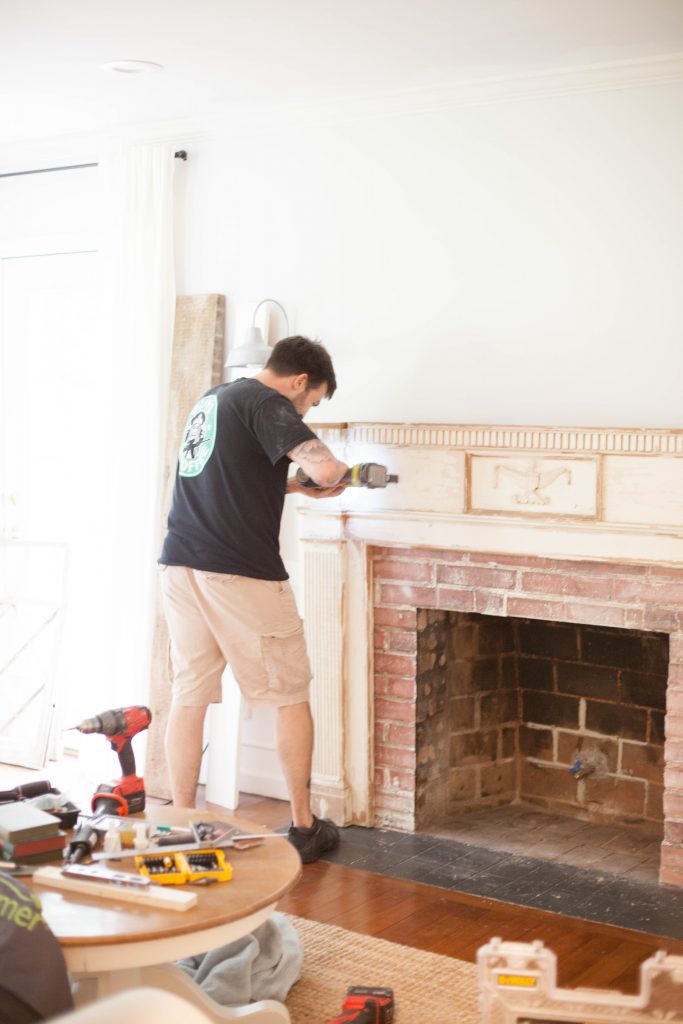 Next came mounting the beam on top of the mantle. We purchased this mantle from The Upcycled Farmhouse (a local CT dealer), and she had added this gorgeous beam from the 1800s on top. We removed it to mount the mantle to the fireplace, and had to reposition it a bit for our fireplace. My husband used simple screws to secure it to the box we had built.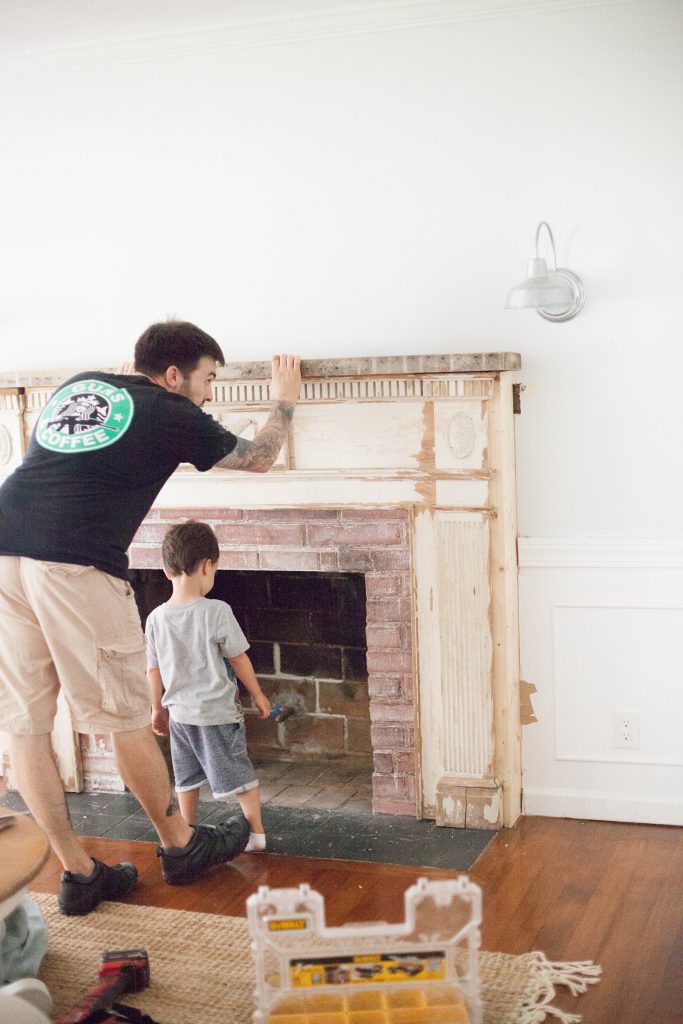 Once it was all said and done, I painted the box behind we added the same white as our trim to make it look as though it had been there. I also added the same white paint to the mantle (which was more of an off white) to bring everything together. I am IN LOVE with the result.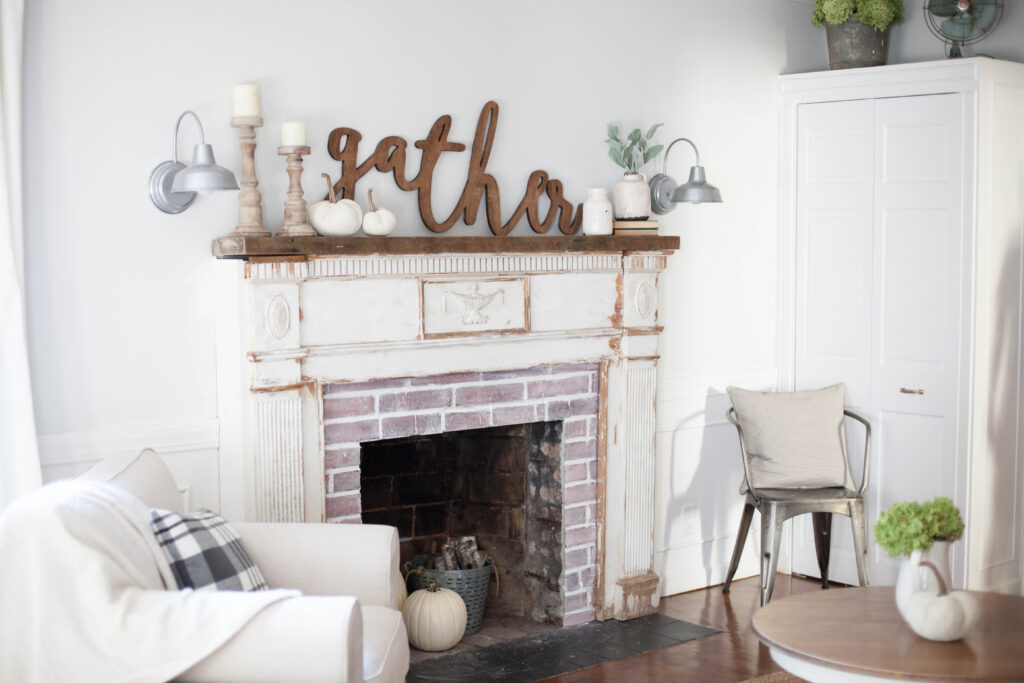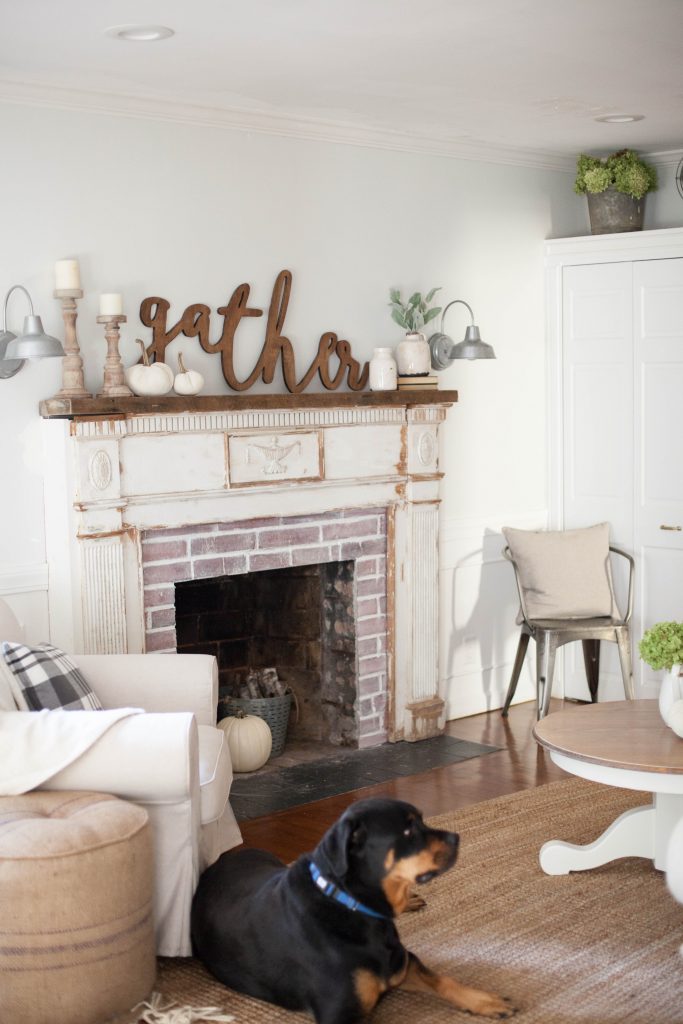 Ammo didn't want to move for the photo. Poor bud tore his ACL and is a three-legged dog at the moment, and will have his surgery next week. So he gets a pass! 🙂
I currently have the mantle decorated for fall, but I can't wait to decorate it for Christmas!!!! What do you guys think? So gorgeous, right? I think this might be my favorite home addition yet!
I'll have a post on my whitewashing process very shortly, so stay tuned!