Thank you to Delta Faucet for providing us with the beautiful hardware for our dream bathroom!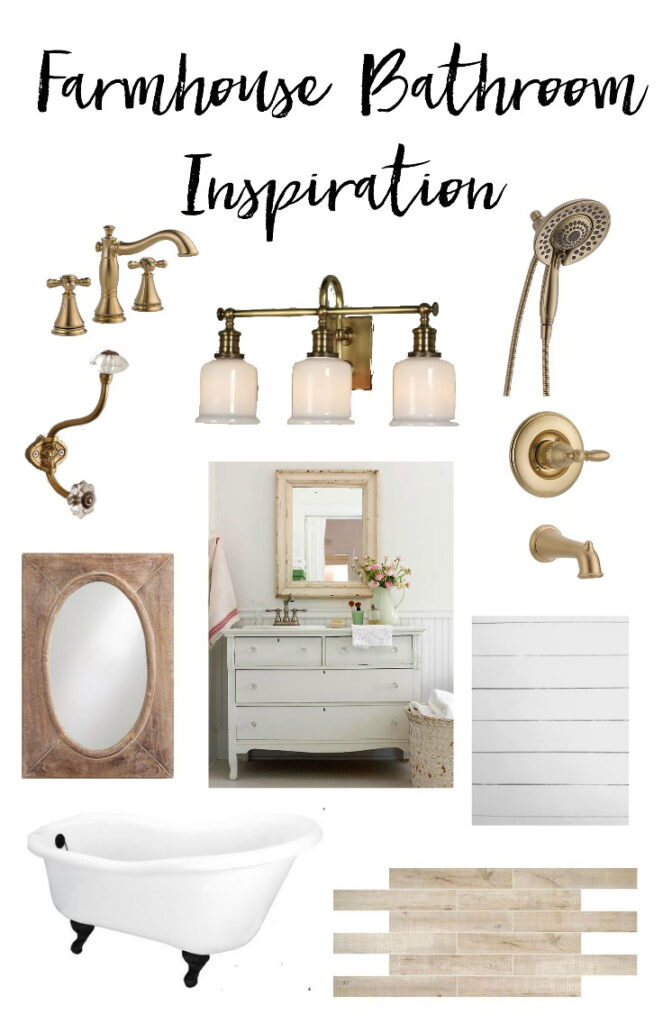 (Bathroom image via Better Homes and Gardens)
I've been itching to work on our bathroom since we moved in because I've had big plans for it from the start. It's been a dream of mine to own a clawfoot tub, and thankfully my husband is a good man who just says "yes" to every ridiculous idea I have (for better or for worse, I tell you!). This project is very slow going because we've had something other things pop up that required immediate attention, but I've been slowly doing whatever I can to work towards the big reveal. Today I'm sharing a peek inside my brain and showing you the details of our farmhouse bathroom inspiration.
It's always been a plan of mine to turn vintage dressers into vanities for each of our bathrooms. I remember years back seeing this in a home along the shoreline during an estate sale my husband and I stopped by (and actually my favorite one to date). This woman's house was basically my dream home and set the stage for everything we've done to our home so far. Since then, I've been pinning bathroom inspiration just waiting for the moment we were finally able to work on ours. I picked up a vintage dresser off Craigslist for literally $25 a couple years ago and it's been waiting for it's makeover every since. Seriously, $25! The woman I bought it from actually mentioned she read my blog, so if you're reading this I just want to personally THANK YOU! I can't wait to show you it's makeover! We plan to put a farmhouse style sink on top and use these beautiful Champagne Bronze faucets from Delta Faucet. I love the cross handles and spout because I think it adds a vintage touch.
This isn't the exact mirror we plan to use, although I do have this one in our downstairs bathroom. We will be using a vintage mirror from my great grandmother and keeping it in it's original wood finish. I just love the mirror, and even more so that it's from 3 generations ago. Adding pieces like this to my home have such a special meaning to me.
We currently have the vanity wall shiplapped and have painted the other walls in a beautiful soft gray. The flooring will be the same tile we used in our downstairs bathroom because I absolutely LOVE it. It's from Home Depot and reminds me of the color of driftwood, which is perfect for our coastal inspired home. This will be one of the biggest jobs to complete in the bathroom because we will need to remove the existing tub to tile under it in preparation for our clawfoot tub. I've been wanting a clawfoot tub for as long as I can remember, and that wonderful husband of mind approved it 😉 This job will probably be put off until next year, so in the meantime we're installing this faucet and shower head from Delta Faucet in our existing tub. The existing tub is in perfect condition, so it will do for now!
For lighting, I really wanted something gold and white to play off the beautiful plumbing fixtures we're installing. I've had my eyes on this one for so long now, although the price is killing me. I'm keeping my eyes open for a similar one with a little bit better of a price point.
I plan to add some shelving above the toilet for little details, and we switched out our towel hooks to these beautiful ones from World Market. This inspiration board makes me SO excited because I'm seeing everything altogether and loving it even more than I have been in my head!
I'll be updating the process as I go, although it will be slow going. But every small update it one step closer to the big finish 🙂 Stay tuned!