Thank you to Valspar Paint for sponsoring today's post!
I previously shared our paint plans for the main second floor bathroom in this post using Valspar Signature Zero VOC* paint, sold exclusively at Lowe's. I'm happy to share that the painting is complete! I tackled the job one afternoon before we left for our Cape Cod trip, and surprisingly it took me less time than I thought.
If you remember my last post, I picked a variety of white paint samples to choose from. I decided to go with Summer Gray for the walls, which is a very light white-gray, and Bright White for the planks. We had to paint in two stages because we planned to add planks behind the vanity wall. I painted the non-planked walls prior to our trip and we installed the planks when we returned.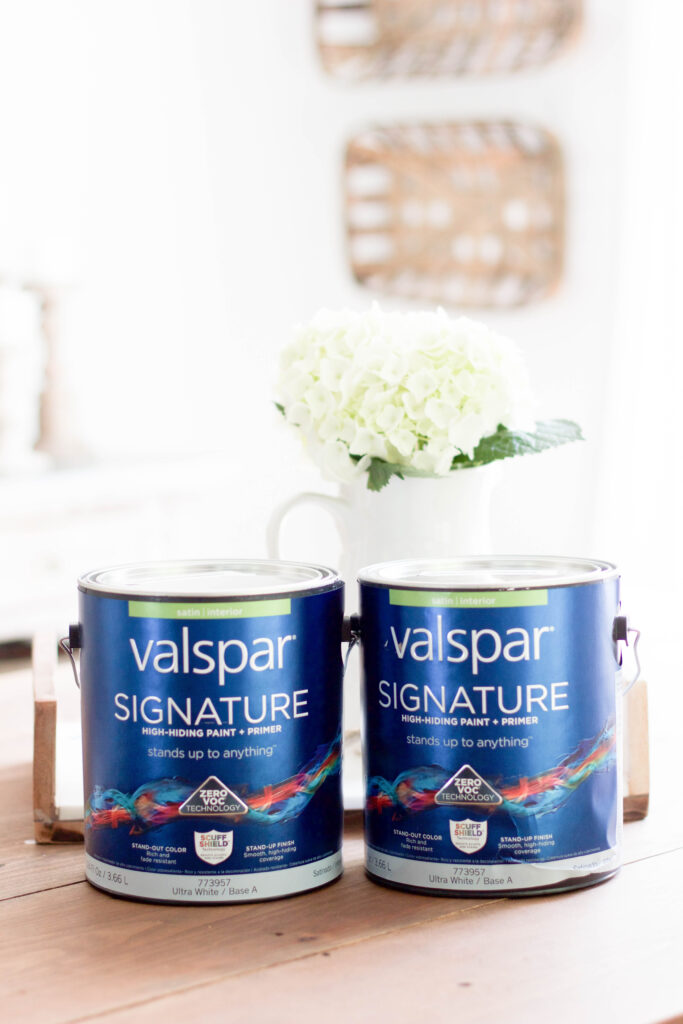 When I first started applying the Summer Gray, I freaked that it was TOO white. But once two coats had dried, I absolutely fell in love with the color. So much that I'm painting the upstairs hallway the same! The Valspar Signature Zero VOC* paint applied smoothly with great coverage. This paint rolled on very easily and flawlessly once my roller had enough paint on it. The best part was there were no harsh fumes, which made painting more enjoyable! The quality of the paint impressed me; it was clear no compromises had been made, despite it being a 'green' product.
Anytime I'm doing a house project, the kids are usually home with me. Whether it's me doing the work or someone we hired, I always keep the kids in mind. For instance, if sanding is going on then we leave the house. It was nice to know that no harsh fumes would be filling the house while I painted. Did you know that Valspar is the first paint company to offer a full line of zero VOCS interior paints at a home improvement retailer (Lowe's)? You can see more benefits of Valspar Zero VOC* paints here.
Once we installed the planks on the vanity wall (see how we do that here!), I painted them Bright White. The Summer Gray is the most gorgeous gray tint up against the Bright White, and I just love how bright the room is. This paint job is only the groundwork for some major upgrades we have planned.
Check out the before and afters below!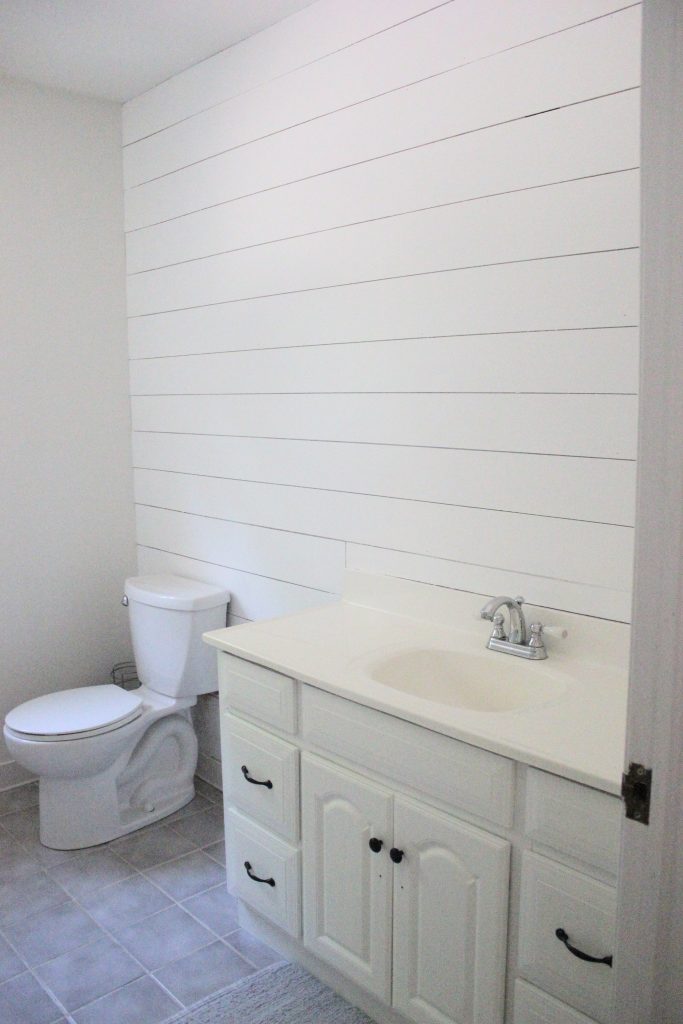 (The lighting in here is awful, so please excuse that!)
Up next for this bathroom:
Install new tile flooring (currently debating between wood tile and the white hex tile).
Install clawfoot tub (this is something I've wanted for YEARS).
Install antique dresser for vanity, and upcycle it into a sink (I can't wait for this!).
Install lighting.
Decor, decor, decor.
So yes, the paint was minor in comparison to what's to come! But at least the bathroom is light and bright until we can make all of the above happen.
I definitely plan to use Valspar Signature Zero VOC* paint for our additional room projects because I was able to breathe easy during the process. Stay tuned for more on this project!
Valspar helps you breathe easy!
*This product contains 0g/L VOC as calculated within the margin of error by EPA Method 24.