Are you ready to learn how to plank walls, and do it for cheap? This post is everything you need and more, be sure to save it!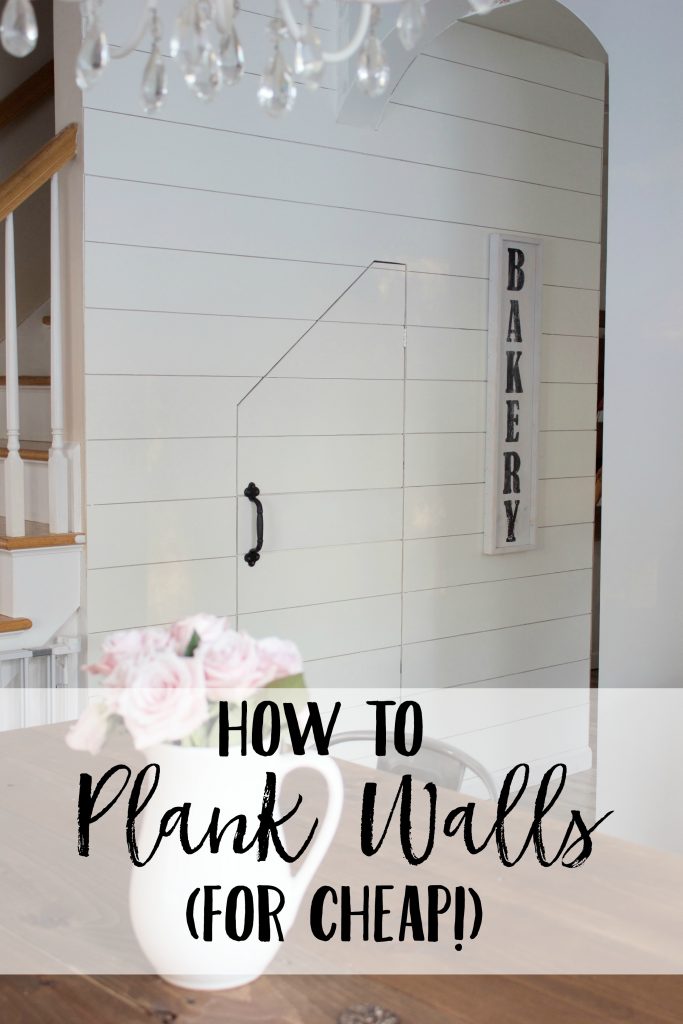 My apologies for the delay in home posts, because I know you guys have been itching for them! I've yet to post much because we are still in the process of changing things and nothing is entirely complete at this point. But I can assure you things are coming, so sit tight!
How To Plank Walls
If you follow me on Snapchat (laurmcbrideblog), you know our kitchen has been a beast of a makeover. We chose to do the majority of things ourselves, which is cost effective but also REALLY time consuming. And with two littles and a husband who works full time and me working on the weekends…the time is super minimal. Shout out to my hubs who's been burning the midnight oil trying to get this done!
If you've been a long time reader, you know that Joanna Gaines is basically my spirit animal, so when we bought this home my immediate thought was "SHIP LAP!" Until I actually saw the price of shiplap. And well, I couldn't afford shiplap. At least the shiplap that I came across. So in true Lauren McBride fashion, I decided that we would find another way to do it cheaper. Today I'm sharing with you how we planked our kitchen walls for cheap. Of course I forgot to take instructional photos, but you honestly don't need much instruction. This process, how to plank walls, is pretty simple, just time consuming.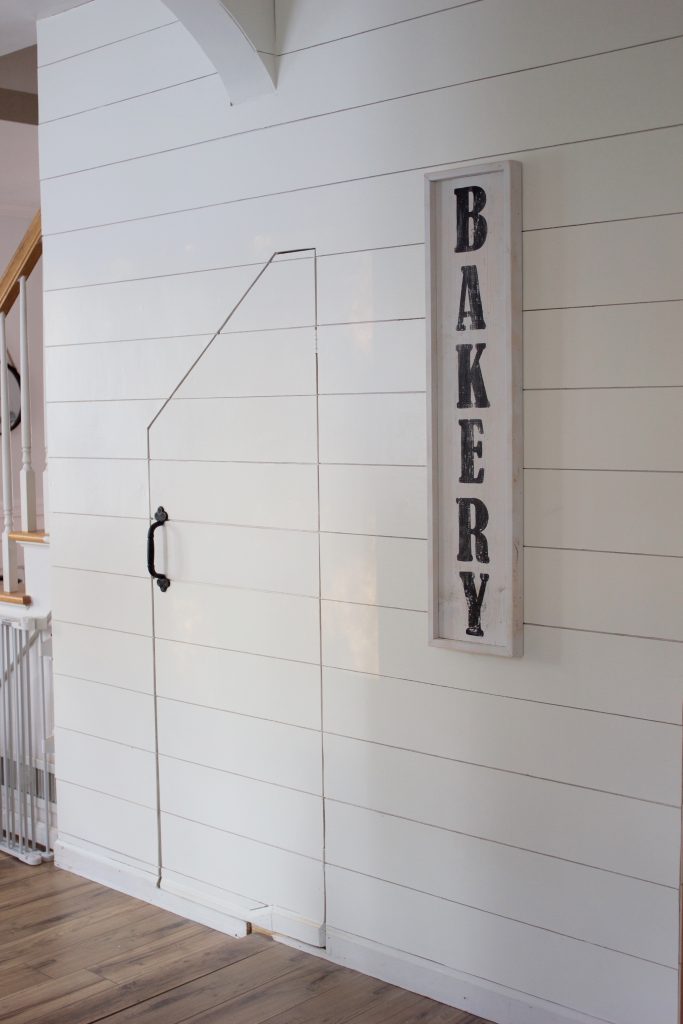 How To Plank Walls: Materials
These are the exact pieces of plywood we used for this project. Yup, you read that right…plywood! You can get them at your local Lowe's, and they're only $14 for a piece measuring 4'x8′ and 1/4″ thick. I believe we used a total of 7 or 8 for our entire kitchen, which is significantly cheaper than purchasing actual shiplap. Ask someone at Lowe's in the building department to rip each piece into 6″ strips. You'll get a total of 8 planks out of one piece of plywood.
While at Lowe's, pick up some Liquid Nails and these little spacers. You don't necessarily need the spacers; they're about the same width as a nickel. My husband just chose to not listen when I said we could use nickels. 😉 He also grabbed some finishing nails.
How To Plank Walls: The Process
Before we started anything, we painted the walls one coat of white paint. This was because we were leaving a gap in between each plank, and I didn't want the hideous paint color and wallpaper to show within those gaps. I didn't paint the walls very nicely; it was a very haphazard coat of paint because the planks would be covering most of it.
The process was actually quite simple. It's like a game of Tetris, but easier. And while a saw does make this go quicker, my husband used a sharp razor blade for the majority of the planks (because our saw is LOUD and he worked on this at night). You can choose to start from the ceiling or floor, but we chose to start at the level of our countertops because the planks are also purposing as our backsplash. It's really just a matter of measuring each piece, applying some liquid nails to one side, sticking it on the wall, and securing with finishing nails. As he added planks, he would use the spacer to leave a small gap in between each plank to get that shiplap look. The only challenging part is cutting around outlets and door jams, but other than that the process is pretty easy. Also, be sure your planks match up in the corners! And remember to take accurate measurements!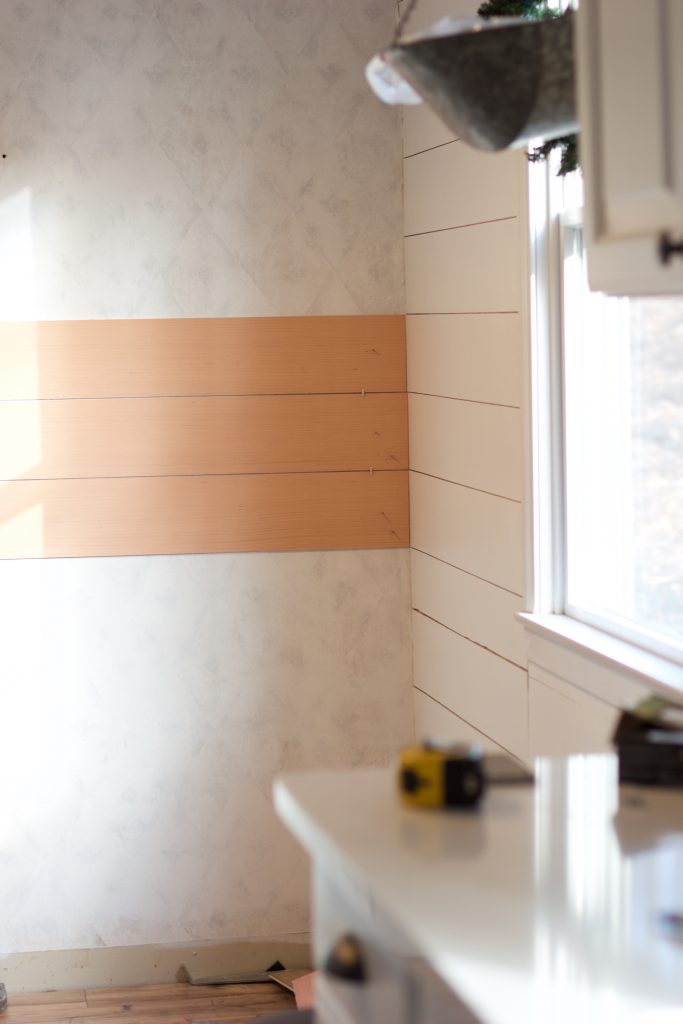 Once complete, we filled in nail holes with some wood putty and then sanded everything down smooth. We used three coats of white paint (surprisingly, we didn't need primer. I thought the wood coloring might bleed through, but it didn't). The white you see is Benjamin Moore Simply White, and we chose the same finish as trim paint. We also caulked around our countertops and the ceiling, as well as the corners where the planks met, that way the finish was seamless.
Bakery sign: Etsy // Vintage door pull: rel="nofollow"Etsy
I'm only showing you this one wall for now because the rest of the kitchen isn't complete just yet, but if you follow me on Snap you can get a sneak peek on how to plank walls!
If you have any questions about the process, ask me here and I'll update this as needed in case others have the same questions as you! Happy planking!