This post contains sponsored links. All thoughts and opinions are my own.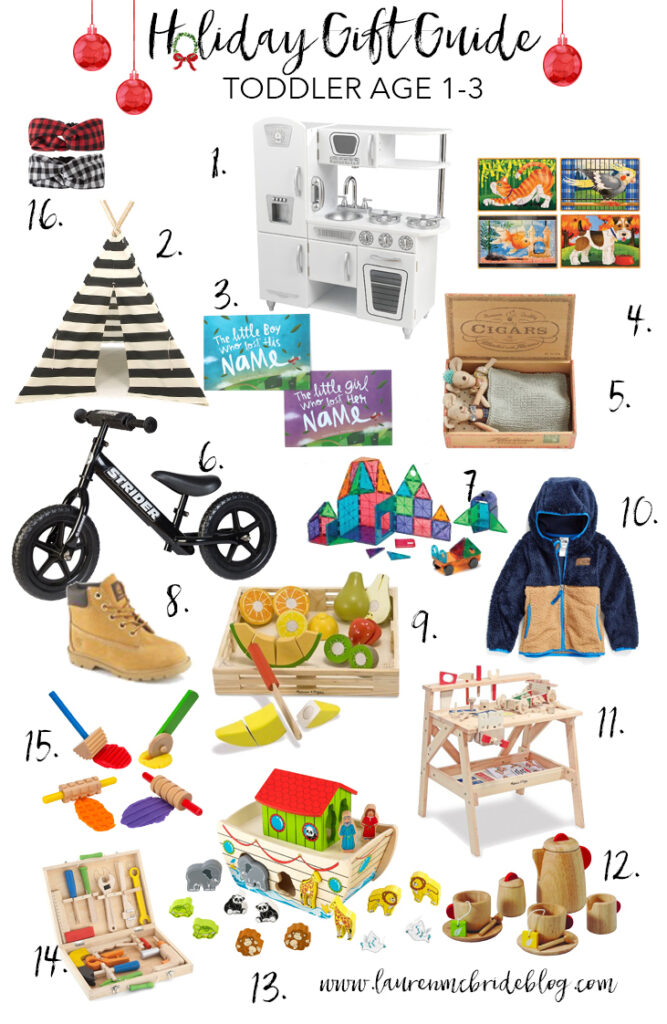 I've had my eyes on Christmas gifts for Landon for quite some time now, and I've slowly been stocking my Amazon cart in preparation. We don't plan on doing anything too crazy (because usually he forgets about it in a day anyway), but there are a few items I really think he'll enjoy this year. Today I'm kicking off the first of many gift guides this season with a holiday gift guide for toddlers ages 1-3!
1.Kitchen: We actually purchased this version a couple years ago, and while it took like 5 hours to put together, it was by far the BEST gift we could've ever bought. Landon still plays with it, and now Noelle joins in on the fun too. Worth every penny!
2. Teepee: I'm including this because we have one for both kids and they adore them. Teepees are so fun for little reading nooks or playing hide and seek. We keep ours in the kids' rooms!
3. Lost My Name: Books are another item Landon will be getting a good amount of this year (mainly because mom and dad are tired of reading the same ones!), and I love the concept of Lost My Name. It's a book about a little boy/girl who loses their name, and the entire book is based around your child's name! It's customizable for each child, as well. I thought this was such a neat idea!
4. Wooden puzzles: Landon has recently become a puzzle freak. I'm actually quite impressed at just how fast he can put a puzzle together with very minimal input from me. These Melissa & Doug wooden puzzles are great for early learners!
5. Maileg Toy Mice: We saw these in the Nantucket bookstore during our recent trip, and I thought they were so adorable! I think Noelle would enjoy putting them in and out of the box.
6. Strider Bike: I've heard really amazing things about these bikes, and that they basically teach your kid to balance which in turn will help them learn to ride a bike. We've been working on riding a tricycle, so I think it's time to upgrade to this!
7. Magnatiles: Okay I'm finally caving this year and getting Landon some of these. I've heard amazing things, they all have 5 star reviews, and since he absolutely LOVES building things, it only makes sense!
8. Rack Room Shoes: Landon really needed a great pair of boots, so we're getting him these Timberland boots to match his dad for Christmas! I always get great deals on shoes for the entire family, so I'll most likely grab a couple of pairs for both the kids!
9. Cutting Fruit Set: Landon absolutely loves his kitchen set (Noelle does, too!), so we've been adding different foods and utensils to it as the years go by. This year we'll be adding these cutting fruits to help with some fine motor skills!
10. North Face Sherparazo Fleece: I love purchasing the kids' winter coats during the major holiday sales, and I have my eye on this cozy fleece this year.
11. Wooden Work Bench: I LOVE this idea, especially because we are a DIY family! Landon already loves his tools, how adorable would a little work bench be?!
12. Wooden Tea Set: Again, to go with the kitchen set. Landon loves anything he can "pretend" with, and I love watching him set up "meals" for him and his sister. This wooden tea set is super cute, and I can already picture them playing!
13. Noah's Ark Shape Sorter: I love this concept instead of a traditional shape sorter. I feel like there's more of an opportunity to learn with it, too!
14. Wooden Tool Box: Landon loves to pretend he does projects with us, and while he has some plastic tools, I thought getting him a nice wooden tool set would be better (the wooden toys are seriously the BEST). This tool box is SO adorable and well priced, and I know he'll love it.
15. Wooden Dough Tools: We've been playing with play dough for quite some time now, but Landon is experiencing it on an all new level as of late. We've been using things like cookie cutters and plastic forks and knives to cut and make holes in the dough, but I wanted to get him some actual dough tools this year. These will definitely be under our tree!
16. Zelda Matilda: These headbands and knotted turbans are SO adorable for a little girl! I love the plaid print for fall, but they also have interchangeable headbands for a customized look! There's even pacifier clips and bandana bibs for your younger babe, too. Get free shipping with code FREESHIPCC!