A huge thank you to the brands who provided us with product for this room!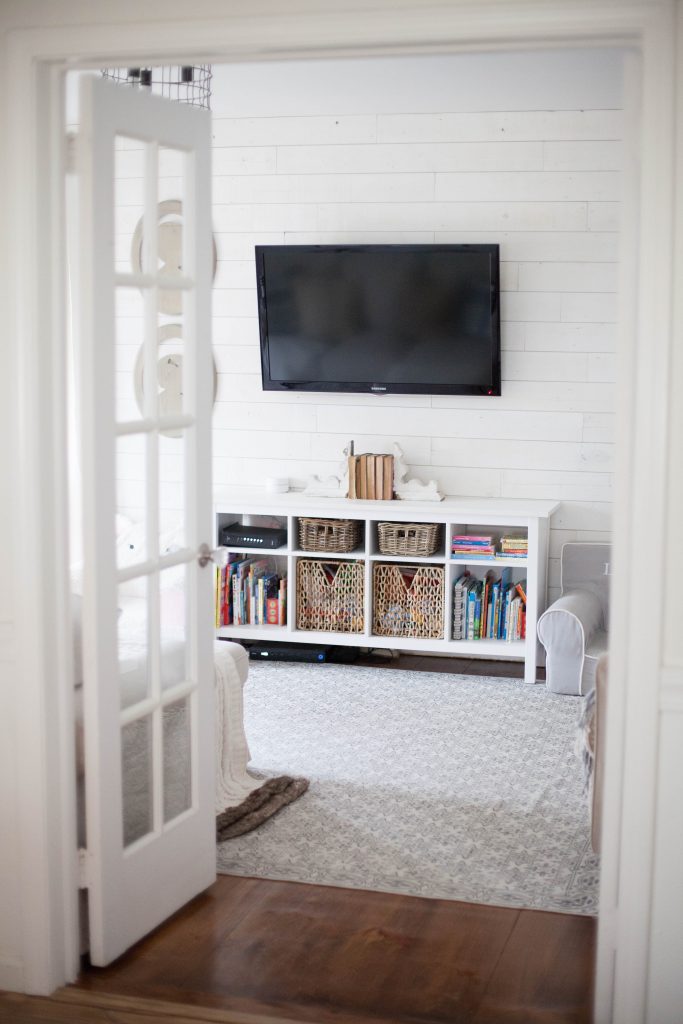 We've been taking a break from home projects (and it feels good!) lately with the exception of some minor things, but one of the rooms I've yet to share with you is our playroom/family room. Or I guess it's technically a den? Whatever. I call it the playroom. It's the main spot for our television, so I wanted to keep it functional as a family room as well (meaning, not a ton of toys all over the place). With some strategic organizing, I've been able to have it function for both purposes. While this room is far from complete, I wanted to share some updates to our cottage style playroom that we've made!
Also, I should note. It's NEVER this clean. Ever. Obviously this was just for photos and so you could see the storage options we're using. It usually looks like a tornado blew through, and if you follow me on Snapchat, you know that's the truth. 😉
We have an IKEA Ektorp couch in here for obvious reasons…removable slipcovers! A must in any playroom. It makes it easy to clean, which happens quite often. I recently added this ottoman for people (me) to stretch their legs out on, and I like that there's also storage under it for extra toys that aren't used as often, or other items. We also moved our Raymour & Flanigan recliner down here so my husband could kick his feet up while watching the game. It's a cozy little spot, and we hang out in here often after the kids are in bed. And of course, the kids are always in here during the day.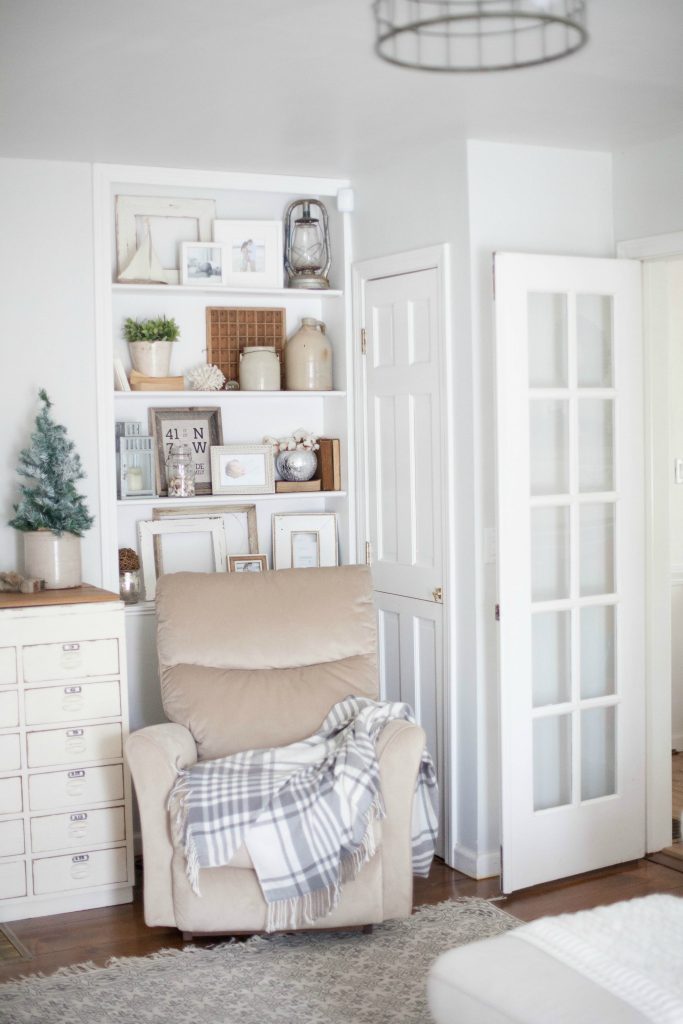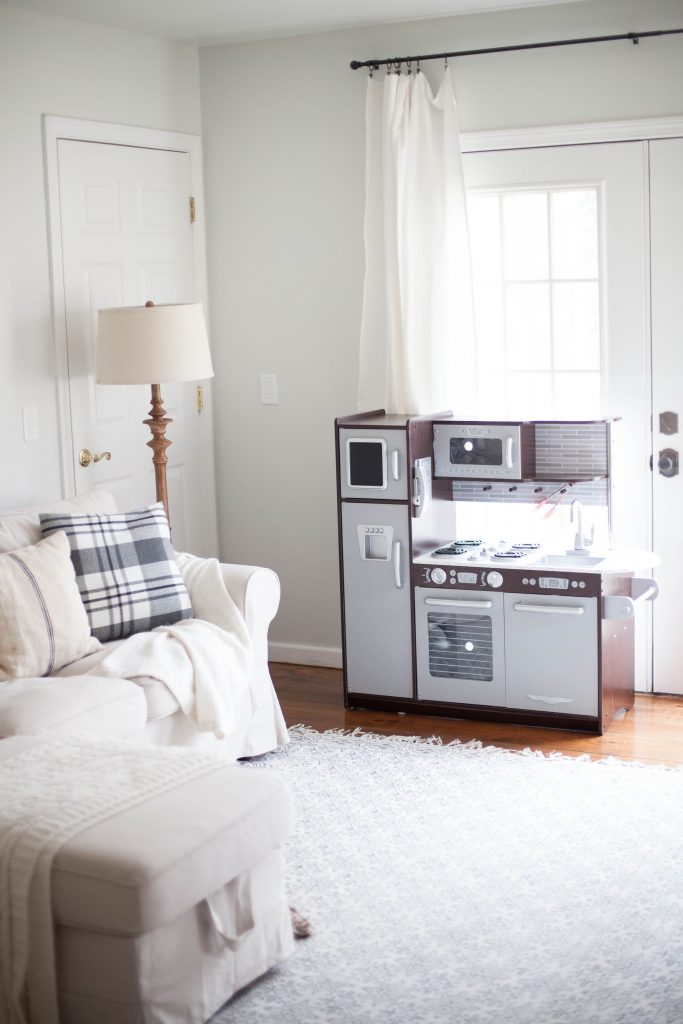 I searched for a playroom rug for what felt like an eternity. I'm pretty set on jute rugs, but I knew it wasn't practical in a playroom. They shed crazy amounts, and I didn't feel like cleaning all of that up in the room that gets used the most. After MONTHS (seriously, months!) of searching, I finally came across this beautiful black and white fringed rug. It's the most asked about item on my Snapchat, and you can find it right here! It is this, so I do suggest a run pad underneath it. But I love that it hides everything and it's easy to clean. I chose to get an 8×10 to cover the majority of the room, since the kids play in here almost all day long.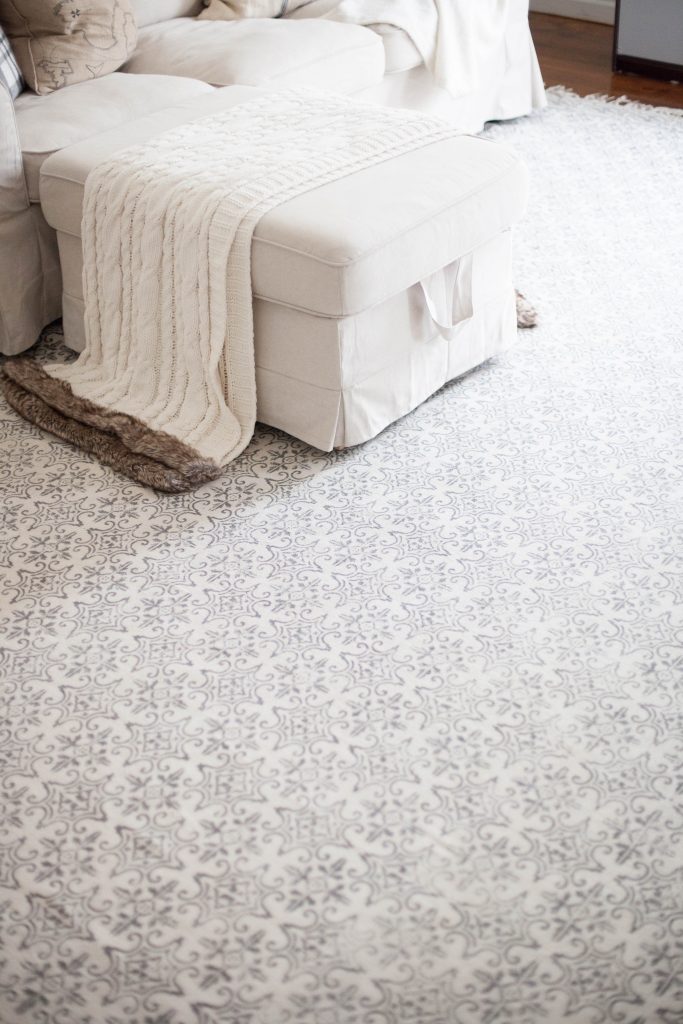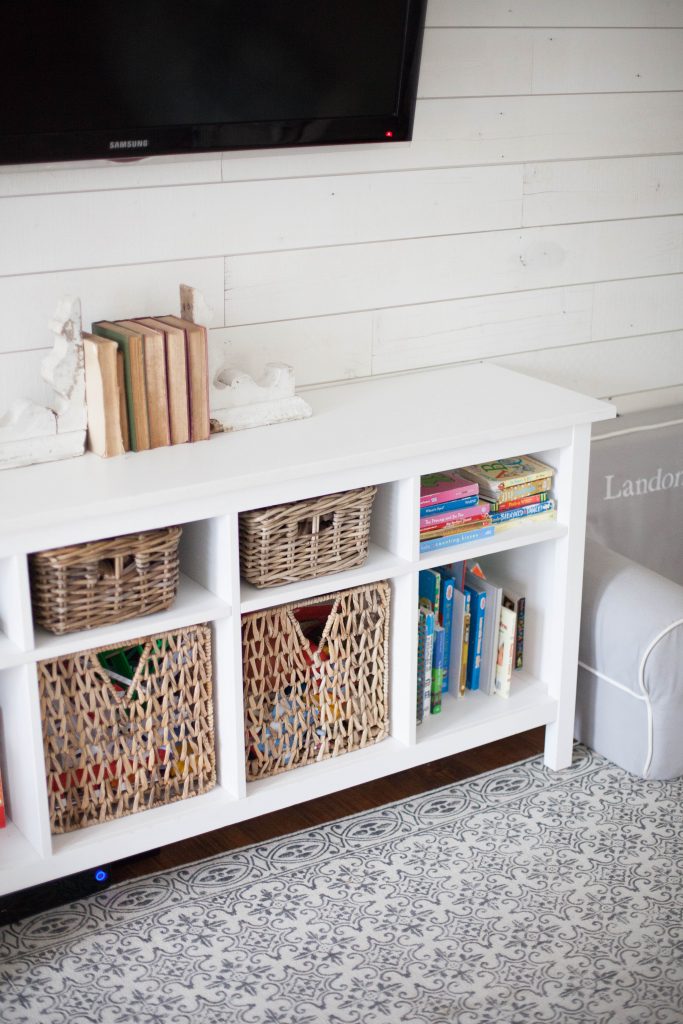 For toy storage, we use some old IKEA baskets and other baskets I found at HomeGoods. I also picked up this vintage apothecary cabinet off a local tag sale site, and use the bottom drawers for storage for Landon. These house his little trains and some train tracks. I wanted enough storage to organize their toys, but also to hide them when we wanted to use the space for entertaining (we do holidays here!). I don't expect everything to be hidden (like their toy kitchen), but it's nice that they can easily get picked up when needed. Trust me, that's not often. But the option is there 😉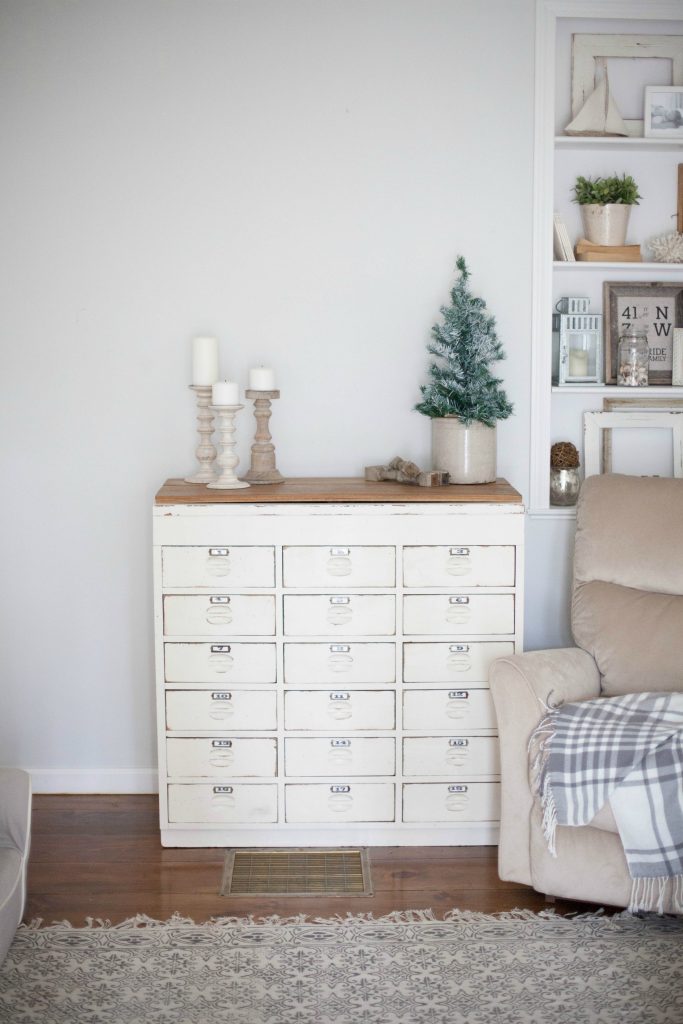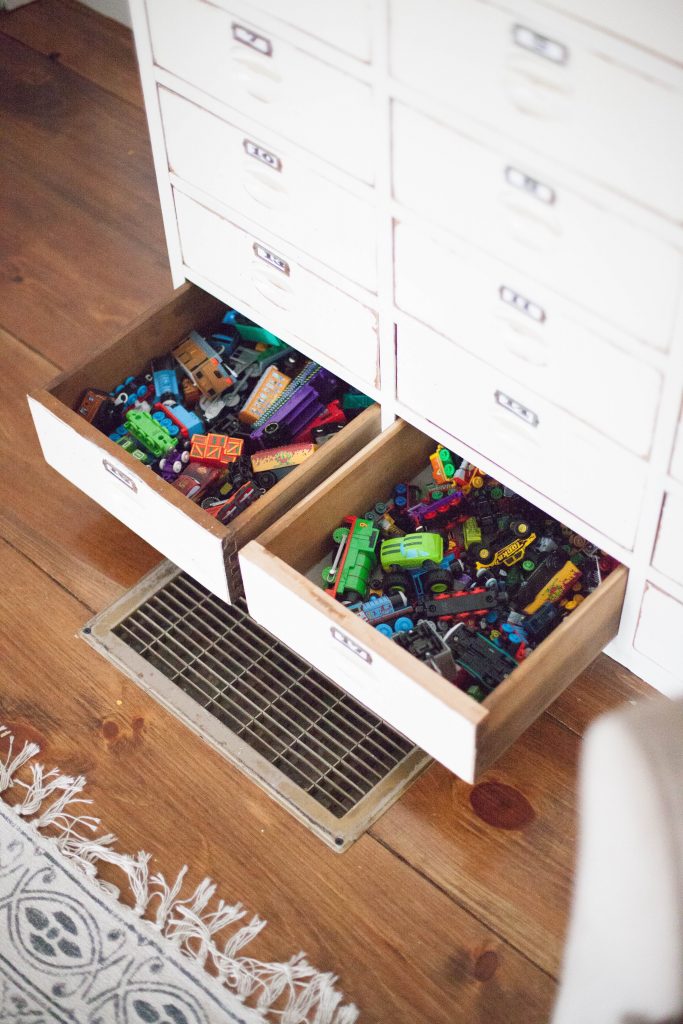 There's a small closet behind the recliner that houses all of Landon's art and craft supplies. I like that it's put away and that the chair blocks it from Noelle (who is crazy). I have baskets in there organizing everything from stickers to Play-Doh to markers to paint. I like that the door is like a Dutch door, too, which means I can open the top half without opening the bottom. I have everything right in reach and the items he uses less on the bottom. Landon got an easel for Christmas, and while I would LOVE to keep it out, Noelle is a little disastrous. So for everyone's safety, art supplies stays locked up. Landon knows we sit at the table out of reach of Noelle when we want to color, paint, etc, and that Play-Doh only comes out when she's napping ("Cause baby eat it!" as he would say).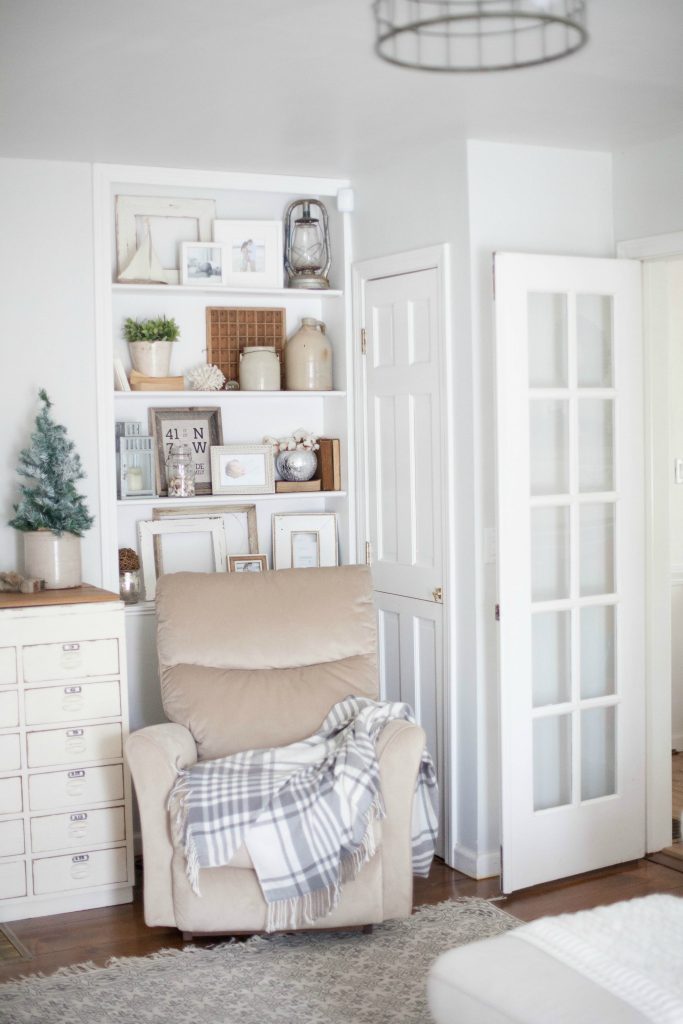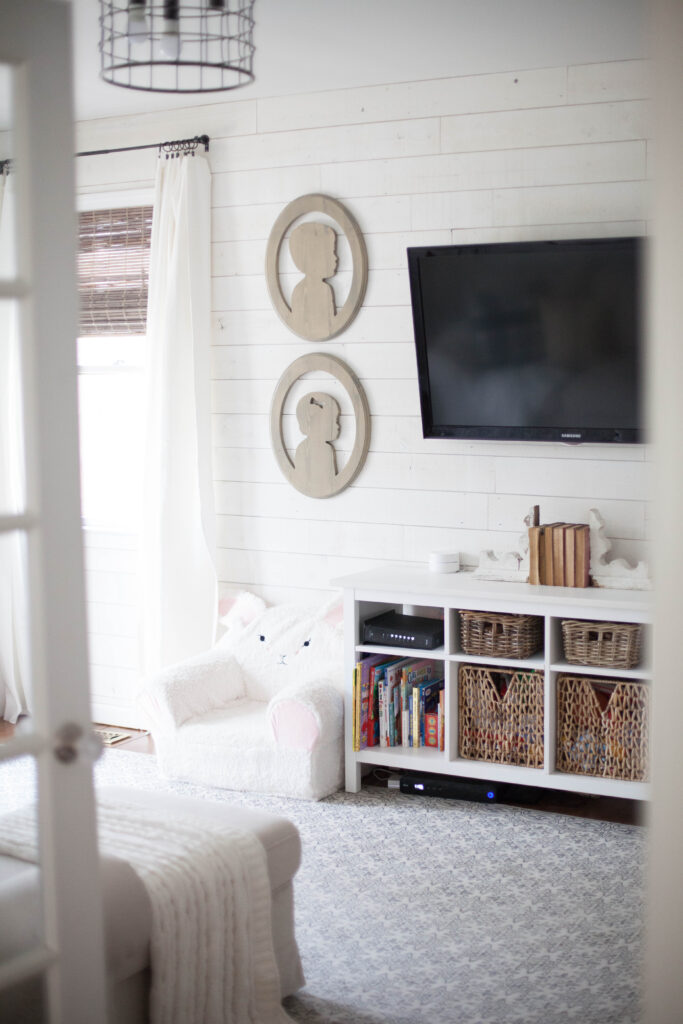 The biggest addition was this wood wall from Stikwood. Stikwood kindly gifted us the materials for this shiplap wall, and it's my favorite feature of the room. If you haven't heard of Stikwood, it's basically peel and stick wood planks that make creating that shiplap look so insanely easy. We had this entire wall complete in a few short hours because each plank was already finished! It's as simple at peeling and sticking! This room can get dark at certain times of day because of how our home is positioned, so I wanted to keep it light and bright. We chose the Hamptons finish, and it's insanely beautiful in person. In fact, I wish all of the shiplap in our home was Stikwood! My husband does too, as it's much easier than our previous way of installing wood planks I love that you can see it from our living room, as well. I think it adds the perfect cottage touch to our little coastal cottage.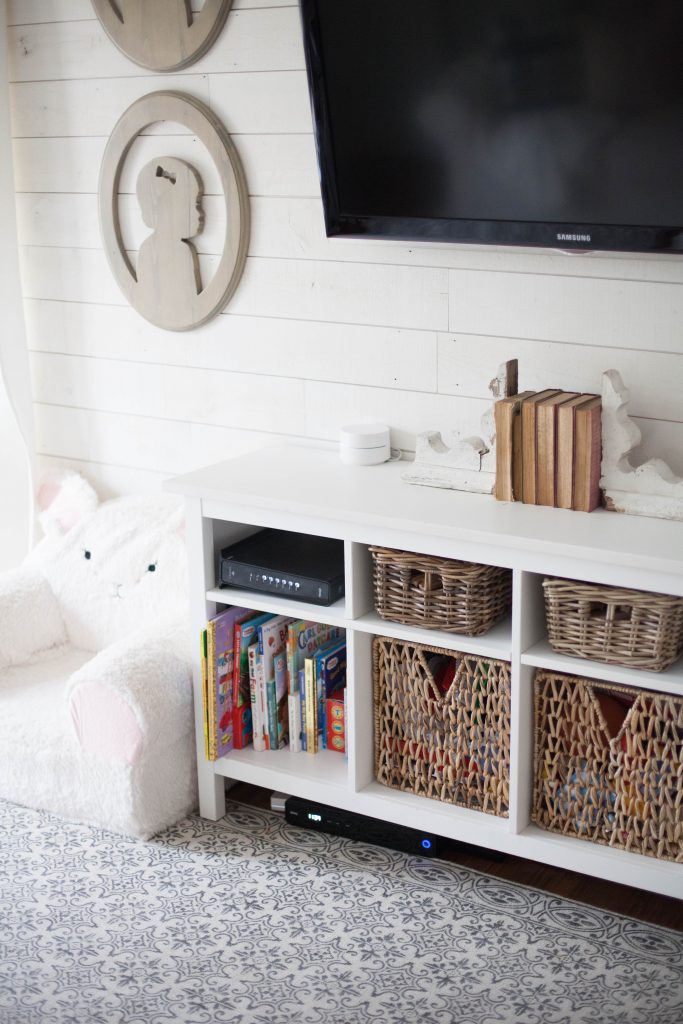 There's still a few things I plan to do to complete the room, but it looks so much better than it did before! Source list is below for you:
Silhouettes of the kids: c/o Von Jet
Planked Walls: c/o Stikwood
Rug: Overstock
Couch and Ottoman: IKEA
Recliner: c/o Raymour and Flanigan
TV Console: IKEA
Curtains: IKEA
Blinds: Home Depot
Toy Kitchen: KidCraft
Artwork: c/o Minted
Light: c/o Lamps Plus
Kid Chairs: Pottery Barn & Land of Nod
Wall Color: Benjamin Moore Horizon
And for your viewing pleasure, here's the REAL way it looks on the daily. 😉