Now that Christmas is over, we're finally seeing some snow on the ground! We rarely have a white Christmas, and usually January, February, and March are ridden with the cold stuff. I like to transition the house over from Christmas to a cozy, wintery look to hold us over until spring. Today I'm sharing my winter home tour (or, at least a few rooms) to show you how exactly I've been doing this. I'm also teaming up with some AMAZING ladies, so be sure to keep reading to see their gorgeous homes!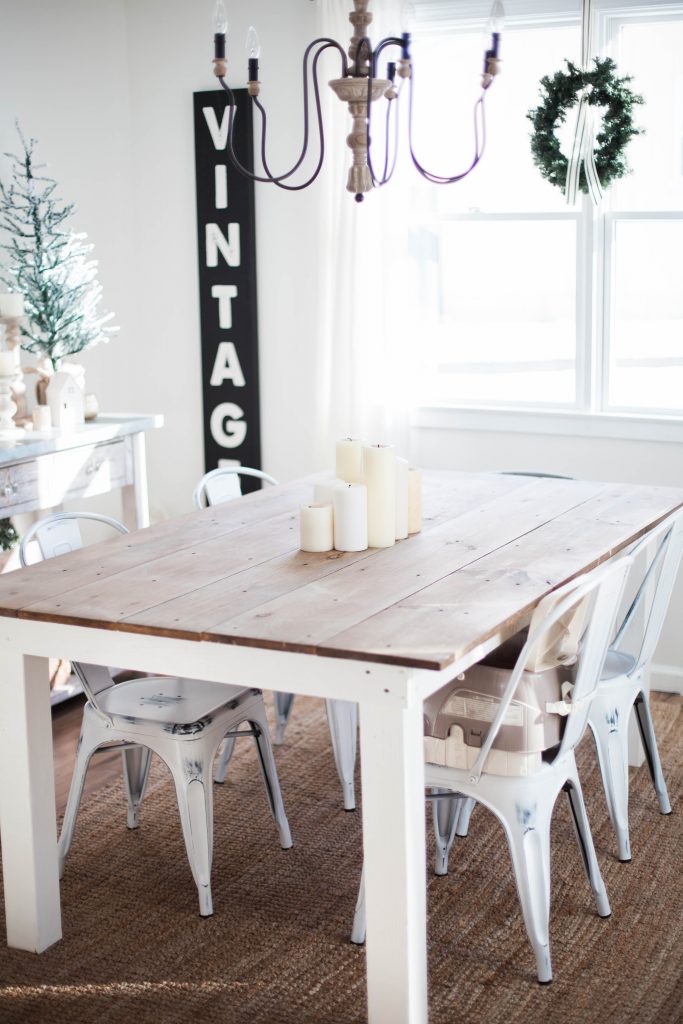 Our first stop is the dining room because it's one of my favorites in the house. I took down our Christmas centerpiece and kept it simple with some pillar candles in varying heights. One all of the Christmas decor comes down, I like to keep things fresh and clean. I love that it's simple enough to make a statement, and also looks stunning lit at night. I also switched out our O Holy Night sign with this Vintage sign from Hunt and Gather Goods. I love the pop of black against the white walls. I kept everything the same with the exception of our wreath on the side board. I replaced the boxwood wreath with the cotton wreath we had up before the holiday.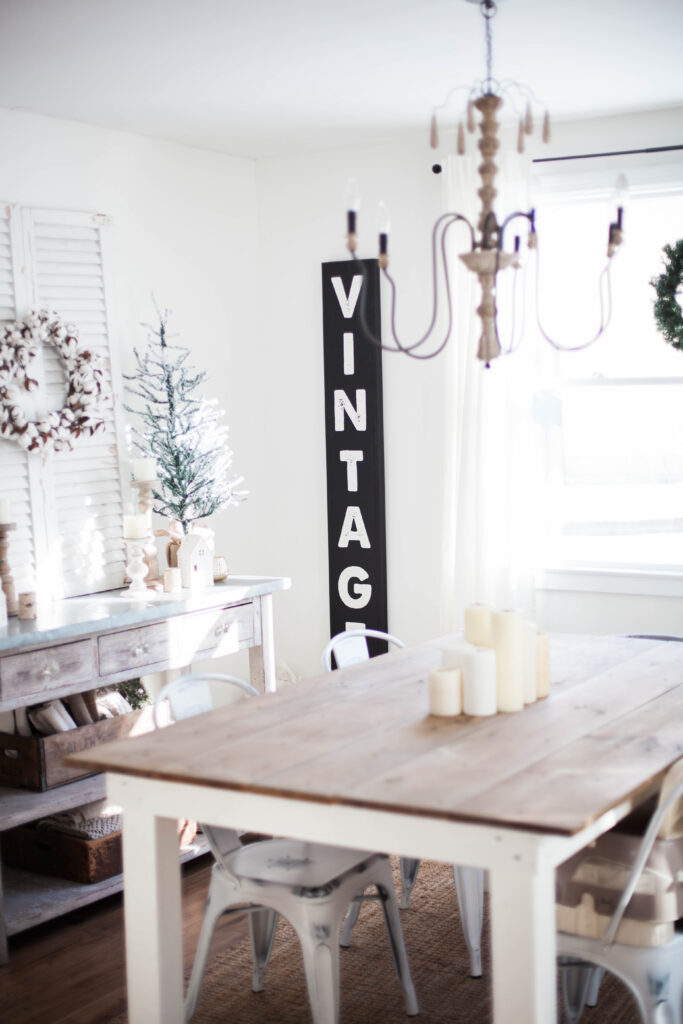 Chairs: Amazon // Table: Built by us // Rug: Rugs USA // Sideboard: HomeGoods // Sign: Hunt & Gather Goods // Cabinet: Vintage // Bench: The Upcycled Farmhouse // Chandelier: World Market
Once we took the tree down in the living room, we moved our vintage parlor chairs back near the windows and I placed this small little white trunk in between. I like the clean look, and the room is much brighter without the tree blocking the window! I kept our knit and faux fur pillows, as well as our chunky knit blankets on the couch to keep things looking cozy. I also kept our mantle up but removed the "Happy Holidays" sign and our stockings. I really loved our mantle this year, and I'm not ready to part with the decor just yet!
Pillows: Target, Pier 1, World Market // Blankets: Pier 1, HomeGoods // Chairs: Vintage // Home Sweet Farmhouse Pillow: Homespun Happiness // Lamp: Target // Rug: WayFair // Jute Rug: Rugs USA
I kept things simple in the kitchen by sticking some evergreens in a pitcher on our new open shelving and the crate on top of our lockers. I still need to remove our wreaths in the windows!
The next stop is our master bedroom. As you can see, we added a sliding barn door to our bathroom which I love! I switched out our bedding and kept our faux fur blanket and knitted pillow in place. I also kept the little flocked trees next to our bed because they aren't too Christmas-y. Also, don't mind the thermostat sticking out of the wall…we had our heating guys here fixing our heating system while I was taking these photos (real life!).
Barn Door Hardware: Home Depot // Bedding: Primark (IKEA has a similar version) // Fur Blanket: World Market // Side Tables: Sauder // Lamps: Amazon // Signs above bed: Hunt & Gather Goods // Bed: Amazon
And in case you missed it last week, the last stop on our tour is our playroom! Again, this is the CLEAN version. It never looks this way 😉 I kept our plaid pillows and cozy blankets for a wintery, welcoming look.
While I love the look, I'm really itching for spring (already!). Be sure to check out the other fabulous ladies on our winter home tour! I'm just in awe of their incredible style sense and they're SUCH an inspiration to me…every single one of them!