Farmhouse Master Bedroom
Thank you to Raymour & Flanigan for sponsoring today's post!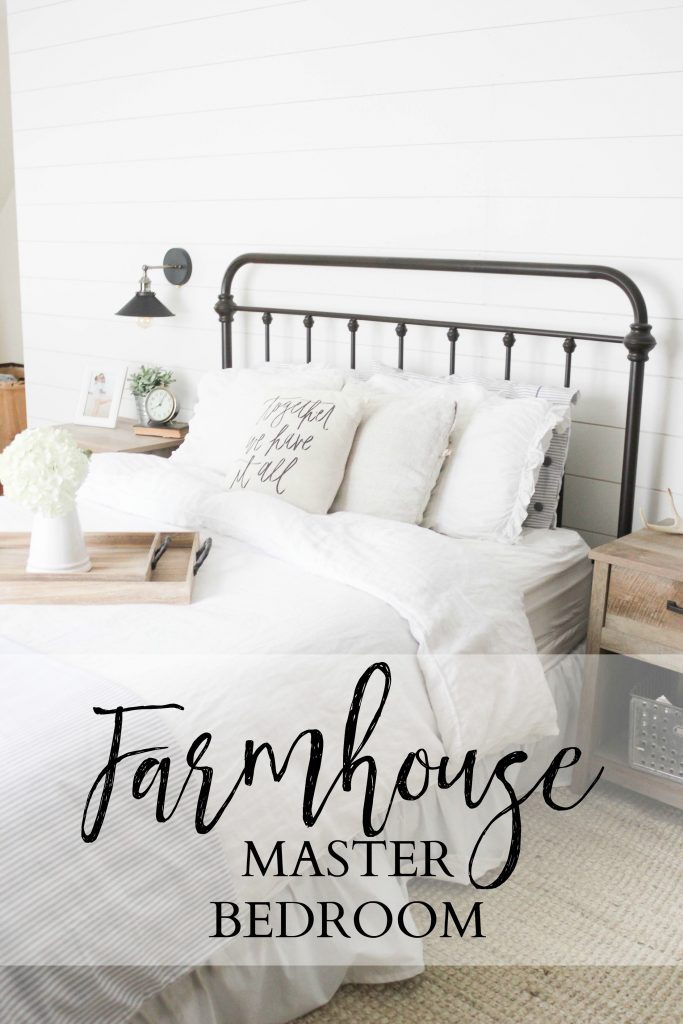 We are slowly chipping away at each room in our new home (although can I still call it new if we've been in it almost a year?) and the latest one to get a facelift is our master bedroom. Now I have to tell you, this room isn't complete by any means. We still plan to add a sliding barn door for then closet and bathroom, add some shades (the same ones in Landon's room), new curtains, and some photos of our little ones. But the progress has been steady going, so I wanted to share what we've come up with so far our farmhouse master bedroom!
Our bedroom is huge. It runs the entire length of the house, bathroom and walk-in closet included. We have a large living space within the room that I wanted to utilize as well. We do bath and bedtime in our room, plus our dog always sleeps with us in here, so I wanted the area to be functional for us and the kids. I wanted a place I could put Noelle down on her play mat while folding laundry or getting other things done. We made some changes and added some key pieces to help make the space functional.
How adorable is that little window seat? I plan on having a custom cushion made to go on top. It's also storage, so I keep things I'm not currently using inside of there. I also plan on adding wooden blinds in the near future.
Of course, I wanted a farmhouse look to go with the rest of our home. Adding some ship lap to the rest of our home helped achieve this, so I wanted to do the same to the wall our bed is against. I absolutely love how the bright white looks with the contrast of the dark metal bed frame.
Farmhouse Master Bedroom Inspiration
One of the best features about Raymour & Flanigan is their Platinum Protection Plan. I can feel comfortable in knowing that if ANYTHING happens to our furniture, they've got it covered. You can read more about that here.
I wanted industrial lighting and found these adorable sconces, which my husband converted to a pull-chain for me. I love the look they add to the room, and again the contrast against the white ship lap wall.
We still have a few tweaks to add to our farmhouse master bedroom, but overall I am loving the feel of the room! I'll be updating the changes we make as we go, so stay tuned on here or follow me on Snapchat (laurmcbrideblog) to see them in progress!
SOURCES:
Bed: Amazon
Side Tables: WayFair
Sconces: Amazon
Bedding: H&M, Primark
Pillows: Parris Chic Boutique, vintage grain sacks
Trays: Raymour & Flanigan
Rug: Rugs USA
Sitting Area Rug: Amazon
Dressers: Raymour & Flanigan
Chair: Raymour & Flanigan
Recliner: Raymour & Flanigan
Dressform: Vintage
Laundry Basket: Vintage
Locker Baskets: Vintage
Throw: TJMaxx