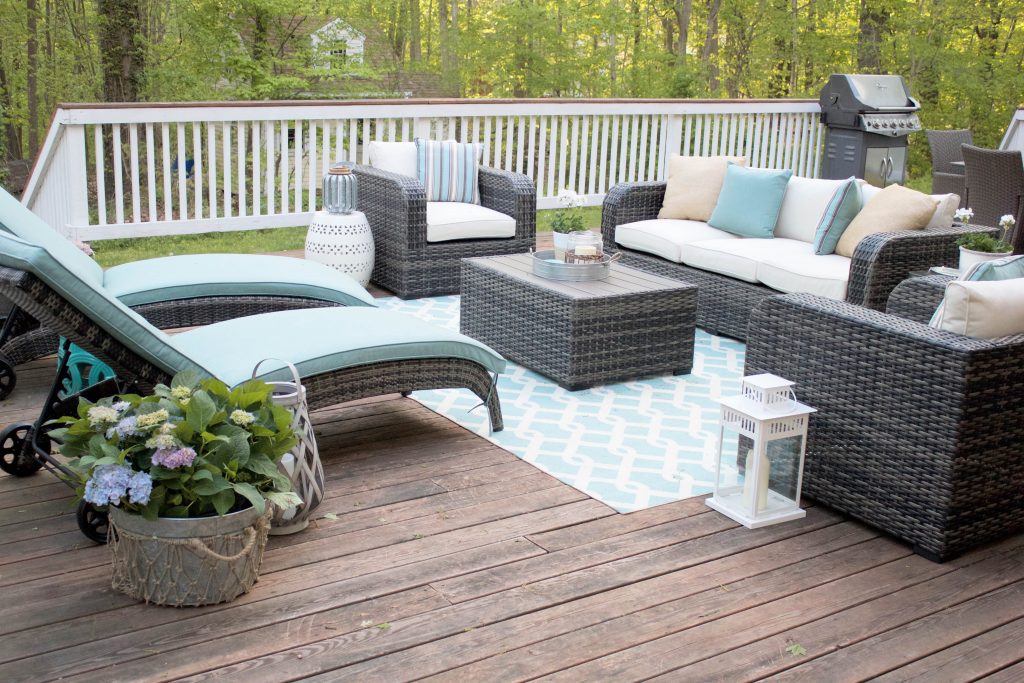 The main feature that attracted our eye when we purchased our new home was the INCREDIBLE outdoor space. The front porch is so charming, and it wraps around to a deck bigger than I could've ever imagined. Having lived in a condo for 6+ years, we were desperately in need of a wide (and private) outdoor space for our family to spend time together. We love eating dinner outside in the warm months, and we really wanted a place to lounge with our family and friends. I've had a backyard oasis envisioned for years, and I'm so happy it's finally come to fruition. Raymour & Flanigan was kind enough to partner with me in making all my patio dreams come true, and today I'm sharing the reveal with you!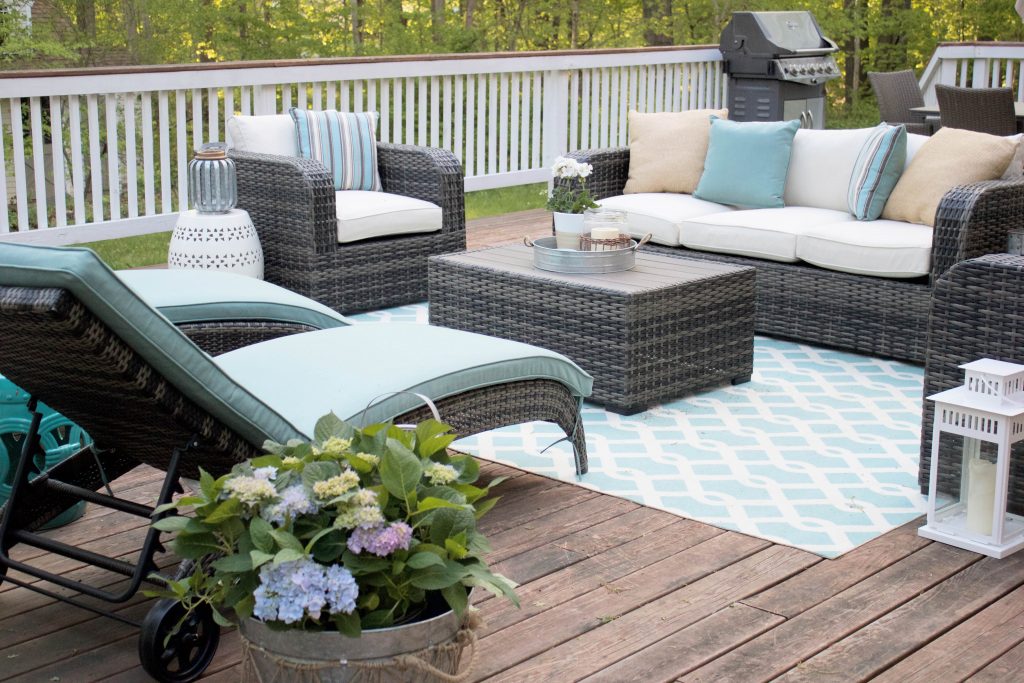 Sofa // Chairs // Table // Chaise Lounge //Rug
Our home can definitely use a new coat of paint (it's chipping in many places, plus I'm not a huge fan of yellow) and the deck could stand to be power washed and retained, but that's something we'll be putting off until next year. In the meantime, I wanted to work with the cheery yellow color and also take into consideration that this is an outdoor space. Which means it's open to elements and needs to withstand them as well. We have a few trees in our yard, and many surrounding the perimeter. So I needed to keep in mine the pollen, leaves, and other things that would be falling daily.
Tray // Wicker Candle // Lantern
I chose a neutral colored sofa and chair set, but chose to add some color in with the chaise lounges and rug. And good thing, because it was dirty after the first rainstorm! That's definitely something to keep in mind when purchasing outdoor furniture – it will be exposed to the elements, so you want something that will hold up.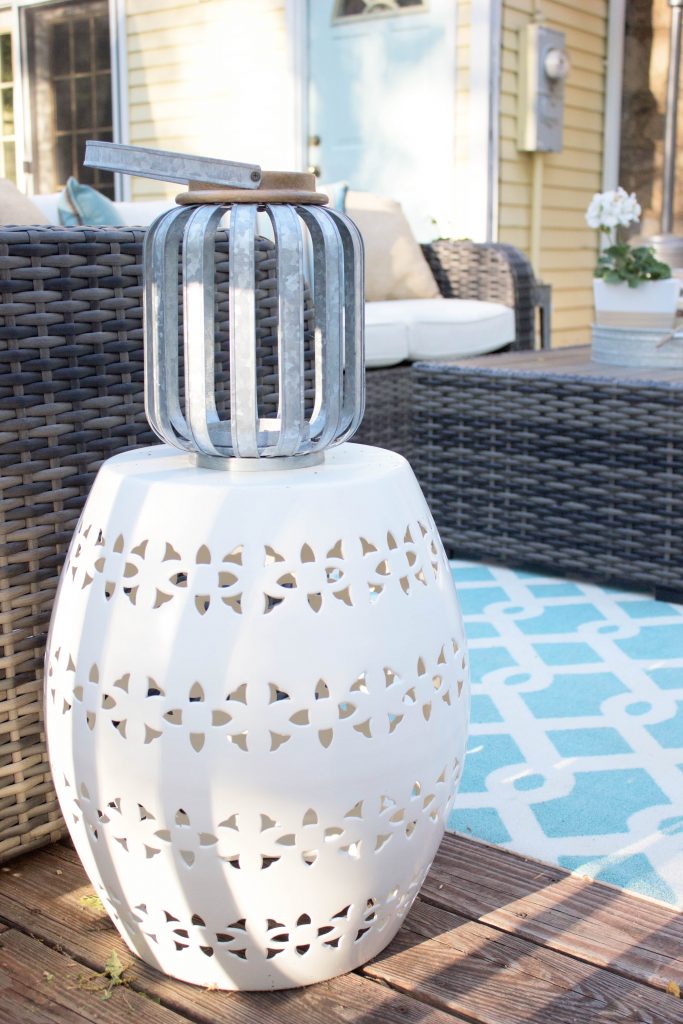 Pillow // White Stool // Lantern
I purchased some outdoor jute pillows to add some more texture and to balance things out a bit. I kept things neutral for decor details as well, adding in some white and galvanized metal since the rug is so bold. I even went fairly neutral with our potted flowers, choosing my favorite hydrangeas in a purple/blue color and some white geraniums at the recommendation of my mom.
If you remember my planter debacle on Snapchat (laurmcbrideblog), I finally found a few small ones for the tables! I then had an "aha" moment and realized I could use my vintage galvanized buckets as planters as well. I even found one with jute webbing and handles, and added that to the mix. I love how they turned out! Let it be know you CAN find great planters for reasonable prices. 😉
We've been enjoying our outdoor patio set from Raymour & Flanigan for a few weeks now and absolutely love it. It's SO relaxing out there! We've been eating dinner outside every chance we get, and we already have a few summer parties lined up. I plan on adding some other details as well, like switching out our lighting and planting a small herb garden.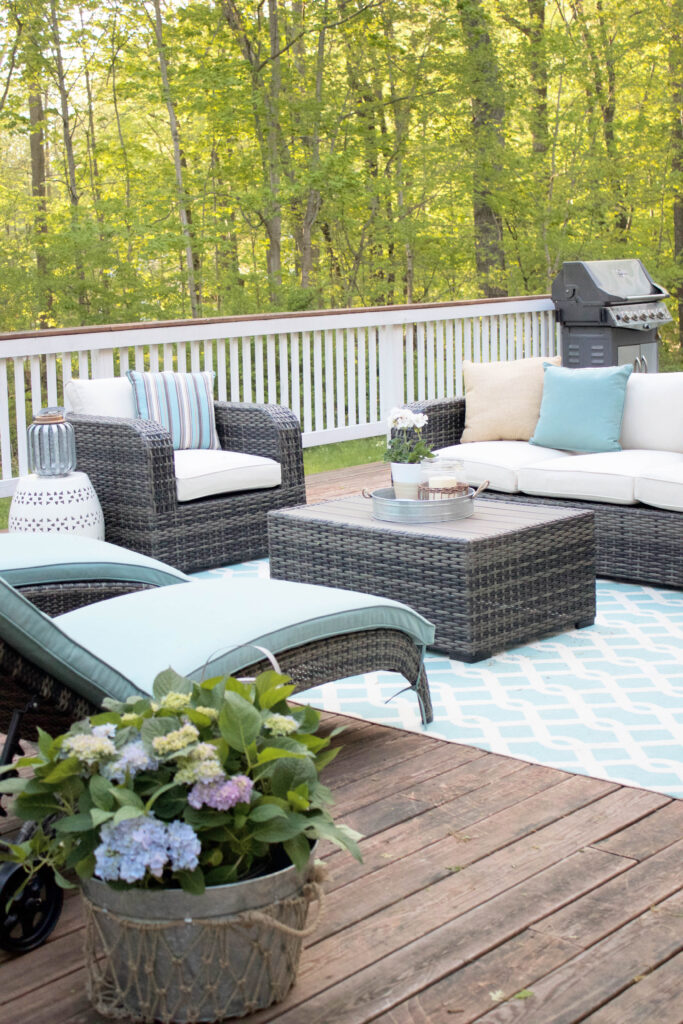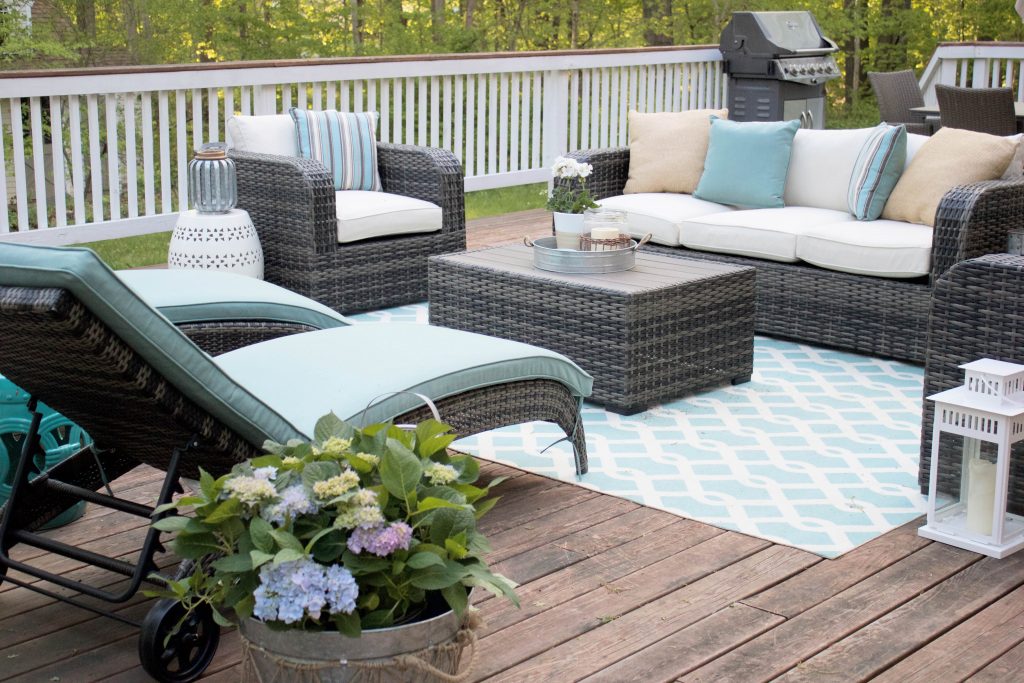 What do you think of the space?
Sofa: Raymour & Flanigan
Chairs: Raymour & Flanigan
Table: Raymour & Flanigan
Chaise lounges: Raymour & Flanigan
Rug: Raymour & Flanigan
Turquoise stool: Raymour & Flanigan
Tray: World Market
Wicker Candle:
Lantern: IKEA
Pillow: HomeGoods (similar)
White Stool: World Market
Lantern: World Market
Lantern: Target
Galvanized Bucket: Vintage
Galvanized Bucket with jute: TJMaxx
I have partnered with Raymour & Flanigan and received product in exchange for this post. All expressed opinions are 100% my own. A huge thank you to the brands who support this blog!