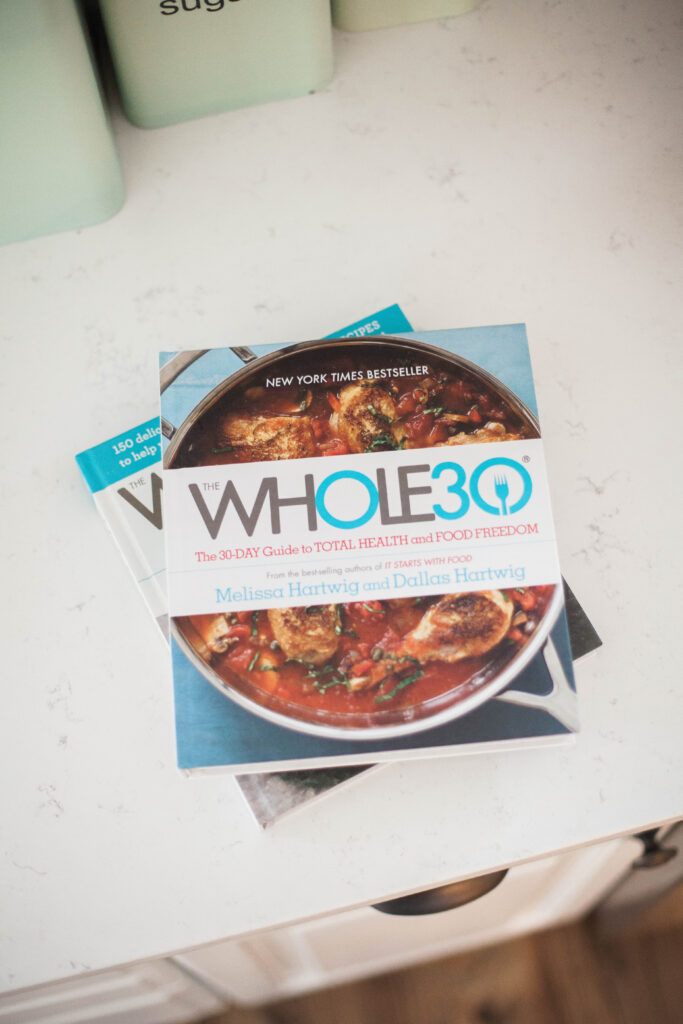 It's time for a week 1 Whole30 update, which means we are on to week 2! I'm actually surprised as to how Week 1 went. I surely expected it to be harder than it was for me, but I'm also keeping in mind that it was only week 1. I feel like at week 3 I'll be like OKAY I'M DONE. Today I'm sharing with you my busy mom Whole30 week 1 recap and what I plan to change up (or keep the same) this week! You can read last week's plan here.
WHY WHOLE30?
Again I want to stress that my goal here is not to lose weight. I just felt like I needed a good kick in the pants to get my eating back on track. I've always been a healthy eater, but breastfeeding this past year (higher calorie intake, so I would always allow a pass for those cookies!) and the holidays really hit me hard. I feel bloated and just gross. My skin has been very reactive and I just don't feel like myself. I felt like my body needed a reset, and what better time to get it back on track? My husband has been feeling similar, so we decided to do this together for accountability and encouragement.
HOW DID THINGS GO?
You can read my plan for week 1 right here, but basically I decided I would stick to a basic breakfast and lunch, and make a few of my staple meals for dinner. I knew if I stuck to soup, stew, and chili, I could get roughly 2-3 days from each which meant my prep time was SUPER minimal and I wouldn't get stuck in that dinner rut around 5:30pm.

BREAKFAST
I made these egg cups for my husband since he's always on the go early morning, and he LOVED THEM. Loved them! He ate two every morning with compliant salsa and some sweet potatoes for carbs. He said they kept him full until lunch time and he didn't even need a mid-morning snack like he thought. I did an egg scramble with tomatoes and a spinach/kale mix every morning on a bed of sweet potato hash (easier than it sounds, I promise!) with a slice of compliant bacon and some avocado. I added a dash of hot sauce for a little kick. This was so delicious that I could eat it every morning, no problem! I also made my own cashew milk (say whaaaat? Never thought I would do that in my life) and it was WAY easier than I thought! I soaked 1 cup of cashews in 3 cups of water and let it sit for 24 hours. I then blended it with my NutriBullet, strained it with a mesh strainer (or cheesecloth) and bottled it in a pretty bottle I had from IKEA. EASY. Seriously, took 5 minutes. And delicious! I used this to mix in my eggs and for coffee creamer.
BUSY MOM TIP: The egg cups make 12 total, so I bagged a set of 2 into Ziplock bags for easy grab and go. My husband zapped it in our convection oven super quick for some warmth, threw some salsa on and was good to go. For my sweet potato hash, I peeled a potato and shredded it with a cheese grater. I used half the first day and then bagged the rest for the next day. This made for easy clean up (just the grater!) and ease for the next morning.
LUNCH
My husband and I prepped a few chicken breasts in our crockpot for shredded chicken that we placed over a bed of lettuce. We both ate salads for lunch every day with lettuce, the chicken, some veggies, and a healthy fat. To save $ on avocados (because WHAT the AF with the price), I bought some organic canned green olives from Trader Joe's. I'm not usually one for anything canned, but I actually really enjoyed these and the salt content was not high. I enjoyed mixing it up with these instead of eating a million avocados every day. Primal Kitchen also sent us their Ranch Dressing and OMG was it a game changer! So delicious on our salads. Neither of us minded eating this every day!
BUSY MOM TIP: Like I said, prep ahead of time! Throw chicken breasts in the crockpot for 6 hours on low and they'll cook right up. They shred easily and are perfect to throw on salads or make a quick chicken salad with. Prep salads in tupperware in advance for even easier lunch times!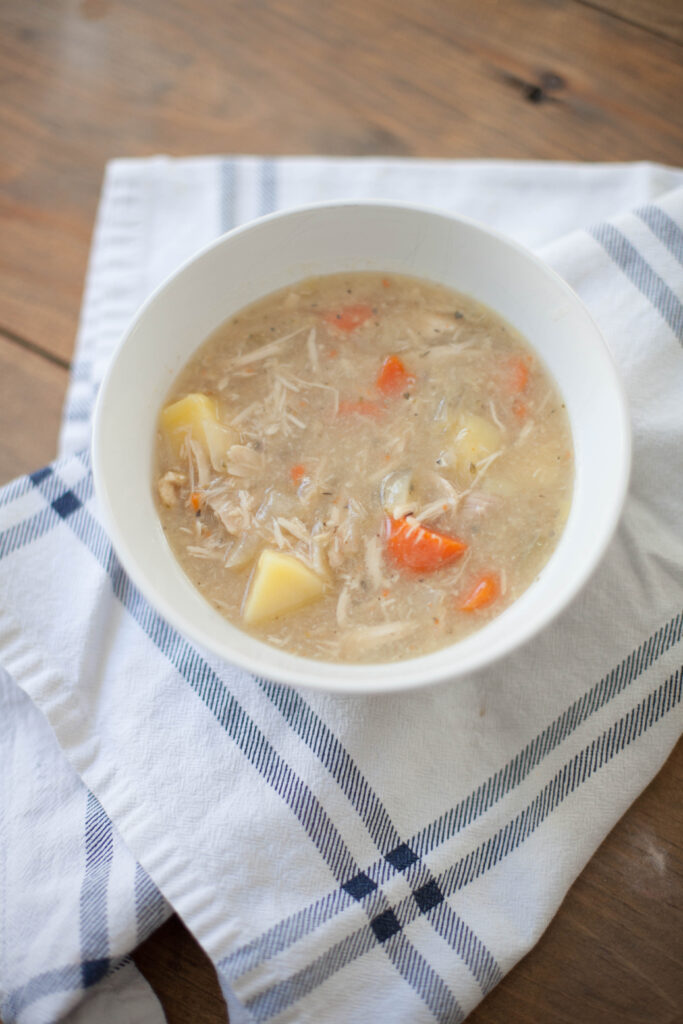 (Guys I wish my food photography was better, but…it's not. So. Yeah.)
DINNER
As I previously said, we ate compliant beef stew, this No-Bean Chili, and my personal homemade chicken soup all week. This totally worked for us because there was minimal prep time and we never had a "Oh shit" moment where we didn't know what we were going to eat! Keep reading and I'll share the chicken soup recipe!
HOW DID WE FEEL?
Can I be honest? Like shit! I'm not kidding. We basically crapped our brains out all week. And I've felt gassy and bloated (totally not holding back here!). But, I've yet to really crave anything. My husband misses his energy drinks (I'm happy he can't have them though because they're terrible), and we both miss our GOOD coffee creamer. Cashew milk and NutPods are just not the same. I will say, as the days went on things got easier. I don't feel as hungry as I did, probably because I adjusted food amounts at my meal times and figured out what my body needs. I no longer have after dinner cravings. I'm still snacking as needed (re: breastfeeding), but even that has slowed down a bit. We're also drinking a ton of water. I did pick up some La Croix water to switch things up a bit! Overall things have been okay! I did just start having the CRAZIEST dreams though which is super random. I'm chalking it up to my body missing sugar. LOL.
STAPLE ITEMS TO GET BY
Avocados: I don't even know how many we ate this week, but a lot. Let's leave it at that.
Eggs: Again, I've eaten a crap ton this week. Holy hell.
Sweet potatoes: Really great for a "heavier" carb, these helped keep me full.
Raw Cashews: I liked having these on hand as a quick healthy fat to add to my snacks (because again, breastfeeding). They also were great to make cashew milk! A cup is all you need for about 4 cups of milk!
Primal Kitchen Ranch Dressing: SO freakin' good! We were doing red wine vinegar and olive oil, but it was really awesome to have a GOOD and compliant tasting dressing! Thank you Primal Kitchen for sending this over to me!
La Croix: If you're tired of drinking water, this is a nice change up!
RX Bars: Great for after workouts, or as a snack if you're doing snacks on Whole30!
PLAN FOR WEEK 2
Honestly? I think we are keeping things the same. This worked well for us this week, so why switch it? I may add one different meal in this week to change things up a little. We've been keeping a pack of Applegate Organic Beef Franks on hand since they're compliant and easy. I may make some complaint lettuce wrap tacos this week, and I've a found a few recipes I'm looking to try out over the course of these 30 days. I'm also making some compliant chicken salad this week, and Skinny Taste's Butternut Squash Soup (with compliant chick broth!) to supplement with my lunch salad (because it's just SO damn good). I might be totally done with soup, stew, and chili by the end of this week, but we'll see.
For those of you looking for my homemade chicken soup recipe, I've listed it below for you! This is the one thing I'm actually GOOD at cooking 😉
Whole30 Chicken Soup
2017-01-08 21:44:35
A Whole30 compliant and delicious chicken soup recipe that's easy for busy moms!
Ingredients
Whole Chicken
6-8 Carrots
6-8 Celery Stalks
2 onions
2 large russet potatoes, peeled
1 box Imagine Organic Free Range Chicken Broth
Italian Seasoning
Salt to taste
IN A CROCKPOT
Place your whole chicken, rinsed, in the crockpot seasoned with salt and pepper . Add 3 carrots, 3 celery stalks, and 1 onion roughly chopped. Cook on LOW for 6 HOURS.
WHEN CHICKEN IS DONE
- Cut chicken off the bone and place in a separate bowl.
- Place a colander on top of a large stock pot
- Strain the remainder in the crockpot into the colander so the broth is left in the stock pot. Throw the remains in the colander away and place the stock pot with the broth on the stove.
- Add 1 box of Imagine Organic Free Range Chicken Broth into the pot, along with 5 chopped carrots, 5 chopped celery stalks, 1 chopped onion, and 2 chopped potatoes into the box.
- Add 2-4 cups of water as needed.
- Add about a capful of Italian seasoning (or to taste) and salt to taste.
- Cook on medium high until carrots are tender, stirring occasionally.
- Add chicken and cook for an additional few minutes.
- Remove from heat and serve!
Lauren McBride https://laurenmcbrideblog.com/
Don't forget to check out these Whole30 babes for some more great tips and recipes!
Kristin @ Taz and Belly
Jaime @ Sunflowers and Stilettos
Heather @ My Life Well Loved
Jennifer @ Life In The Greenhouse
Lindsey @ Life Lutzurious
Ashley @ Two Peas In A Prada
Jamie @ Makeup Life and Love
Lauren @ A Lo Profile
Tessa @ Tessa Lindsey Garcia
Anna @ Fleurdille