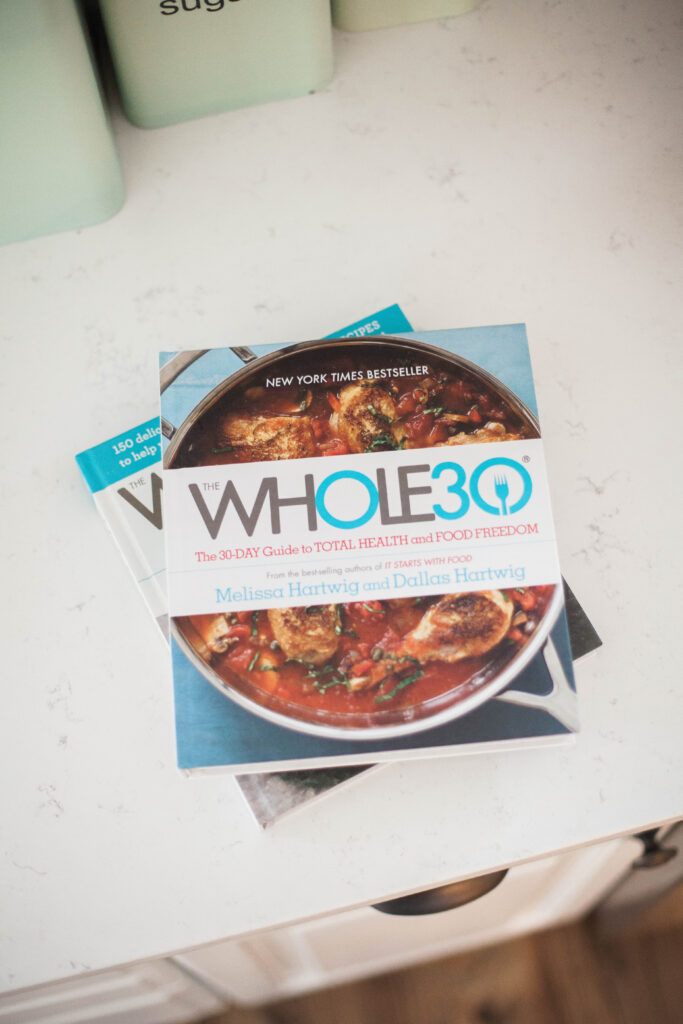 Let me start off by saying that I'm fully aware I do not need to lose weight. My choice to do the Whole30 was to essentially reboot my system and clear out all the bad stuff from the past few months. I've noticed my skin has not been what it used to be, I feel sluggish and fatigued (and not just from being a mom!), and I don't feel like myself overall. I've always been a health-fanatic. I took a nutrition course in college that ultimately changed the way I viewed food forever and I've been a label-reader from that point on. I've done a slightly modified paleo diet in the past and felt the best I had ever felt, so I knew I wanted to do this again to jumpstart my system. My diet is already dairy-free, but recently I've eaten more grain than I should and my stomach has been a mess along with other things. I'm never one to turn down a pizza, but I know my body needs a good clean out by the way I look and feel. Hence my decision to do the Whole30.
And unfortunately for my husband, I roped him in too. 🙂
I have to admit, I was SUPER overwhelmed when I first read about this diet change because it seemed like a LOT of cooking (and I hate cooking!). I also have zero time to be spending on elaborate meals. I ordered the Whole30 Cookbook and immediately became overwhelmed thinking how the F am I going to prepare a different meal every night for 30 days??? I'm a busy mom, ain't nobody got time for that. And again, I HATE cooking. But then I dialed it back a bit and came up with a plan that is totally doable without being overboard in prep work. I plan on sharing my "busy mom whole30" with you guys over the next 4 weeks including how I feel, how the meal prep went, and any other general info on the subject!
Here's my plan for Week 1.
BREAKFAST

My breakfast usually consists of eggs, bacon, and a fruit, but I plan to add a healthy fat to the mix to hold me over longer. I've literally eaten eggs everyday for breakfast for over 3 years, so this is no biggie for me. I know it might seem stressful to cook them, but I'm so used to it at this point that it's no time at all. I did make THESE egg "muffins" for my husband because he's always out the door super early in the morning and doesn't have time to sit and eat. He can eat these on the go and they're packed with everything he needs for his meal. They're SO GOOD, I was amazed. Easy to make the night before too! I did grab this Whole30 compliant bacon since ours was loaded with sugar (who knew!?). It's pricier, but I figured it's worth it because bacon is a staple in our house at breakfast time. I also plan to prep some roasted sweet potatoes as a carb with breakfast.
Also for my coffee, someone suggested NutPods. They're okay. Not my regular coffee creamer, but my tastebuds will just have to adjust! They might taste better with chai tea, so the verdict is out on that.
SNACKS
Snacks aren't typically "allowed" on Whole30, but since I'm still technically breastfeeding (haven't fully weaned yet), I need the extra calories. Luckily the Whole30 book has a section on this! For snacks I plan to do mini-meals, but I'm also keeping in mind that I'm a busy mom and sometimes I just can't stop to eat. I bought these RX Bars (although we aren't eating the Peanut Butter ones), and I'm so surprised at how good they are….I actually prefer them over Larabars! Some Larabar flavors are also compliant, but I figured I would just do the RX Bars instead. I usually have a Larabar with some fruit as a mid-morning snack before the gym, and it's not a SWYPO food for me (meaning, it's not something I'll overdo), so I figured this was best. I also plan on having hard boiled eggs on hand at ALL times.
LUNCH
My biggest downfall with lunch is meal prep, so my husband and I prepared some chicken and hard boiled eggs in advance to throw on a salad for lunch time. We'll add some avocados or olives for healthy fats, and lots of veggies for our carbs. I plan to pick up some compliant dressing by Tessemae's for my husband because salads have never been his favorite food and anything to help a guy out! Red wine vinegar and olive oil are also compliant, so that's our backup.
DINNER
Thank GOD my husband is not one to care about what we eat for dinner, meaning we could eat the same meal for 5 days straight and he wouldn't make a peep about it. We have a few staple meals that we love during the winter time, so for the first week of food adjustment we decided to make those with a Whole30 modification.
Beef Stew. We love beef stew, but I couldn't find a compliant beef broth at the store (and hello, busy mom means I have no time to make my own ALTHOUGH I do understand the benefits of it), so I swapped beef broth with a compliant vegetable broth. I also subbed the gluten free powder I normally use to coat the beef with arrowroot powder because it's compliant! I nixed the Worcershire sauce and added a bit of lemon to brighten the flavor, and I was super surprised at how it turned out. The taste is slightly different, but really not much! We made this the night before we started and ate it for dinner to try it out. I made a double batch and froze half of it for later on. 🙂
No-bean chili. We've used THIS recipe by Skinny Taste for years now and it's one of our favorite meals. I never thought sweet potatoes would taste so damn good in a chili, but they do! It's my husband's FAVORITE dinner, which says a lot. I stopped using beans in my chili years ago because my stomach would be so upset, and I honestly haven't missed it one bit! It's also SUPER easy to cook, so double bonus. I'm making a double batch and freezing it like I did the stew.
Chicken soup. My chicken soup was already compliant with the exception of the chicken broth! I found THIS Whole30 compliant broth to use instead. This is one of our favorite meals and one pot lasts a few days. I usually make noodles for the kids, but I'll just prep them on the side and we won't use them in ours (not a big deal, I rarely eat them anyway). I'll be sure to share the recipe with you guys here if you're interested.
So that's 3 separate meals, but that will take me through one week and more! That means minimal cooking on my part, making dinner time totally doable. And even leftovers for lunch!
I feel like this plan is much more manageable than flipping through the book and trying to make a million recipes I've never tried before. That's just SUPER overwhelming for me because I have zero time to mess around. I'll be updating weekly with how I feel and what's working for us!
Be sure to check out the other bloggers doing Whole30 with me to see their favorite recipes, shopping lists, and more!
Heather @ My Life Well Loved
Jennifer @ Life in the Green House
Kristin @ Taz & Belly
Lindsey @ Life Lutzurious
Claire @ Casual Claire
Ashley @ Two Peas in a Prada
And follow along with our Whole30 Pinterest board for more inspiration!