Thank you to our friends at GE Appliances for sponsoring today's post!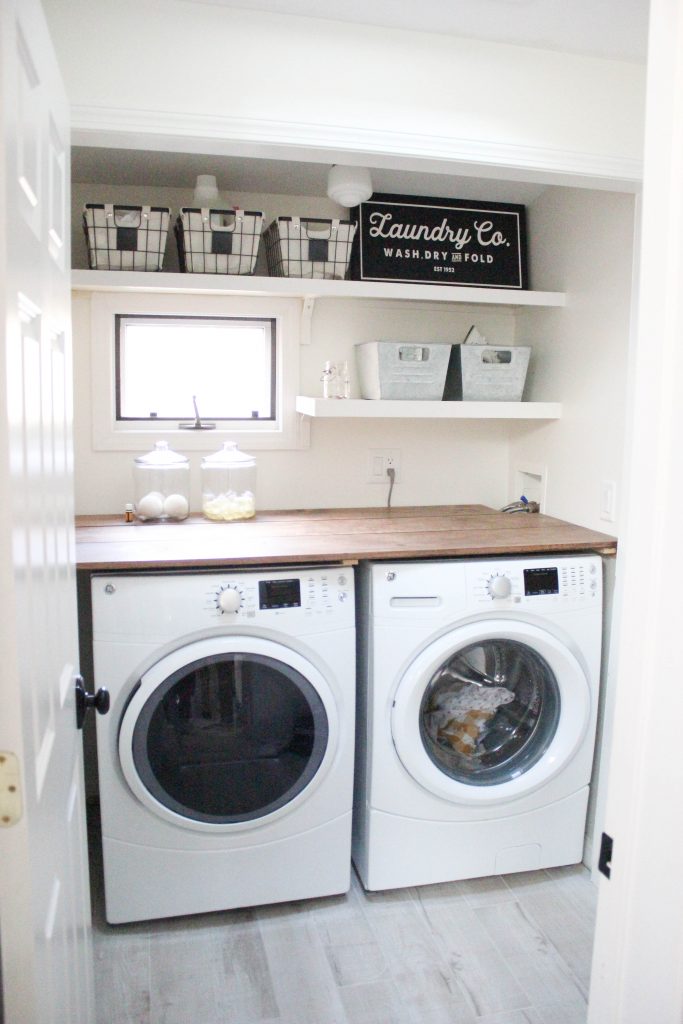 When I first saw that the washer and dryer were on the main level of this house, I knew my laundry days were about to take a turn for the good. Our laundry was in the basement of our condo and I absolutely hated walking up and down two flights of stairs to get to it. In fact, I always pushed laundry on my husband because I hated going down in that basement. The laundry area in this home is connected to our downstairs bathroom, and could actually be made functional and cute (priorities on the cute). So when our old washer crapped out and flooded the floor underneath (it was CARPET and WOOD…who puts that under a washing machine?!), we decided it was time for a little makeover.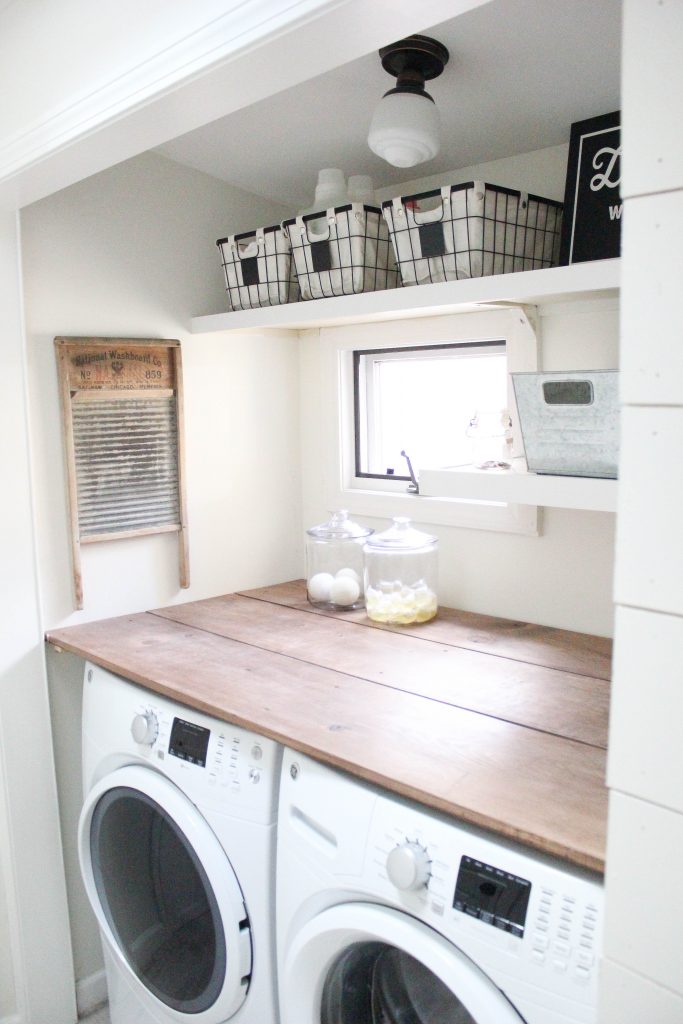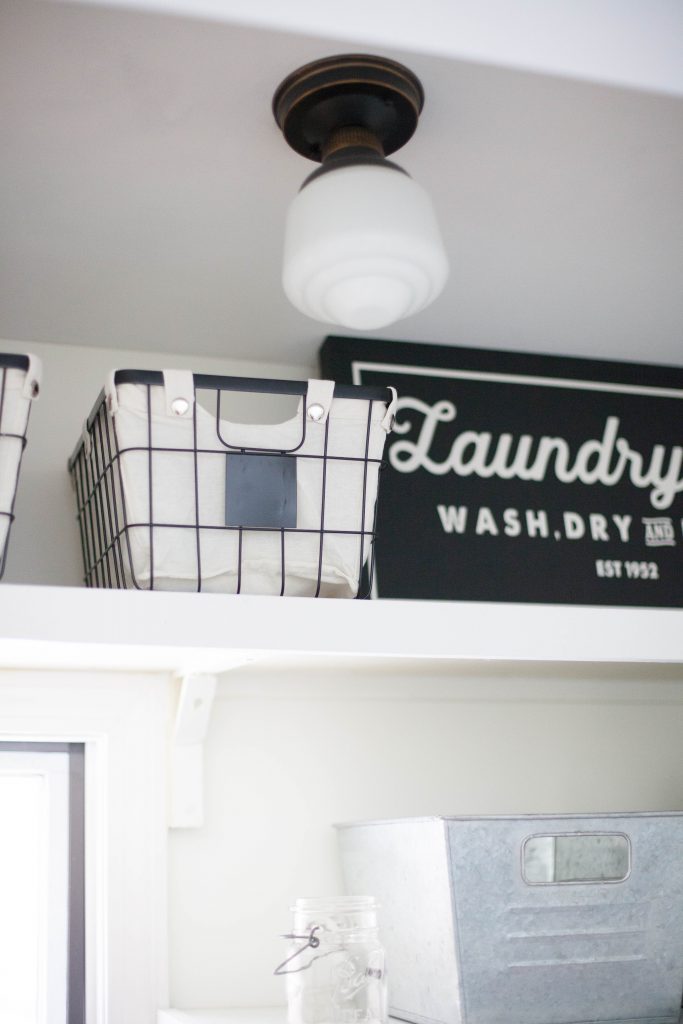 First, we painted the entire area. It was yellow (a hideous yellow), so I gave it fresh look with my favorite Benjamin Moore White Dove. The next update we made was re-tiling the entire space. The carpet and wood had to be ripped out of the laundry area, and since it's connect to the bathroom which had awful tile, we figured tiling the entire space would just be easier. I'm happy we did it because it looks *SO* much better. Our friends over at GE Appliances were kind enough to send us a beautiful new washer and dryer for the new space. We went with front loaders because I really wanted to create a folding area on top (really, just a place to throw laundry I haven't folded yet). We chose this GE Energy Star Frontload Washer and GE Capacity Frontload Dryer because they fit our size and laundry requirements. We had never owned a laundry system like this, so it's been a real treat! I love the different settings on each machine, which is optimal for the type of clothing we're currently washing. Landon also likes to push the buttons (with instruction, of course).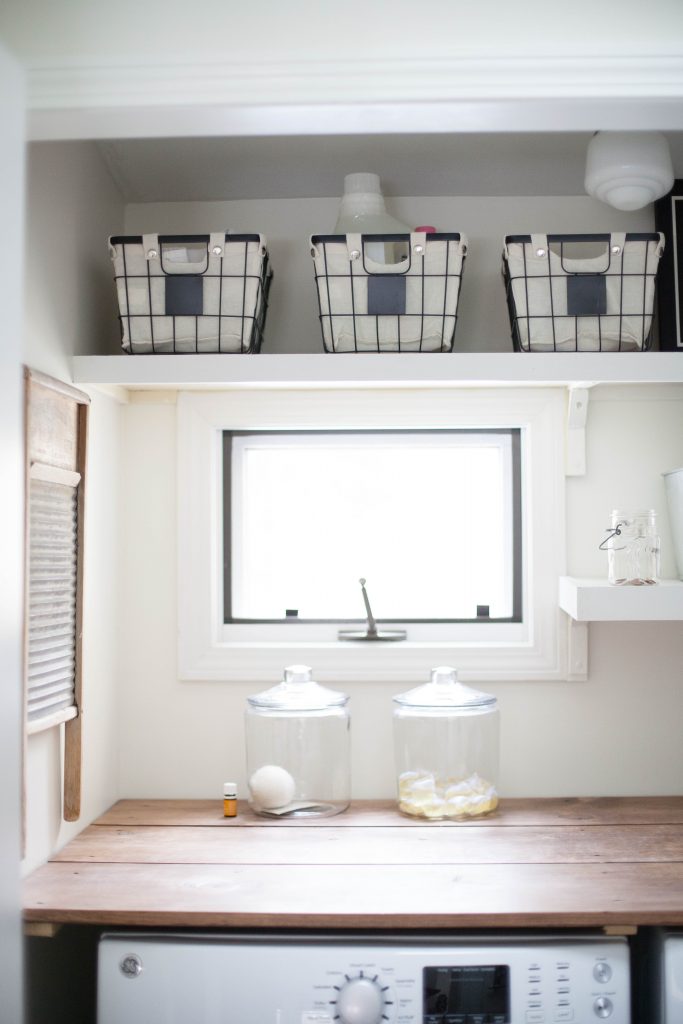 I had my husband build a simple tabletop for over the washer and dryer to be used as the folding area. We've lost many socks behind the washer and dryer, so I like that this contains everything in one place and provides a little more functionality to the space. It was SUPER simple to make, and just a matter of securing 3 1x10s together with 1x2s. He attached 1x2s to the side walls and rested the tabletop on top of them. We didn't screw them down because I figured if for some reason we ever needed to get behind the washer and dryer, it's as simple as lifting up the top. And it's not like the top can go anywhere, so it works! I stained the boards Minwax Special Walnut and sealed it with polycrylic. I love how it looks!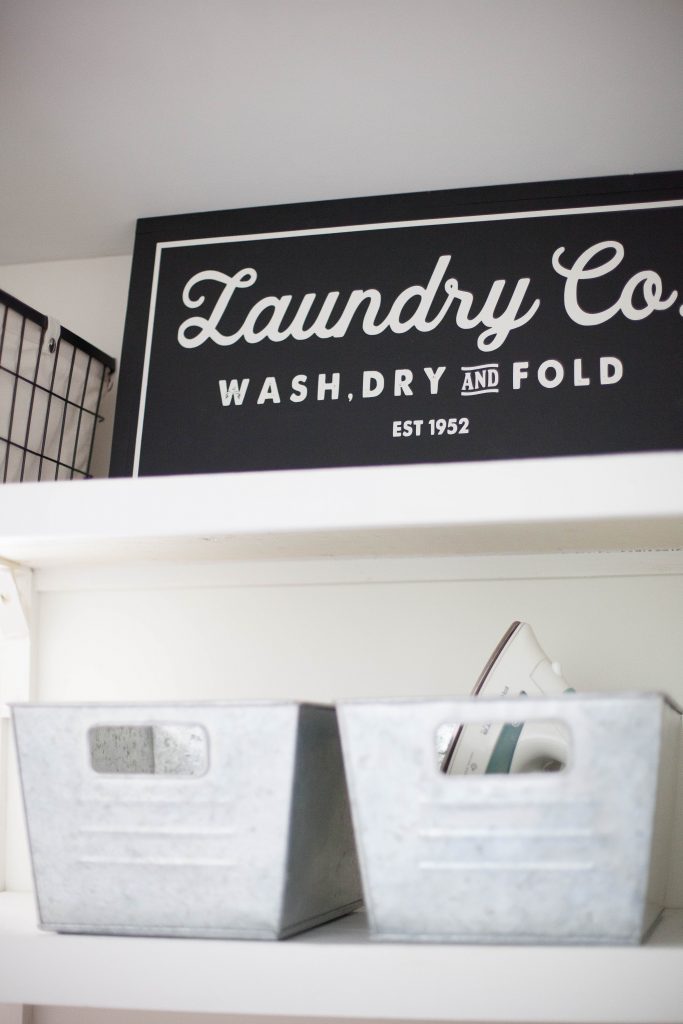 I didn't want to get too crazy, and since there were already shelves in the area I decided to just leave them as is and add some simple decor. I like things looking as clean as possible, so I knew I needed a variety of storage options for the space. I chose THESE baskets for the top shelf (less than $8 each!!!!), which house cleaning rags, extra detergent, and other supplies. I love how they look next to the laundry sign from Hunt and Gather Goods. I also wanted to mix textures, so I grabbed THESE galvanized bins (also under $8!) for some ironing and sewing supplies.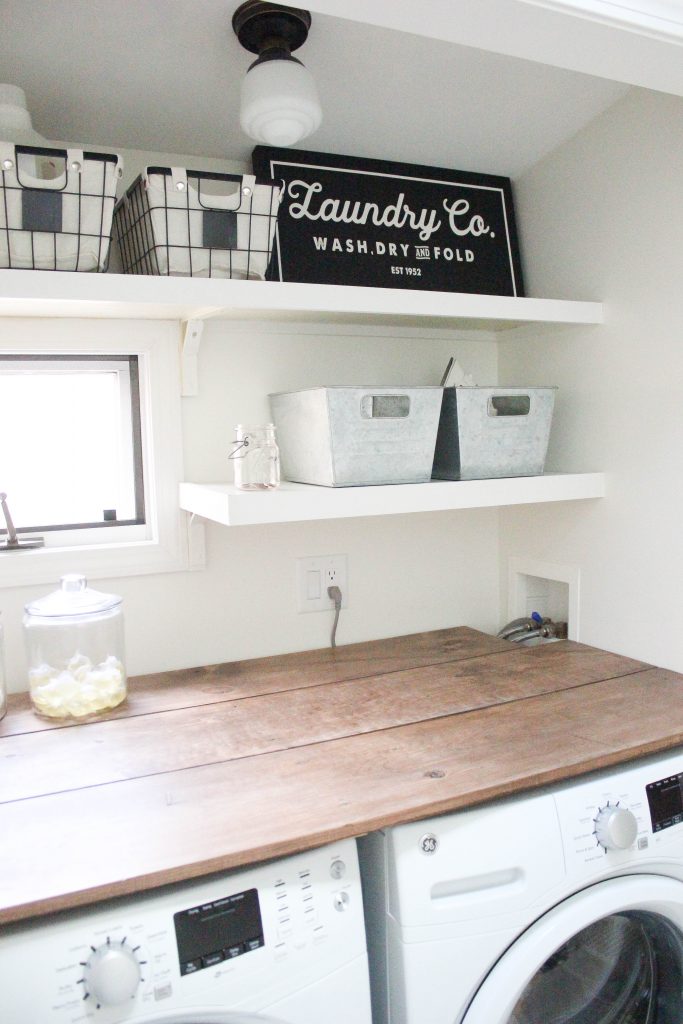 I wanted our wool dryer balls and laundry pods to be easily accessible and within reach, so I grabbed two large glass jars to display them on the tabletop. It's functional, and pretty!
For decor, I hung my vintage wash board which is actually a family hand me down. I like the vintage element it adds to the space. I also LOVE this wall drying rack I found at Hobby Lobby! I saw it weeks before I finally purchased it and couldn't stop thinking about it for the space. I love how it looks, and how easily it folds back up.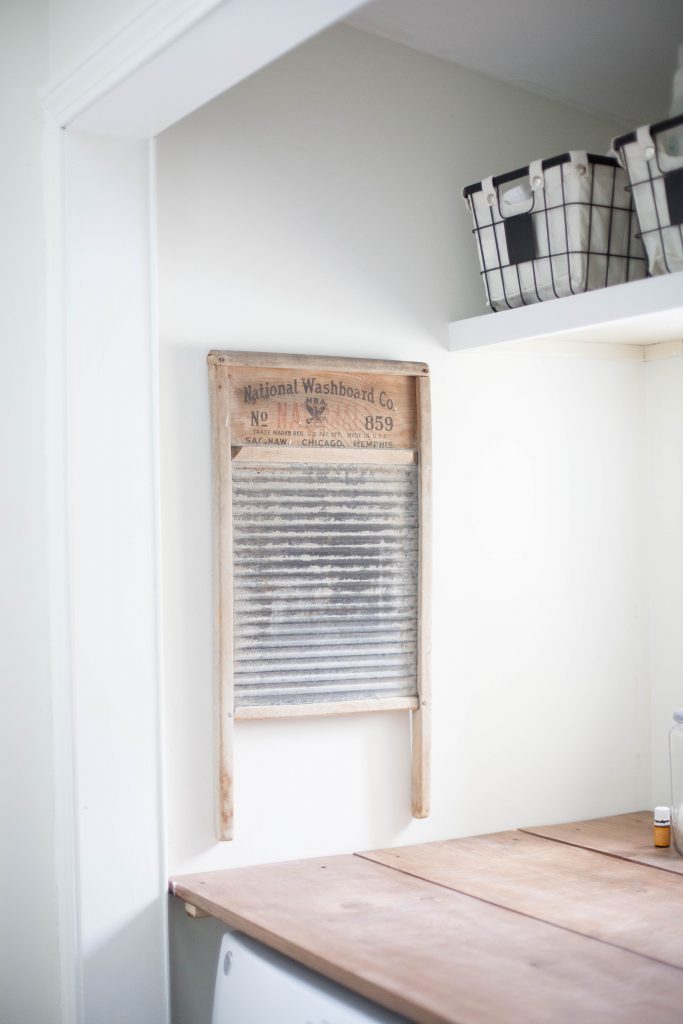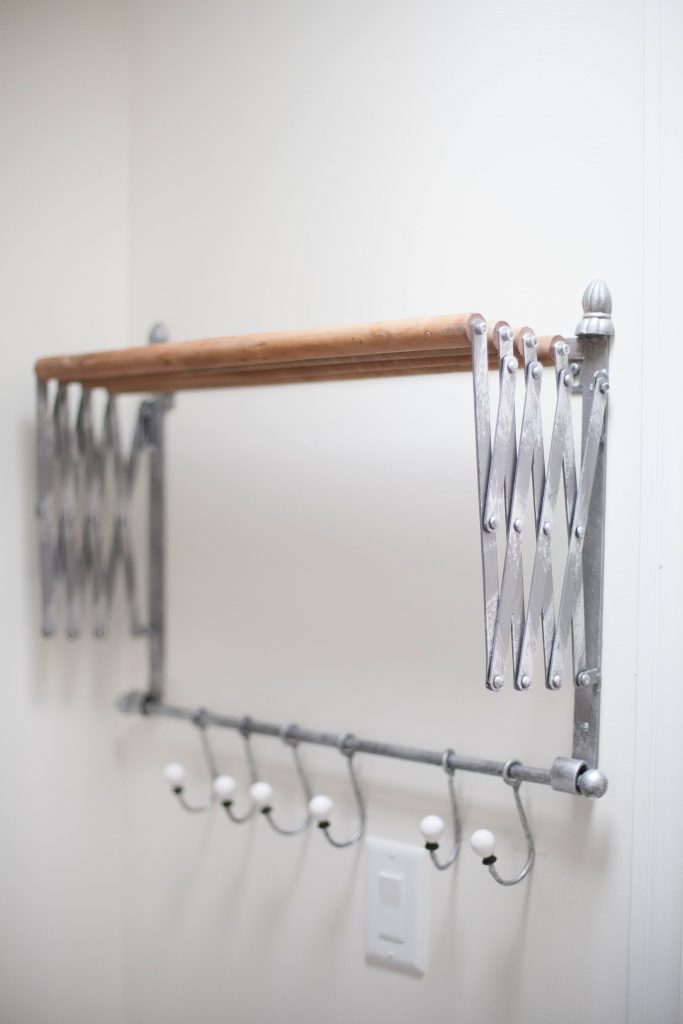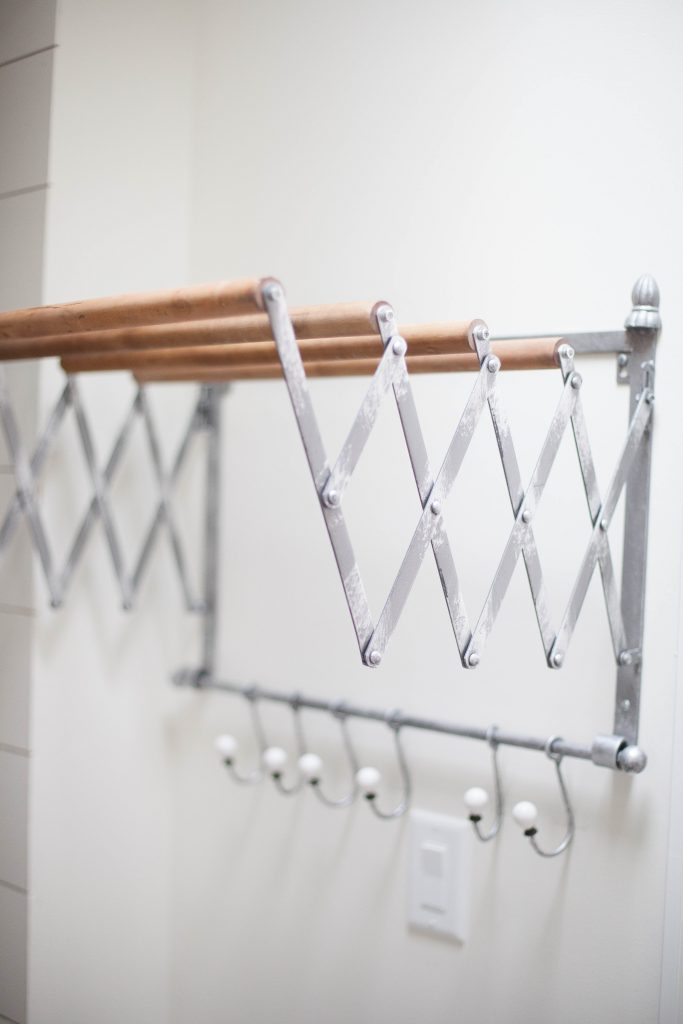 The space might be small, but I think it makes a big impact in the space! I love how clean and organized it looks…at least until laundry is thrown on top. 🙂 You don't need a large space to have a pretty and functional laundry room!
SOURCES:
GE Energy Star Frontload Washer
Laundry Sign c/o Hunt and Gather Goods