Thank you to Walls Need Love for sponsoring today's project!
You guys, I've been on a wallpaper kick. Ever since I installed wallpaper in the boys room, I'm like "WALLPAPER ALL THE THINGS!" I feel like it gives new life to a space, so I've been slowly plotting how I'll add it in to our home. First up, our laundry space! We have a small laundry room, but have made it functional for it's space and it works for our family of five! You can read the original post right here. I thought it would be super cute to add some removable wallpaper to the little alcove, so that's exactly what we did this week!
Here's a before shot of the space.
I've had my eye on this Sketch Floral removable wallpaper by Walls Need Love for quite some time now because I love the simple black and white contrast and beautiful design. It's exactly what I had envisioned for the space. I wanted a floral print, but nothing too busy or small. It was perfect!
I have some experience installing Walls Need Love wallpaper, which we put in both of the kids' closets. I love their peel and stick style because it's reusable (making it GREAT for rentals!). If you save the backing, you can simple remove it and bring it to your next space. That would be a little tricky since this space involved so many cuts, but I didn't mind at all. Installation is fairly easy and involved matching the pattern, peeling the backing, and sticking the wallpaper to the wall!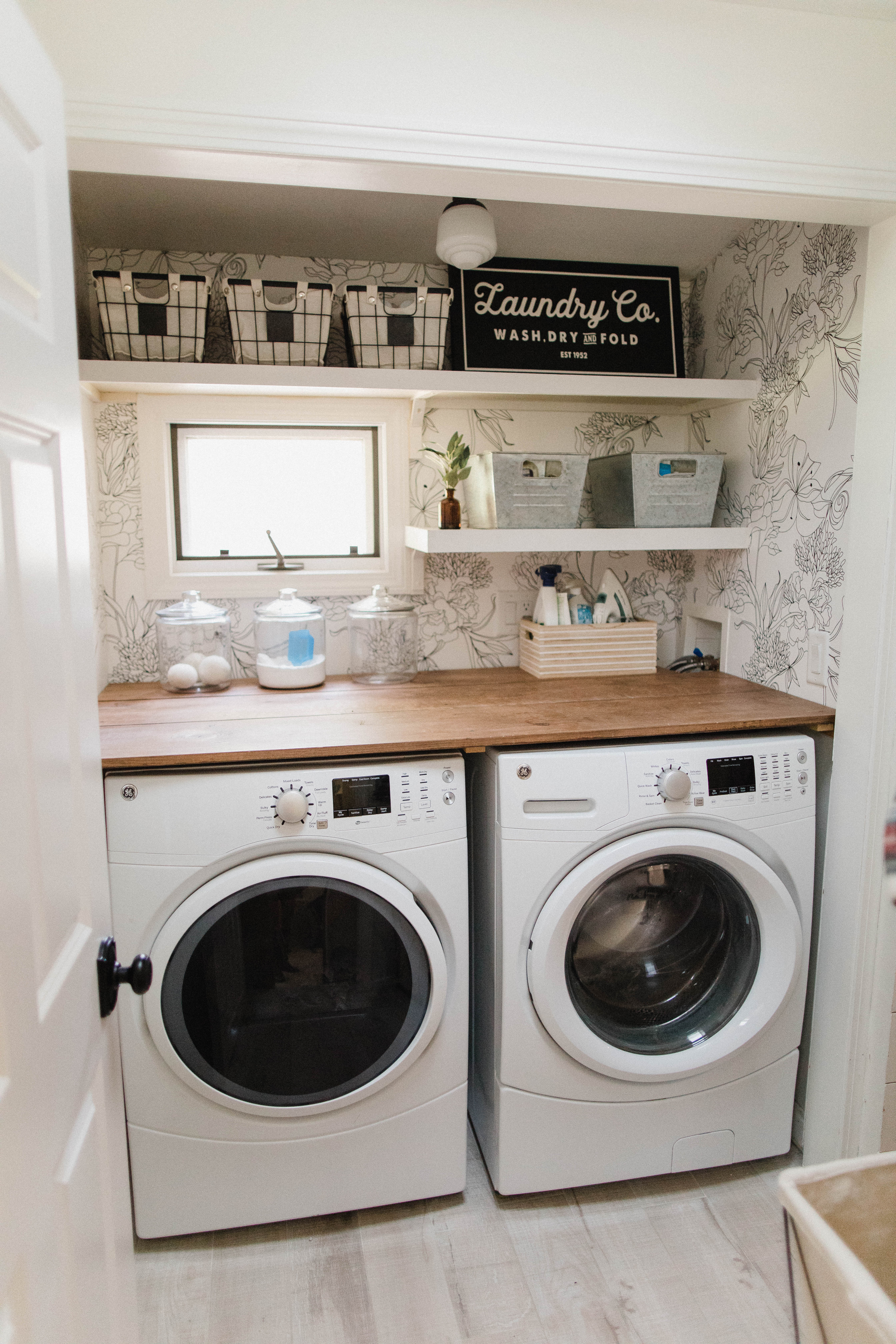 This space was a little more difficult than the closets because of the cuts that had to be made. We did not remove the shelving (I figured that would just take more time and work…and we're lazy over here 😉 ) so cuts and matching the print had to be very precise. But overall, the application is SUPER simple . If you have any imperfections, it's just a matter of peeling and re-sticking! They send you a razor blade and a smoothing tool that came in SUPER handy, too. I highly recommend if you're trying to DIY temporary wallpaper for the first time!
Walls Need Love wallpaper is wipeable and non-tearable, too, which makes it a great option for families. They're also 100% safe and made with a health conscious, non-toxic Green Guard certified materials (super important in a home with kiddos!).
I absolutely LOVE the outcome of this space! It really gives it new life and a refreshed look! I love the way it pops on the wall, too. Oh and yes, I only did the top half (I left the bottom near the washer and dryer alone) to make things a little easier and conserve paper a bit. But honestly, I feel it's all it needed!
Maybe laundry will be more fun now? I think that's still up for debate 😉 Walls Need Love has been kind enough to offer you guys a coupon code! Use the code Lauren25 (it is case sensitive!) for 25% off your order of $100 or more! So if you've been looking to refresh a space, now's the time! 😉