It's my favorite time again!!! I love when ShopBop has their great sales because I always pool together with friend for one large order to take advantage of the higher savings! This sale is arriving JUST in time for the holiday and I've rounded up some of my favorite sale finds for you to add to your Christmas list (or to buy for a friend!) Check out my favorite picks below!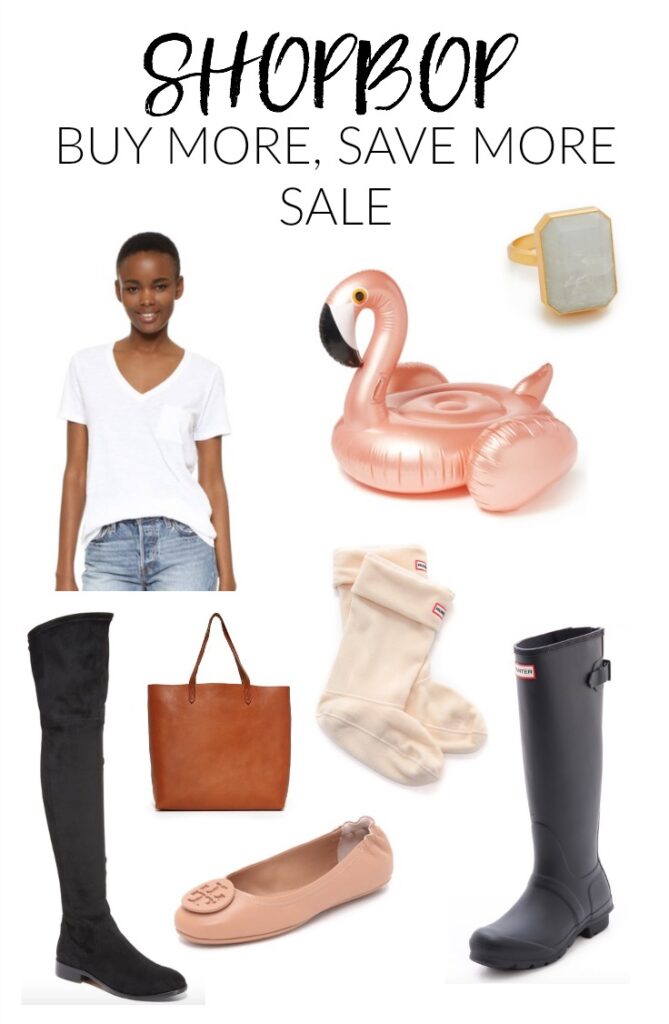 Ringly: I LOVE this product. Basically it hooks up to your phone and alerts you when the babysitter (or whatever number you choose) calls you so you don't need to have your phone out on the dinner table during date nights! It's genius and I only wish they made one for men too! I feel way more confident and don't need to check my phone every two seconds (I'm always worried about the kids when I leave them with a sitter in the evening!).
Pool floats: Because, how cute?! I don't have a pool, but I want one for the beach next summer! There are baby floats too!
Tory Burch Flats: I own a black pair of these, and they're the most comfortable flats ever! The blush color is adorable too.
Dolce Vita OTK Boots: I love me some OTK boots, and these are just gorgeous. I love that they're flat, which means they'll be super comfortable!
Hunter Boots: K, no explanation needed here. You guys know I love my Hunters. They're one of my best purchases to date. The navy and black colors are classic and can be worn with anything.
Hunter Boot Socks: I invested in Hunter boot socks two years ago and it was so worth the investment! Hunters aren't exactly warm, but these do the trick! They fit perfectly and are super cute.
Madewell Tees: You guys know I'm mildly obsessed with the Madewell Whisper Tee because it's the perfect length, so comfortable, and not too sheer (the white one!). I was so happy to see these as part of the sale!
Madewell Transport Tote: This tote is perfect for everything. It's large enough to fit everything you need, and I love how it looks with everything. It comes in black, too!
Shop more of the ShopBop sale right here! The more you spend, the higher the discount, so find a buddy and stock up! 🙂