This gift guide today is for the new mom, whether expecting or newly postpartum! I've got some great gift ideas and a wide variety of price ranges for whoever you're gifting to!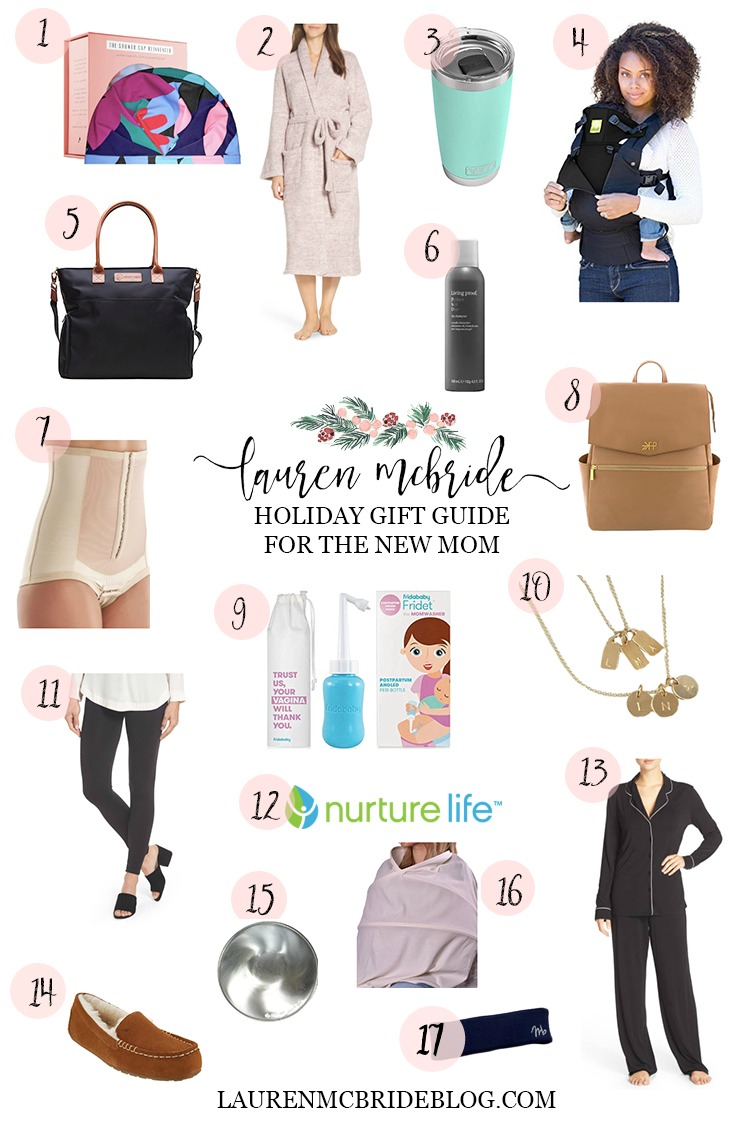 1 // Shower Cap: When I became a mom, my hair washing lessened significantly. This is my FAVORITE shower cap ever to wear when showering!
2 // Barefoot Dreams Bathrobe: My favorite bathrobe, and a luxury gift to receive! They run big, so I suggest a size 1.
3 // YETI Rambler: New moms need some encouragement to stay hydrated! I love my YETI because it keeps my drink ice cold all day. I recommend the straw lid to go with it, which makes it easier to drink white nursing!
4 // LilleBaby Carrier: This is one of my favorite carriers, and it's currently on sale! I love that it can be used from infants straight up through toddlerhood.
5 // Sarah Wells Breast Pump Bag: This is a great gift for a working mom who plans on pumping at work! It's sleek and can be used as a work bag, too.
6 // Living Proof Perfect Hair Day Dry Shampoo: My favorite dry shampoo comes in handy when I don't have time to wash my hair! Great for a new mom who might be struggling to find time to get that done! 😉
7 // Bellefit Corset: I used Bellefit with my most recent pregnancy, and really feel it helped shape my core back into place! They currently have a 30% off code, but if that's expired, you can use the code LAUREN20 for $20 off!
8 // Freshly Picked Diaper Bag: I love that this diaper bag is worn as a backpack, which is great for moms with multiple kiddos! I love being hands free!
9 //FridaBaby Fridet, The MomWasher: This is SO much better than any squirt bottle the hospital can give you! It's shape makes it WAY easier to use, and it was a blessing to have this past delivery.
10 // Initial Necklace: I've worn these initial necklaces since my first kiddo, and I love that charms can be easily added on if needed. Use the code LAUREN for 15% off!
11 // Spanx Leggings: I loved wearing these postpartum because the compression holds my core in a bit! They're also slimming, which is great if you're newly postpartum.
12 // Nurture Life: This is a GREAT gift for a mom who already has little ones at home. These meals are premade and HEALTHY, and easy to throw in the microwave or oven for your kids! We use them on nights we're super busy, but they're great for a new mom to easily make for their older kids! Use the code LAUREN for $30 off your first order!
13 // Pajamas: These pajamas are a great pricing AND nursing friendly! Great for new moms to feel good in the hospital or when they return home.
14 // Slippers: I've shared these slippers before, and LOVE them. I mainly love that there's no annoying tie that can become untied 😉 Super comfortable, and great traction too.
15 // Silverette Nursing Cups: I used these with Austin, and I swear they helped avoid any cracks and bleeding when we first started breastfeeding! They can be used over again, too, and can also be made into jewelry afterwards! 🙂
16 // Nenikanopi Infineni Nursing Cover: The owner of this shop gifted me one of these to use with Austin and I LOVED it! It gives you a handsfree line of sight, and you don't have to worry about the fabric draping over the baby's face. It was much easier to latch Austin and move him around because I didn't have to hold fabric out of his face! You can also use it as a carseat cover, poncho, and a scarf, too! Use the code LAUREN11 for $11 off and free shipping!
17 // Maeband: I used this to extend my jeans during pregnancy, but it's also great during the postpartum stage! It makes the waistband a little longer so you don't need to buy maternity jeans!
SHOP THE GIFT GUIDE BELOW