I got caught scrolling Amazon for WAY longer than I should have (#nighttimefeeds) and found some really great fashion finds all under $100! There is a great mix of items perfect for this time of year, and who doesn't love a good price point and PRIME shipping?! So whether you're looking for jewelry, dresses, or workout gear, take a peak below and see what Amazon has to offer!!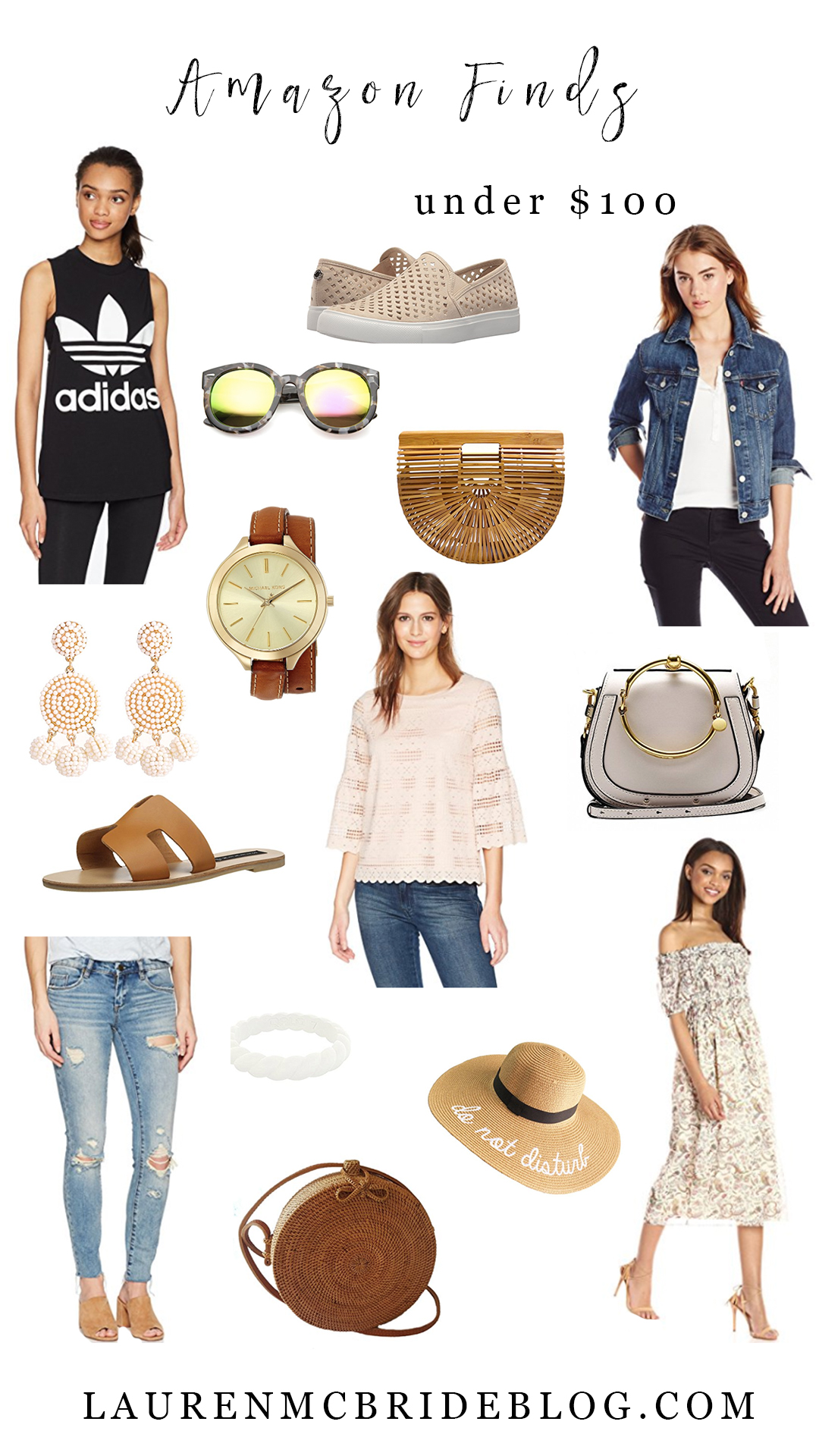 Adidas Tank: This is SUCH a classic workout tank! It also comes in blush pink, too!
Thick Frame Mirror Sunglasses: I read the reviews for these and one person claimed they are a great Karen Walker Dupe! There are a few other colors you can get it in but hurry there are only a few left!
Steve Madden Casual Sneaker: Great option for running errands or taking the kids somewhere fun. Comfortable and cute.
Levi's Trucker Jean Jacket: I have been asked A LOT lately about where to find a good jean jacket and I think this one is a winner. It's by Levi's (I mean they made the first blue jean!) and it's only $50!!
Bamboo Tote: I have this adorable clutch and think it's a really great dupe for the Cult Gaia version. Note there are two sizes (small and large) so be sure to select which one you prefer. I have the small and think it's a good size to fit everything I need.
Michael Kors Watch: I love the look of the leather wrap band on this watch because it brings the sometimes formal appearance of a watch to a more casual, everyday feel. I just purchased it, so I'll share on Instagram stories when it arrives!
Beaded Earrings: I thought these were so pretty and get this, they come in 13 different colors!
Ella Moon Bell Sleeve Lace Top: The eyelet design on this pink top is soooo delicate and pretty…perfect for spring!
Ring Handle Bag: There are 21 colors you can choose from when ordering this bag!! I have the one pictured above, and was really impressed with the quality. It's a great dupe for the Chloe version of this bag.
Women's Greece Flat Sandal: I have these and love them! This color is great because it goes with pretty much anything, but I also love the white and rose gold option!
BLANK NYC Reade Jeans: I really like the wash and amount of distressing on these jeans, and there's a little bit of spandex in them for a bit of stretch!
Qalo White Ring: This is one of my most asked about items I wear!! I have the white and it has remained white despite me wearing it while I work out and doing things around the house with the kiddos. I highly highly recommend it!
Rattan Round Bag: Such a great spring/summer bag. I scooped this one up for myself a few weeks back, and really love the size and quality of it!
Pardoned Embroidery Floppy Hat: If you weren't aware the Kentucky Derby is right around the corner (actually on Cinco de Mayo) and this hat would be perfect if you're going to a party! I love it for the beach and could be a really fun bachelorette gift if you are going somewhere by the water.
Max Studio Off The Shoulder Maxi: This would be perfect if you have any events coming up like wedding/baby showers and/or a girls trip to the winery (doesn't that sound fun?).