Happy Sunday, my friends! I've got all the things you saw featured on my Instagram stories or Snapchat rounded up in one spot for you today! I took advantage of a couple of sales the week before and scooped up a few items for summer!
Loving Lately: Fashion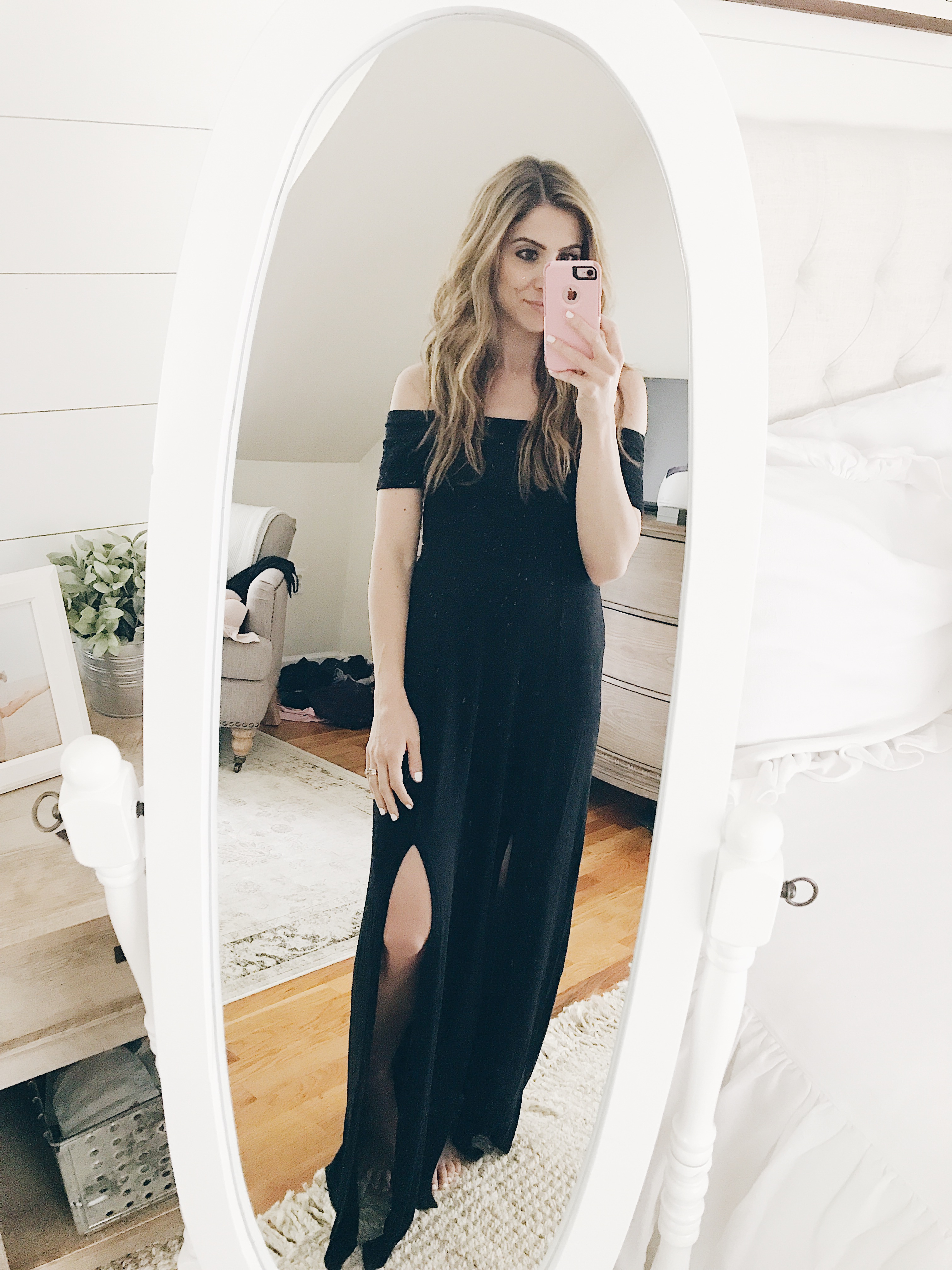 Dress: Express
First, I fell in love with this simple off shoulder dress I found while browsing Express. It's not too tight, and the material actually stays up which means you aren't constantly fixing the off-shoulder neckline! I wore it to dinner with some simple gladiator sandals one night last week. I feel like it has a lot of potential to be dressed up or down, and I can see myself getting multiple uses out of it all summer long!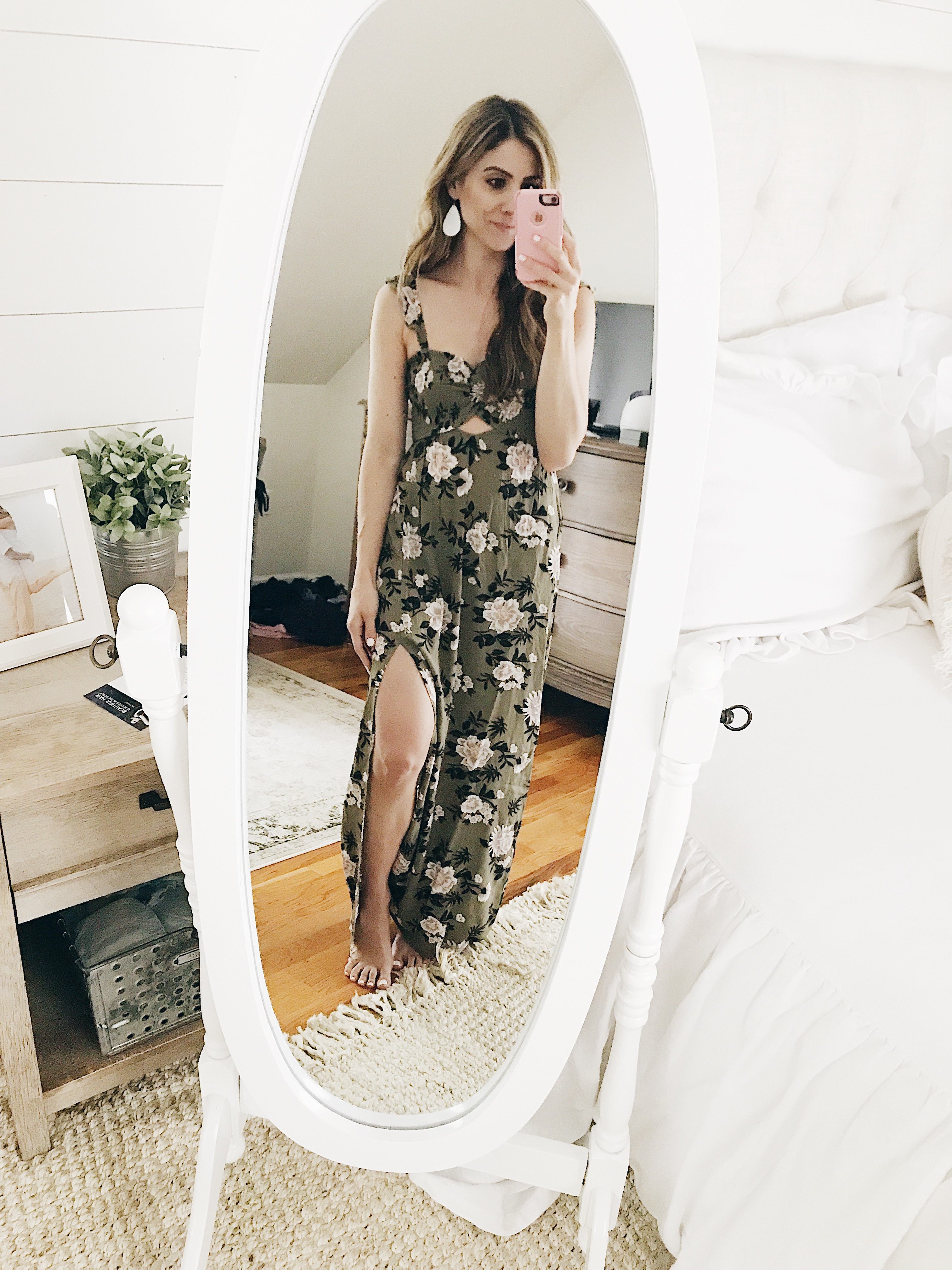 Dress: American Eagle
I also picked up this adorable dress from American Eagle. I liked the cute little cut out and ruffled sleeves that can be worn up or off shoulder. I love a good floral maxi!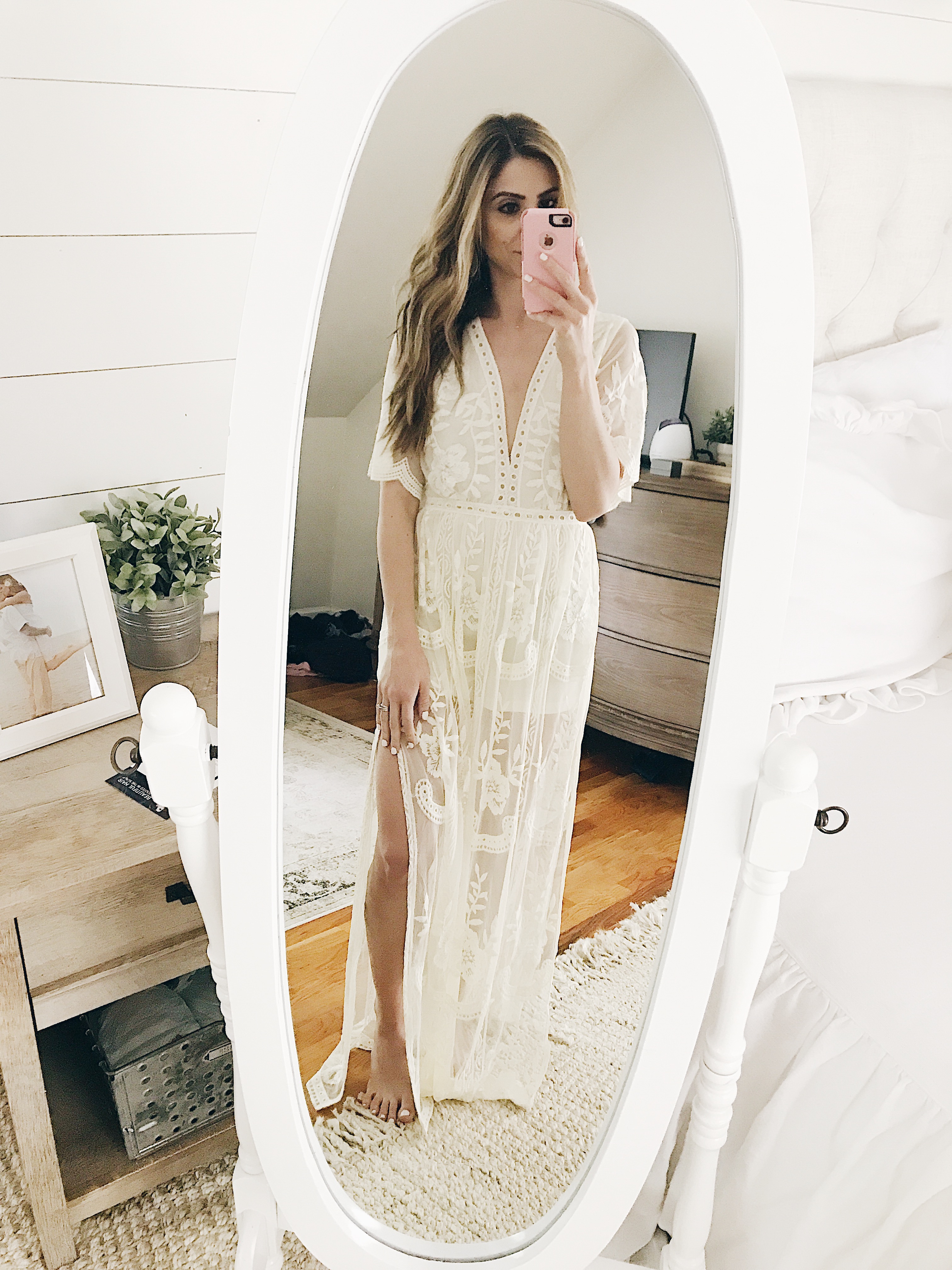 Dress: Nordstrom
SO many of you loved this adorable romper with lace overlay that I shared on Instagram this week. To be honest, I have NO idea where I'll actually wear it. But it's just so pretty, and part of me envisions an amazing family photo shoot with me wearing it or something. Unfortunately it's sold out in this color 🙁 But I'll keep checking back for you guys!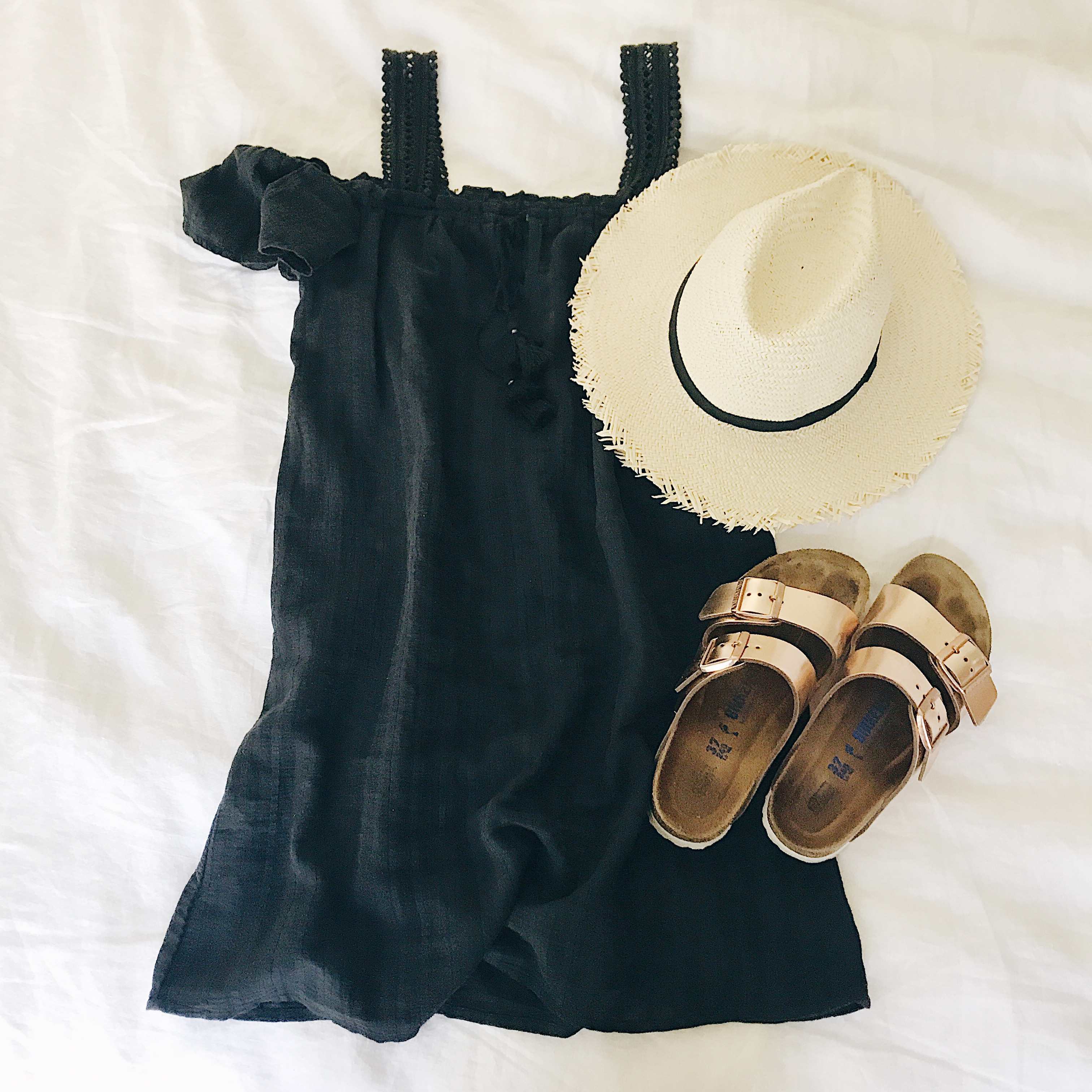 Dress: American Eagle // Hat: Express // Shoes: Birkenstocks
This has to be my favorite purchase this week! This dress is a super lightweight beach cover up and I LOVED it for the beach this week. It's currently on sale for $33, too, and comes in multiple colors! I also picked up this fringe panama hat for the summer. I'm big on wearing hats at the beach because I want to limit the sun exposure to my face, and my old panama got bent from traveling :/ It gave me an excuse to buy this one!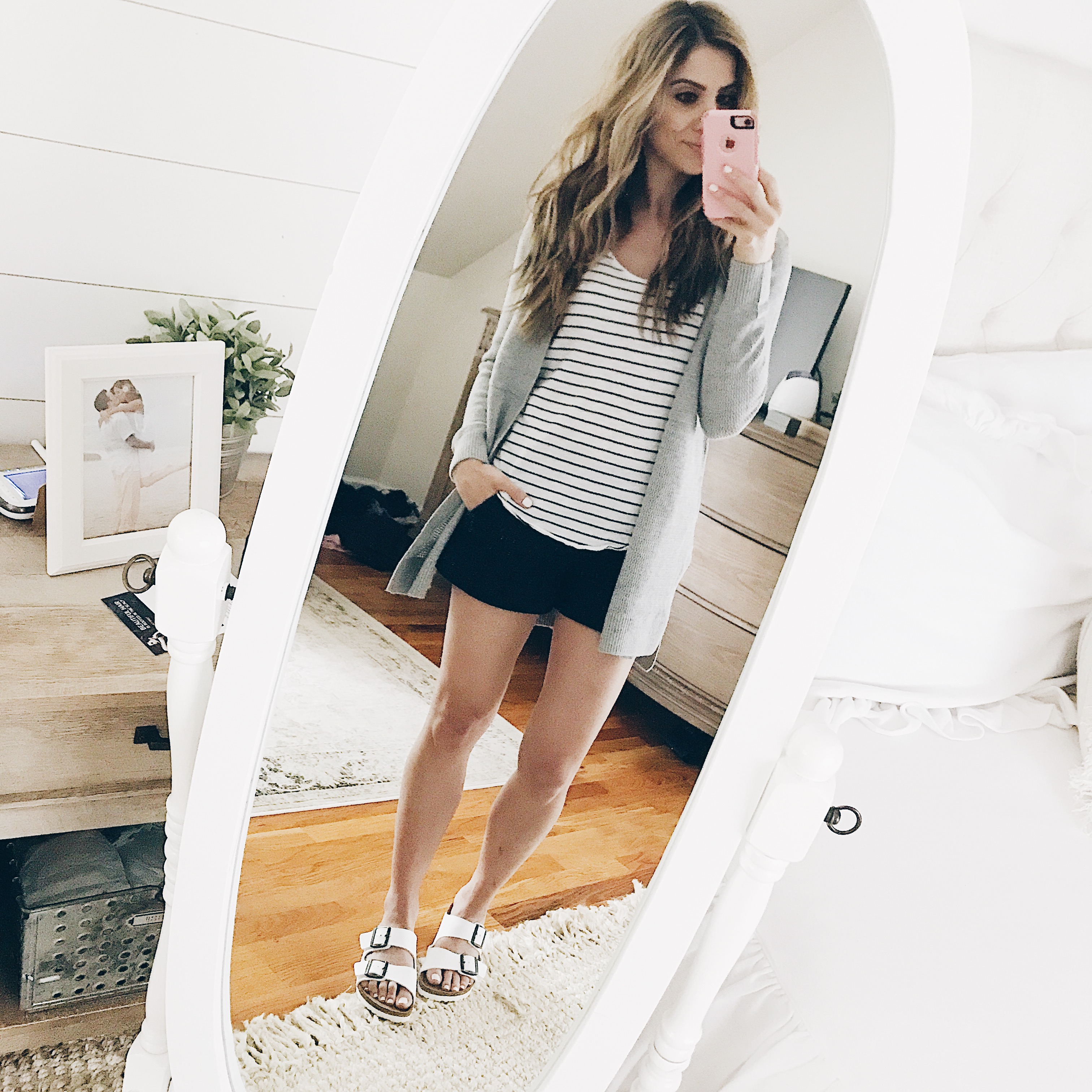 Sweater: Abercrombie // Tee: Abercrombie // Shorts: J.Crew // Sandals: Birkenstocks
The temperature dropped quite a bit on Saturday, but I was able to wear my favorite comfortable shorts with this cardigan you guys LOVE. I found it in gray, but I think stock is super limited!

Loving Lately: Beauty
I was recently sent the It Cosmetics Confidence in Your Glow, and I've been loving it for a little natural color to my cheeks! I've been using the Nude Glow shade and it gives just the right amount of color!
I've also been getting a few repeat beauty questions over on Instagram, so I thought I'd share them here with the answers!
What mascara do you use?
I'm using It Cosmetics Superhero, which has been my favorite for quite some time. I did try Urban Decay Perversion at one point a short while ago, and I do love it too! Some of you have said the It Cosmetics gets clumpy..I haven't experienced this, but I suggest trying Perversion if it's an issue!
What's your nail polish color?
You always see me wearing Essie's Gel Couture Polish in "Preshow Jitters." I've never been one for crazy nail colors, so you'll always see me in white or something light.
What's your eyebrow routine?
I've decided to do a Facebook Live on this this upcoming week to answer questions on microblading, as well as share my favorite eyebrow products with you! But in short, my eyebrows are microbladed and I LOVE them. I'll answer more this week!
Where's your bathrobe from?!
This question literally makes me laugh out loud because it's asked SO much! My robe is old and from Target. I purchased it right before I had Noelle, and it's no longer available! This one looks similar, and you can shop more robes right here 🙂
I'm working on a few fun posts for you guys, including a round up of my favorite shorts (I just grabbed a few new pairs to try for you guys!) and how to wear bralettes! And I recently purchased some new items including a pair of adorable striped espadrille sandals I'll be sharing this week. Stay tuned!
You can see previous versions of Loving Lately here: