Happy Sunday! After a HUGE request, I've decided to do a weekly roundup of items I've featured on Instagram stories, Snapchat, or just random things I'm loving throughout the week! I realize a lot of you prefer to see everything in one place, and I received an awesome response to doing this when I asked you guys on IG (THANK YOU to those of you who responded!) This week I'm sharing some awesome SALES, items I've recently purchased, and a little about my eyeliner routine!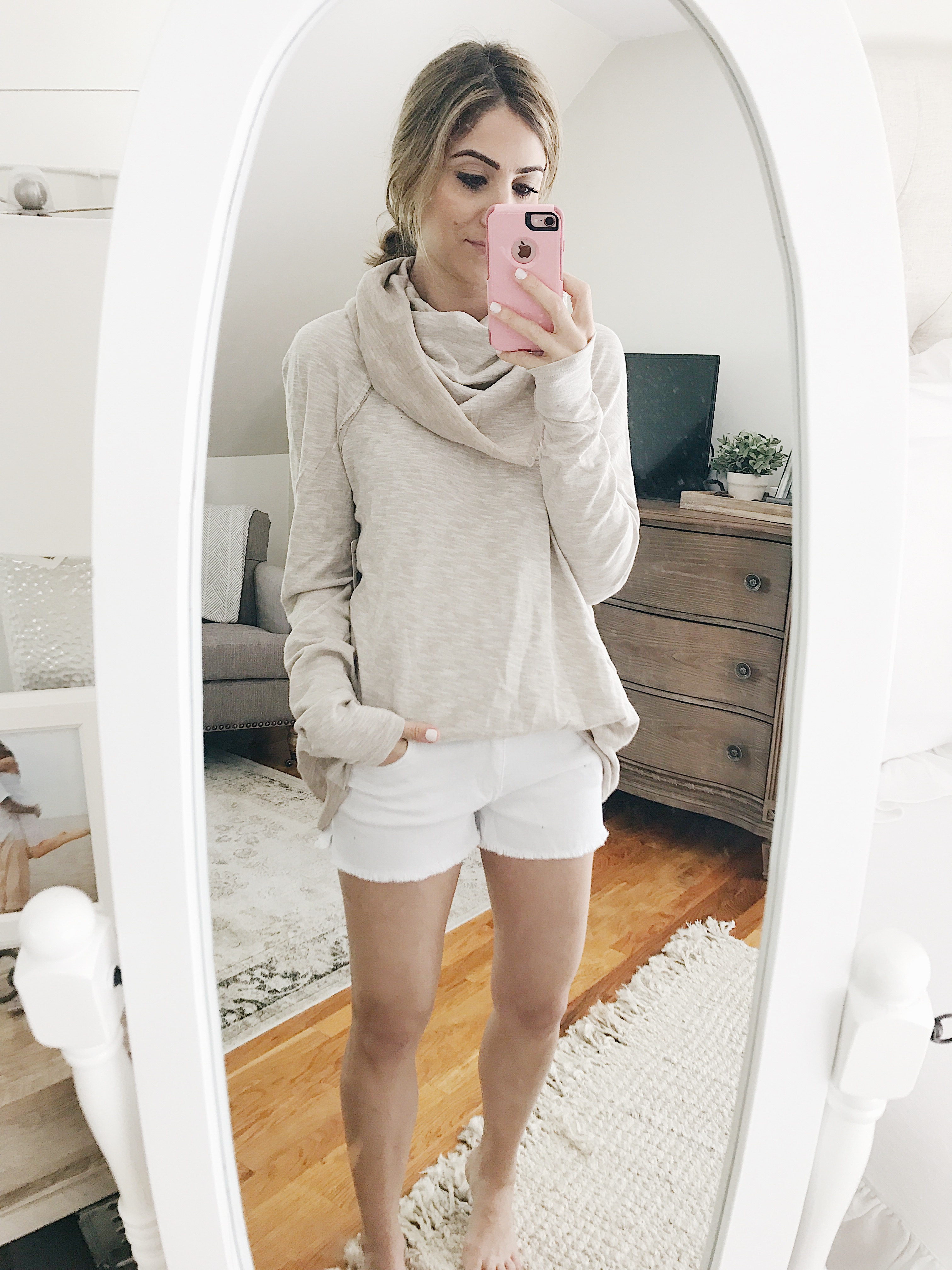 Cowl Neck Sweater: Free People // White Shorts: Nordstrom
This outfit is from my Trunk Club, which you can read more about here! This sweater has quickly made it's way to the top of my closet, especially with the cooler weather we've been having. It's lightweight enough to wear during this time of year on cooler days or even for a night at the beach. You guys loved this one as much as I did!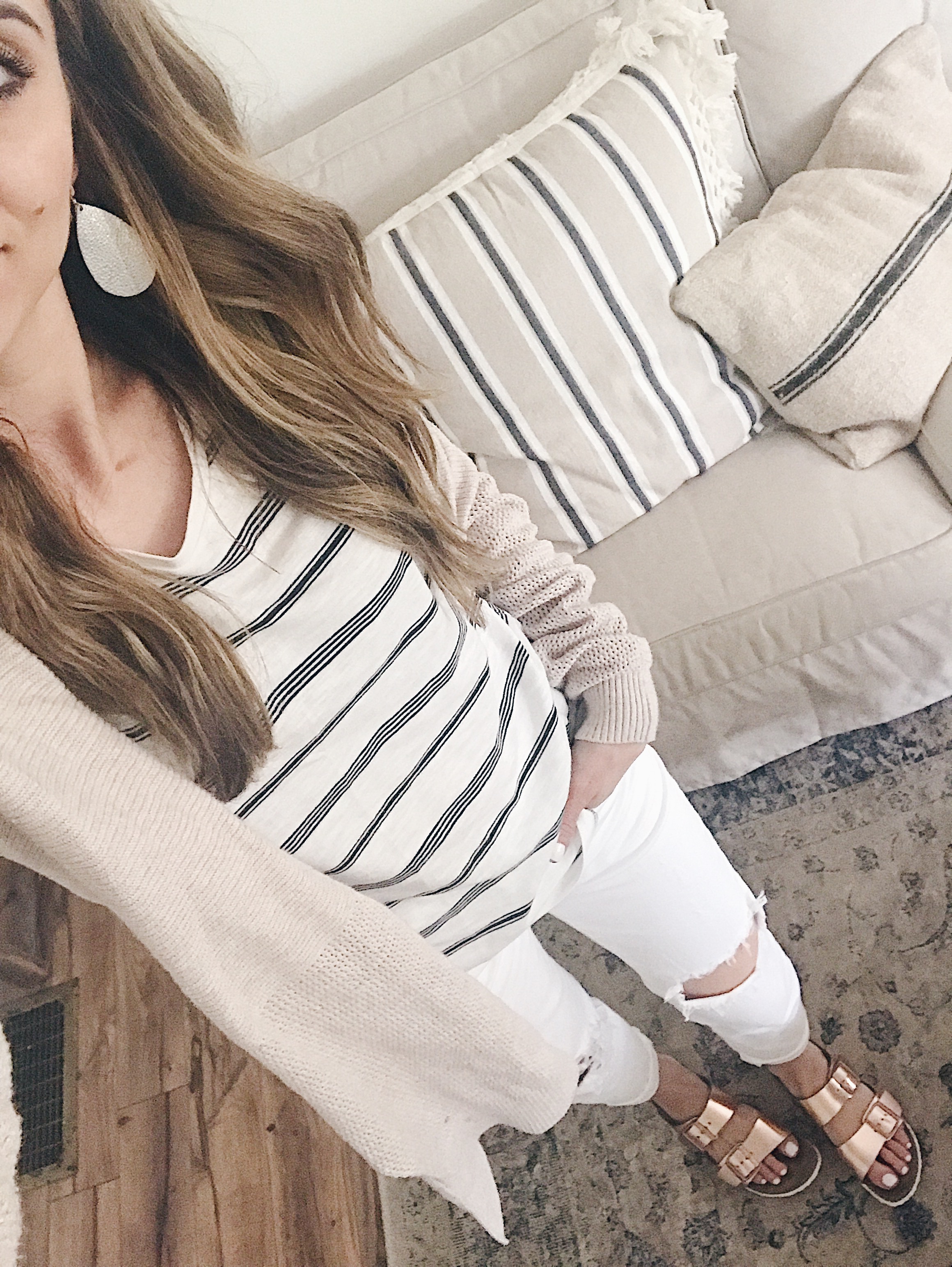 Cardigan: Abercrombie // Muscle Tank: Abercrombie ($13!) // Pants: American Eagle // Sandals: Birkenstocks (also here) // Earrings: Nickel & Suede
I wore this look to my Mother's Day "tea" with Landon. These are the Tomgirl jeans from AEO, and I wore my favorite muscle tee from Abercrombie that's currently on SALE. This cardigan is sold out in this color, but I found it in gray for you! I'm also obsessed with these Nickel & Suede leather earrings. I've posted about them before, but they're amazing because they are lightweight!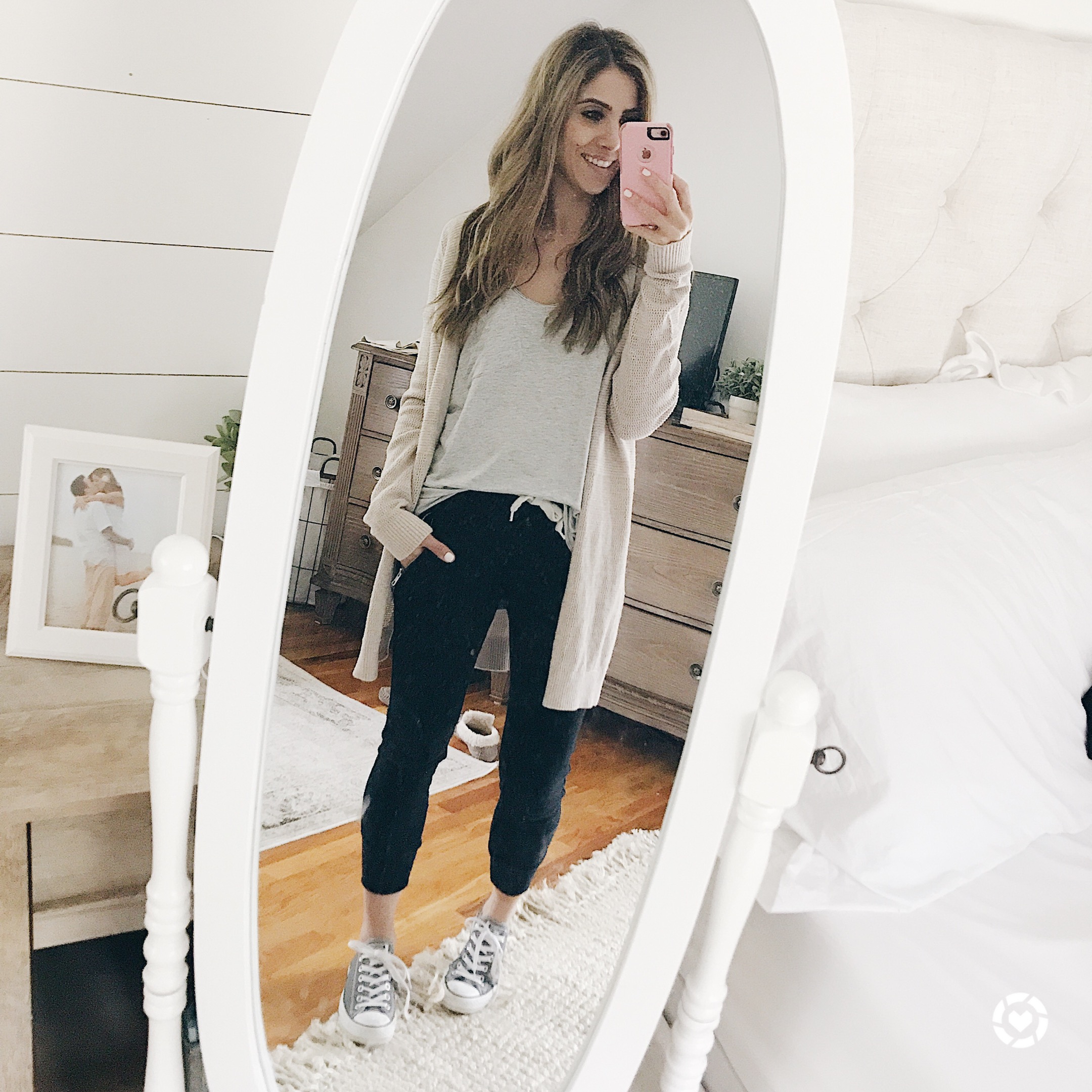 Tee: Free People (on sale for less than $40!) ALSO HERE! // Pants: Nordstrom (also here) // Cardigan: Abercrombie // Shoes: Converse (also here)
This outfit has a bad reputation seeing as I gauged my leg while wearing it (don't worry, I fixed the pants!) I live in these joggers and a simple tee whenever I'm hanging around the house the kids on a cooler day.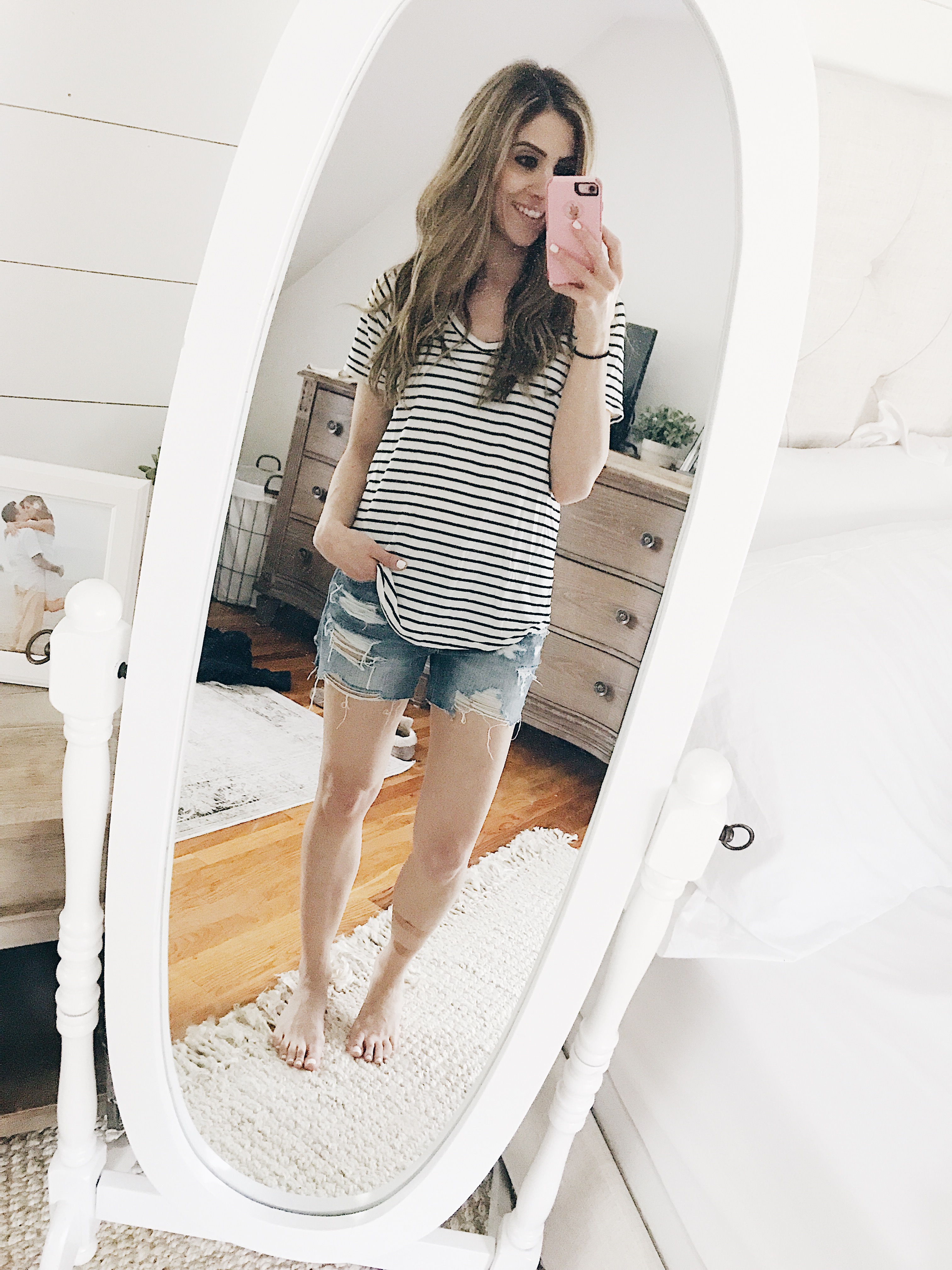 Tee: American Eagle // Shorts: American Eagle
This tee is the softest fabric EVER. It's on sale right now, too, so stock up! A classic striped tee is a timeless piece in your wardrobe, and you bet it will be on repeat this summer. These are Tomgirl shorts I'm now obsessed with because they're cute, LONG, and my ass isn't hanging out. They fit TTS, too!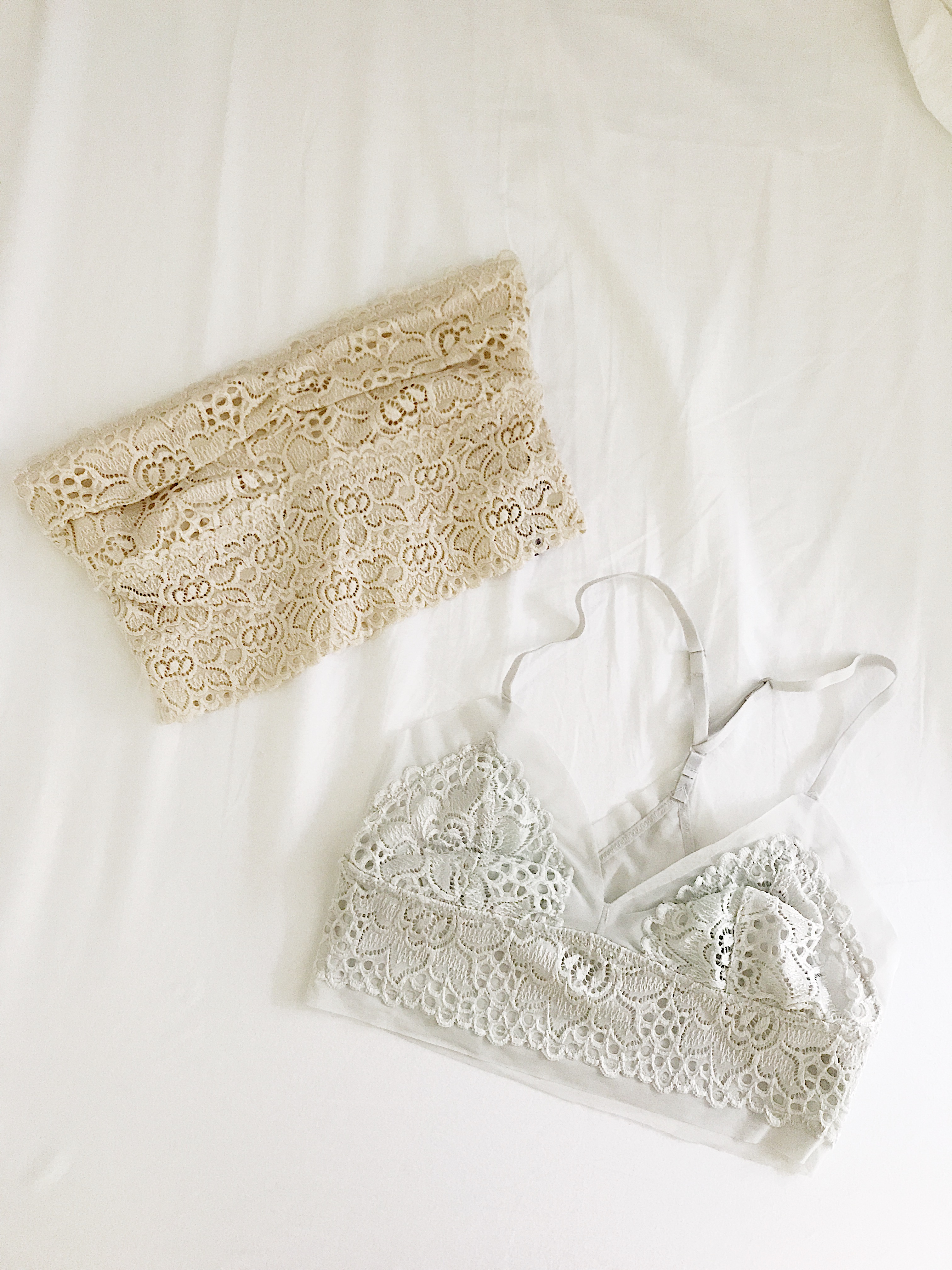 I'm working on a post on how to wear bralettes, so I scooped up a few new ones to feature! I like this bandeau and longline version from American Eagle. They're also ON SALE for $14 until the end of today, so shop my fave picks below!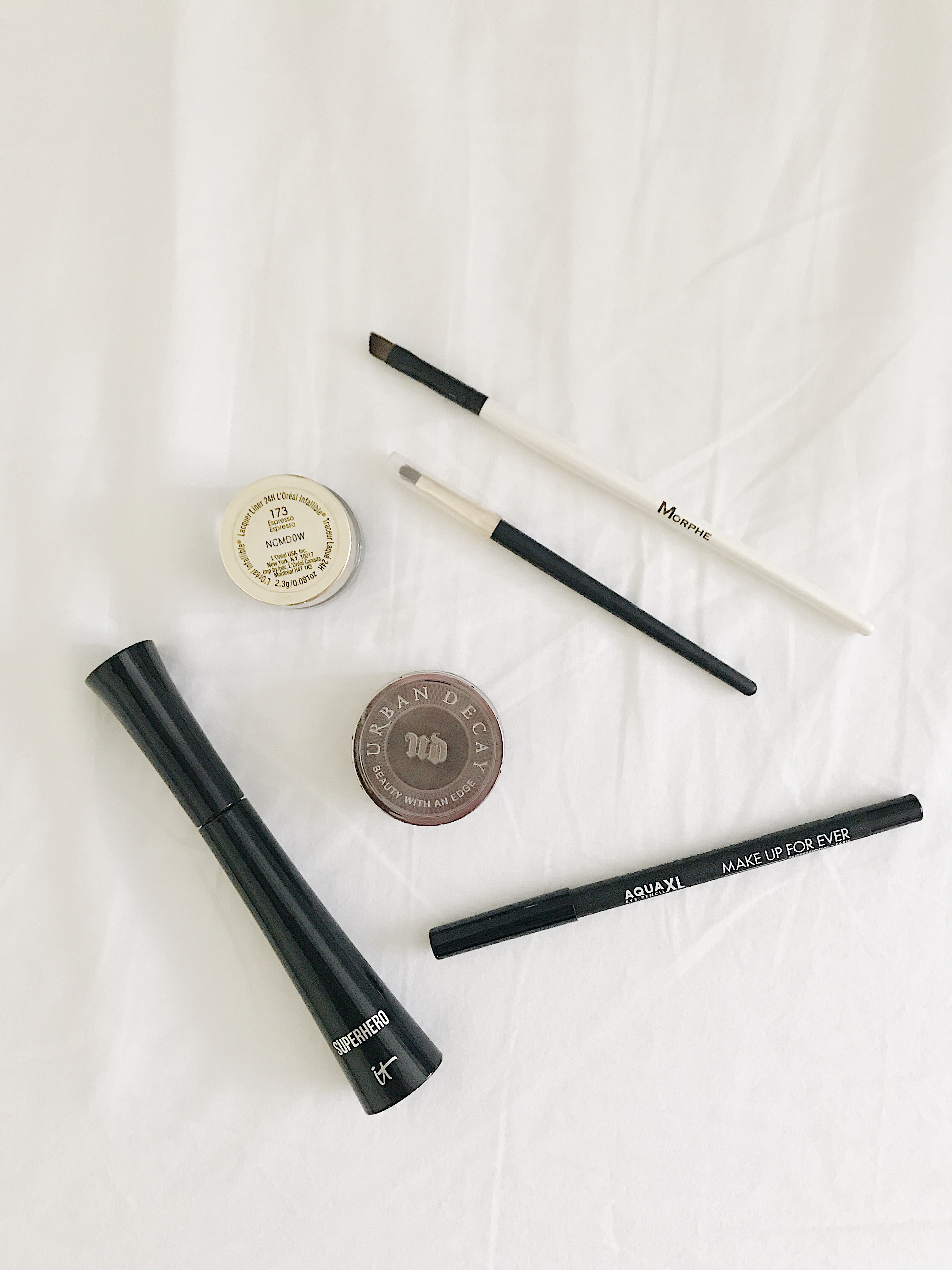 Mascara: It Cosmetics
Gel Eyeliner: L'Oreal Gel Liner in Espresso
Waterline Eyeliner: Make Up For Ever Aqua XL in Black
Brush: Morphe
Eyeshadow: Urban Decay in Darkhorse
My eyeliner routine! You guys have been asking about this quite a bit lately! Basically for this, I line my TOP last line with the gel liner. I then take the angled brush, dip it into Darkhorse and smudge out that top line. I'll then take the brush with some more shadow and create a line on my lower lash line (JUST shadow). Then two coats of mascara (don't forget to curl your lashes!), followed by lining my water line with the Make Up For Ever eye pencil. 🙂
Also, ABERCROMBIE is having a huge up to 30% off sale! It's one of those more you buy, more you save sales, so I've rounded up a few pieces I have my eye on for you!

Stay tuned on Snapchat (laurmcbrideblog) or Instagram stories this week for a peek into my daily outfits and latest finds. They'll be featured here next week!