This is a sponsored post written by me on behalf of VELUX Skylights. All opinions are 100% mine.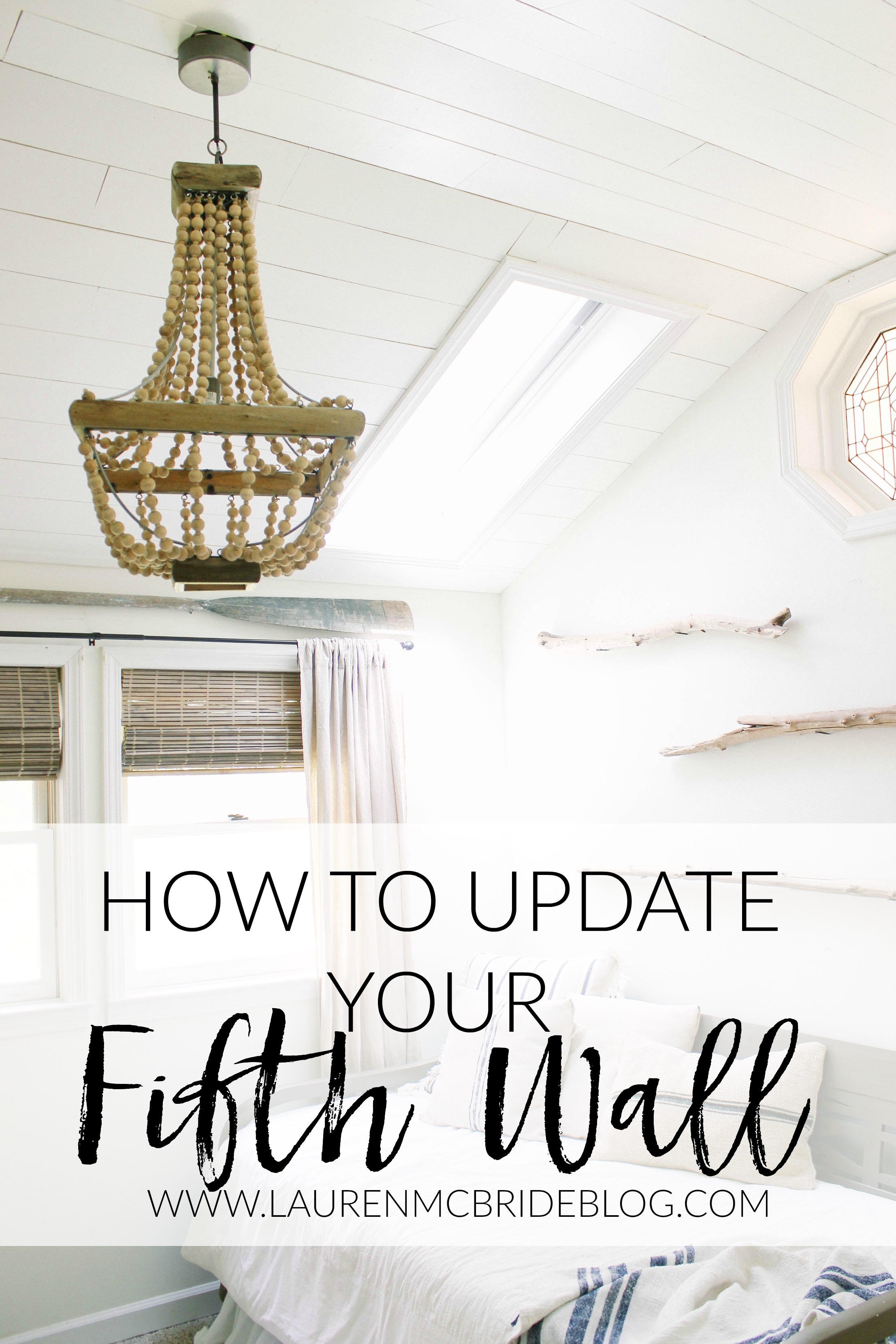 If you've been following along, we've been documenting our process for our guest room update. We recently found out our family is coming to visit this fall, so it's been more of a motivation to get this room going! Our guest room has a beautiful vaulted ceiling, and I wanted to accentuate it to the best of my ability so it really stands out. Today I'm sharing How to Update Your Fifth Wall, and the updates we've made so far to the room!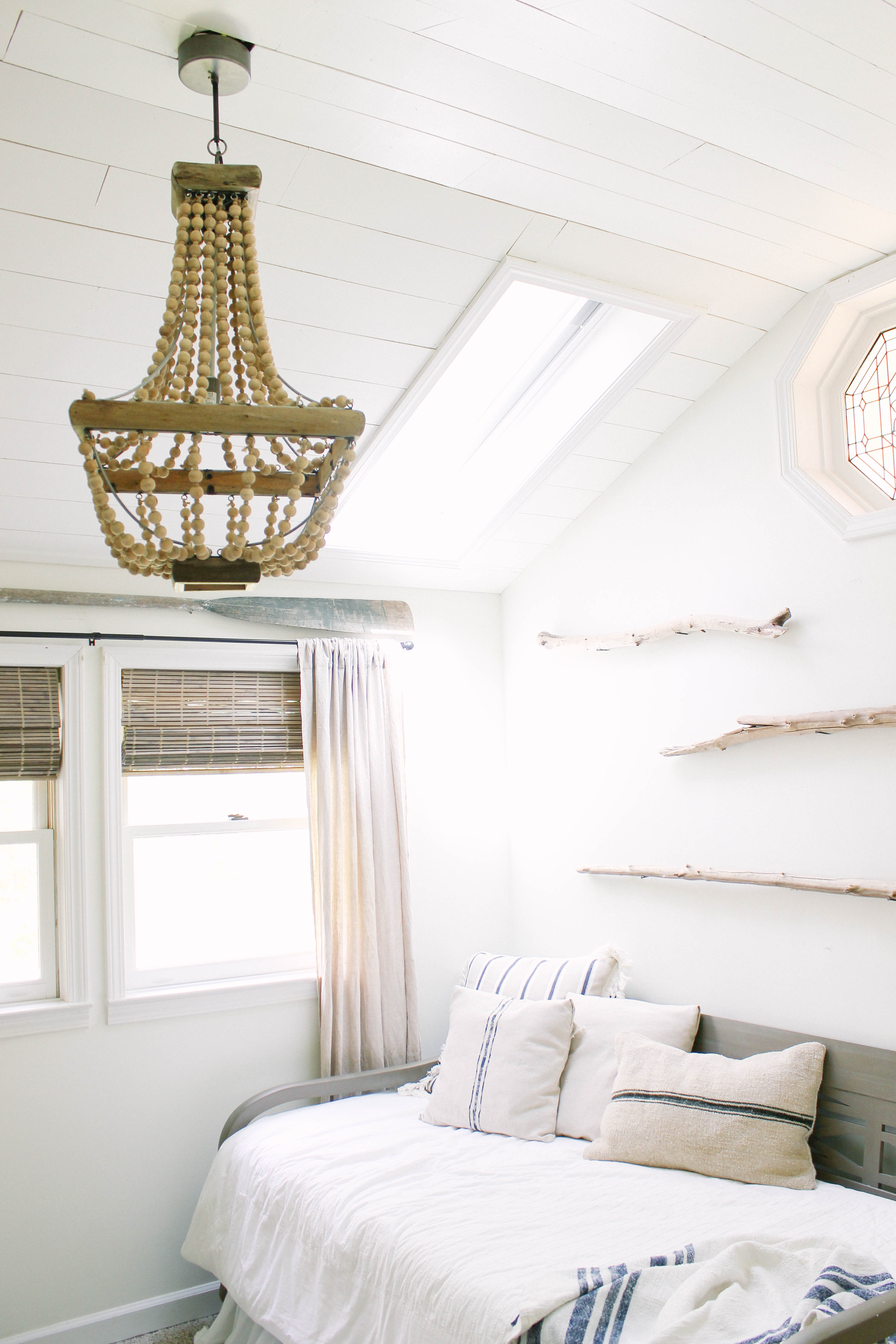 How to Update Your Fifth Wall
Install skylights. We had existing skylights when we purchased this home, but they were outdated and not able to be opened. You can read more about why in our skylight installation post here. We chose the new VELUX No Leak Solar Powered "Fresh Air" Skylight because they come with energy efficient glass, and also have a built-in rain sensor that will automatically close the skylights when it senses rain. VELUX has a No Leak warranty on product and install, which really gave us peace of mind. They also require NO wiring due to their being solar powered (woo!) They can be programmed to open and close on a regular schedule for regular home airing (which helps remove moisture and VOCs that build up with everyday activity from the home). Each skylight comes with solar powered skylight blinds for light control, or even a splash of color on the ceiling. We chose their light filtering white shades to go with the decor in this room, but I like that the blinds are interchangeable and available in a wide variety of colors and patterns if we change our mind down the road! We used Mr. Skylight, a local VELUX 5-Star Skylight Specialist to do the installation. He was incredibly professional and efficient, and I HIGHLY recommend him if you're in Connecticut!
We also updated the skylight in our laundry room with the same VELUX No Leak Solar Powered "Fresh Air" Skylight. We have minimal windows in this area (it's a small laundry room connected to our downstairs bathroom) and I really LOVE the light the skylight lets in! We weren't able to open this skylight before, so I'm thrilled with the change!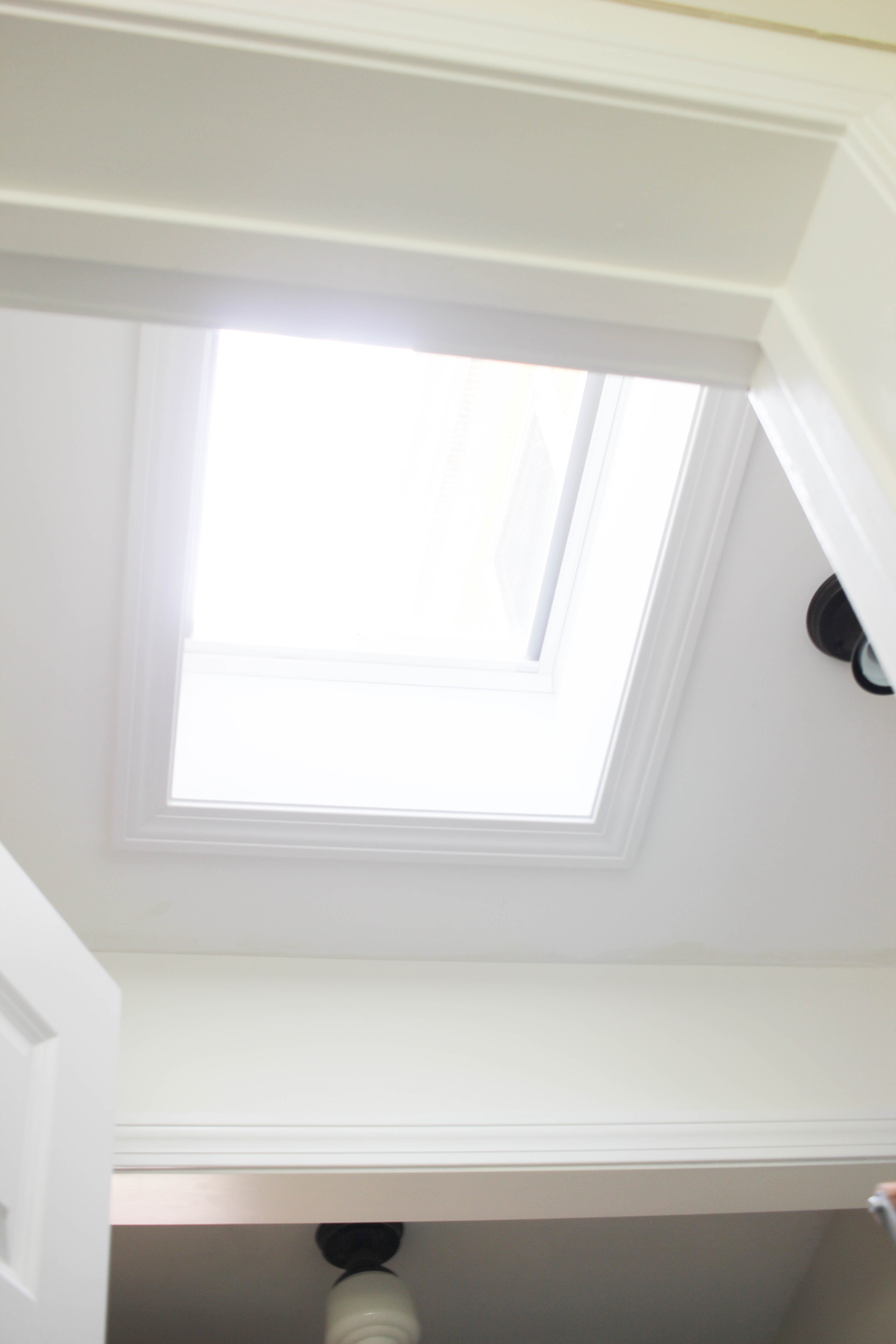 Add detail to the ceiling. We chose to add faux shiplap planks to our ceiling to help infuse a coastal, relaxing vibe within the room. You might remember watching us do this on Facebook and Instagram Live! It was quite the process, but we knocked it out in 2 days. I love how it looks with the vaulted ceiling! I feel it makes the skylight really stand out, as well. Another fun option would be to add some (removable) wallpaper to the ceiling. I've seen this done in many rooms from some of my favorite home decor bloggers, and it catches my eye every time!
Add a light fixture or ceiling fan. We previously had a ceiling fan in place, but it was old, outdated, and not my style. I've seen some beautiful industrial ceiling fans that would be really fun in this space, but I opted for a chandelier because we don't need a fan with that beautiful breeze from the VELUX skylight! By opening the skylight and one of the windows in the room, a breeze forms that will cool down the room without the need for AC or a fan!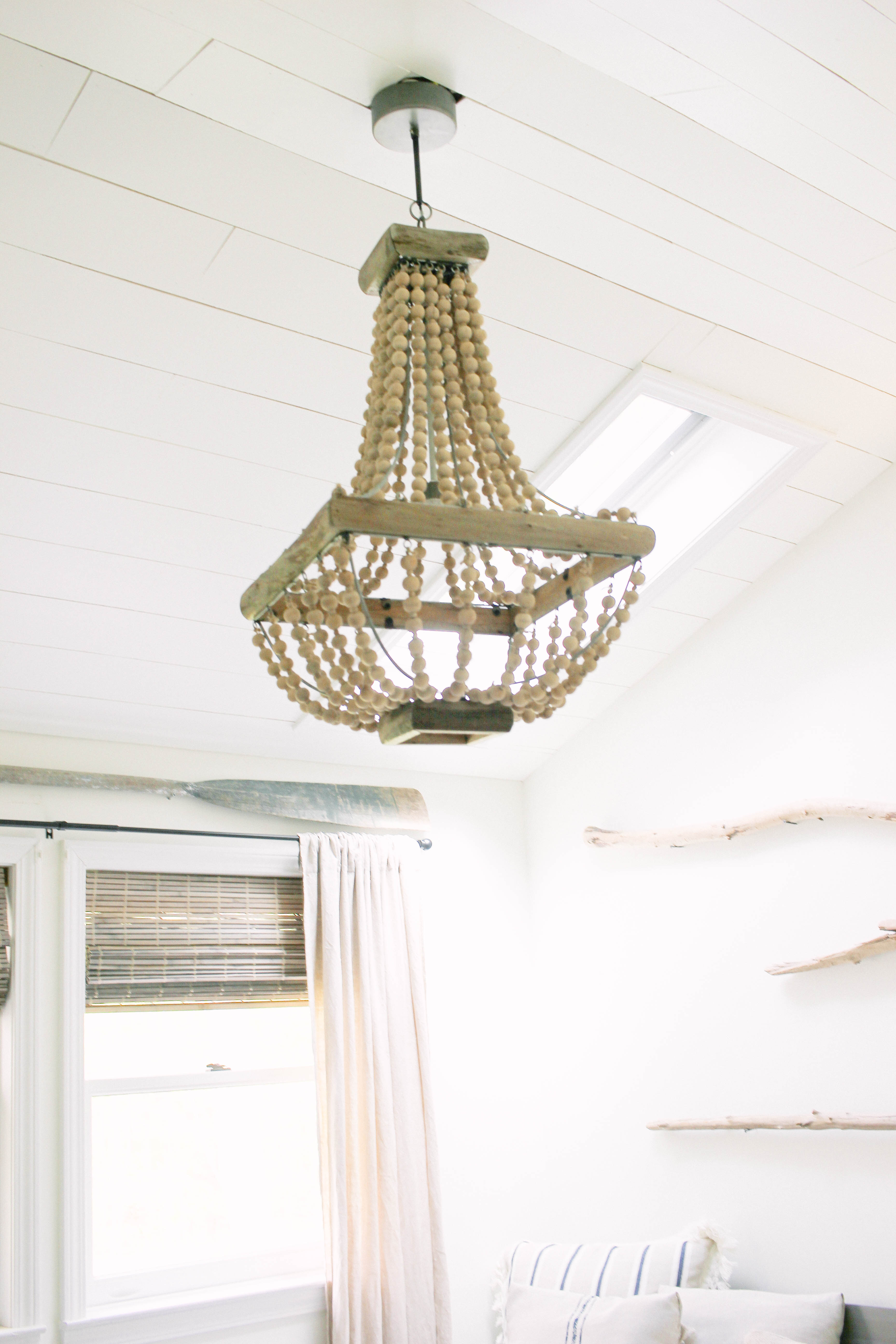 Overall, we are incredibly thrilled with how our fifth wall turned out, and I've been loving sitting in this room during nap time to chill out a bit! I really like having the skylights positioned right over the guest bed because it provides a lot of natural light and calming views of the sky above. Hopefully our family will think the same!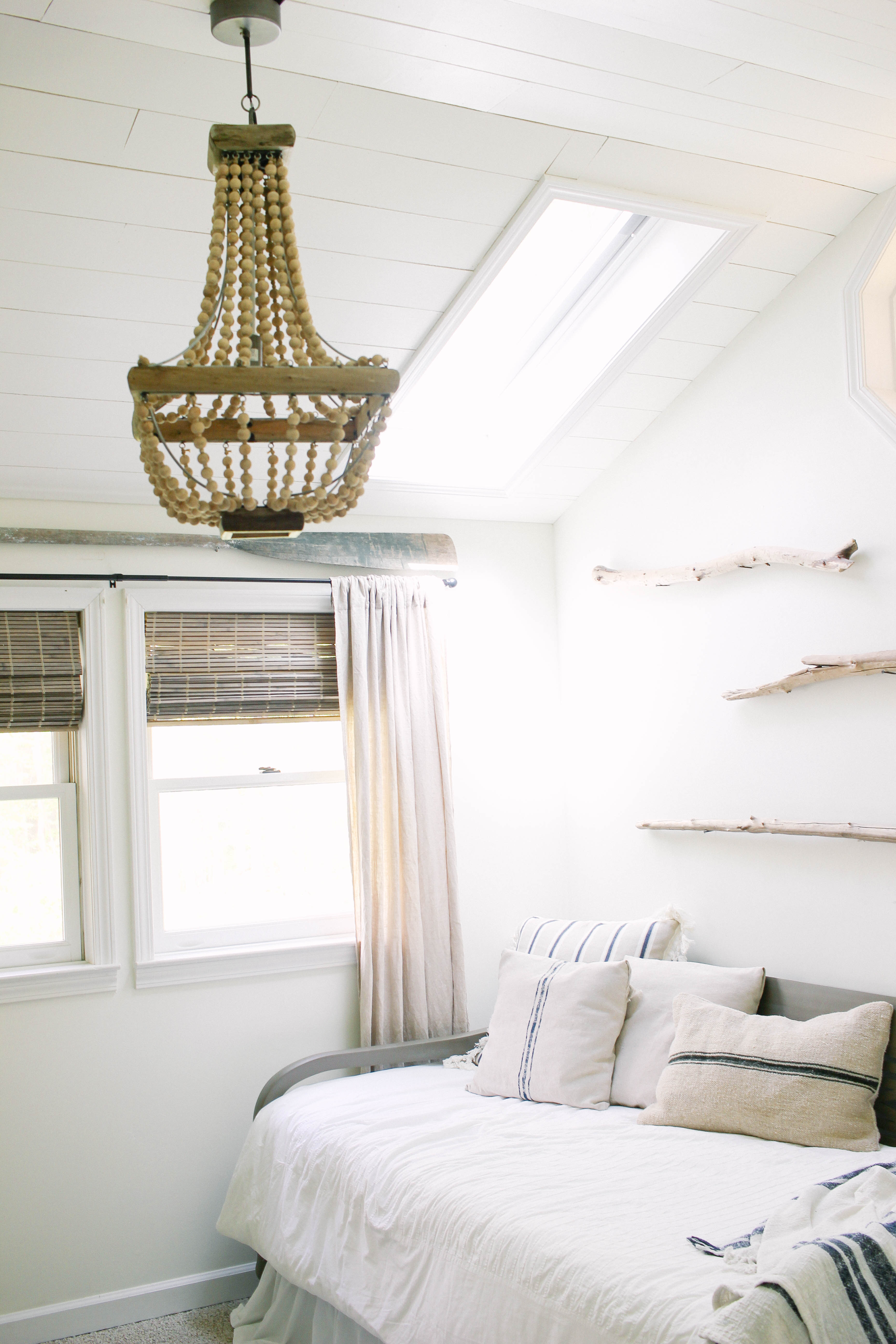 You can read more about our VELUX skylight installation right here, and check out VELUX at whyskylights.com.
Find more 5th wall design inspiration at www.whyskylights.com