Last week I shared my recent Trunk Club on Instagram stories, and many of you asked for a roundup of items! Today I'm sharing my Trunk Club Review, and also giving you some tips on how to get the best trunk!
Trunk Club Review
Trunk Club is Nordstrom's at home personal styling service, which is great for busy moms like me. I don't have time to (or WANT to) shop in stores because I usually have my kids! Kids in a fitting room are no fun (been there, done that), but I like trying on clothes before committing to a purchase. Trunk Club allows you to try clothes on in the privacy of your own home. You have 5 days to try, and then send back whatever you don't want to keep! It's a great service for busy women, and there's no styling fee if you have a Nordstrom card (woo!) Check out my trunk below:
1. Free People Mint Julep Tee // Size: XS // Fit: TTS, loose.
This is a cute off shoulder top with a ruffled hemline. It's true to size and I'm wearing an XS here. I would keep this, but to be honest…I have many that are similar, so I'm sending this one back. I love the style if it, though!
These are also featured above, and I really like the length of them! They're short, but a little longer in the back which is always a important detail for me. They're a higher price point so I'll be sending them back, but a great option if you're looking to invest in a quality pair of cutoffs!
I'm OBSESSED with these shorts. They're only a $39 price point (holla!) and the perfect length! I love the frayed hem, too. They fit true to size, I'm wearing a 25. I'm wearing them with this Free People one-shoulder tee that is super cute as well. It's very flouncy, and I'm wearing an XS in this photo. (It's black and white stripes, my mirror just makes it look flecked…clearly I need to clean it, whoops!)
This is a great twist (no pun intended) on a standard blouse! I like the tie at the waist, especially to wear with shorts or even a skirt. However, I don't normally wear tops like this, so I'll be sending it back.
This is staying with me! It's VERY light weight for a pullover sweater, and it's perfect for cooler summer nights. I'll be keeping it for breezy nights on the beach over a pair of shorts. I think it looks cute tucked in the front, since it hits a little longer past the hips. It comes in other colors, too!
I was really excited to try these pants, but I have no clue why they're SO HUGE! Maybe this is just the normal fit for them, but they're sadly going back. I wish they weren't as baggy, they would be a definite keep if so!
Okay I REALLY love this dress because it's super sexy without showing skin, but I have no idea where eI would wear it AND I think the layered fabric would make me nuts. If I lift my arms even a little bit, it pops right up. If you are going somewhere that doesn't involve lifting you're arms, I highly recommend. 😉
I love this dress! It's the perfect summer dress, and can be dressed up or down depending on the shoes you wear. You guys also LOVED this little number on my Instagram stories, so it's definitely staying with me!
These sandals are absolutely adorable, and come in multiple colors! I would keep them if I needed a new pair of shoes, but I really really don't. 😉 Although I'm very tempted because of their beautiful gray color!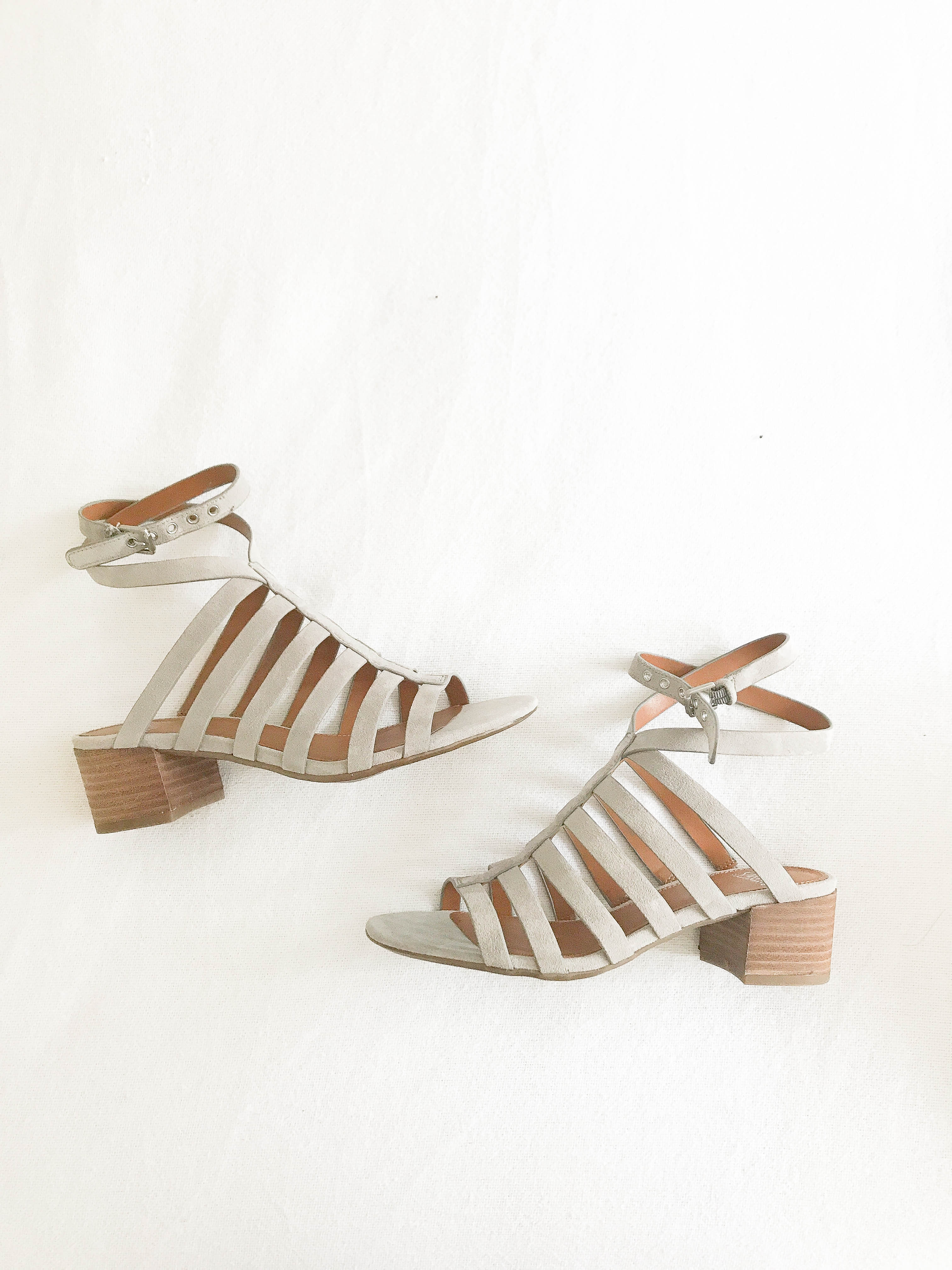 Overall, this trunk was great! I'm keeping 3 items from it, and sending the rest back due to sizing or it was similar to something I already owned. I'm excited to see the next one!
TRUNK ITEMS
Free People Beach Cocoon Cowl Neck Pullover
Cupcakes and Cashmere Betsey Off the Shoulder Bodycon Dress
Cupcakes and Cashmere Rosen Dress
Free People Love Lane One-Shoulder Tee
Sarto by Franco Sarto Finesse Cage Sandal
Rag and Bone Cutoff Denim Shorts
Free People Everyday Drawstring Pants
Sarto by Franco Sarto Finesse Cage Sandal

How to Get a Good Trunk
Communicate! Communicate with your stylist! Send her your Nordstrom wishlist, your Pinterest fashion boards, brands you like, colors you like, and also colors you HATE. Be very specific with what you're looking for! Also, be specific with price points!
Preview your trunk, and decline what you don't like. And tell them why! Again, the more specific you are, the better. I made sure to tell my stylist exactly what I didn't like about the items I decline so she knew for next time.
Request additional items, but ask to see them. If you decline items, request additional ones be added! But ask your stylist that you can preview them again before accepting the trunk! You want to be sure you're interested in the items being sent to you so you can get the most of the trunk!
If you have a Nordstrom card, the $25 styling fee is waived (woo!). The $25 fee is applied to your purchase if you keep something from the trunk! 🙂
Now…it's time for a fabulous giveaway!
I've teamed up with an amazing group of bloggers
to give YOU a chance to win:
a $700 Nordstrom Gift Card, just in time for some spring shopping!
Simply enter below by completing the rafflecopter.
You'll receive one entry per completion.
This giveaway is open internationally and runs until 5/22.
Winner will be announced here. Good Luck!