This post is brought to you by CJ Affiliate's VIP Content Service. Thank you American Eagle Outfitters for sponsoring this post. While this was a sponsored opportunity from AEO, all content and opinions expressed here are my own.
Alright ladies, you know my love for my American Eagle Outfitters Tomgirl Jeans. I love the loose boyfriend fit, their mid-rise, and their casual distressed look. While these won't last me during my pregnancy (the mid-rise and high-rise pants just won't do and with a growing belly!), they're still my favorite pair as I've mentioned multiple times before! I love that the aren't TOO loose like standard boyfriend jeans, which means they're a little more versatile. Today I'm sharing How to Style Boyfriend Jeans for Fall in case you're in need of some inspiration!
How to Style Boyfriend Jeans for Fall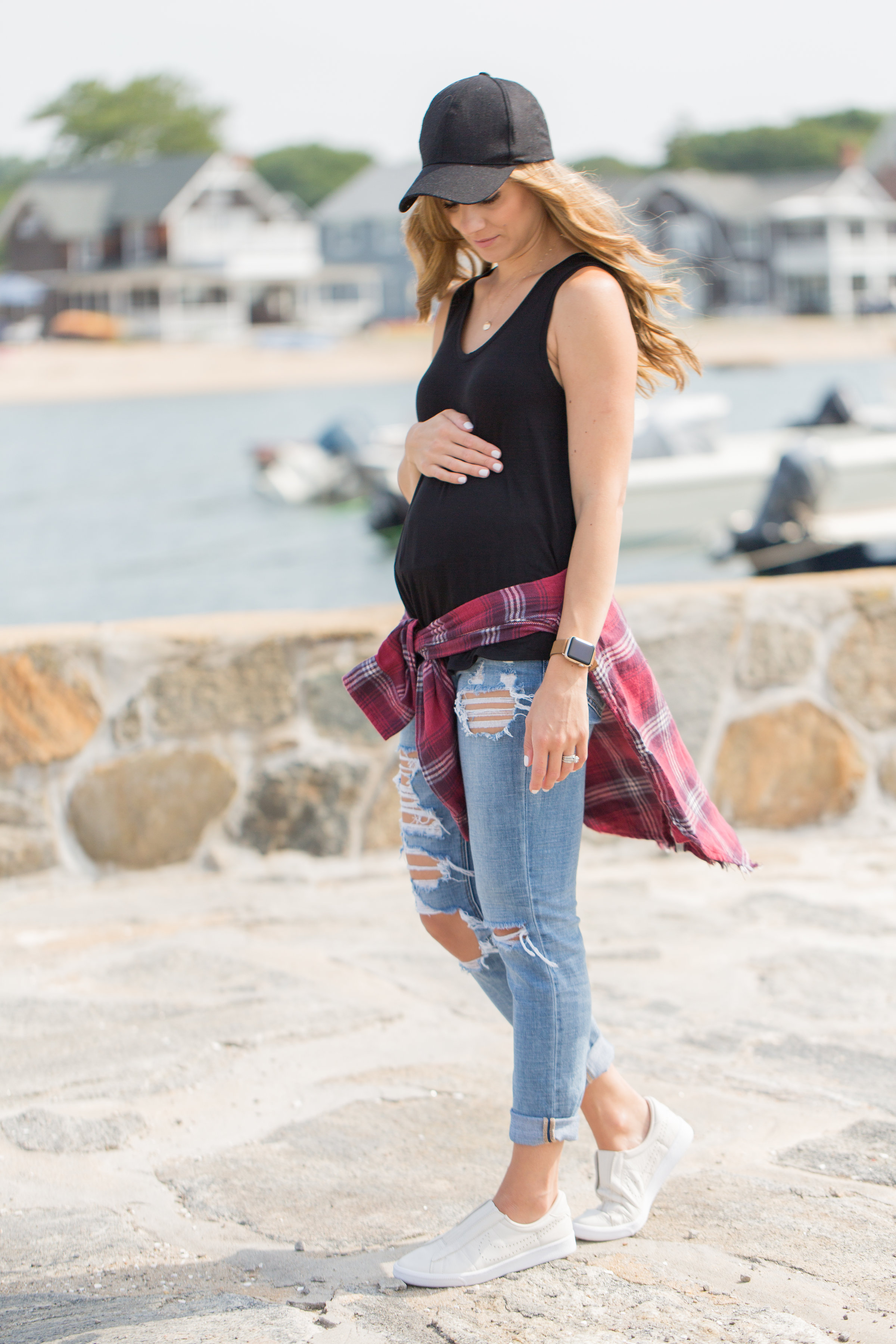 One of my favorite ways to style my Tomgirl jeans is with a basic tee or tank, like the AEO Soft & Sexy Favorite Tank, and some sneakers. New England weather can be 80 degrees one day and 50 degrees the next in the fall, so layers are key. I like carrying around a flannel shirt like the AEO Oversized Destroyed Flannel Shirt or even a basic cardigan for when I need some warm. I avoid athletic sneakers and prefer a pair that's slightly elongated and less bulky to balance the loose fit of the jeans. Cuffing the ankles a bit to expose my ankles makes my legs look longer (because who doesn't want that?!)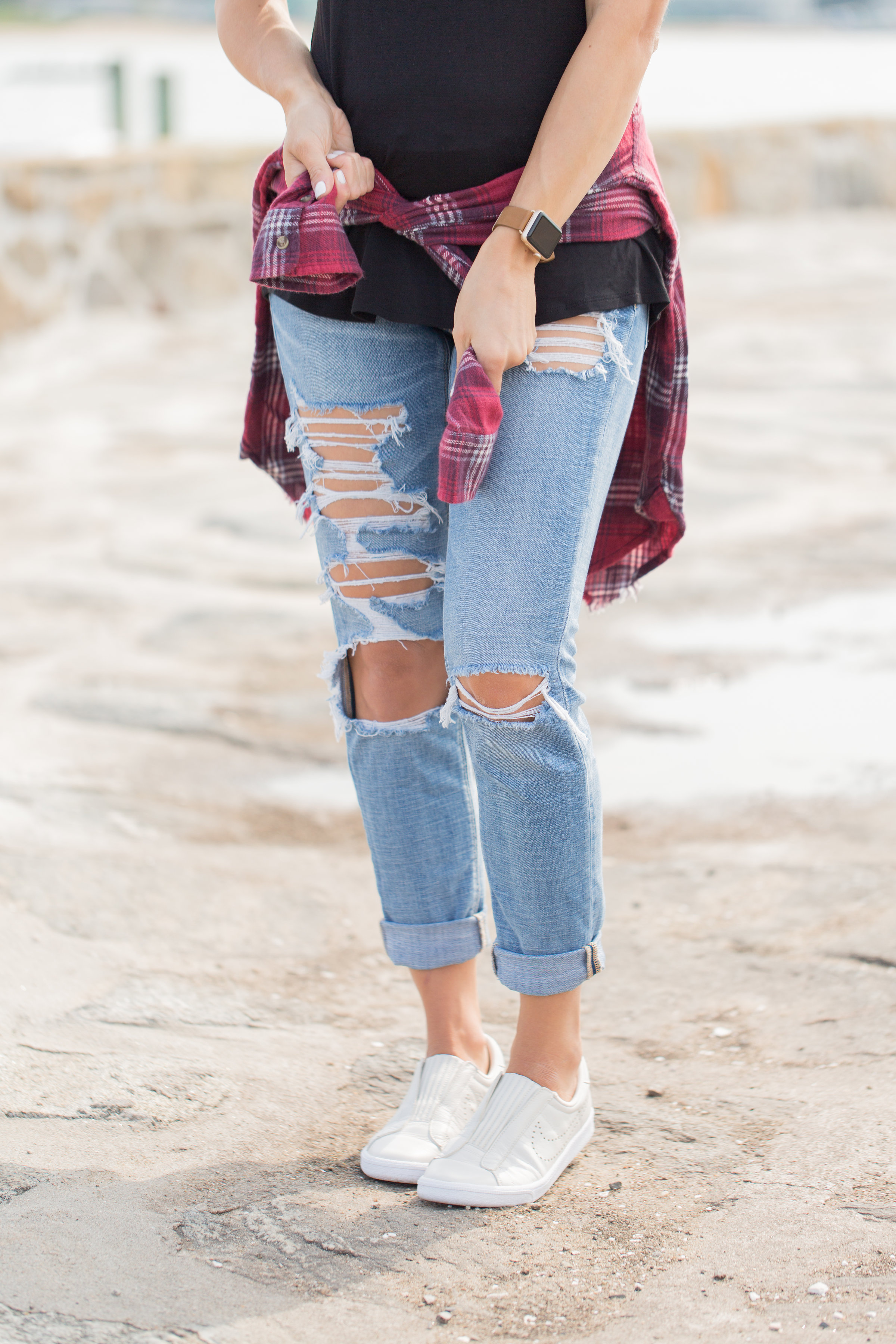 I also love to wear the AEO Tomgirl jeans with an oversized blouse and pair of flats. This is a great causal day look if you don't feel like wearing sneakers! Because the Tomgirl jeans are more of a relaxed fit, they balance well with an oversized blouse. Wearing a pointed toe flat with cuffed ankles again gives the illusion of slimmer, longer legs. Tucking the blouse in the front of the jeans and exposing a belt gives a more refined look.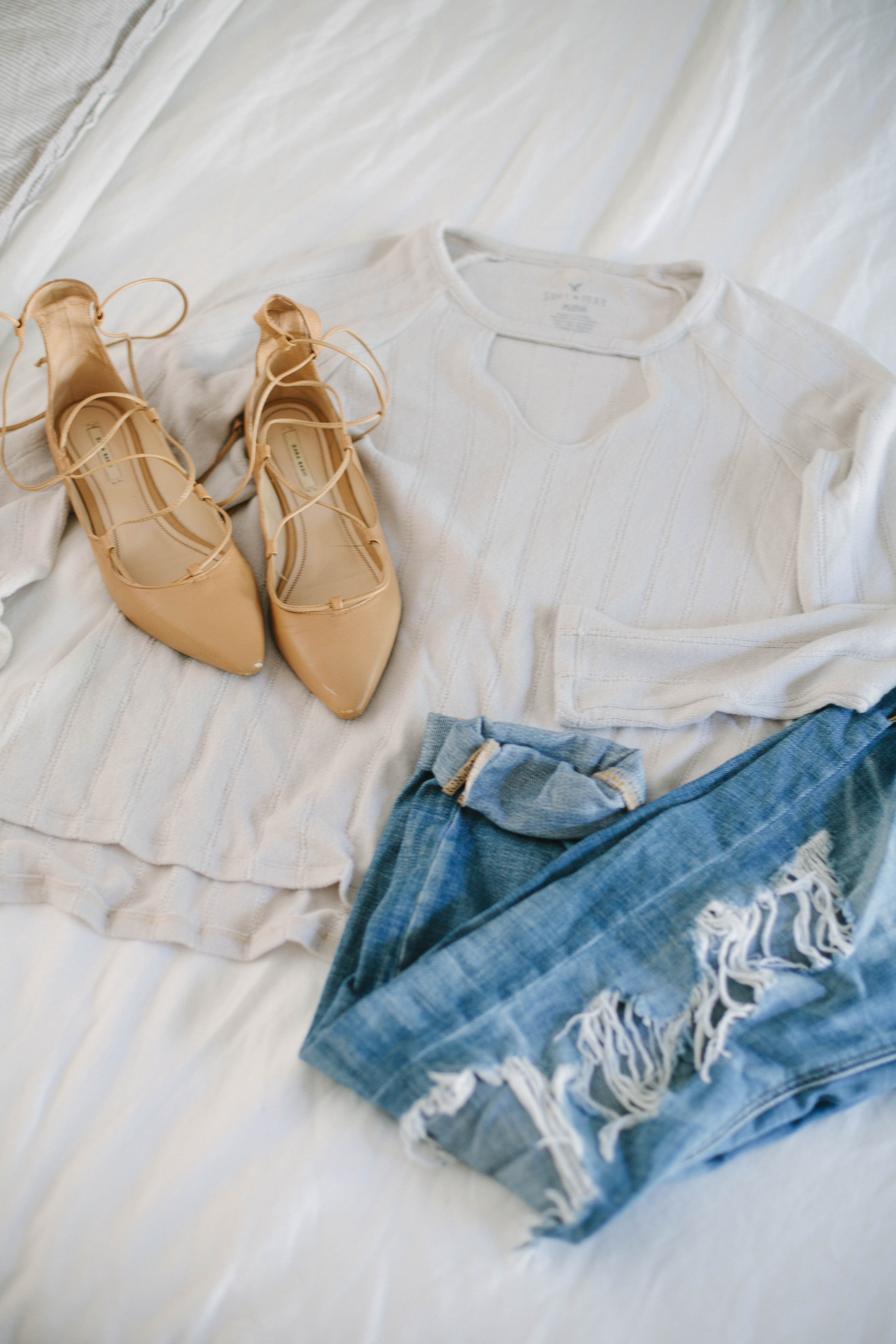 One of my go-to looks with boyfriend jeans in the fall is an oversized sweater and a pair of booties. A classic fall look, and one that looks great on everyone. I like booties with a slight heel, enough to give me a little height but not enough where I can't chase my kids, ya know what I mean? On date nights, I'll wear a high heel because I don't need to worry about chasing my husband. 😉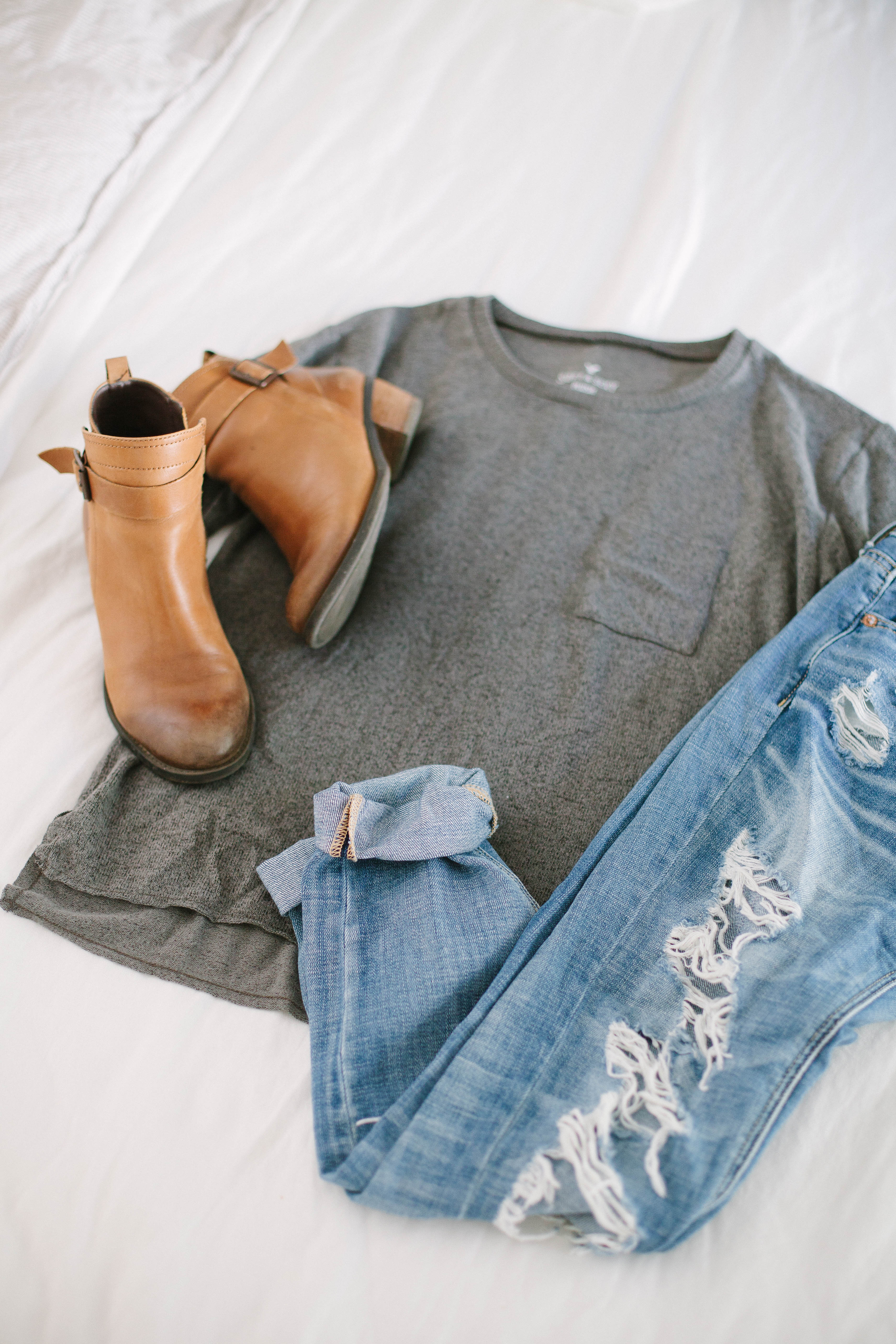 I've owned multiple pairs of these Tomgirl jeans for well over a year, and they're still my favorite to wear! You can see how I wore them last year right here and below!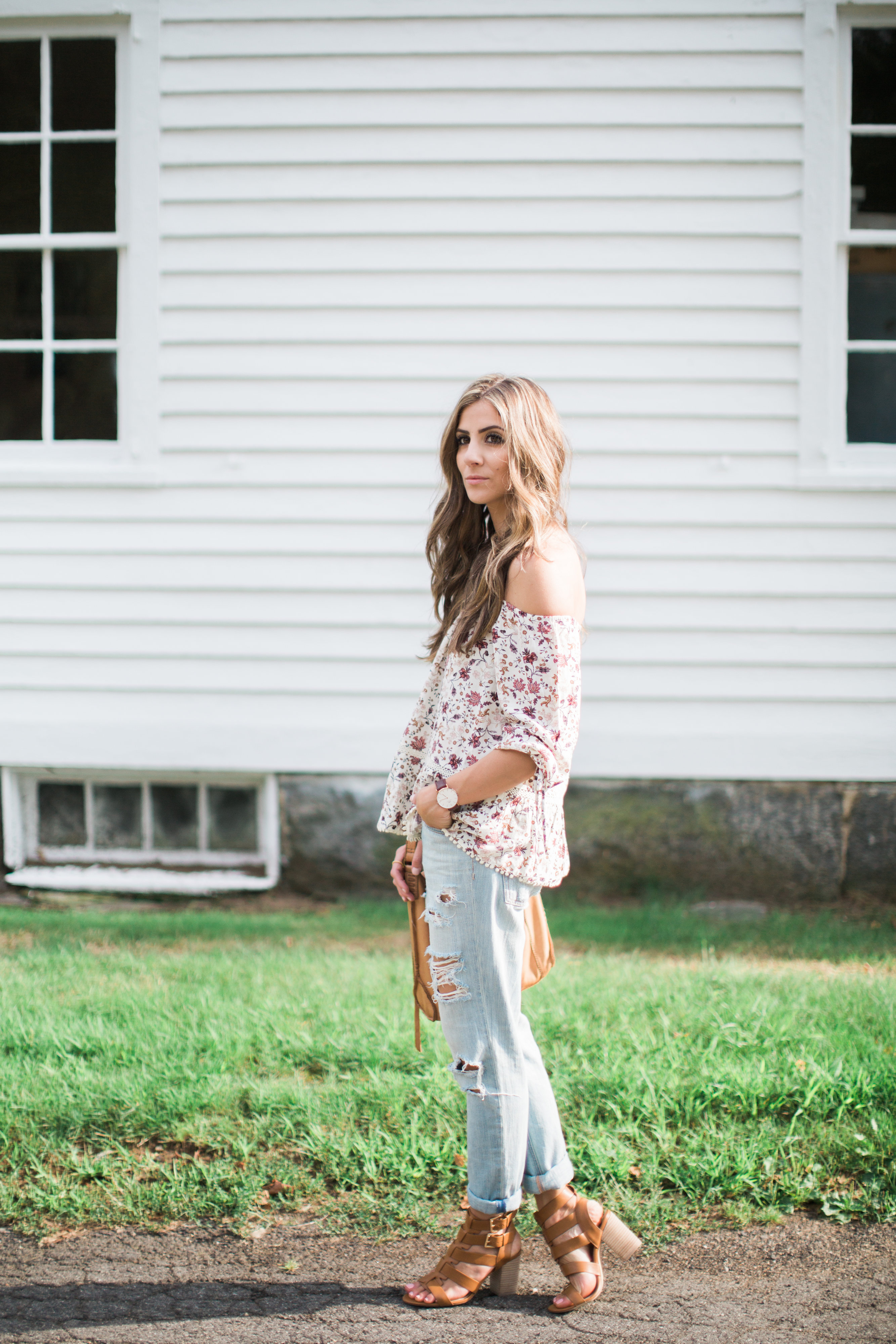 I hope that gives you a little inspiration on how to style your boyfriend jeans for fall! If you're a little hesitant with the looser look, the Tomgirl jeans from American Eagle Outfitters are the way to go!
They're also 25-60% off AEO Tops, Bottoms, Footwear & more + FREE shipping only at AE.com until 9/6/17! Prices as marked