I mentioned a few months ago that I was struggling with the ART MODE on our Samsung Frame TV, and I think I *finally* figured out how to get it to look like ACTUAL art instead of a glowing photo. But in case you have no idea what I'm talking about, let me back peddle a bit and explain!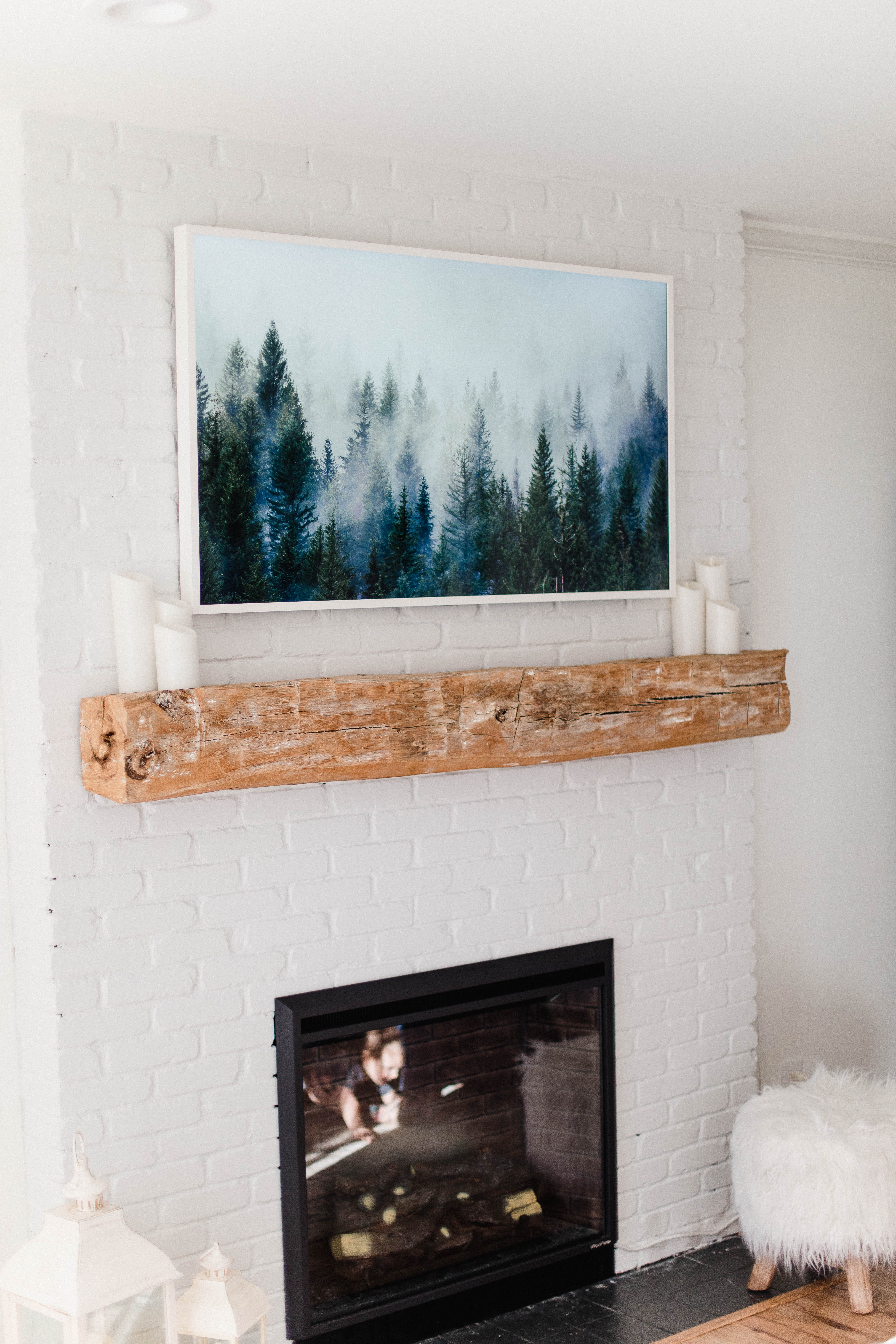 We (really, my husband…but part of marriage is about compromise, so…) wanted to put a TV above our fireplace in our living room. I really enjoy having artwork and decor on and above our mantle, so getting the Samsung Frame TV seemed to be a great compromise because it's designed to look like artwork on the wall. It has a bracket that allows the TV to lay flat, and even has interchangeable frames (white, dark wood, black, and light wood). The ART MODE allows you to select and upload a variety of artwork options to the screen so the TV looks like actual art instead of a black box on your wall.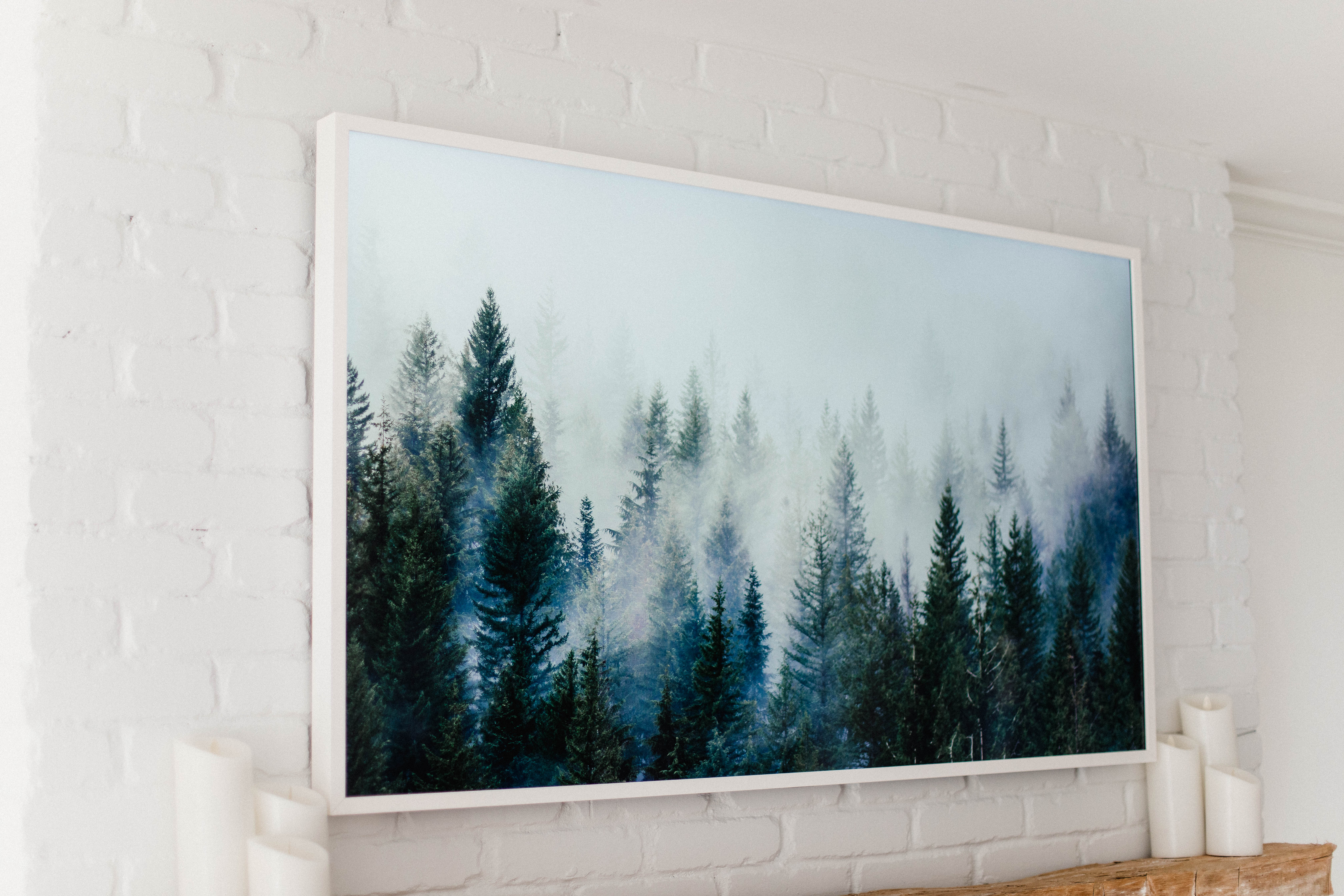 However….I was NOT pleased with how it looked when we got it up and running. It reminded me of one of those 90s photo frames that just glows…and I felt like it made the room LESS cozy. Samsung has an Art Store that you can subscribe to for a small monthly fee that has a variety of art options, or you have the option of uploading your own image. I played around with both of these options, as well as the art settings (you can adjust the brightness and tone of the image), SO MUCH and felt like nothing really made it look as I was initially expecting. I browsed the internet for a solution, and came across one blog post that really didn't help with my exact question – how the hell do I get it to ACTUALLY look like art and not glow so much? So I decided to go on a mission to figure out how to get the art work looking as close to actual artwork as possible!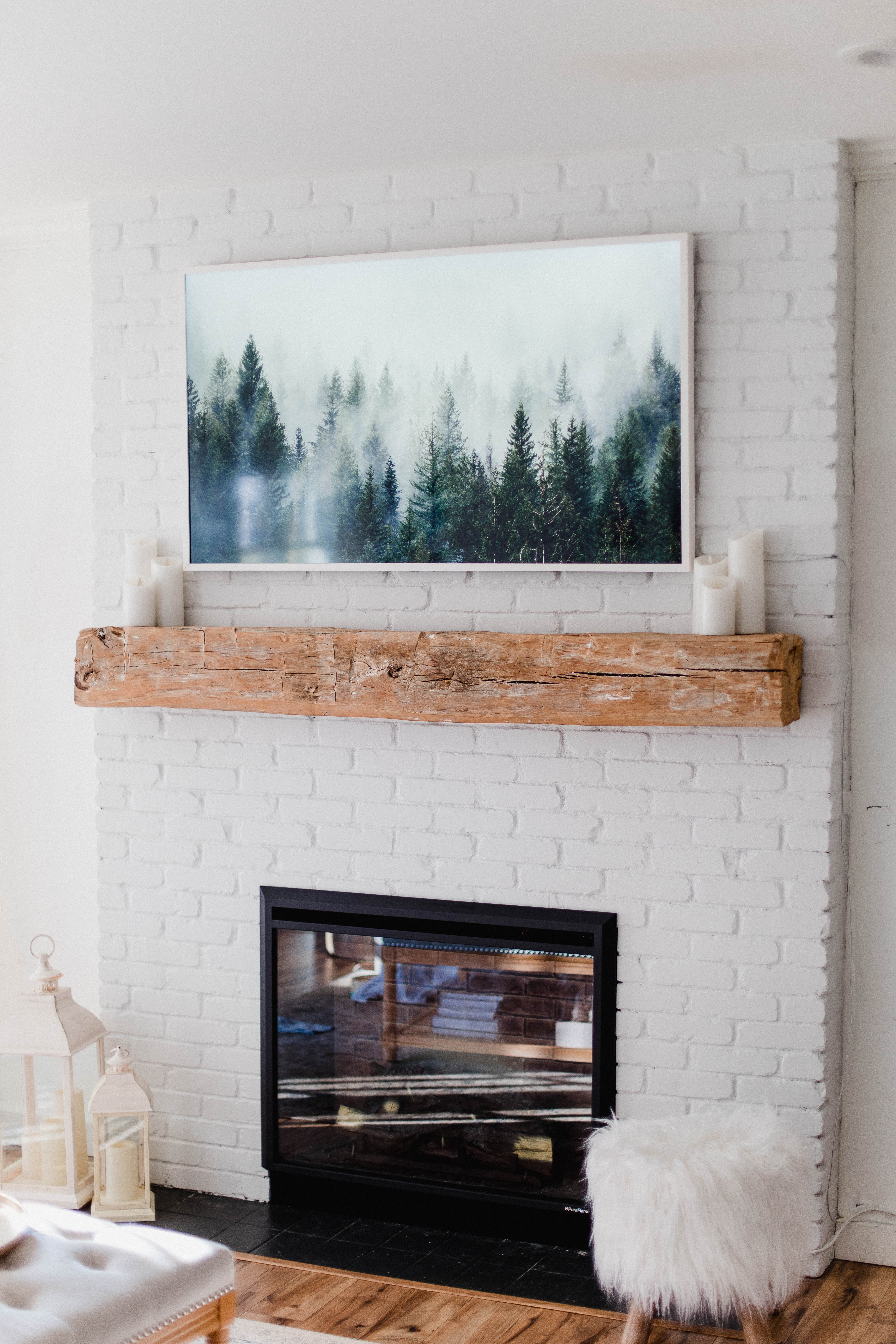 My first suggestion..don't bother with the Art Store. I did not love the selection and it was hard finding artwork that matched my home. I ended up canceling our subscription once I found a better way. It is FREE to upload your own photo though, which leads me to my next point.
I decided to purchase digital art that I found from THIS Etsy shop to see how it would look on the Samsung Frame TV. I found THIS wintery print that was exactly what I was looking for for the winter season. It was only a few bucks, so I figured even if it didn't work…it cost me next to nothing to try! I downloaded the image and then uploaded it to the Frame via the Smart Things app on my phone.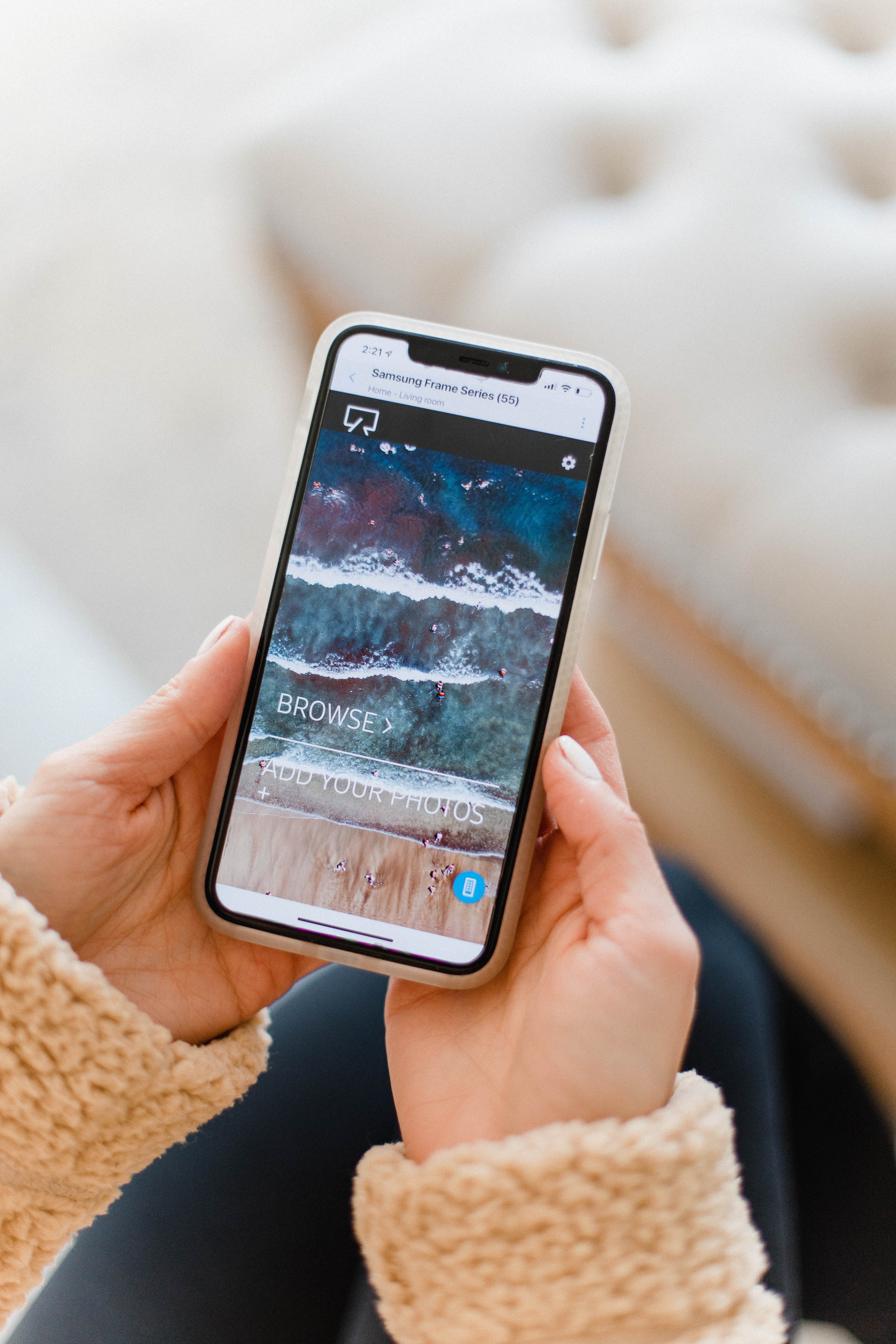 Because the Frame is a certain size, some images need to be resized to fit in the way you might want. I had to play around with cropping the image to get it to fit just right. The Frame gives you the option to have a mat around most images. Due to this image size, it would ONLY allow me to have a mat. Which was fine, but I really wanted the option to have NO mat and have the image fill the full screen. The Etsy shop owner of the image ended up resizing the image for me, to 3840×2160 pixels. When I re-uploaded the image at this size, it allowed me to have NO mat as well as several mat options!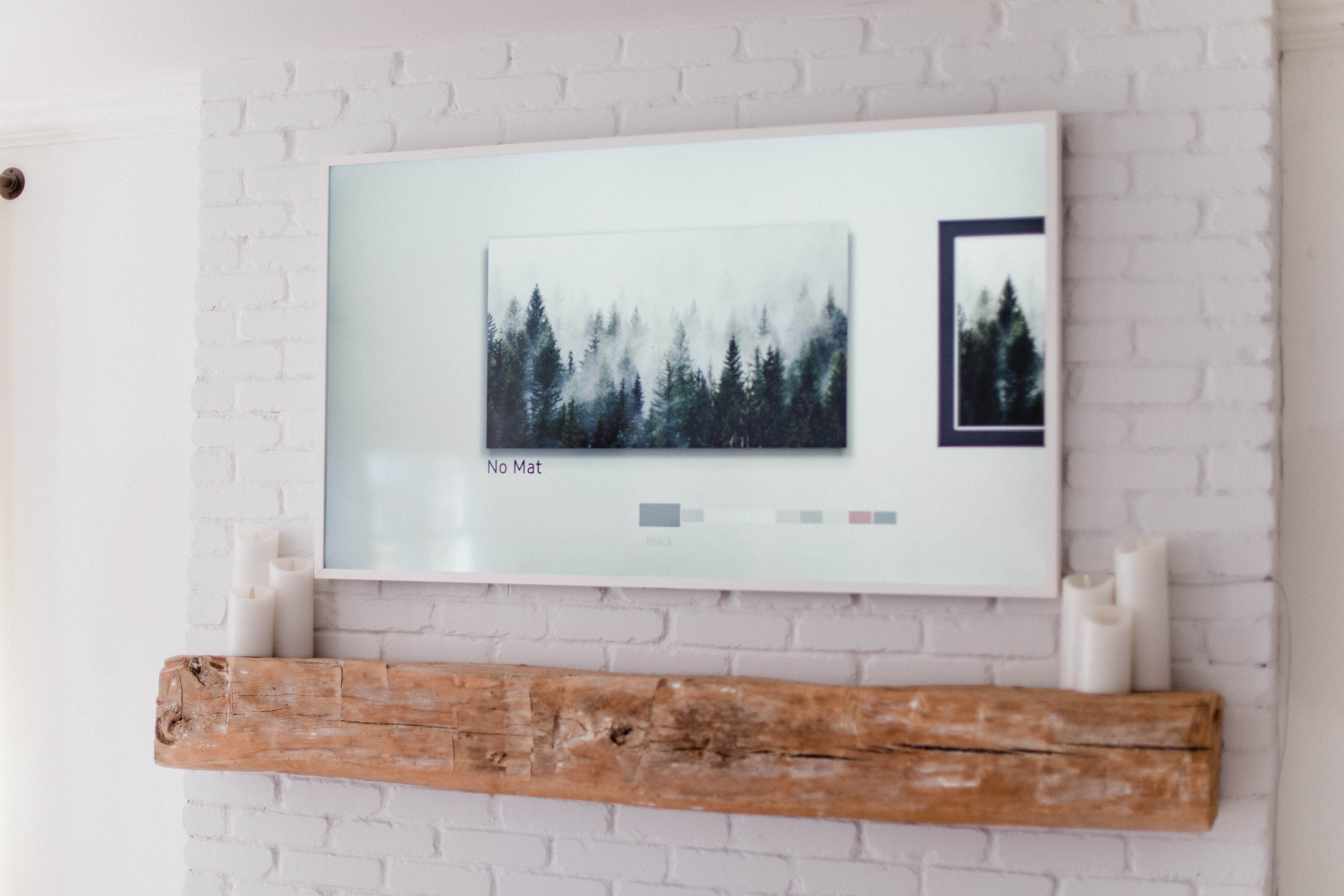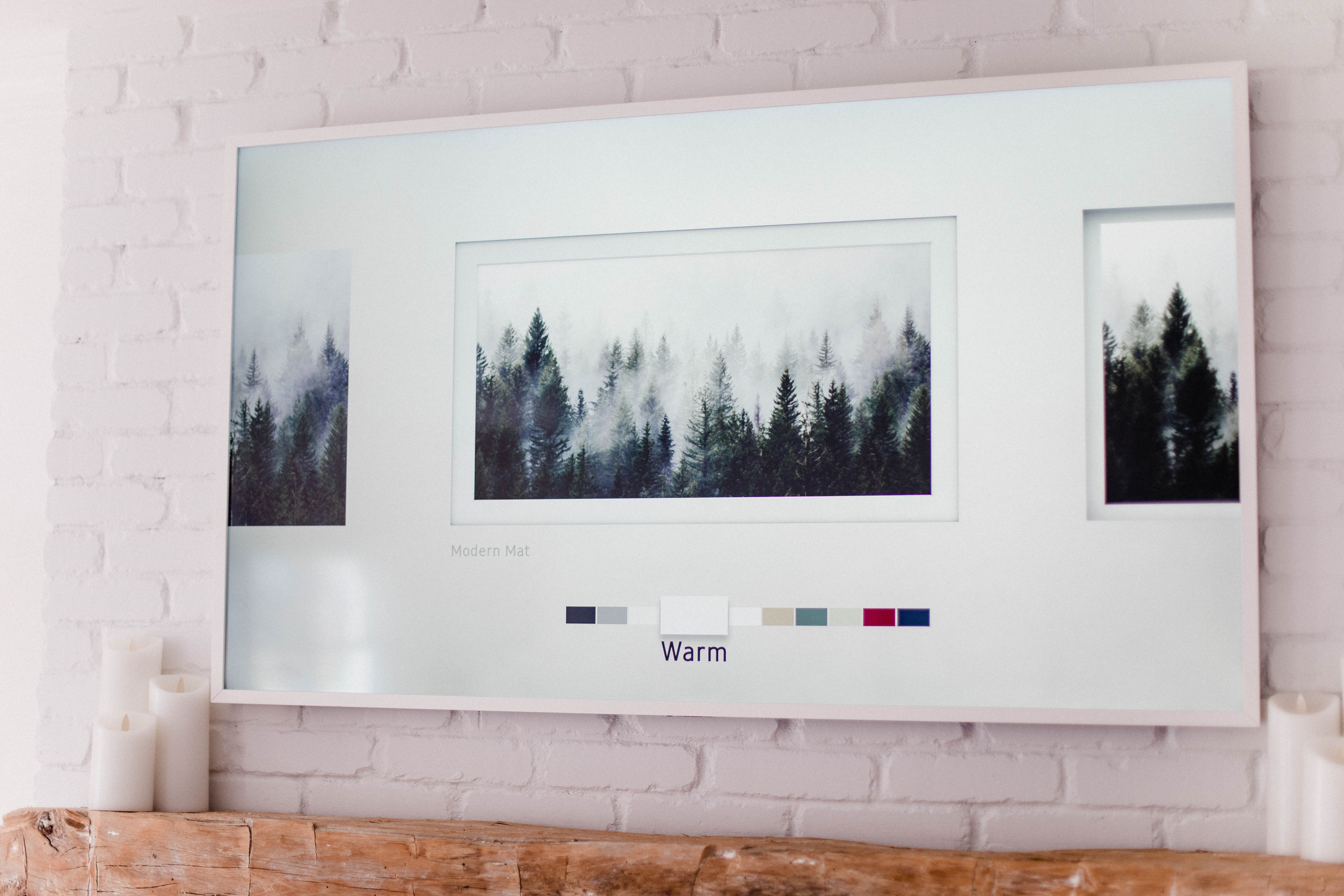 I played around with the brightness and tone on the screen (a control on the remote) to get it to look the least glowy as possible. I do think that having white in the image will make it glow a bit, but otherwise it looks so great!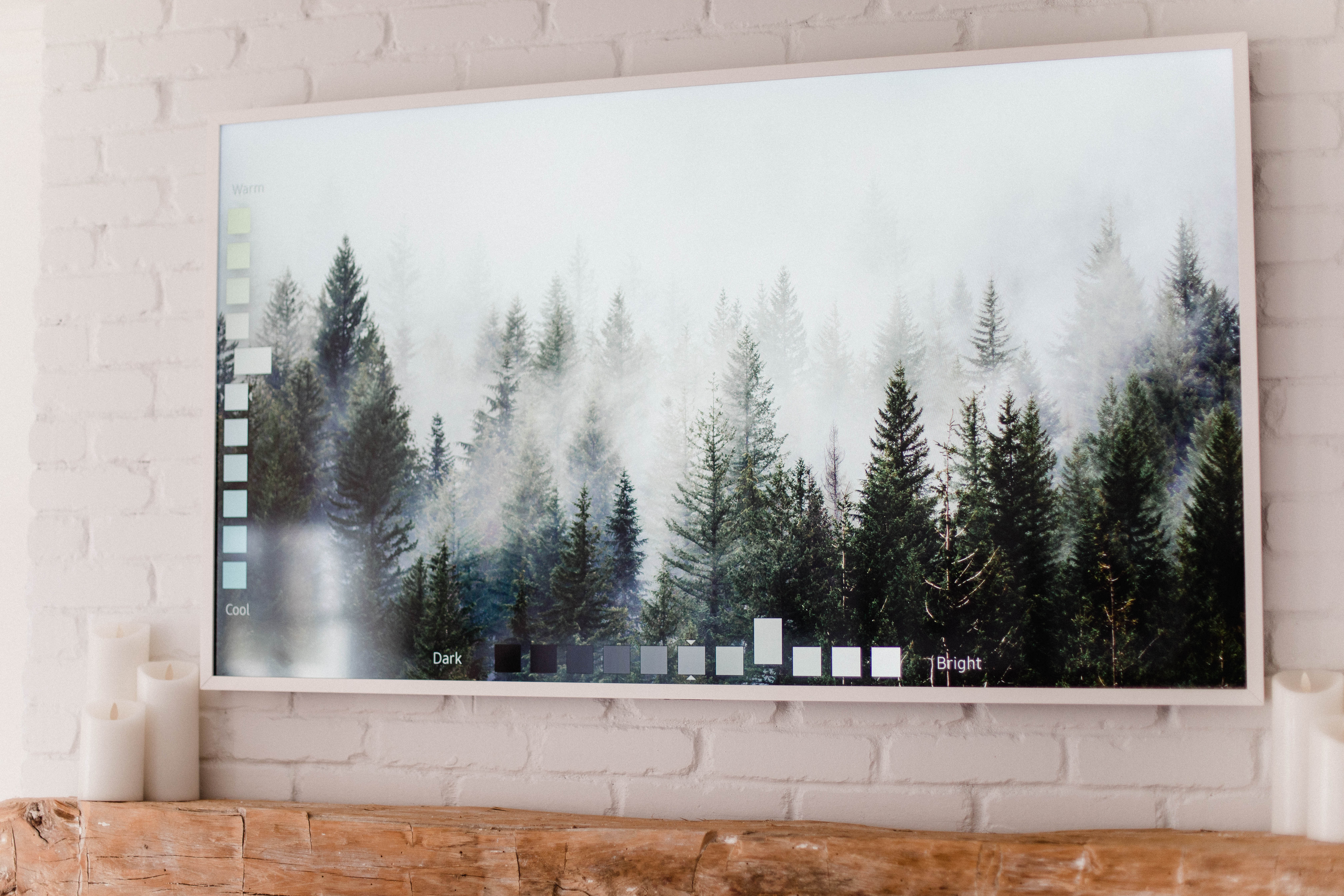 Going forward, I'll be purchasing digital art on Etsy that fits my style, and requesting the shop owner to change the size if possible. Not only is this a cheaper option, but it makes the Frame more personalized to YOU. I tried uploading family photos to the Frame as well, but again I would recommend having them resized so they don't look pixelated and blurry! Ours looked very glowy but I think it was because the background is so light.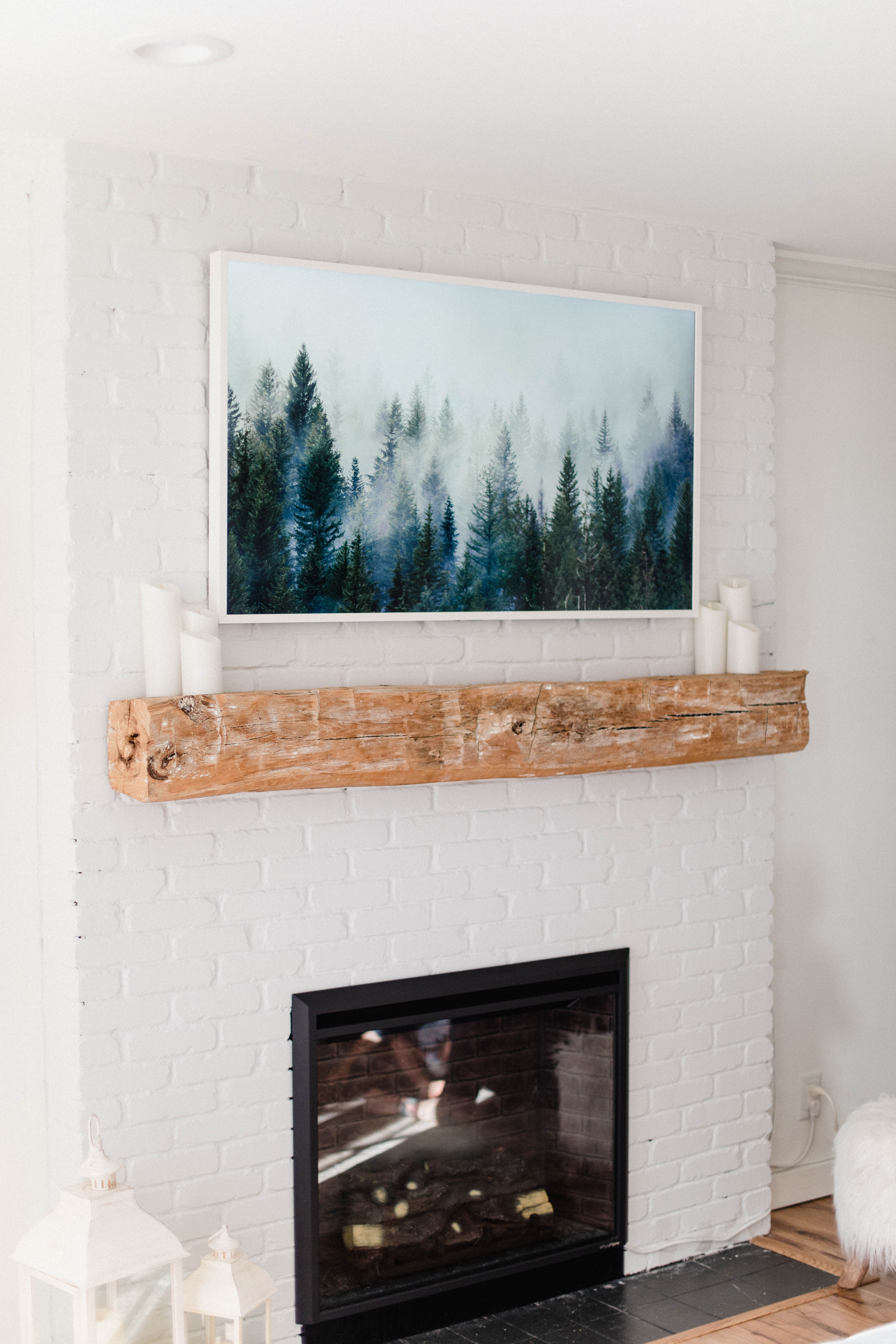 Other FAQs re: the Samsung Frame TV…
Will the image burn into the frame? No! The screen is specifically designed so this will not happen. The TV can detect motion, so it goes into standby mode when no one is in the room!
How do you hide the cables? The TV comes with a separate box that contains all of the TV component (this is also how the TV is able to hang flat on the wall). There is a very thin, clear wire that connects the box and the TV that is easily concealable. The best part is the box can be hidden! The remote does NOT need to be pointed at the box in order to control the TV. It runs on radio frequency, and as long as the signal can reach the box, it will work. We have our box hidden behind a corner cabinet in our living room! The wire runs along the brick and down the wall.
Can you switch out the frames? Yes, but they are pricey! We have a white frame, but they're available in black and various wood tones, too. They're about $200 each and snap right onto the TV.
I hope this helps if you have a Samsung Frame TV! There are a variety of digital artwork shops on Etsy and around the internet! 🙂

READ NOW, PIN LATER: