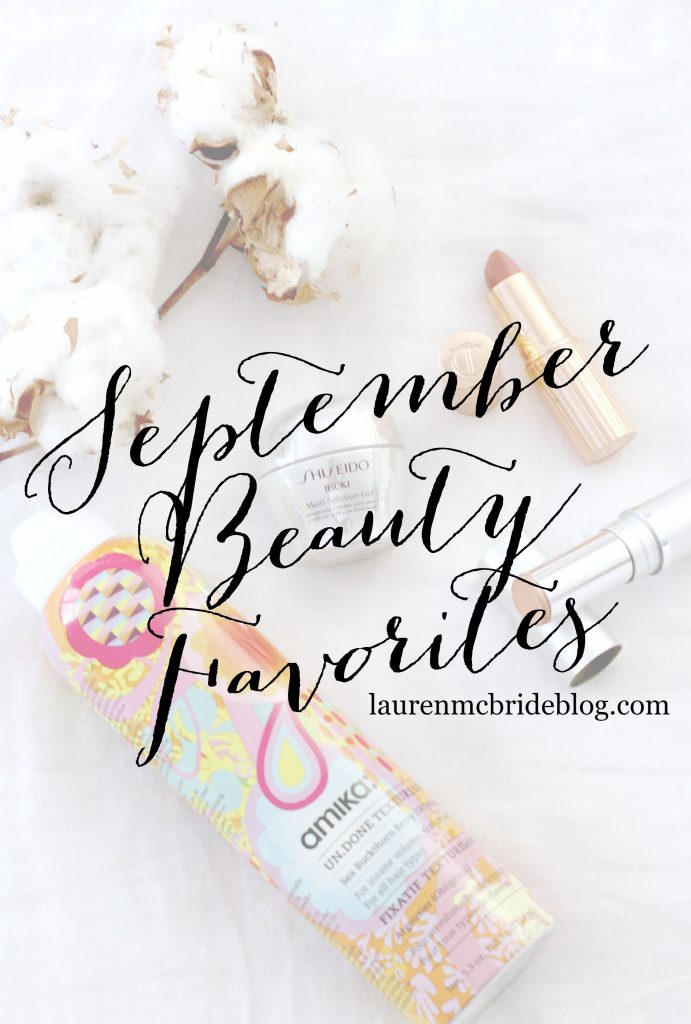 I've always been skeptical about skin and beauty products, so when I come across products that I'm really passionate about, I like to share them with you all! I introduced a few new products into my routine this past month, and they've earned a permanent spot. So today I'm sharing with you some of my September beauty favorites in hope that you'll check them out!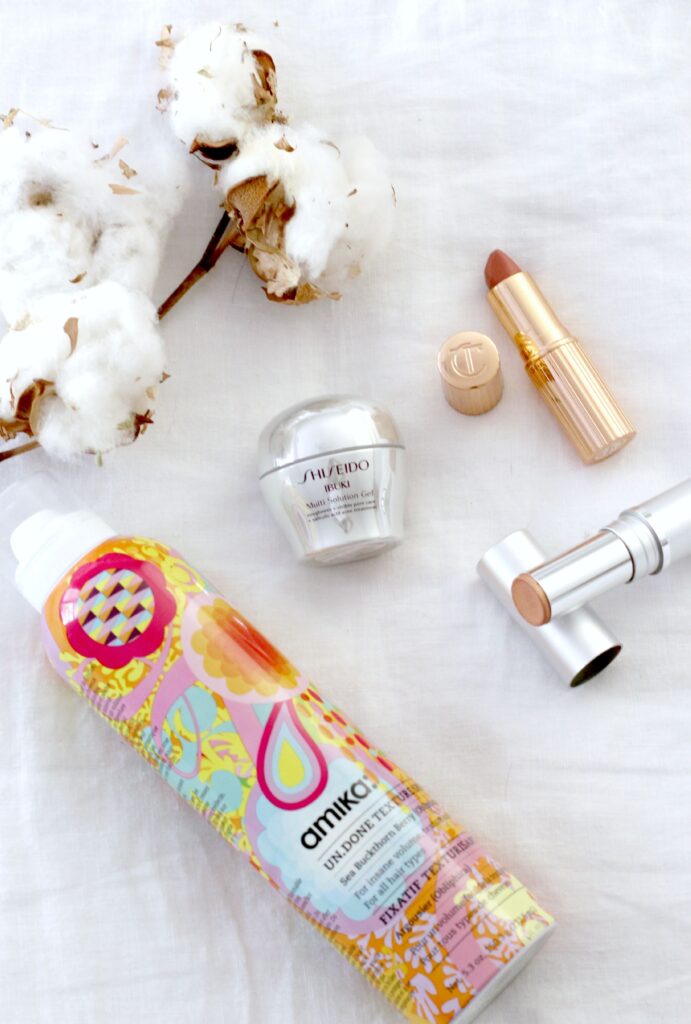 Charlotte Tillbury Matte Revolution Luminous Modern-Matte Lipstick in Miss Kensington: I've shared with you before that I'm not a lipstick lover. I've struggled finding the *perfect* color for a long time…my lips tend to pull this weird color with every lipstick I try. I recently discovered Charlotte Tilbury's line, and I'm in love. This lipstick in Miss Kensington is the PERFECT shade of light, nude-pink and I feel like I've finally found my color! I still layer it with a gloss because I just prefer the look of it, but overall this color is incredible.
Amika Obliphica Un.Done Texture Spray: Since having Landon, my hair has been…..weird. It's not as wavy as it once was, and it feels a lot more fine. Which is incredibly strange because it's never been like that. Normally I would enjoy this, but lately I feel like it's been falling flat, even when I attempt to tease it (which I admittedly am not good at).  After some research, I learned that I needed to "dirty" my hair up a bit to get some added volume and a better tease. I read about the Amika Un.Done Texture Spray, and decided to give it a shot. I'm so happy I did! A few quick sprays on my roots before some slight teasing, and I have great volume that lasts way longer than it does without. So I highly recommend to anyone having this problem!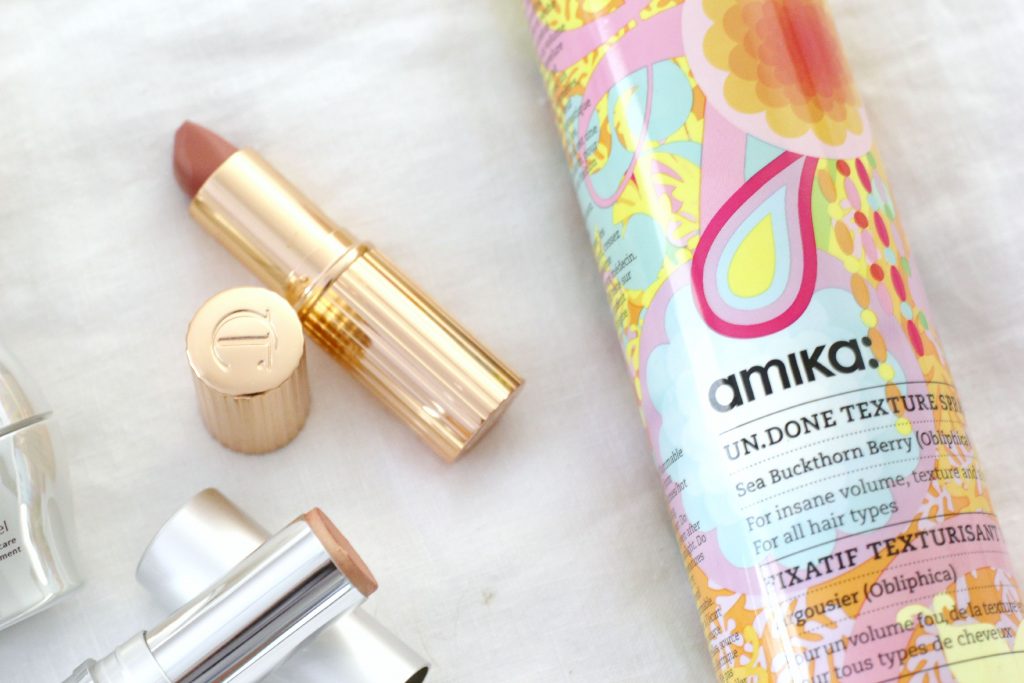 Au Naturale Organic Creme Highlighter Stick: I first wrote about this product here, and I still really love it. I love that it doesn't go on too shimmery and adds just the right amount of highlight to my cheek bones without looking overdone. A little goes a long way, which means this stick will last quite some time!
Shiseido Ibuki Multi Solution Gel: My skin has been awful this pregnancy. I'm talking AWFUL. I have these red patches underneath my nose and even the most expensive skincare products haven't seemed to touch them. Shiseido was kind enough to send me a sample of their Ibuki Multi Solution Gel and oh my gosshhhhhhh is it amazing. Red patches? GONE. Acne? GONE. And I've been using it for less than a week. It's THAT good that I needed to include it in here. It also minimizes the appearance of large pores and smoothes out roughness on your skin. I swear, my skin is baby-soft. It takes a LOT for me to really love a skin care product, and I'm so happy to have tried this out! A little goes a long way, so I feel the $38 price tag is totally worth the investment. I only need a little dab and it covers my entire face. You have to check it out!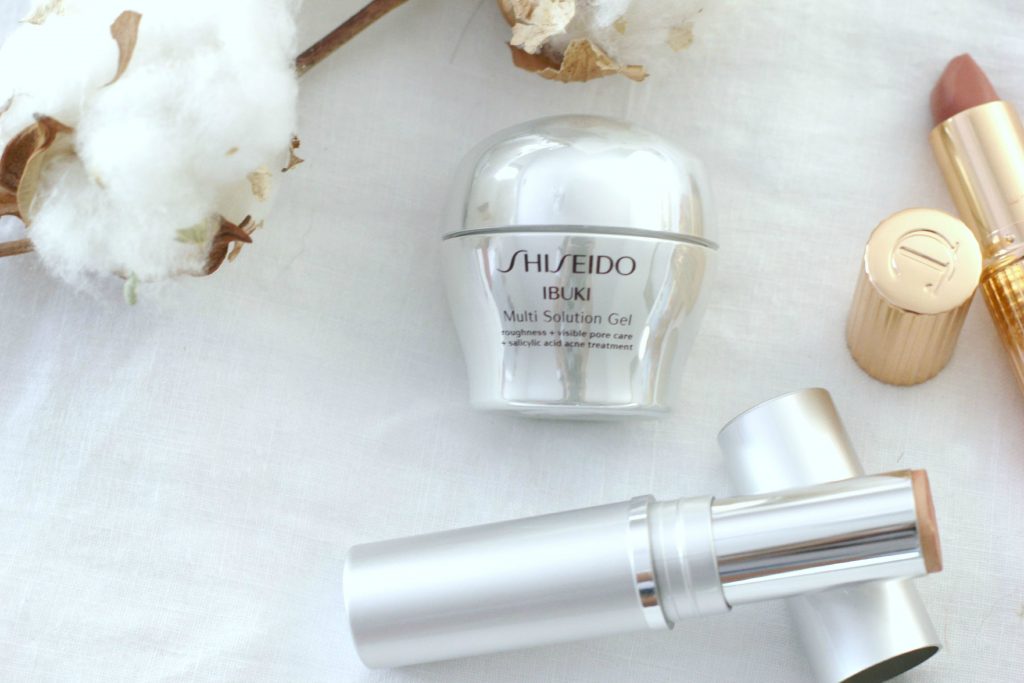 And now I have a special treat for you…ONE lucky lady will win the Shiseido Ikubi Multi Solution Gel to try out for herself! The giveaway will run from September 10th at midnight through September 17th at midnight and is available to US only. Enter via the Rafflecopter below! Good luck!