Thank you to Ecoscraps and Lowe's for sponsoring today's post!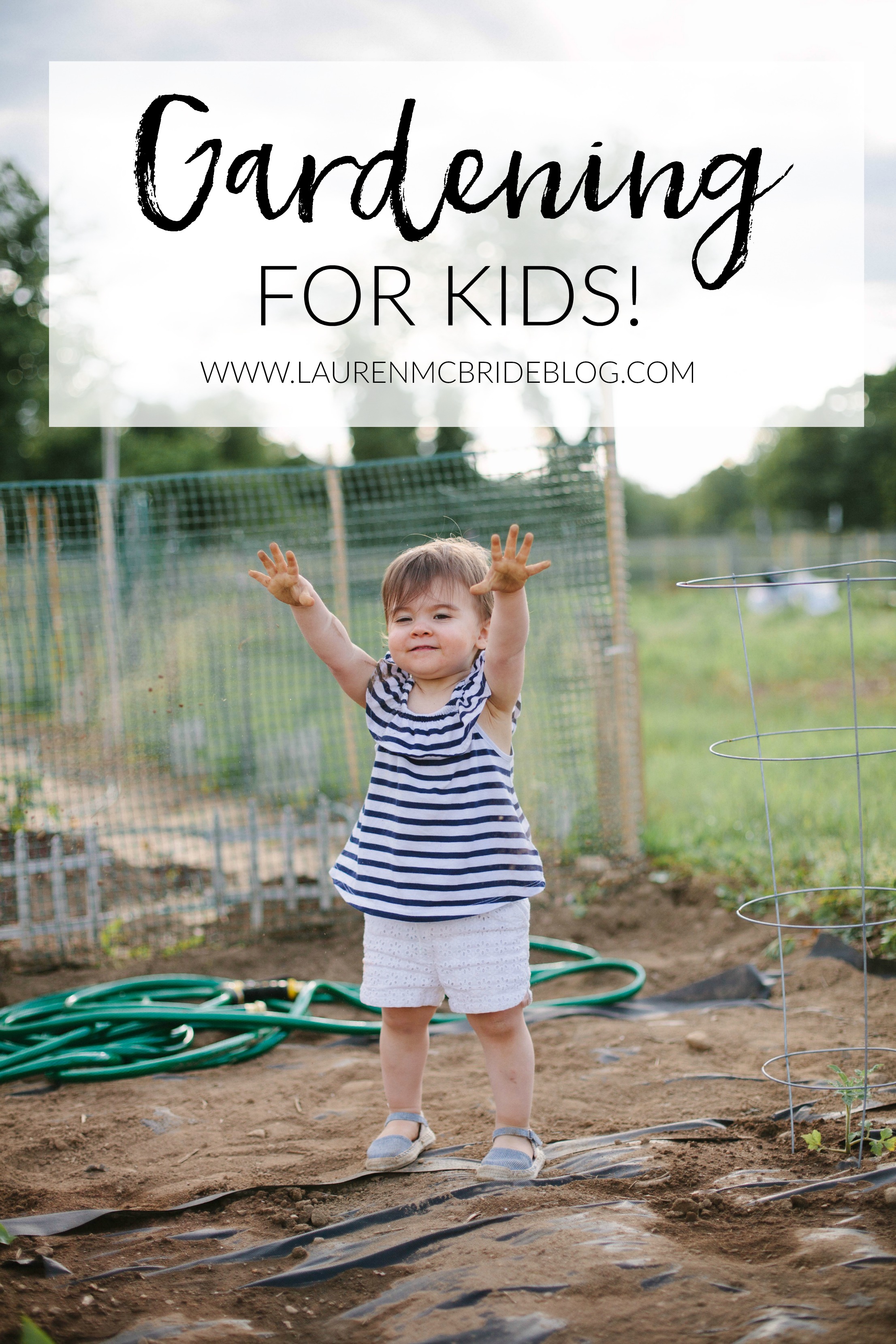 One of our goals as a family this year was to plant and grow a successful garden. My husband and I have been discussing this for years, and I also think it's a really great family activity to do with the kids. Today I'm sharing with you tips on Gardening For Kids and how to get them involved! If you've been following along on Instagram, you're super familiar with #Plotgate. 😉 I'll go more into detail about that debacle below!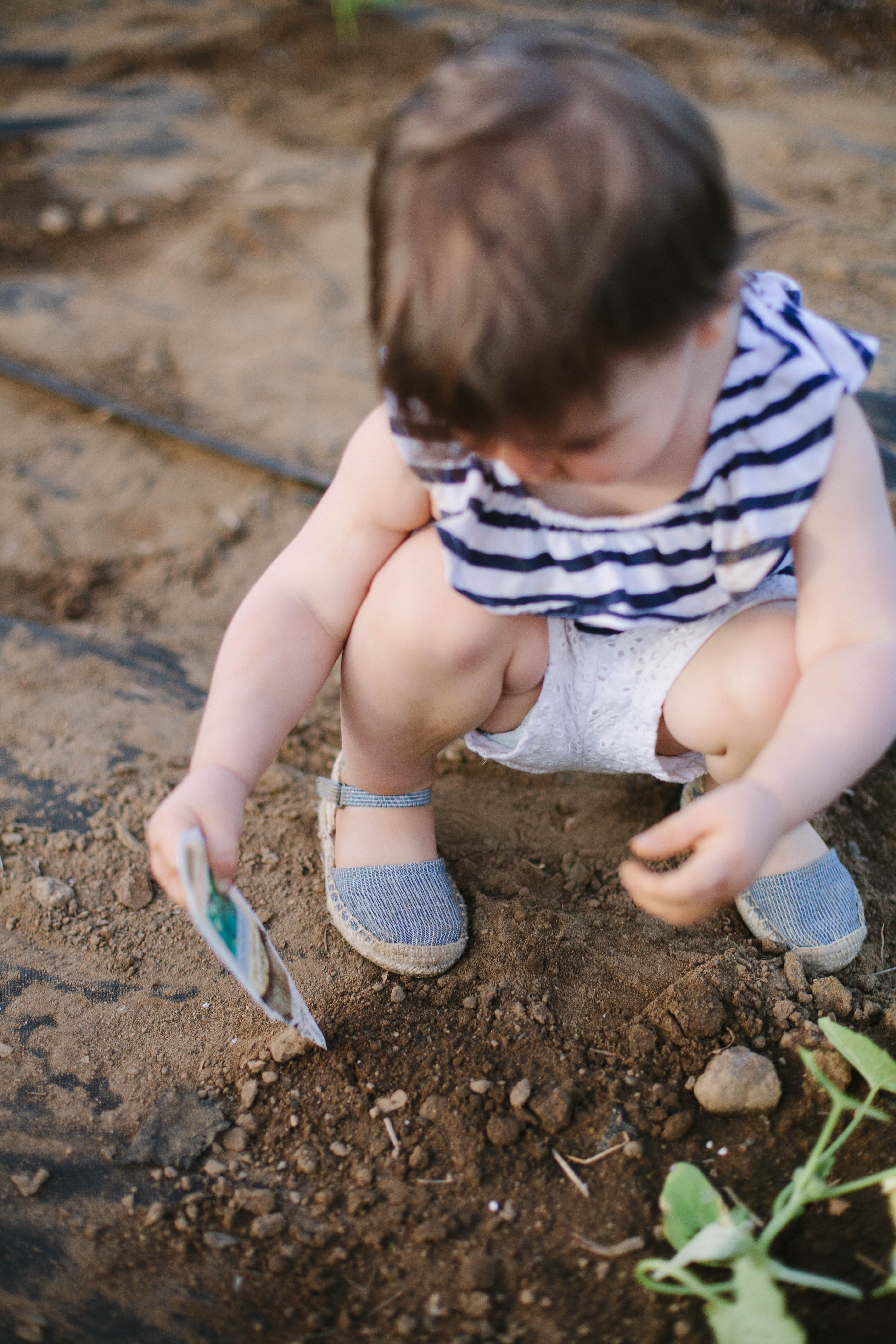 Gardening For Kids
Since we're new at this whole thing, we decided to take advantage of our town's community gardens instead of attempting one at home. Here's the difference between a community garden and starting a home garden:
Community garden: There are numerous plots you can purchase (ours was $25 for an organic plot), which are already drawn out and tilled prior to planting season. There's spigots and gardening sheds near each area of plots with access to water and tools. Weeding is minimal, and the plots measure about 20'x20′ and are open to full sun. Basically, everything is done for us.
Home garden: We would need to figure out the best location in our yard that would allow full sun for the plants, and then create raised beds in that location. This would involve building the actual bed from wood, filling it with soil, and then going about our planting. Pretty simple, but obviously MUCH more work on our part.
You can see the appeal behind the community garden, right? It's a great option for us at this time! If we succeed, we plan on starting one at home next year. Then #plotgate happened and nearly ruined our plans…in short, some crazy lady stole our garden plot and claimed it as her own. She ended up having to dig up her plants and move to her original plot…which left us with a nicely tilled plot 🙂 Victory!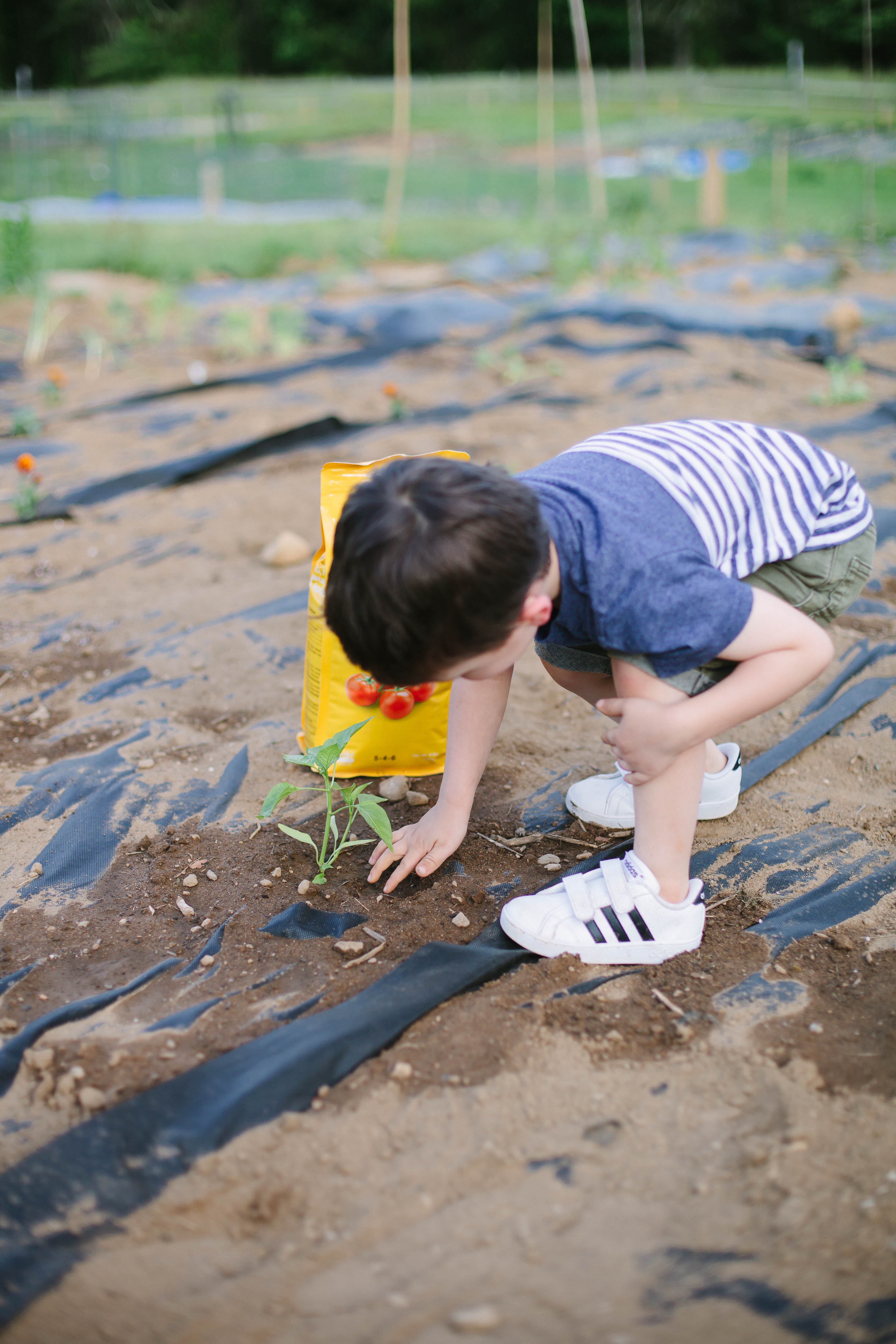 I really wanted to teach the kids (more so Landon) about caring for and growing our own food. I feel there's a huge benefit in doing so, and also teaches him confidence in his work! Here's how we got them (really, just him…Noelle just kind of made a mess 😉 ) involved!
Tilling the ground. We didn't really need to till much, but we used a rake to loosen up the soil a bit to make planting easier. We got Landon his own little rake and shovel so he could help out! He actually loved doing this, and surprisingly was a big help! Noelle enjoyed it too…or at least just playing in the dirt. 🙂
Securing the landscaping fabric. Again, we are new to this. But we knew we wanted to place landscaping fabric down to avoid potential weeds from sprouting. We did all of this on a whim and we were a little rushed (it was going to pour all week and the crazy plot lady who initially stole our plot backed us up a WEEK!), so our best idea was to simply throw dirt on top of the landscaping fabric to hold it down (we also couldn't find enough rocks!). We instructed Landon to scoop some dirt with his shovel and dump it on the fabric. Totally worked!
Digging holes. Once we secured the fabric down, we planned out our plant placement. Then it was as simple as cutting holes in the fabric (my job, of course) and digging a hole for the plant. Landon helped me with his little shovel, and he really stayed zoned in on the job (which is a miracle for a 4 year old)
Planting! After we dug each hole, we would drop a plant in place and add soil back in. My job was to remove the plants from their pots and loosen up the roots, and Landon's job was to place the plant in it's hole. Teamwork! He powered through all 24+ plants without even complaining once. Even our plot neighbors complimented how focused he was.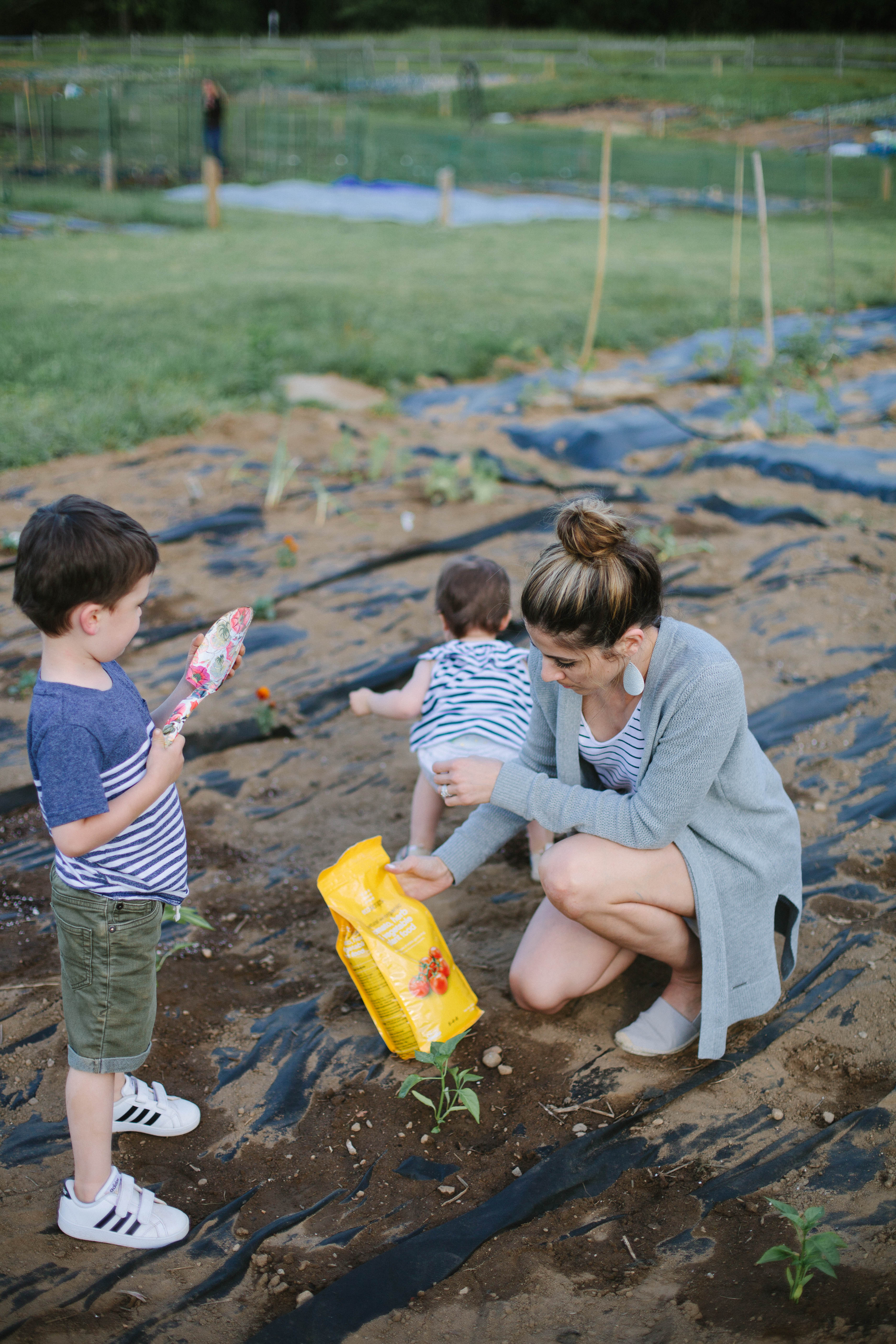 Watering the plants. Landon LOVED this part. We bought a hose and a nozzle specifically to hook up to the community garden spigot, and he enjoyed spraying all the plants (with help from me, of course!).
It took us a total of 3 hours to get everything in the ground and watered, and I was so proud of my boy for sticking with me through it! He truly was a help with every step in the process, and I'm so excited to reap the rewards of our hard work once the plants are ready for picking! I think he'll enjoy driving down and putting the vegetables in our market bag, especially because we are growing two of his favorites…cucumbers and peppers!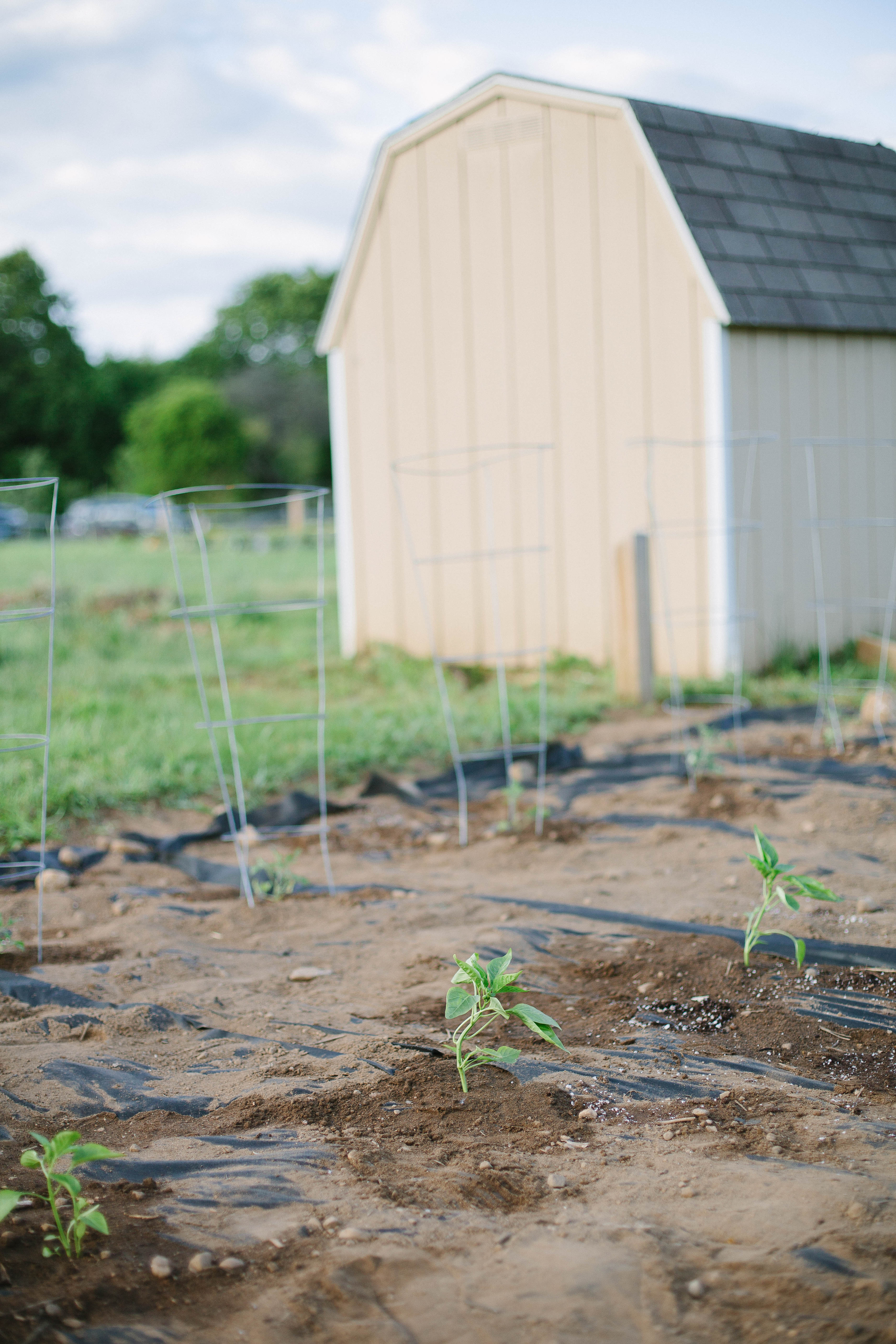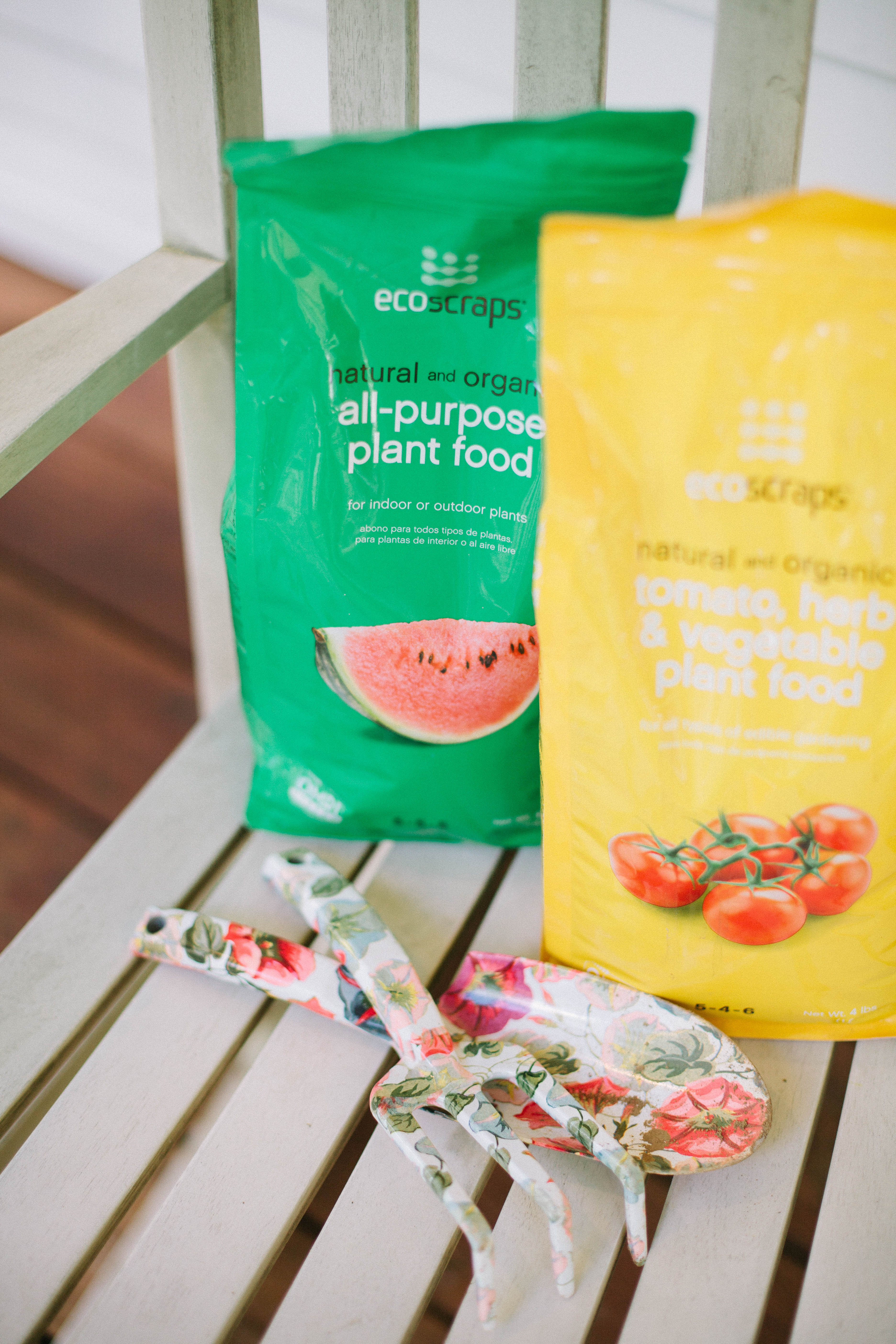 Because our garden is organic, we wanted to choose the best plants and products we could for them to grow. Ecoscraps and Lowe's were kind enough to send us their organic plant food to help the process! Ecoscraps turns "bad food" (or, food waste) into "good food" by composting it into natural, organic, and sustainable garden soil and plant food! You can watch a little about the process right here. We followed the instructions as we were planting to help our garden grow. I love that it's all natural, which was REALLY important to me with our garden. Ecoscraps soils and plant foods make our food more nutritious and delicious. It's also sold at your local Lowe's Home Improvement store! We'll keep you updated on our process via my Instagram stories!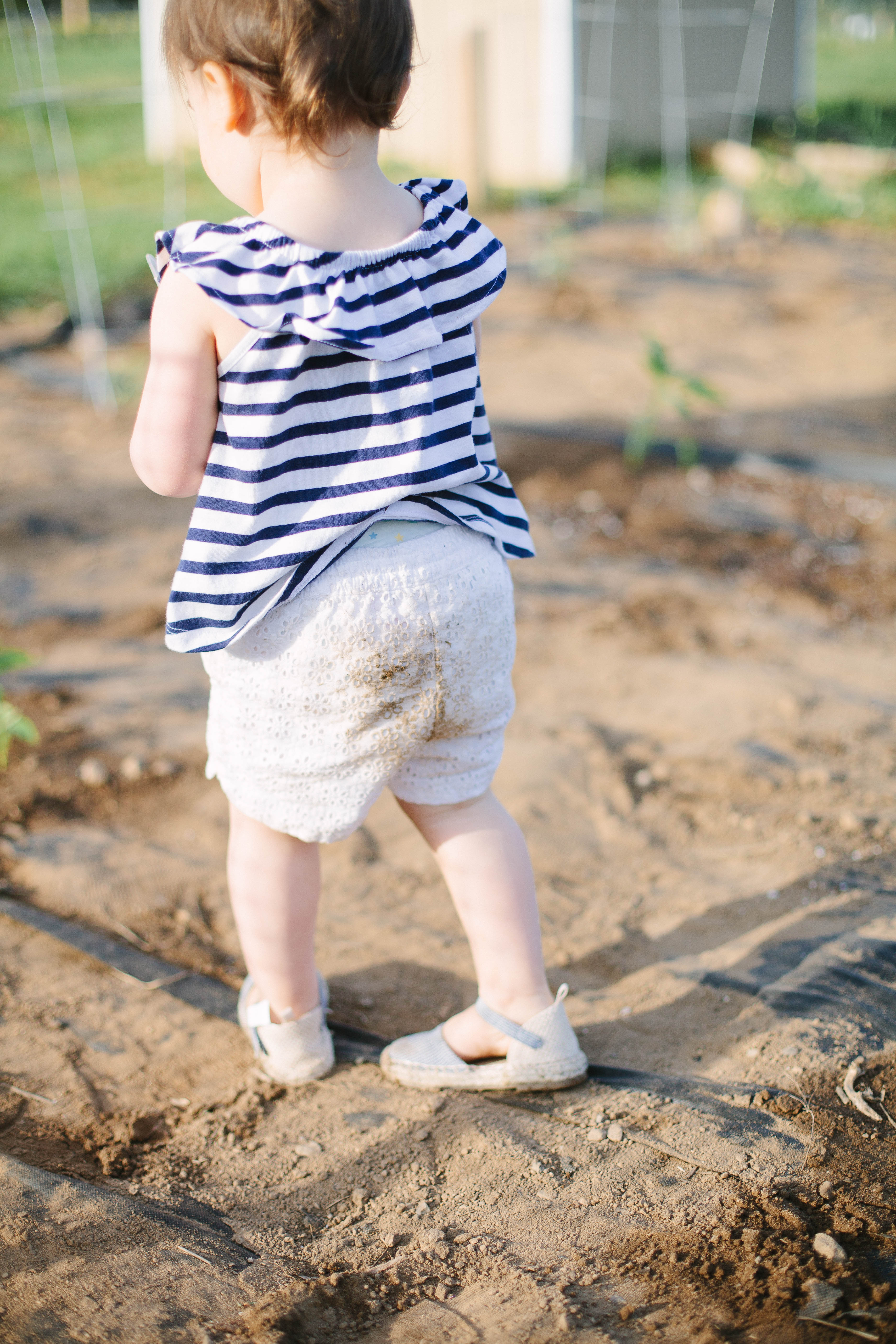 Ecoscraps is kind enough to giveaway a $50 gift card to Lowe's so you can purchase your own Ecoscraps products! You can enter via the Rafflecopter below (if on mobile, click "a Rafflecopter Giveaway).