Thank you to Nordstrom for sponsoring today's post!
I've had a ton of messages and emails come in about what hair products I'm currently using, and I promised I would share them with you! Today I'm focusing on my favorite Summer Hair Products, including some styling tools I use on a daily basis. These products will help cut down on the frizz in the summertime! Nordstrom is my go-to for purchasing most of my hair products because of their FREE shipping and returns. I have minimal time to get to a store, and dragging my two kids into a BEAUTY store at that is not my idea of fun (did that one time, almost knocked down an entire display of palettes!). 😉
I don't typically blow dry my hair, mainly out of laziness. I got used to showering at night when I became a nurse (no one wants to get into bed after a long shift or being in dirty homes without showering first!), so I let my hair air dry and then style it when I wake up. On the days I DO blow dry my hair, I'm using the T3 Featherweight Luxe 2i Hair Dryer. I've actually had this for a few years, and it's fantastic. It dries my hair in record speed, and it never feels parched.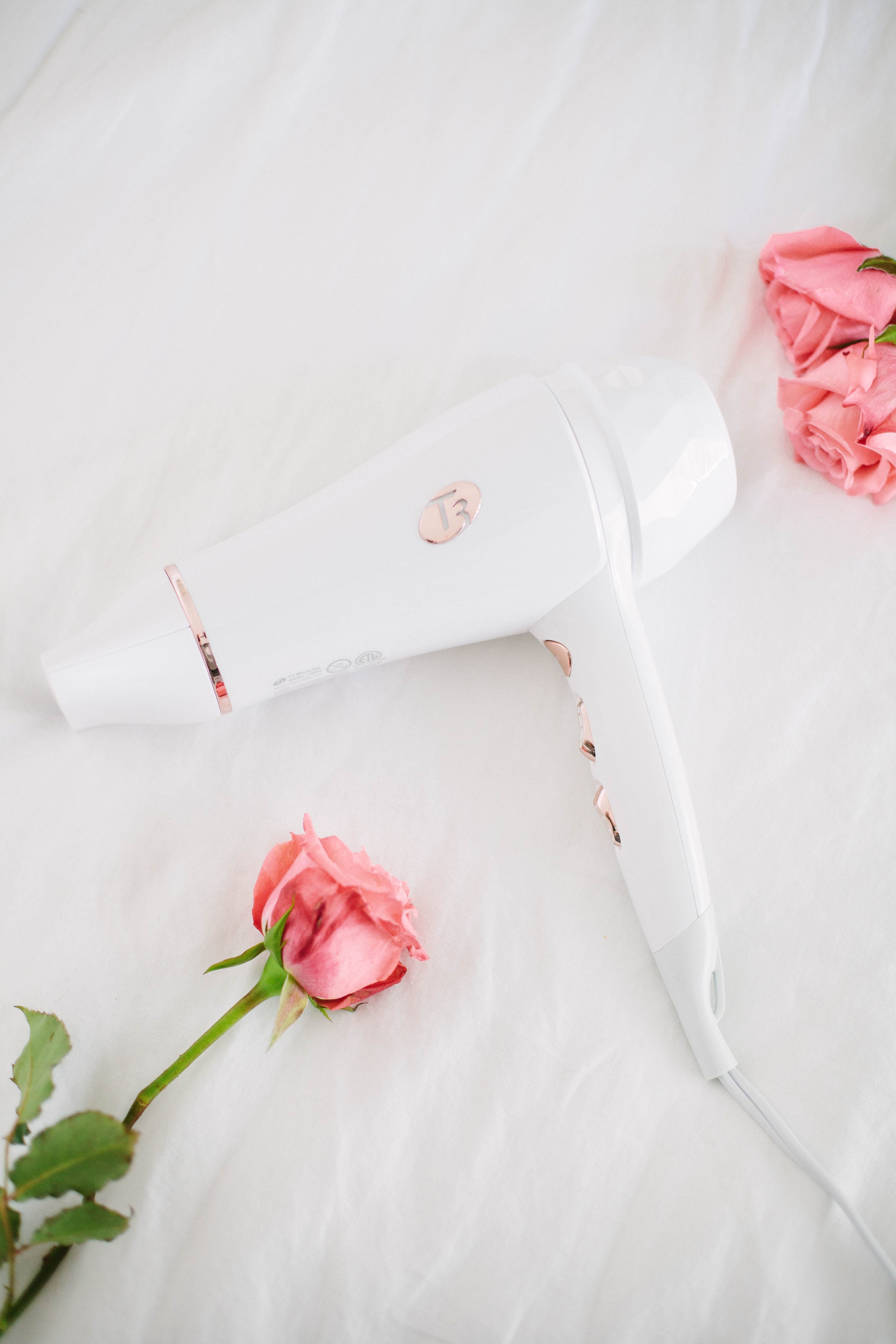 Another product I use that I swear helps cut down on the frizz factor is an Aquis Hair Turban. I started using this last fall, and love it. It protects your hair and cuts drying time in half! It absorbs moisture way better than a normal towel, which causes less frizz!
For styling, I've been loving the T3 Micro Whirl Trio lately! I featured this over on my Instagram stories and told you guys I'd give you an honest review. I know the price point is a little shocking, but you're technically getting 3 styling tools in one! I've been using the smallest, non-tapered barrel for my latest curls and overall I prefer it to my old curling wand. The cooling tip has helped me avoid burning my shoulder (happened ALL the time with my last wand!), and I like that I can control the heat setting (also wasn't able to do that!).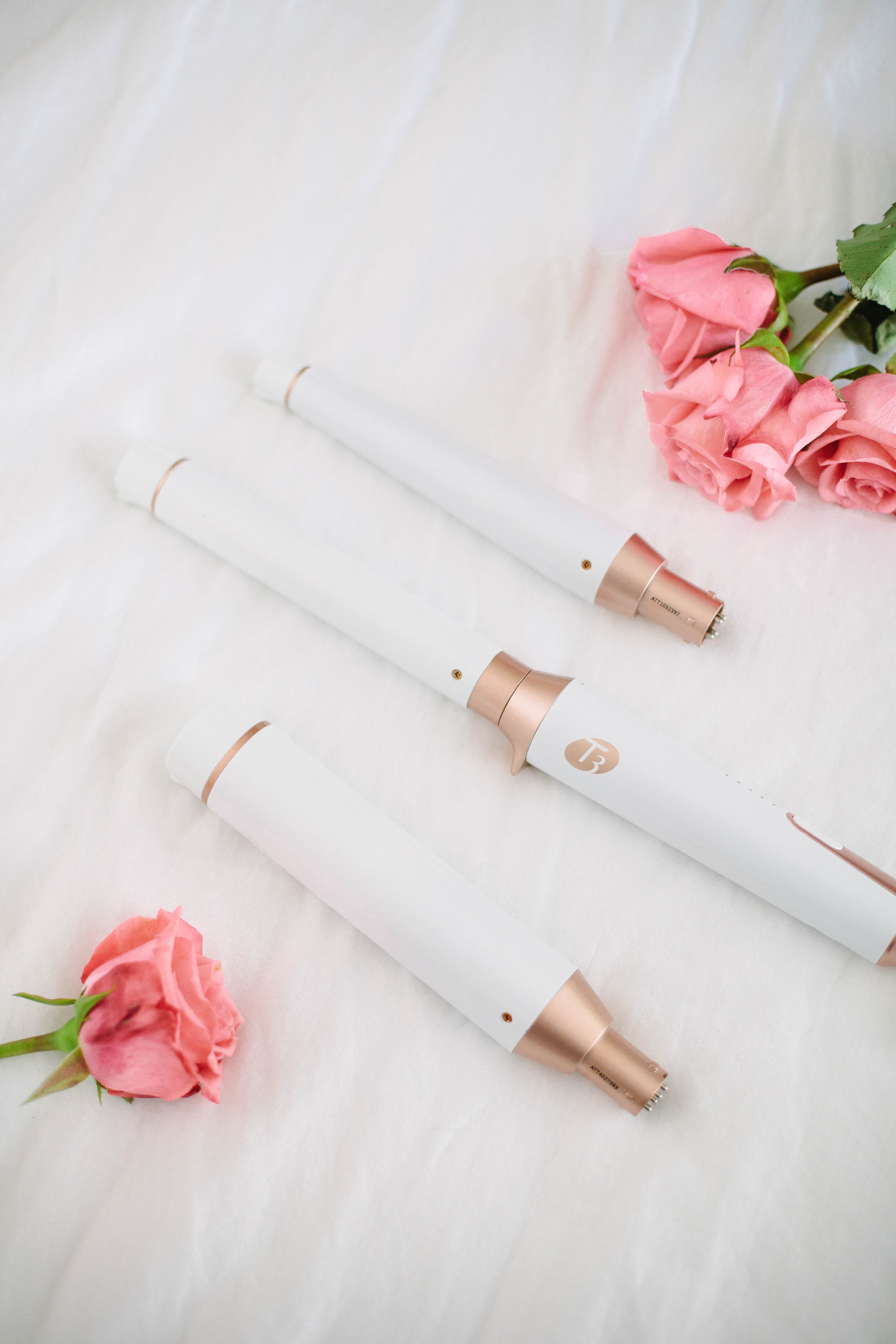 The smallest barrel (and also the tapered barrel!) help give me the beachy waves I love in the summertime. My biggest tip for achieving beachy waves is to curl AWAY from your face and to leave a good 1-2 inches out of the barrel. To see how I do it, watch my latest hair styling video here! In the fall and winter, I'll most likely switch to the larger barrel for a less beachy look. I like that the barrels are interchangeable and I get 3 styling tools in one!
If that's not enough to convince you to buy it, let me just share a little of my personal experience with the T3 brand. I've owned my T3 straightener since 2010. LITERALLY, 2010. And it's still in top working condition. That's 7 years, guys! I've never had a styling tool last me that long. Their newest version is the T3 SinglePass Luxe Straightening and Styling Iron if you're in need of a great straightener. I've recommended this brand for years and fully stand by it. It takes a lot for me to say that! I've never, ever had an issue with their products, so they're worth every penny!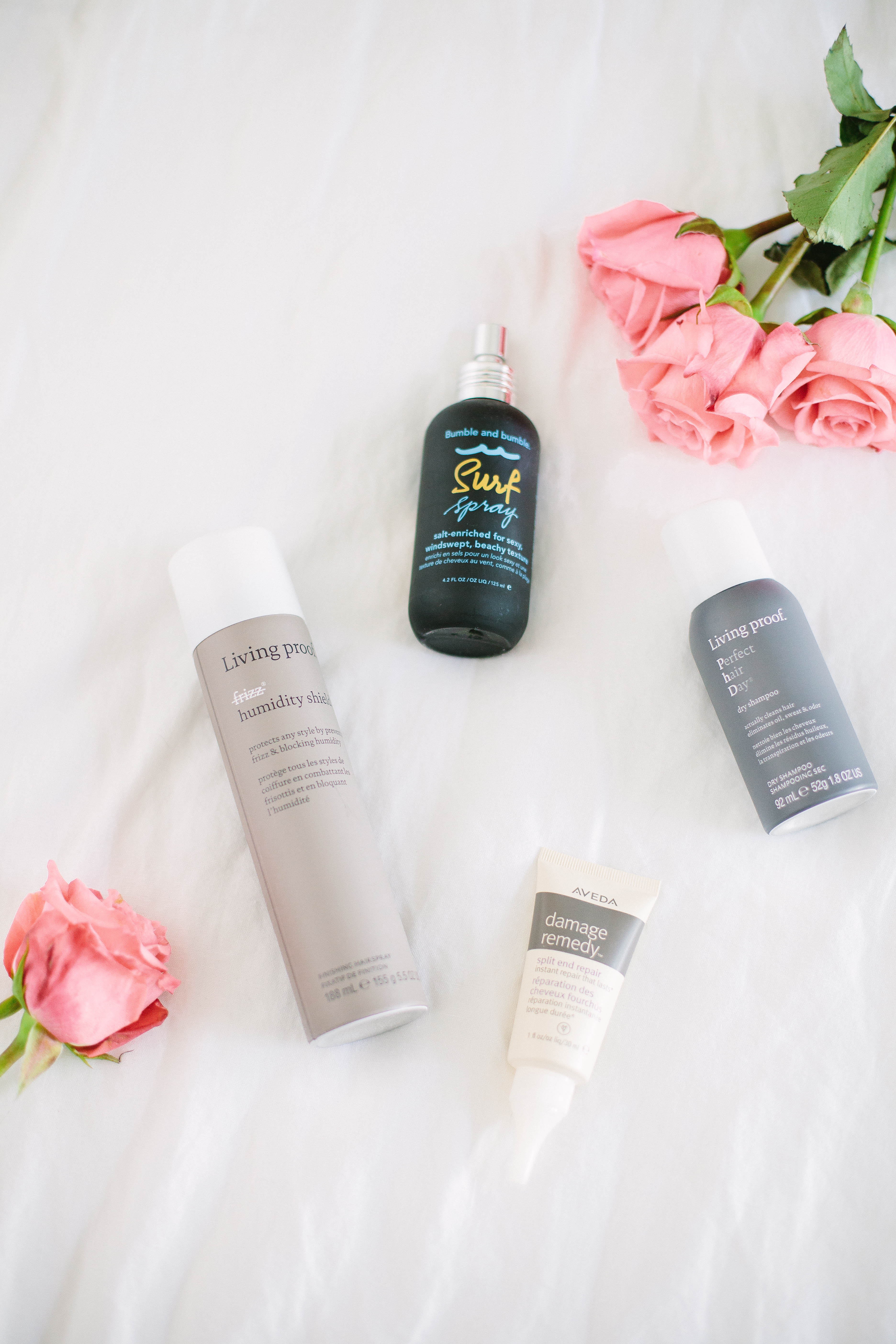 I don't use a ton of styling products, but I'll share my go-to when I do! Aveda's Damage Remedy Split End Repair is phenomenal on split ends. I'll run a little of this through my ends once my hair is dry. For hairspray, I love all of the Living Proof varieties. I usually reach for their Flex Shaping Spray when I want a flexible hold, but otherwise I'm grabbing their No Frizz Humidity Shield for the summer time. It cuts down on frizz and protects against humidity, all while giving a weightless hold (so key for me).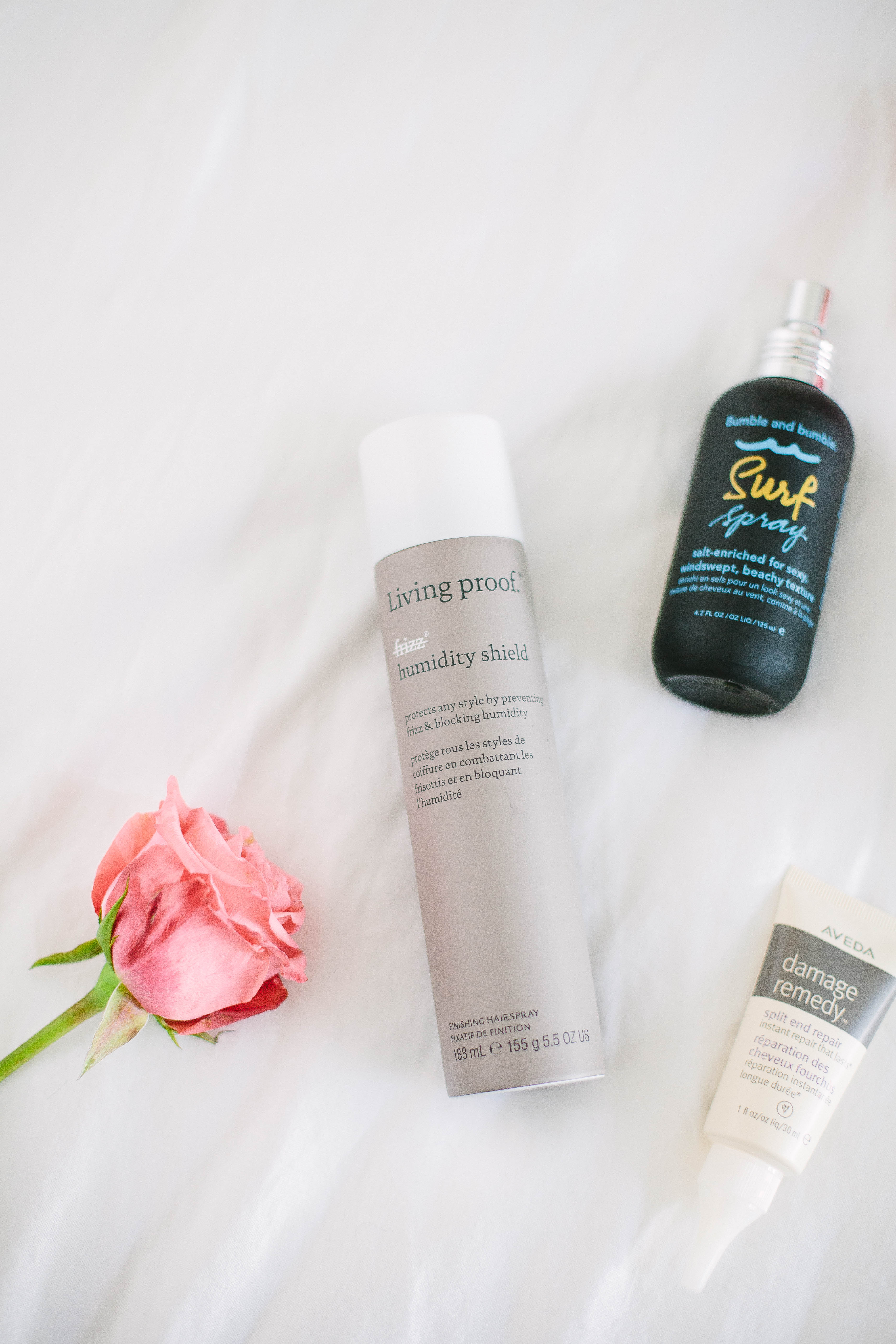 On days I want a beachier look, I'll spray in a little of bumble and bumble's Surf Spray. I LOVE sea salt sprays in the summertime because they really give you that ever so loved beach-hair! I also like to use this on days I don't feel like washing my hair for a little texture and style.
Speaking of NOT washing my hair, I recently switched over to Living Proof's Dry Shampoo at the recommendation of some of you! I'm actually impressed at how CLEAN it makes my hair feel (something my other dry shampoos did not do), which is great for oily hair in the summer!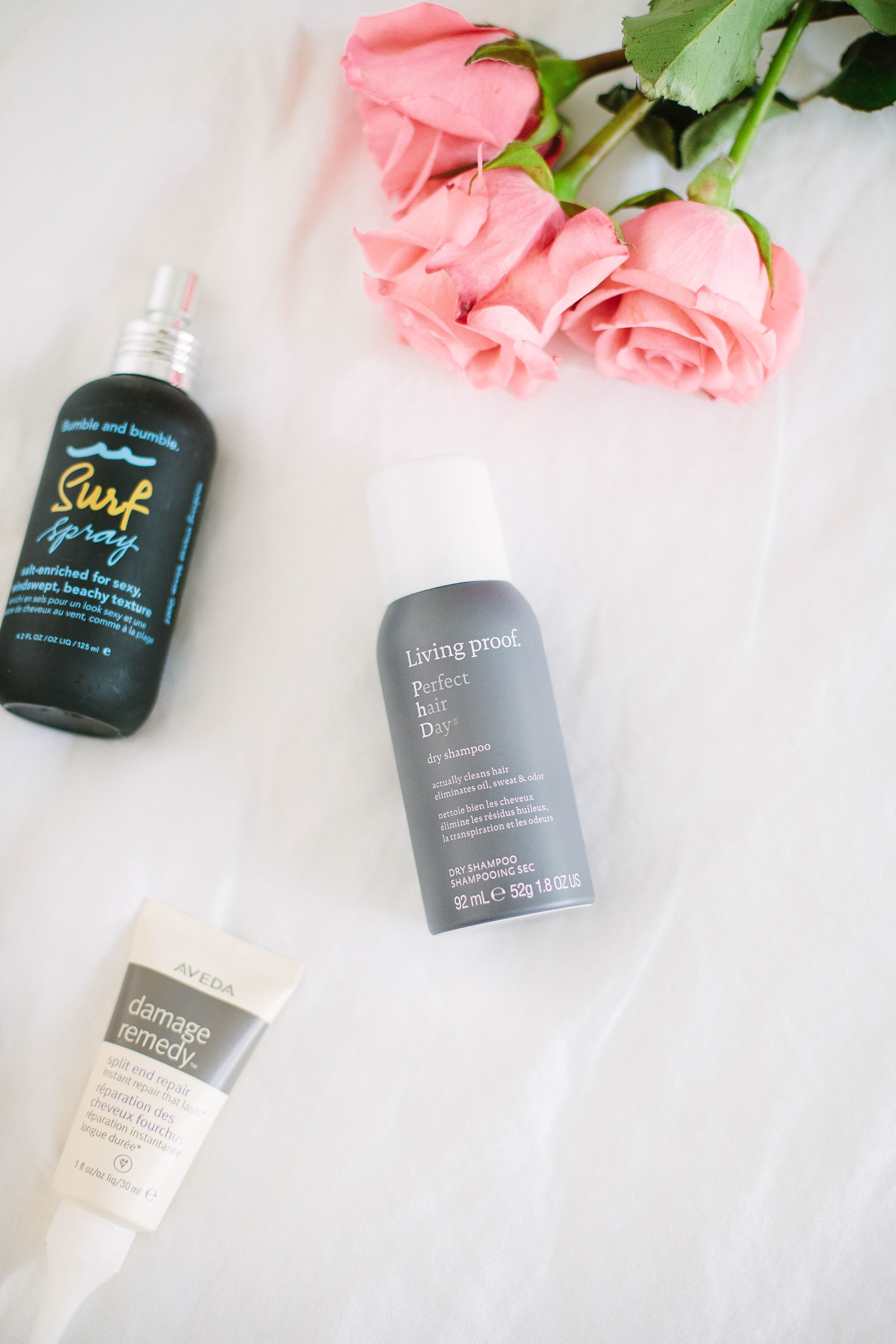 All of these products will help you combat heat and humidity all season long! You can find all of my favorite summer haircare products available at Nordstrom!
SHOP ALL MY SUMMER HAIR PRODUCTS BELOW