I popped into Fresh Market the other day and my beloved Pumpkin Spice coffee blend was on display. I came to the sad realization that the end of summer will be here before we know it 🙁 As much as I love fall, I hate when summer is over! But since it's inevitable, I plan my wardrobe accordingly. There are a few basic wardrobe items that are key for a Transitional Fall Wardrobe, and I'm sharing those with you today in case you're mind is headed there! These items will carry you over from summer to fall and are great investment pieces (without costing your whole budget) for any closet.
Transitional Fall Wardrobe
JOGGER PANTS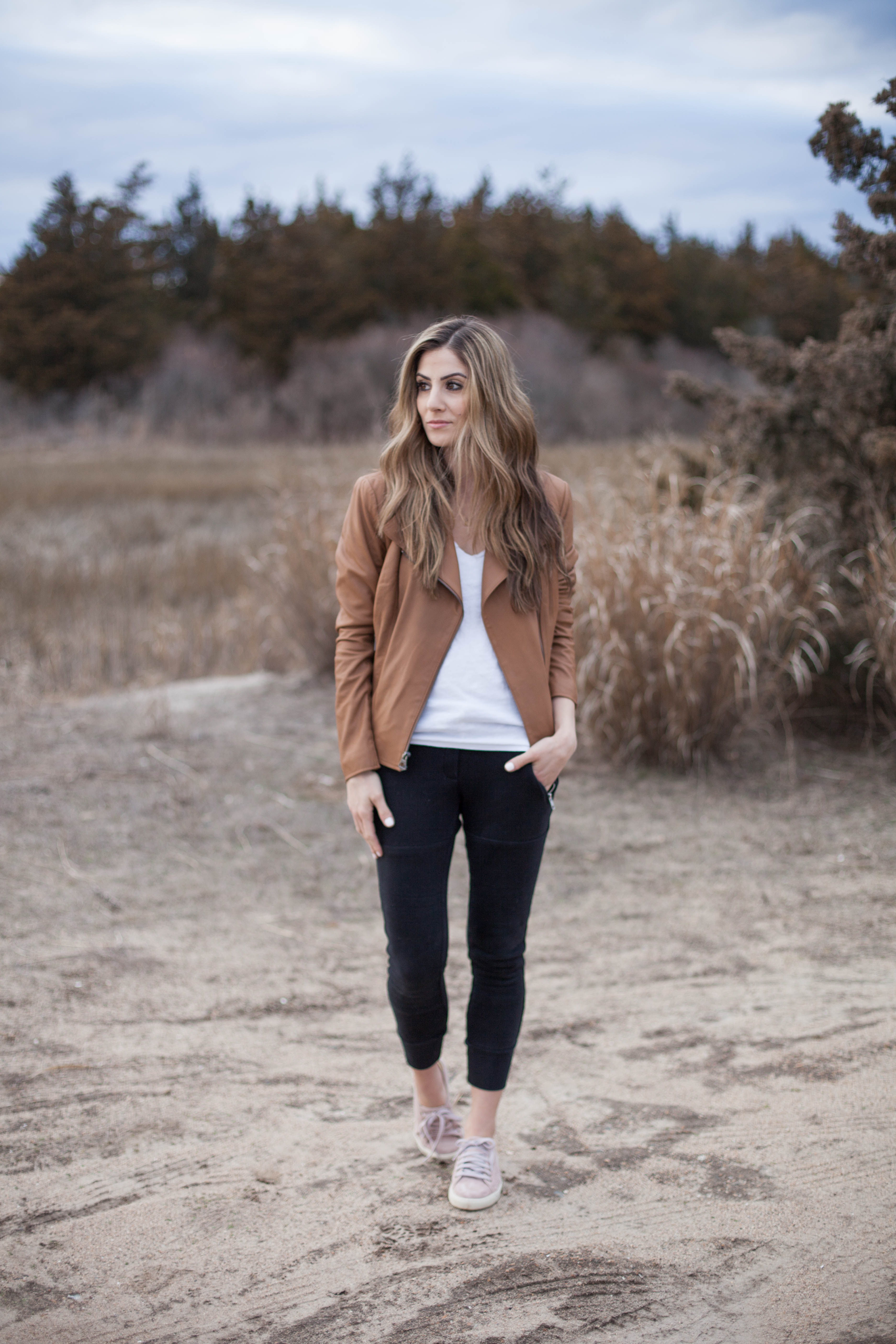 It's no surprise these are my favorite pants in the world, and I particularly love the Sincerely Jules brand (these are the ones you see me wear ALL the time). You can scoop them up right here! They have a slimmer fit, which I think looks more flattering for my body type. I love that I can throw these on with a basic tee and jacket, or even a sweater and some sneakers for a casual look. I live in them in the fall and winter, and since I'm pregnant and will basically hate pants these upcoming seasons, I plan on stocking up on multiple pairs! I just noticed they came out with a dark gray pair, too!
SHOP JOGGER PANTS

LIGHTWEIGHT JACKET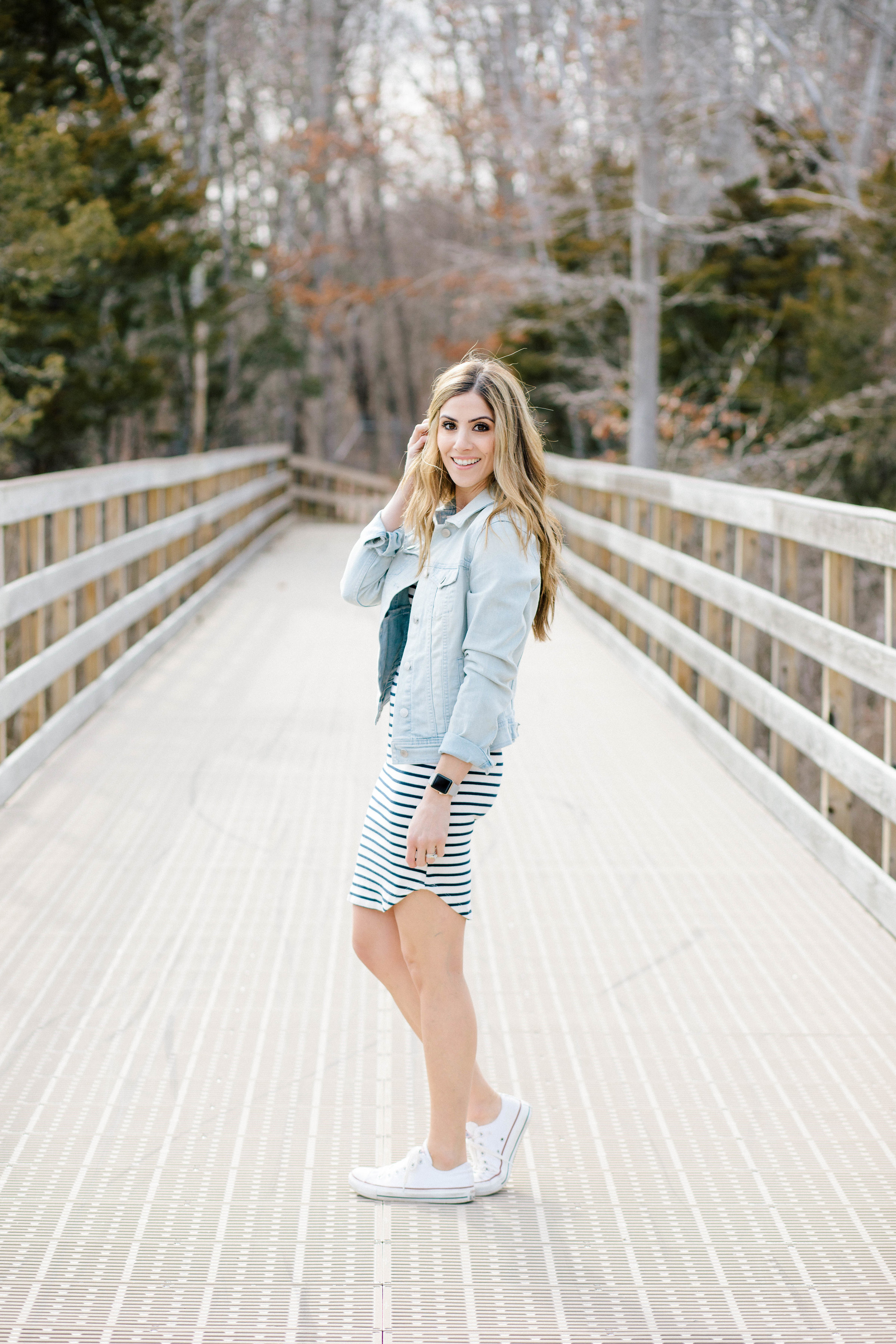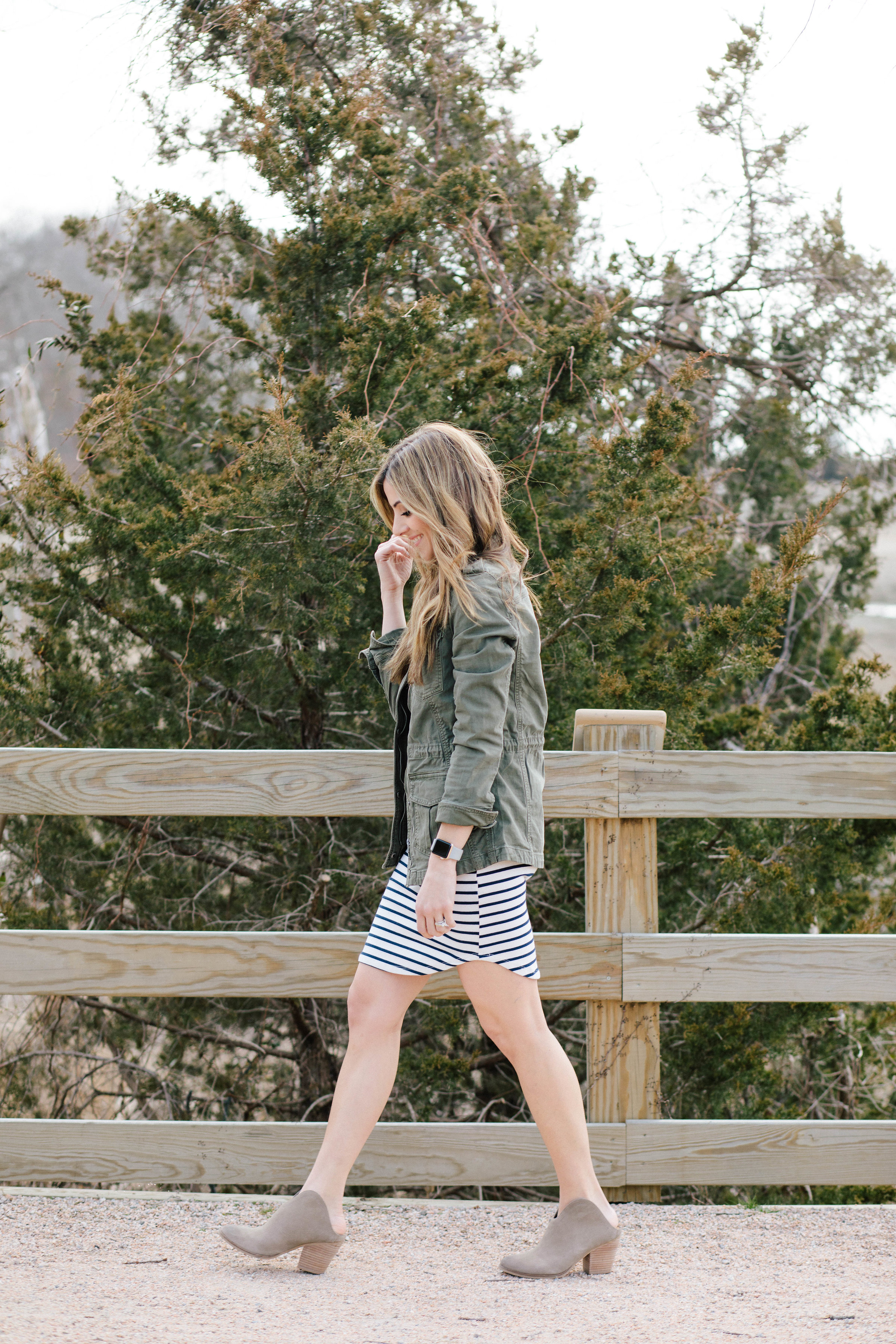 I'm all about layering in the fall, especially here in New England. We might have 80 degree weather one day and 50 degree weather the next. A basic denim jacket is the easiest form of layering because it goes with just about ANYTHING. I prefer mine a little oversized like this one. This one and this one are great options too! For a twist on a denim jacket, cargo jackets are equally as great for layering! I actually prefer mine over my denim jacket because it adds a little color.
SHOP DENIM JACKETS

SHOP CARGO JACKETS

SNEAKERS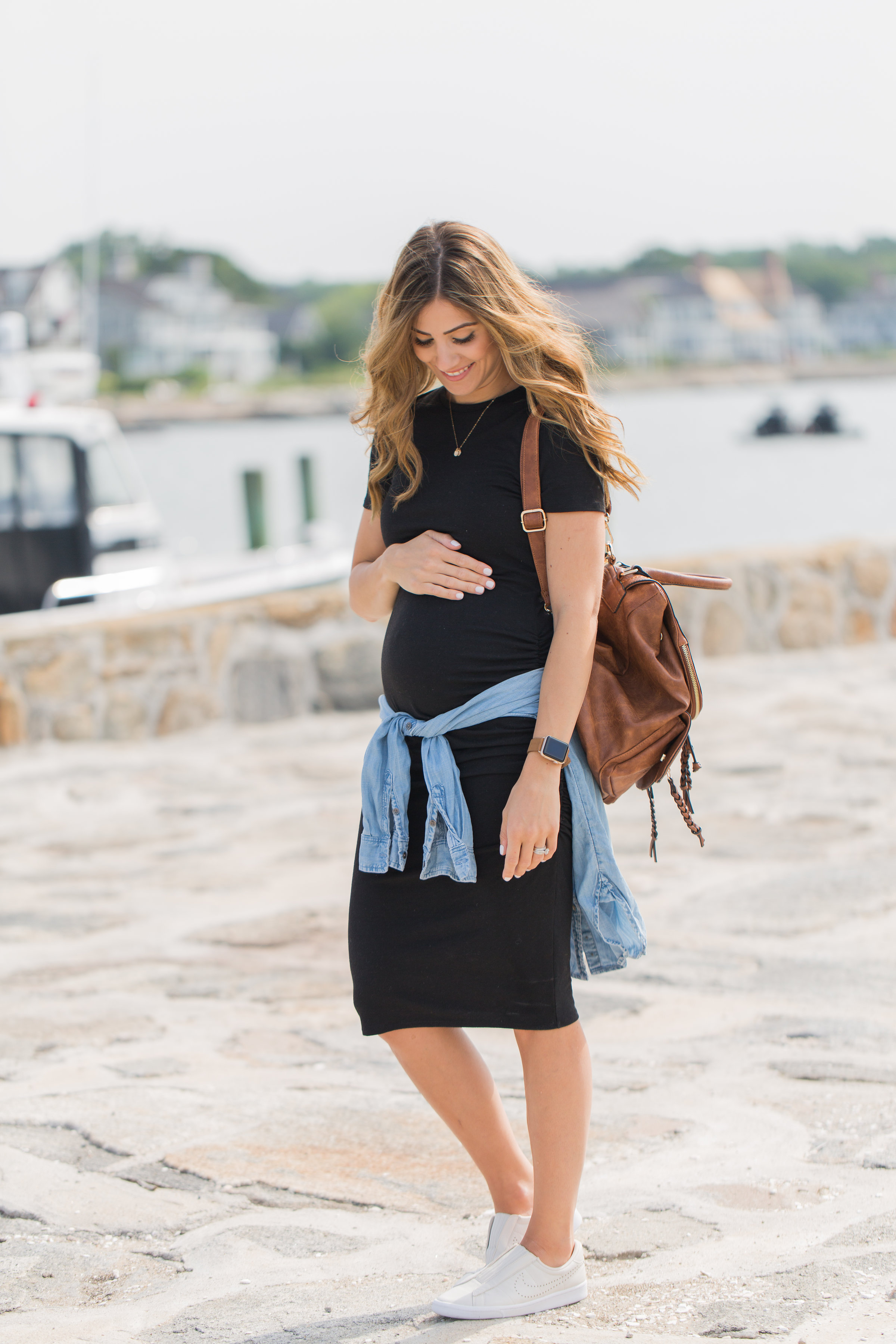 Sneakers are obviously worn year round, but they're my go-to in the fall! Sometimes I just don't feel like wearing boots or booties, especially if I want to be more casual. I can wear them with jeans, dresses, leggings, and joggers…pretty much everything. 🙂 Plus they're way more comfortable than other shoes! I always love my Converse (shop more Converse styles here!) and Adidas Superstars, but I recently picked up this Nike pair that I've been reaching for on the regular. Bonus points that they're slip on! Slip on sneakers are a mamas dream shoe! You can read how I style my sneakers here.
SHOP SNEAKERS

BASIC TEES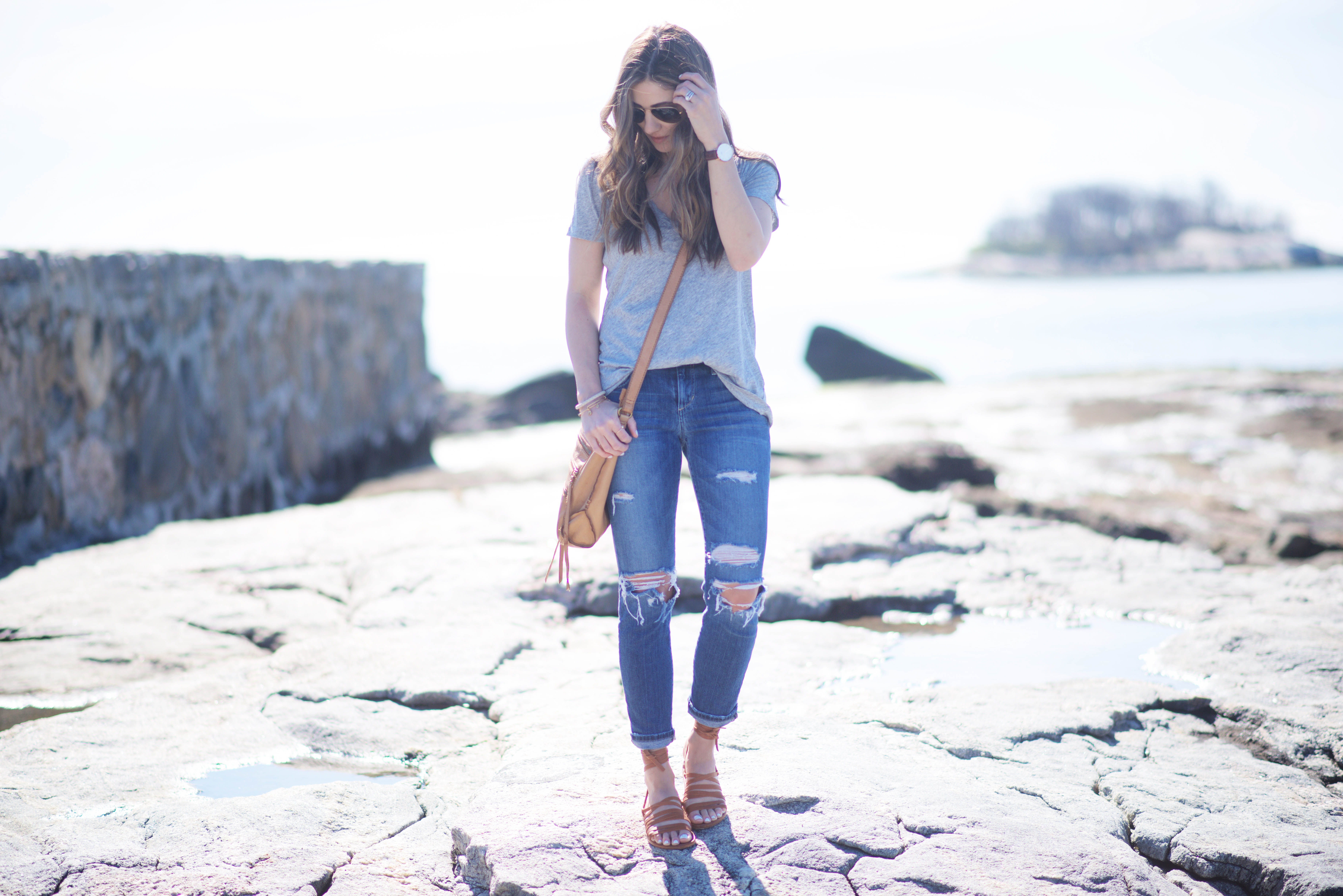 I always recommend stocking up on GOOD basic short and long sleeve t-shirts because they're so versatile and essential for layering. My favorite tees are by Madewell, but I've recently fallen in love with the Caslon brand as well. I like to have white, black, gray, and a blue and white stripe in my wardrobe in a variety of neck styles. I've been personally preferring crew neck tees lately because they give a little more coverage and I feel look better under cardigans and jackets.
SHOP BASIC TEES

CARDIGAN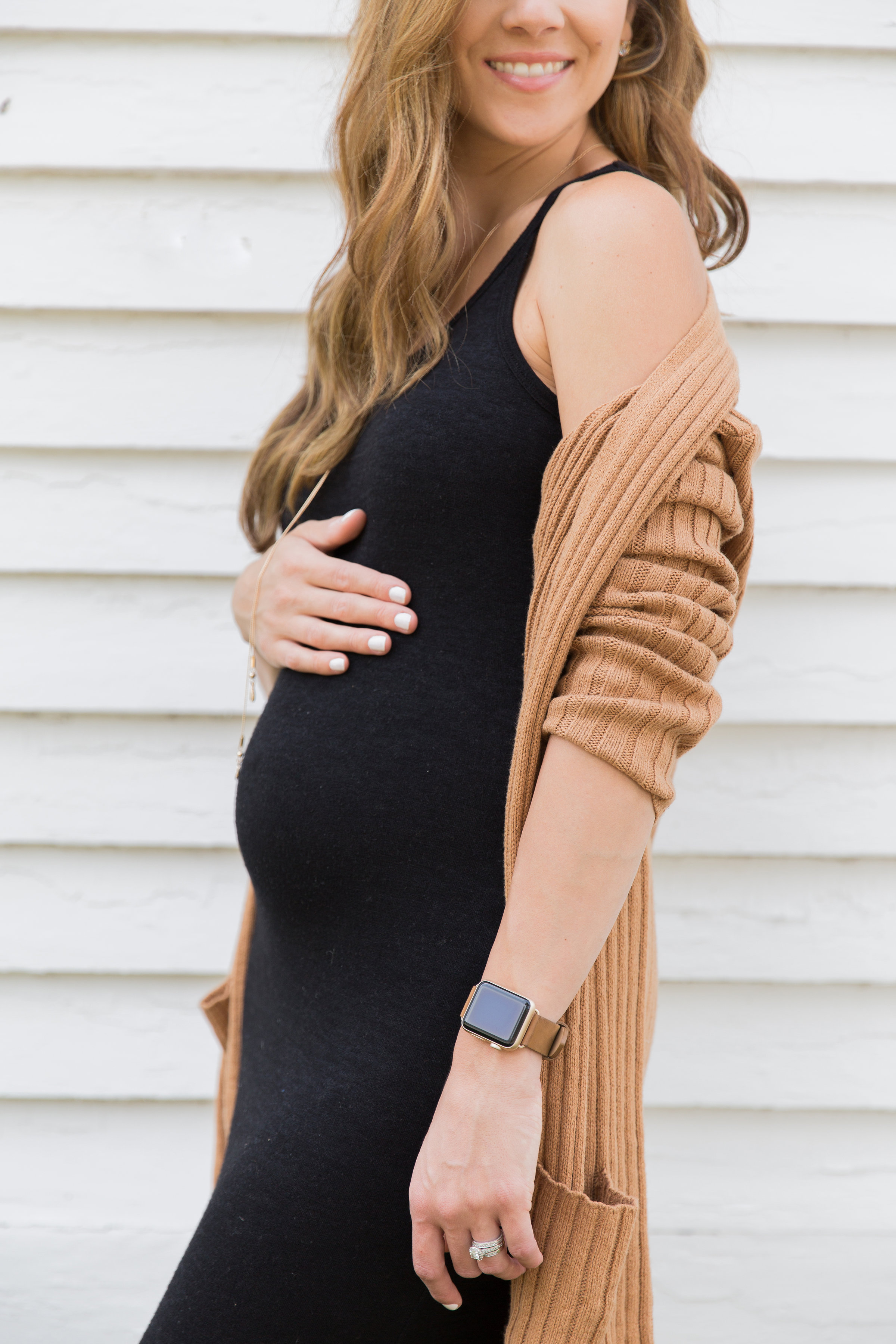 Who doesn't love a good basic cardigan?! Great for layering, and can essentially be worn all year round. I own a million, and feel like I can never have too many. My favorite one at the moment is my Barefoot Dreams hooded cardigan from the Nordstrom sale, but Abercrombie is always a favorite place to shop for good cardis too!
SHOP CARDIGANS