We recently had the honor of being invited to Walt Disney World and had a BLAST. This was our first Disney trip as a family, and most definitely will NOT be our last. We totally got sucked into the magic of Disney – it was seriously one of our favorite trips so far! The summer months are HOT in Florida, so I was very particular with what I did (and did not pack) pack for myself to wear. Today I'm sharing What to Wear to Walt Disney World in the Summer, per your request!
I kept 2 things in mind when packing for this trip. ONE – it's HOT. Florida in September is HOOOOOT. TWO – we were visiting theme parks, which means a LOT of walking, going on rides, etc. So comfort was my main priority here. I did not pack to look "cute" in Disney – I packed for FUNCTION. And kept it SUPER simple. Here are the outfits you spotted on me while I was running all over Disney World!
OUTFIT 1
We stayed at the Grand Floridian, which is the final stop before Magic Kingdom on the monorail! We headed to the park ASAP when we arrived! For day one, I wore this tank top bodysuit, comfortable high waisted denim shorts, and my Converse sneakers. My feet hurt by the end of the day (I had a feeling they would – Converse are very flat), so this was the only day I wore them.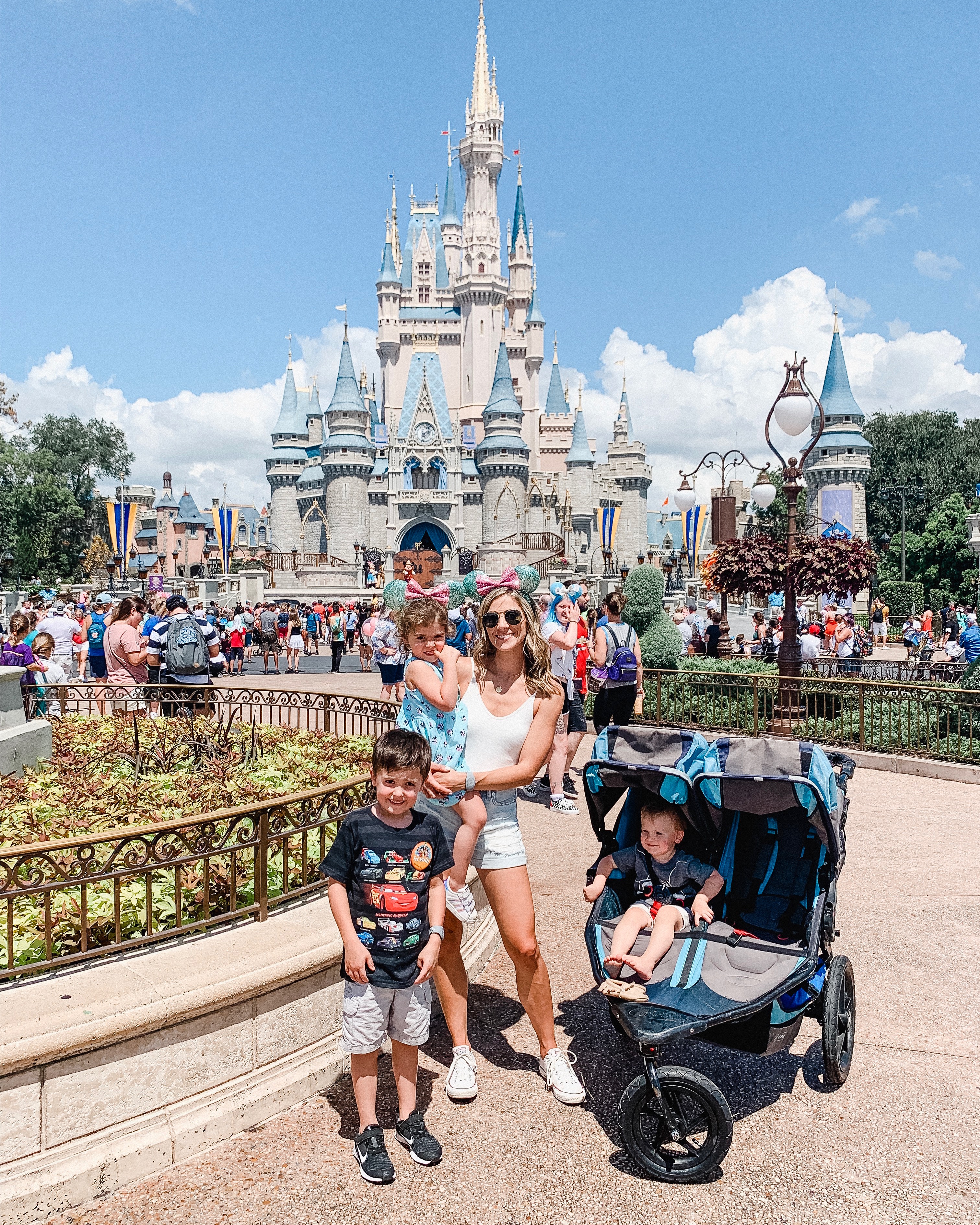 We headed to Epcot for dinner with the rest of the attendees, so I wore THIS striped casual midi dress and my Converse sneakers. I didn't snap a photo of this, but the dress was actually SUPER comfortable and long enough where I didn't feel uncomfortable wearing it on rides. I'll link it below for you.
OUTFIT 2
The next day, we headed back to Epcot to have breakfast with the princesses, and then over the Hollywood Studios for the remainder of the day! I wore this black crew neck bodysuit (if you're nursing, I don't recommend this – wear a basic tee like THIS one that's only $16!), another pair of high waisted denim shorts, Cole Haan sneakers (MUCH more comfortable for all the walking involved), and brought my favorite straw hat to cover my face while we were walking around. I would probably recommend not wearing black in the blaring sun, but I survived! Haha.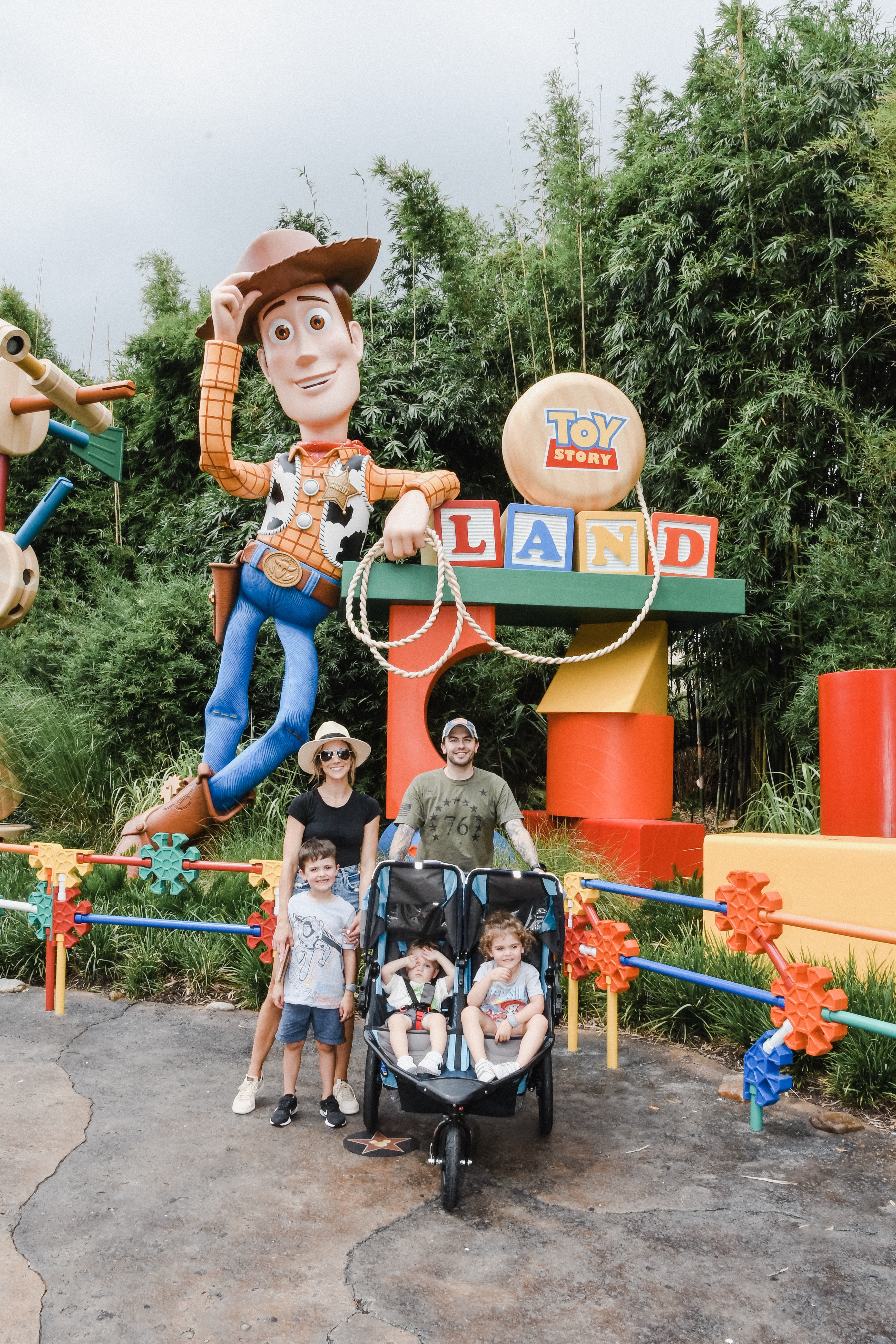 OUTFIT 3
We headed to Animal Kingdom the next day, and I wore another white tank bodysuit with another pair of denim shorts, as well as my Cole Haan sneakers. (Hard to see in this photo – it's the only one I snapped!). I also brought the hat again. Noticing a trend? Simple. Function. Weather appropriate. 😉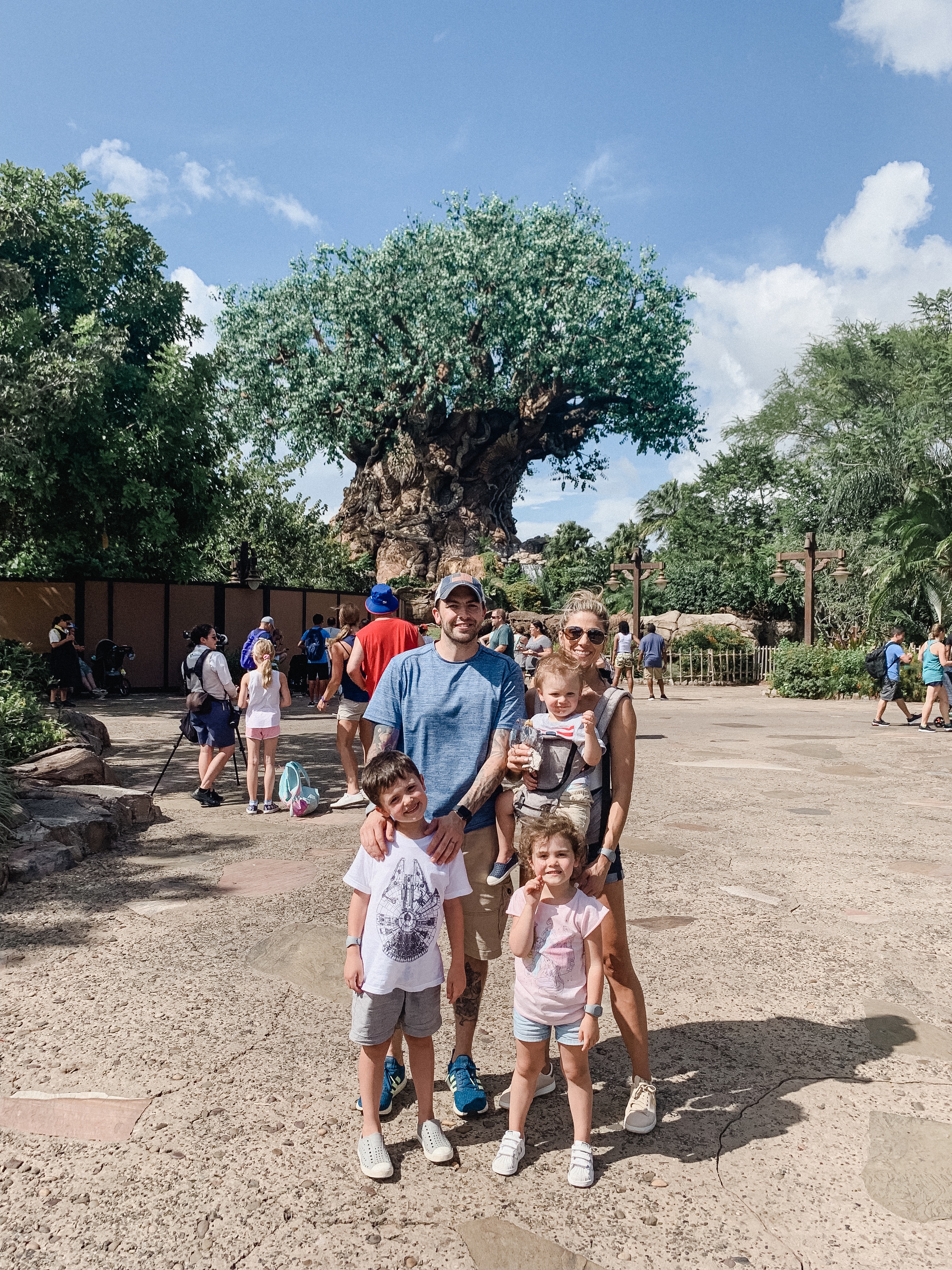 OUTFIT 4
We headed back to Magic Kingdom on our final day, and I wore the same crew neck body suit in white (again, here's a similar basic t-shirt) and a pair of high waisted denim shorts. Again with the Cole Haan sneakers. See how boring my wardrobe was?! But it was FUNCTIONAL. Because let me tell you – it was hot and sweaty, and involved a LOT OF WALKING. You need sneakers!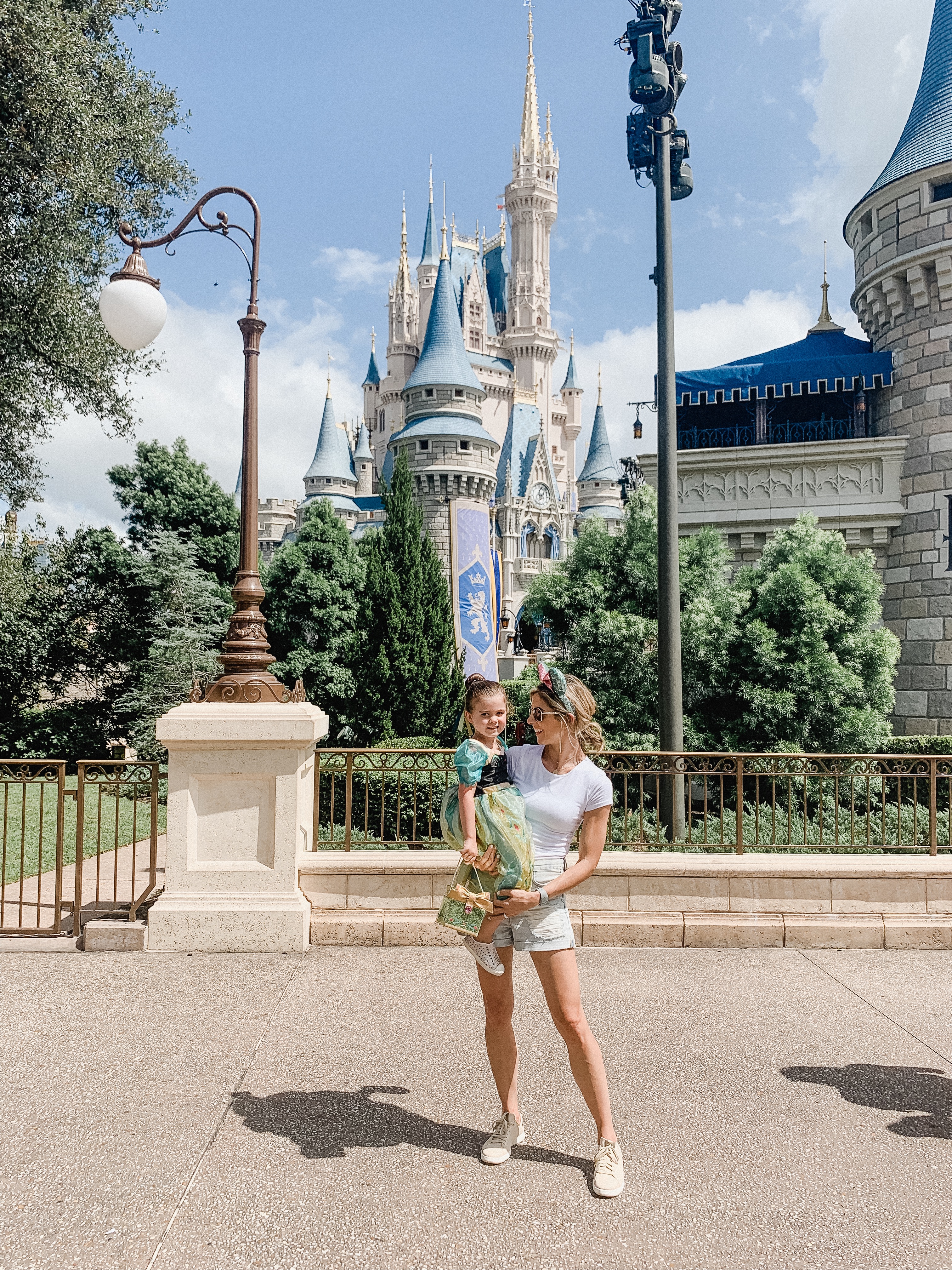 Also, my sunglasses are a $20 pair from the parks. I forgot mine in the room and wasn't about to go back, haha. I did bring a couple of other dresses (I wasn't sure what our plans were at night) and only ended up wearing one to dinner one evening when we stayed at the hotel. If you are bringing a dress for the parks, make sure it's comfortable and a decent length if you're going on rides 😉 I'm all about going on ALL the rides with my kids, so that played a big factor into deciding what to pack.
I hope that helps! And I hope you enjoy your Disney trip if you're planning one! 🙂
Read Now, Pin for Later: