It's crazy how much our living room has changed since we first moved into our home. I also think it's a direct reflection of how my decor style has changed over the years. I used to gravitate more towards a farmhouse look, and this room is the complete opposite of that! It's fun looking back on my blog to see the changes that have been made.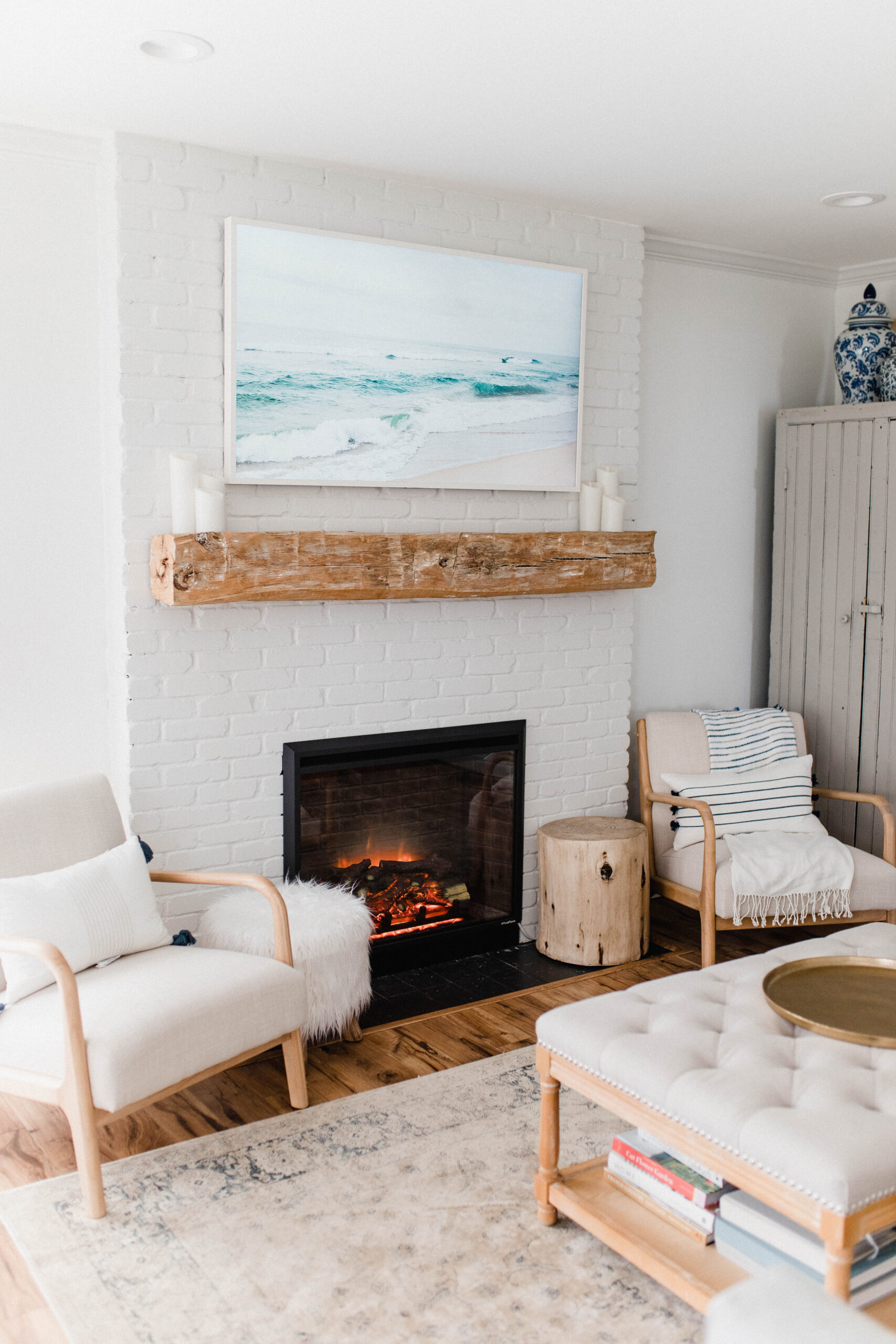 This is the main living space in our home, so we are in here quite a bit! I like that the playroom is right next to it, so the kids can play in there while my husband and I sit in here. This is also the room we entertain in, so I felt it was important to have a lot of seating and cozy vibes. We recently had the fireplace redone (which created SUCH a large impact on the room!), which I love SO much. We had brick run floor to ceiling, and a reclaimed wood beam mounted for a mantle. We used this electric fireplace insert, which I actually prefer with small children. I absolutely love the look of it – it's my favorite part of the room! We mounted a Samsung Frame TV above the mantle, which can function as artwork as well.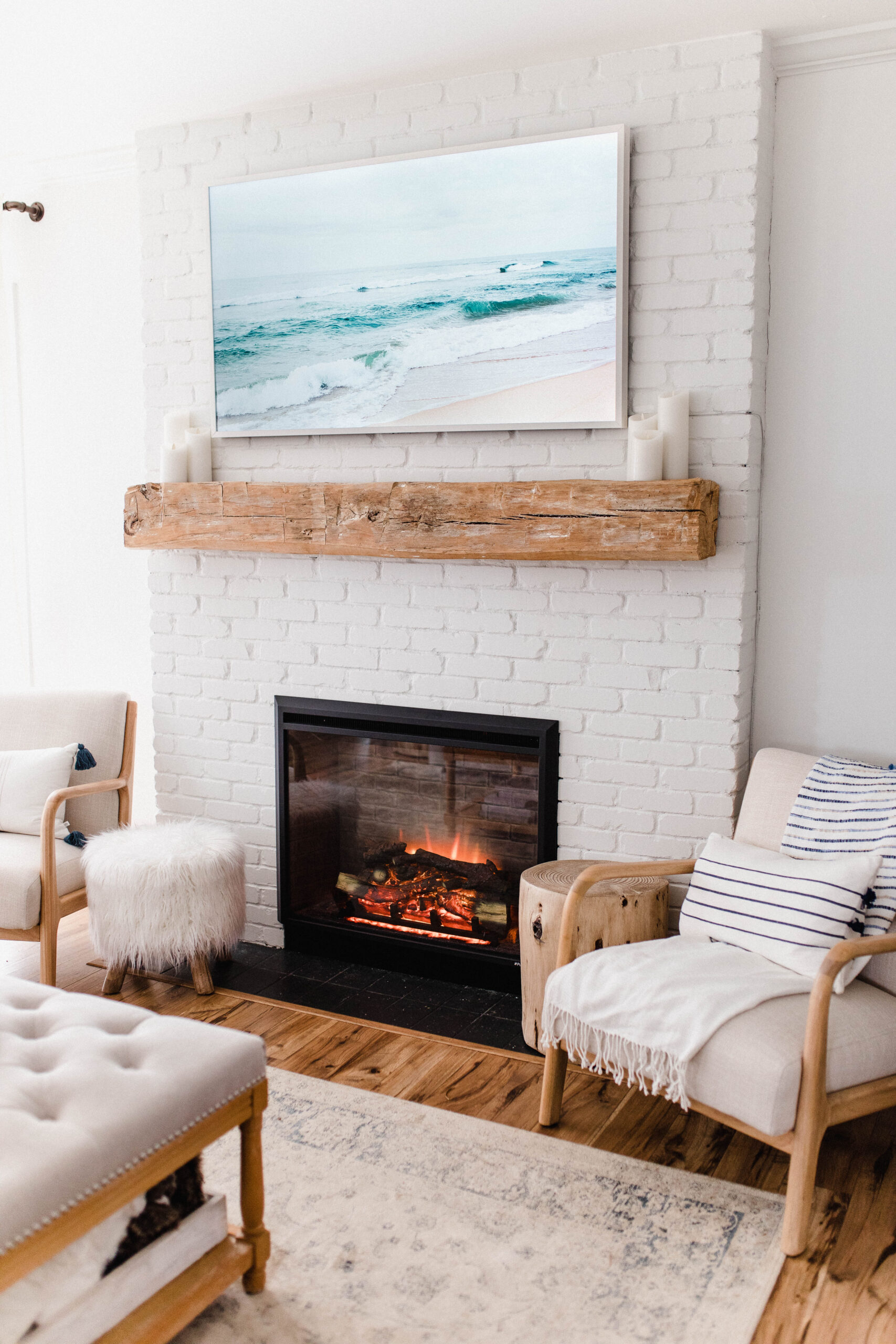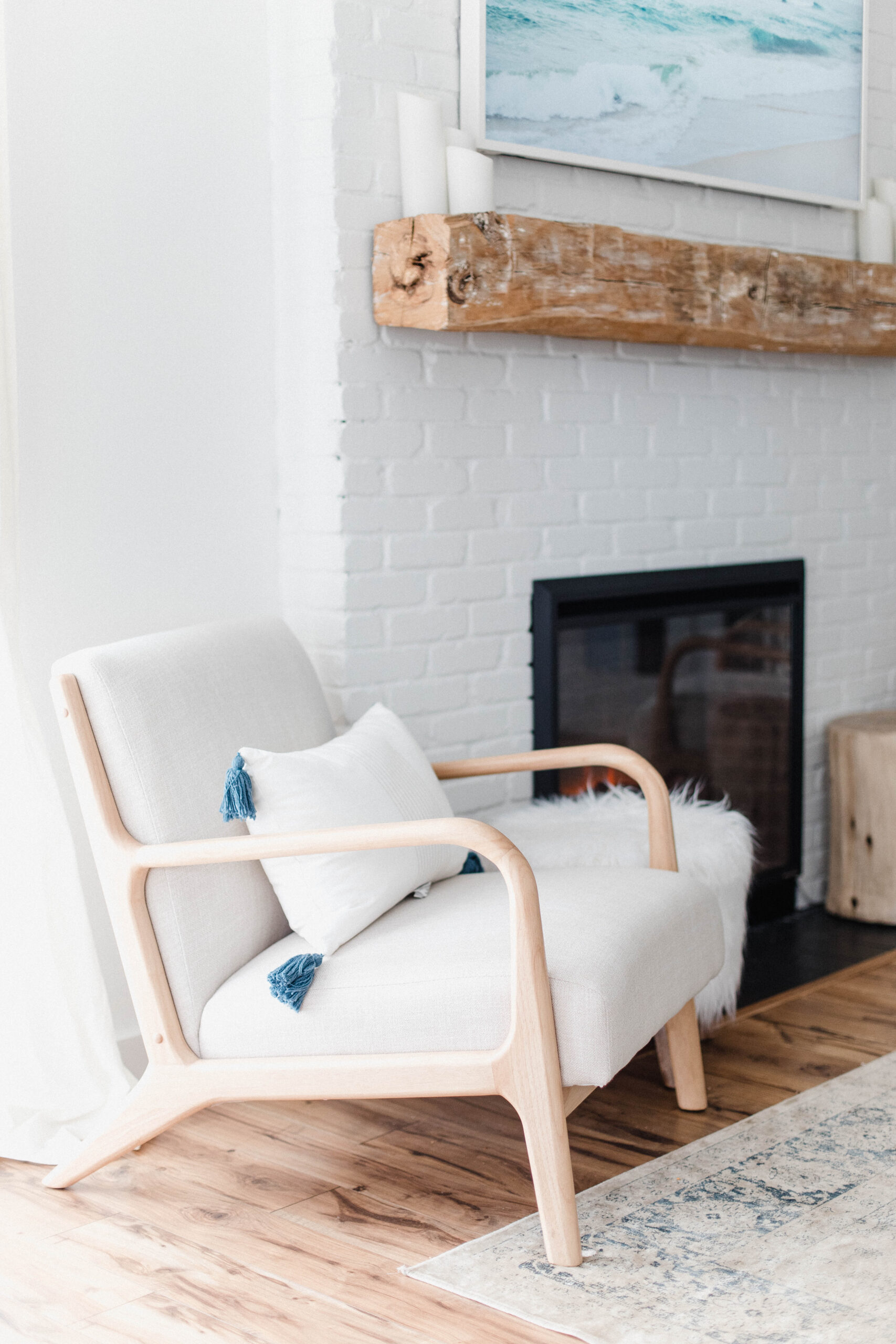 This cabinet is actually an antique from the 1800s! I gave it new life by painting it this beautiful gray. I keep a bunch of random stuff in here, as we don't have many storage options in this home. I keep a lot of decor in here, which is why I block it with a chair 😉 I'm not going in there often!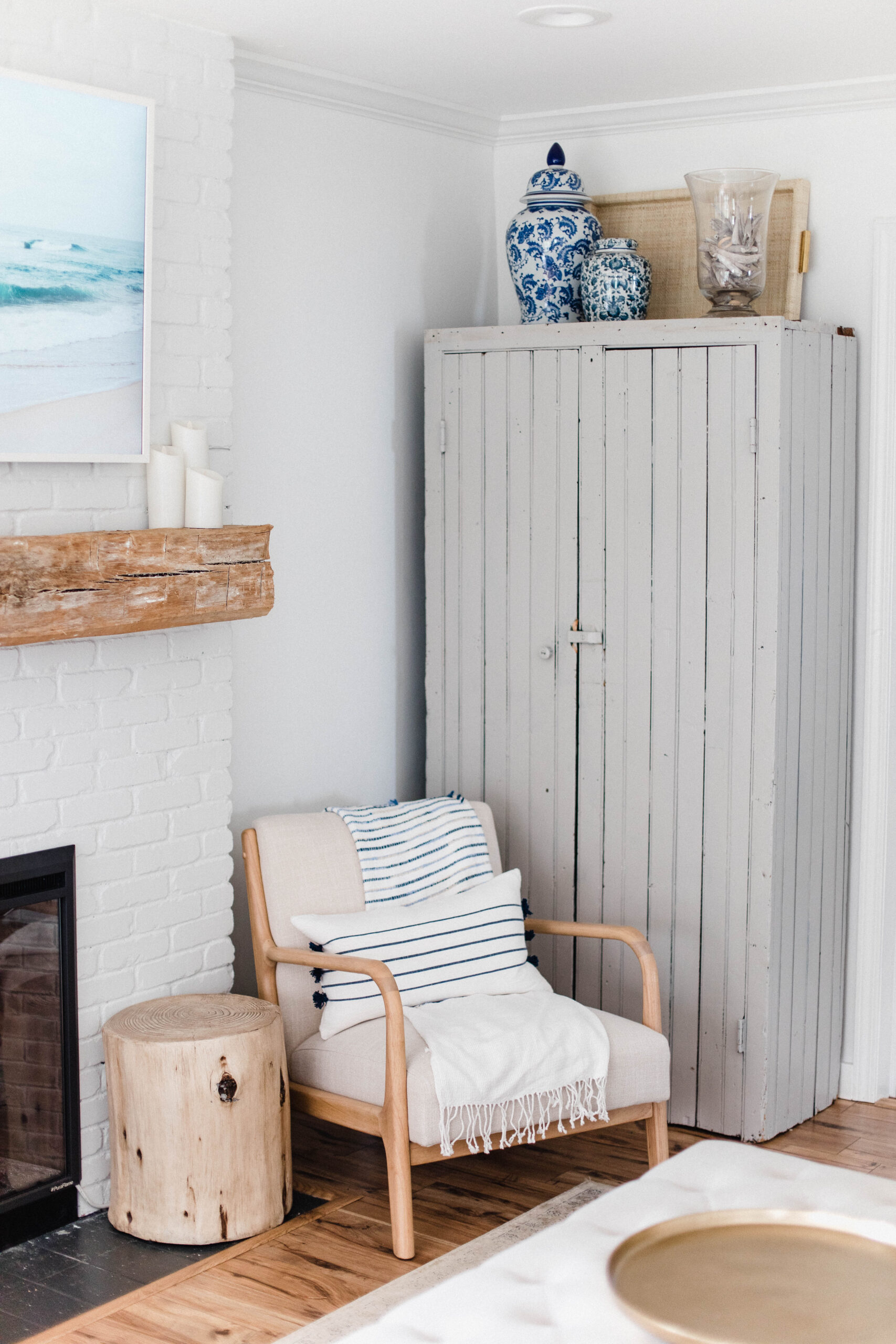 This ottoman is one of my favorite additions, too. I prefer having a soft ottoman with small children, and I like that it can be used as seating as well. I keep blankets, photo albums, and coffee table books underneath. The tray on top is a spot for our drinks when we're watching TV. I would much prefer it styled, but I'm sure whatever I put there would end up being thrown across the room by my littlest 😉 so we leave it empty.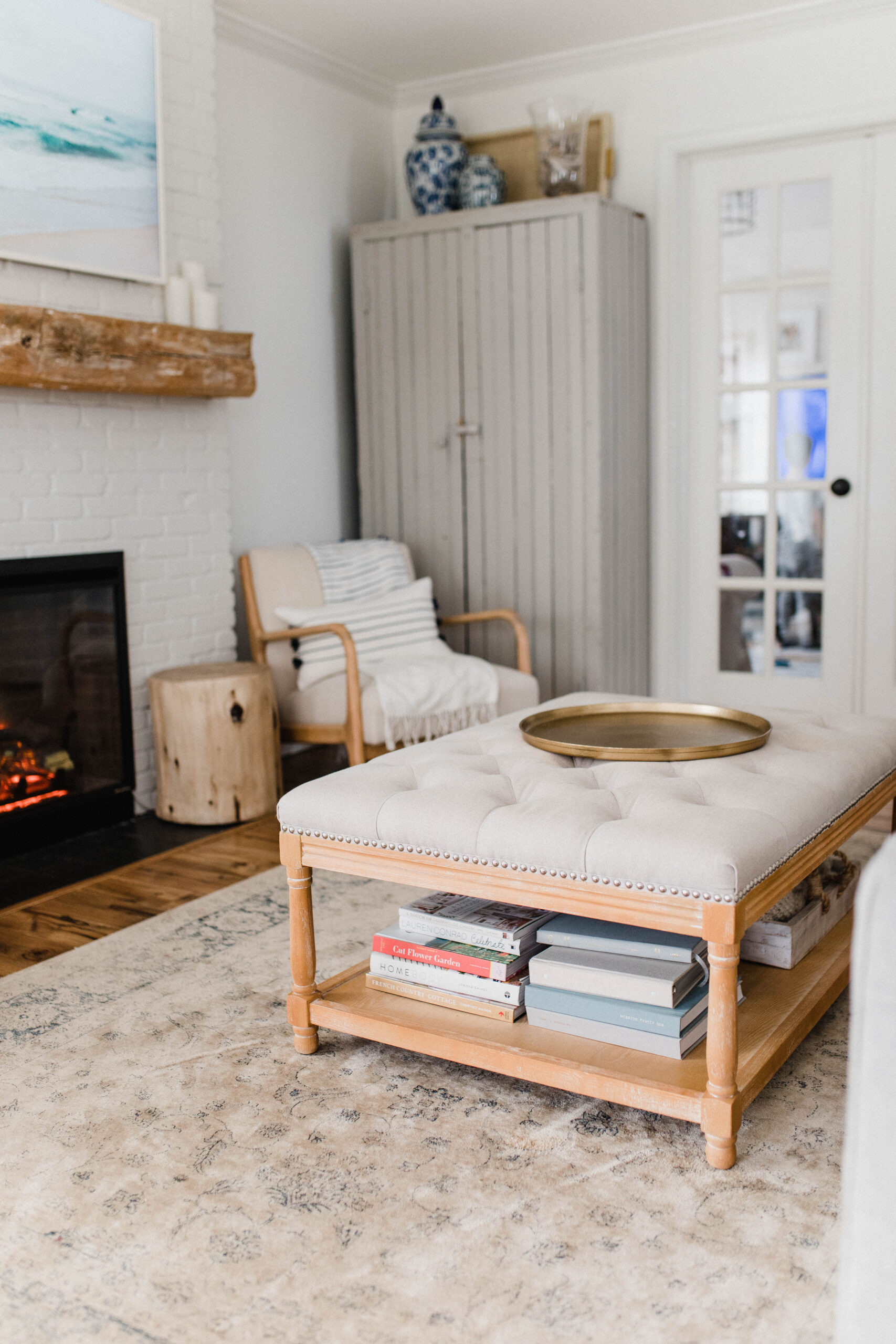 I used this beautiful shelf above the couch to display photos of our kids on. I was struggling with something to put behind the couch, and love the simplicity of this. I also recently added beautiful artwork from Lindsay Letters Co. on the wall. I'm still adjusting the pillows on the couch for spring, I need to bring in another blue one!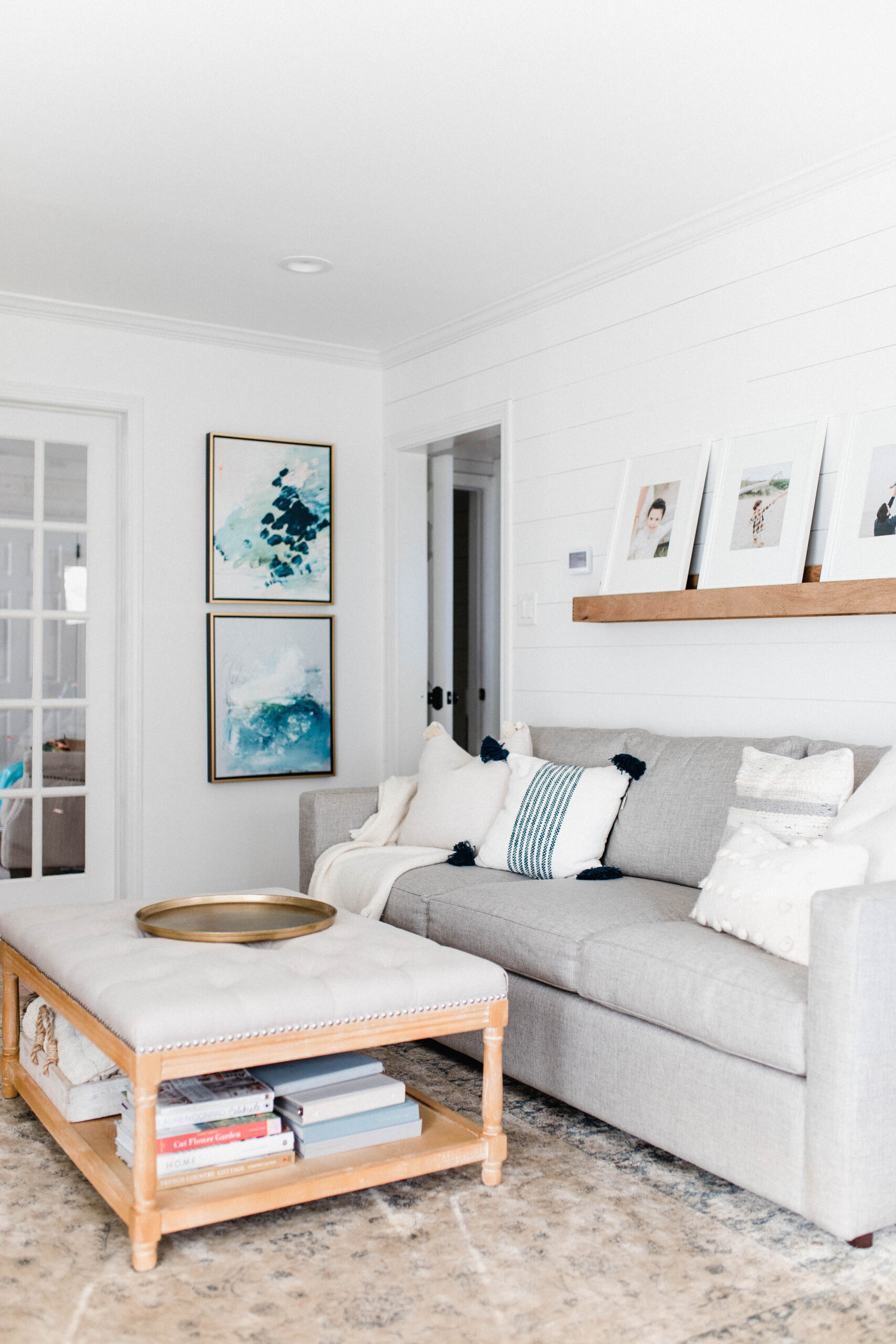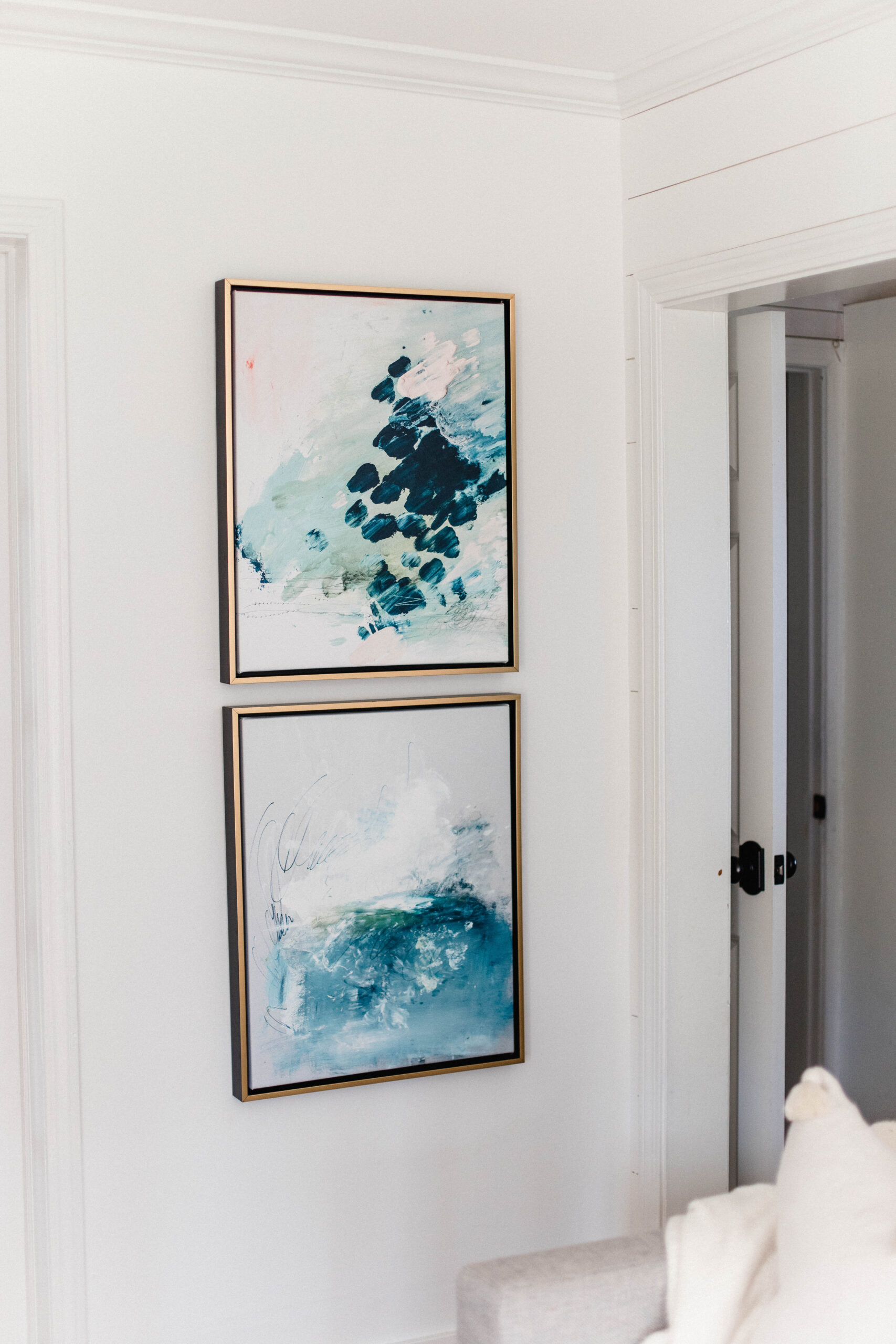 I have the beautiful blue glass lamp from my QVC line on this side table next to the couch. I love the soft lighting it adds in the evening. It makes the room feel super cozy! This side table is one of my favorite pieces of furniture because of its shape and color. I have a little pothos plant (which my kids surprisingly don't touch!) to add some greenery to the room.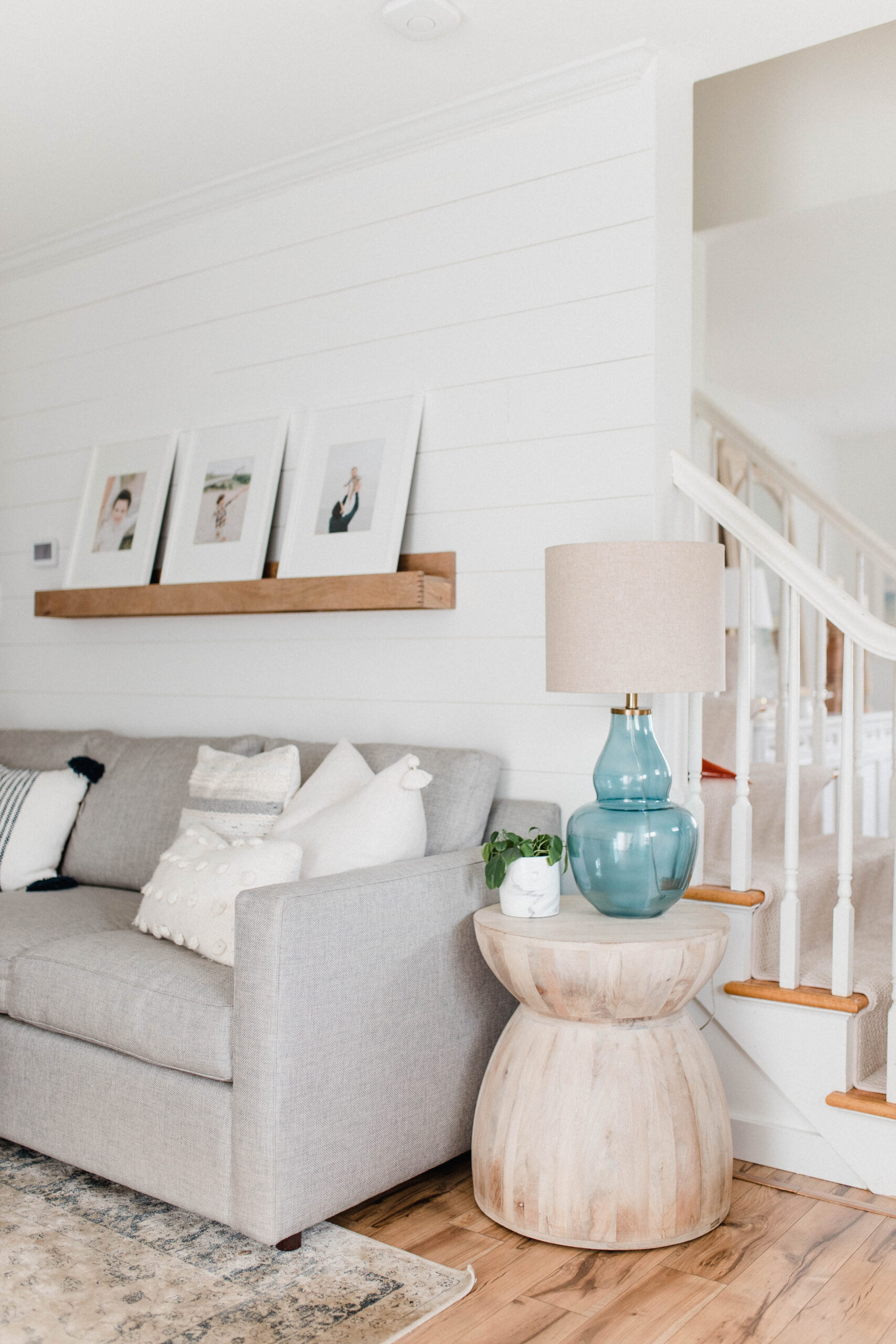 This next area is a work in progress – I'm still trying to find a better table option for in between these two chairs, but this bar cart works for the moment (it usually goes in my She Shed!). I also have plans to replace the shades (they're broken!) and curtains to a darker color. These chairs are sold out, unfortunately. I really love the size of them, and they're so comfortable! Great additional seating for guests. I keep baskets with additional blankets next to them. The baskets are apart of my QVC line, but also sold out.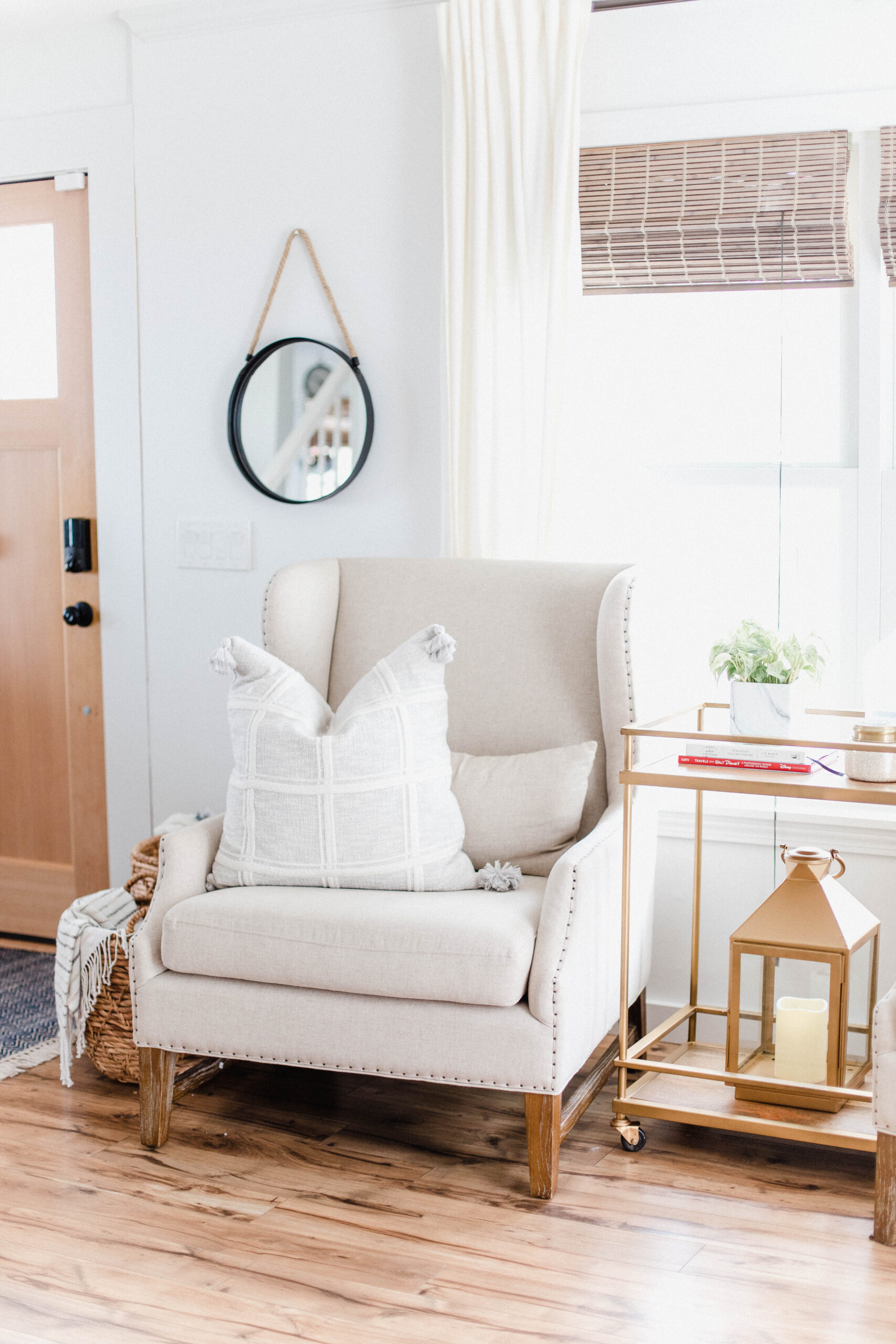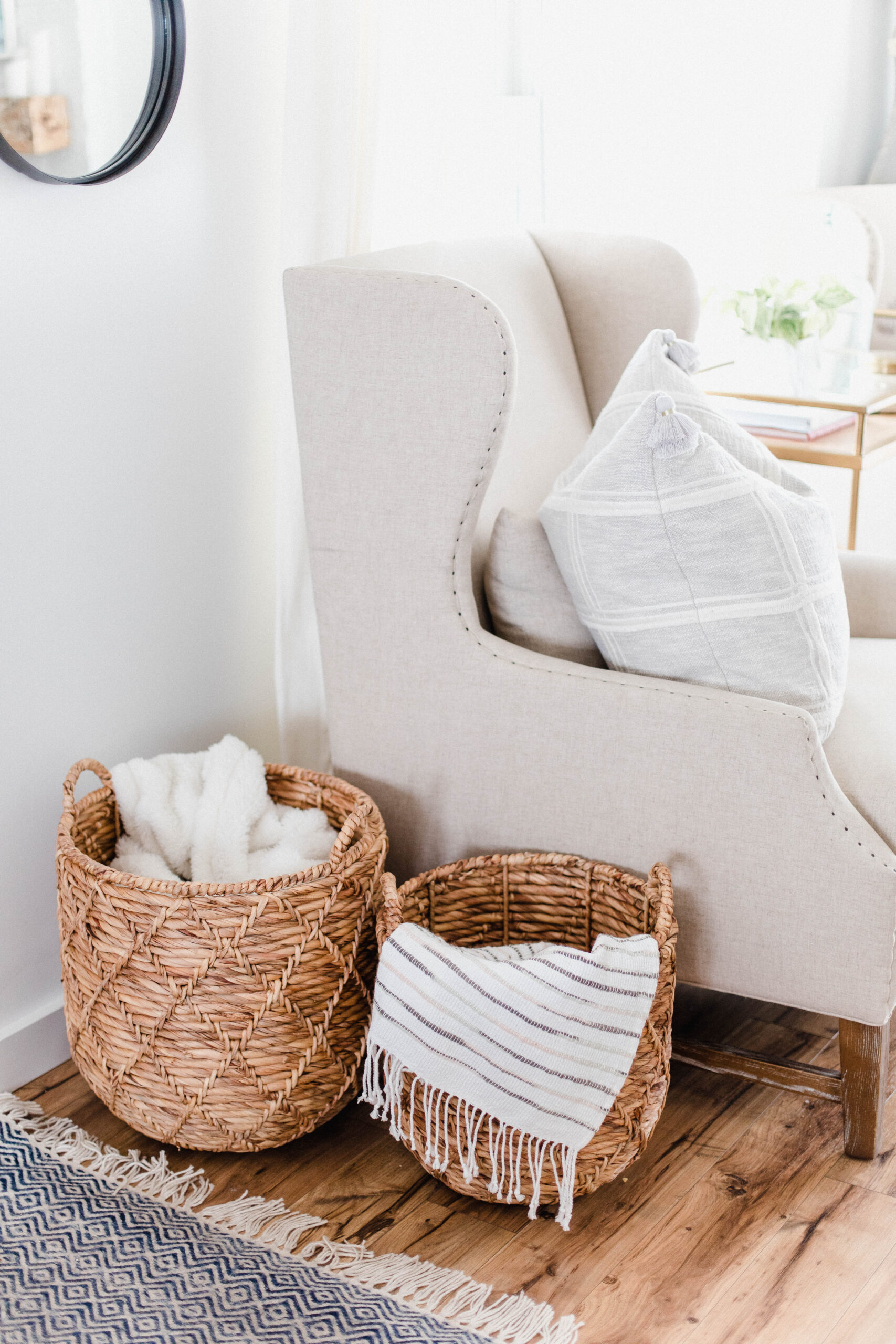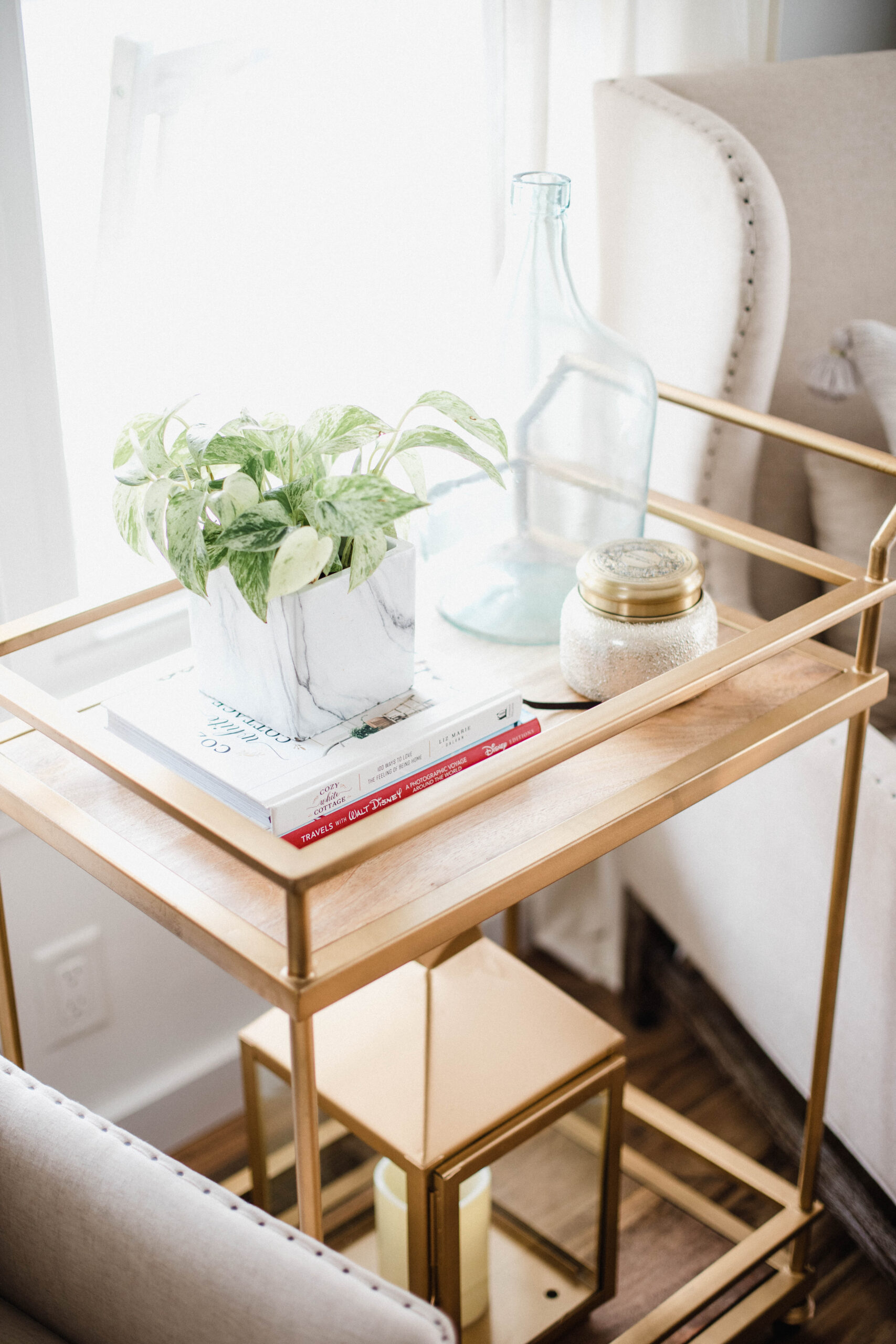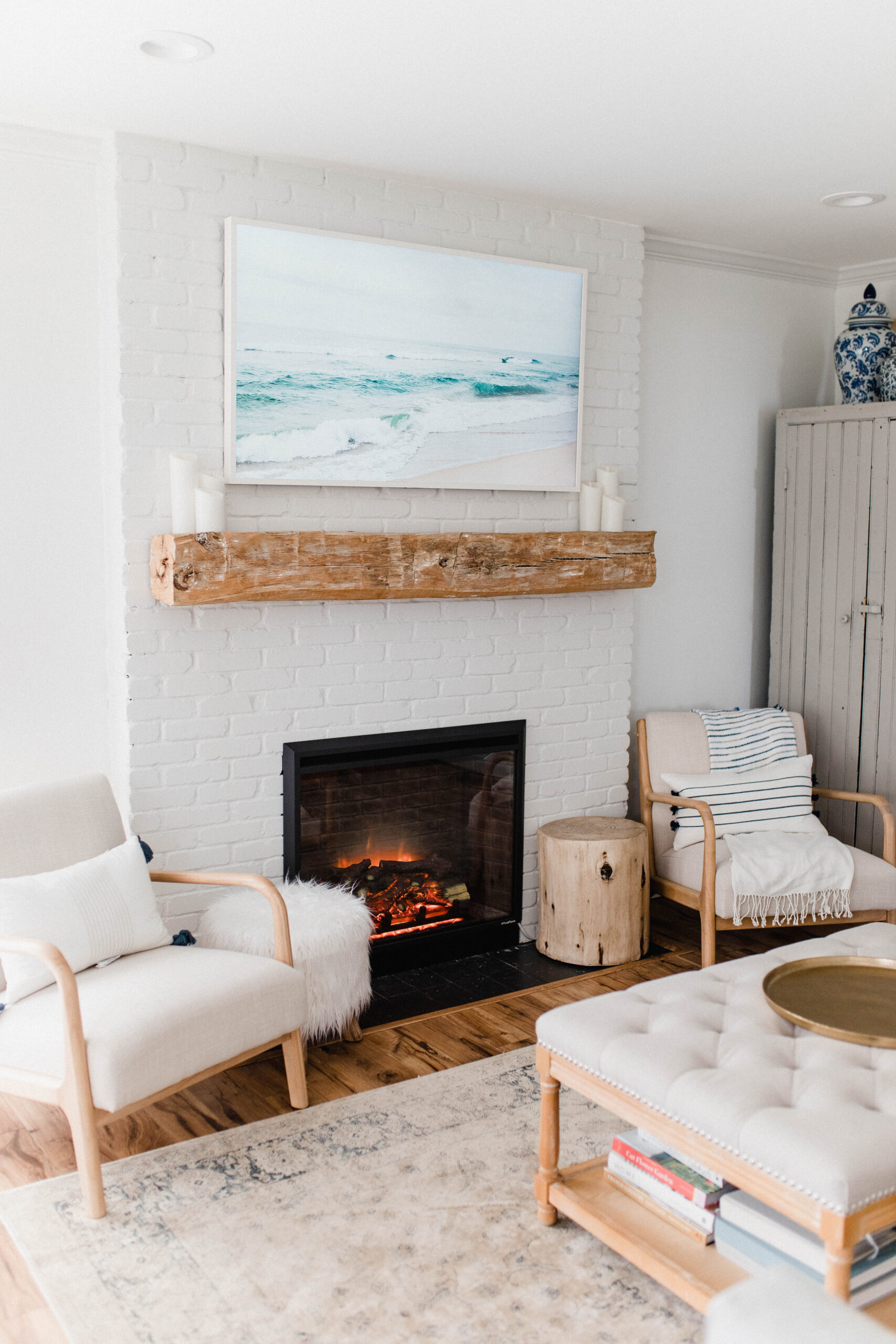 And that's our living room for now! If there's anything I forgot in the source list below, please leave a comment! Thanks for checking out our space!
For other posts about our living room:
You can see how we installed our electric fireplace here.
You can read more about our Samsung Frame TV here.
Source List
Paint Color: Benjamin Moore Decorator's White
Window Chairs (sold out)
Lindsay Letters Co. Artwork (Top, Bottom)
Clock (sold out)
Curtains: Ritva from IKEA
Lumbar Pillow with Blue Stripes
READ NOW, SAVE FOR LATER: