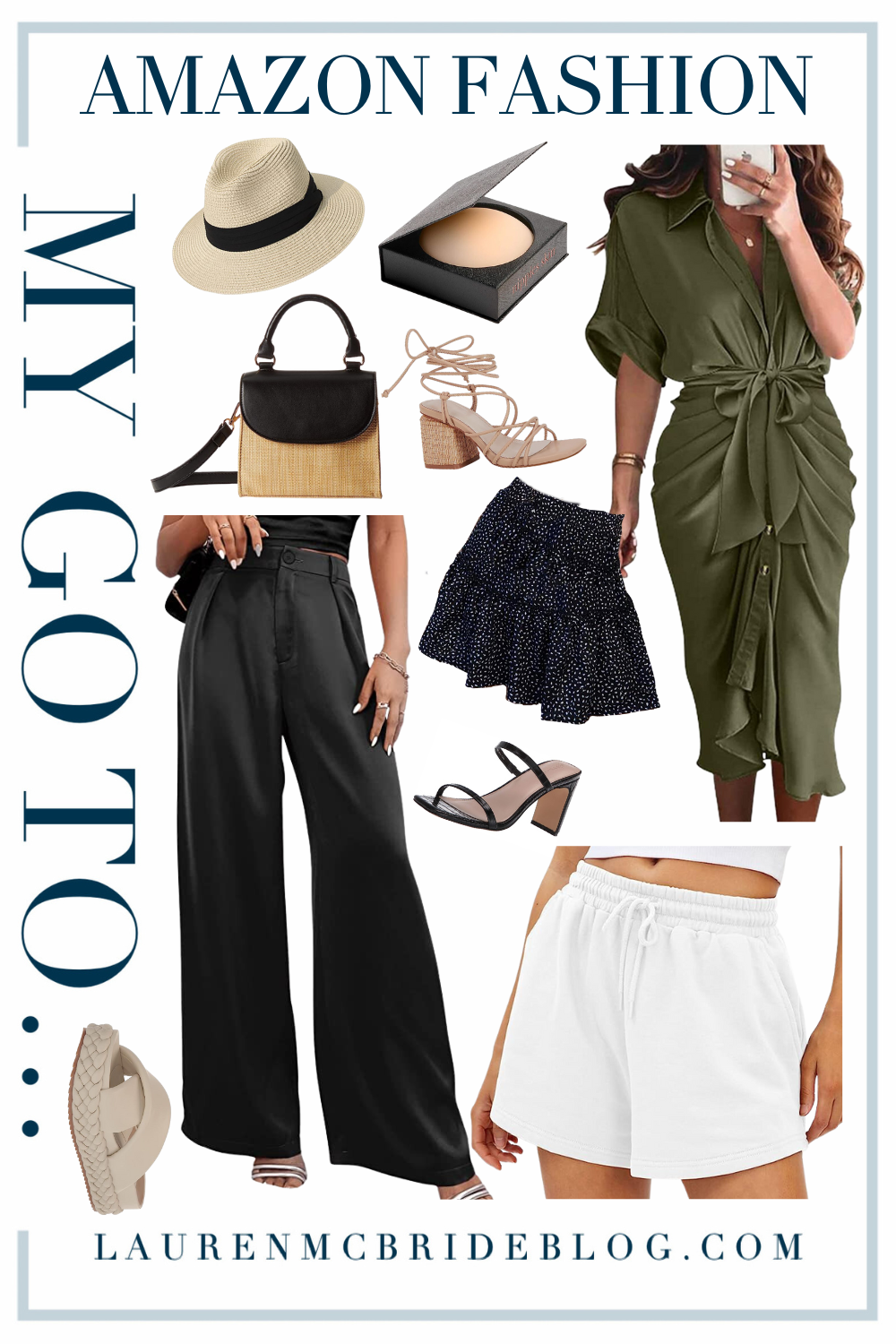 The summer season is in full swing! The sky is blue, the days are shorter… and the kids are home all the time. But, just because your days are filled with carpools and juice boxes doesn't mean you have to sacrifice style. Embrace the vibrant moments of warmer months, and don't wait to refresh your closet with some trendy Summer fashion!
But who has the time to comb through a million websites and stores? No one! That's why I've done the heavy lifting for you and found some of the best summer fashion pieces to shop on Amazon.
This list has everything you need to achieve a flawless and effortless chic mom look without burning a hole in your wallet. And lots of these pieces can be kept out during Spring and Fall so that you get the most bang for your buck.
2023 Fashion Trends: Dresses, Skirts and More!
Comfortable Shorts For Any Occasion
To start, we'll explore some comfortable yet stylish choices, like the Yidarton Women's Casual High-Waisted Paperbag Shorts. These shorts are perfect to begin your Summer wardrobe shopping. They look great with practically anything and provide a flattering look with their high-waisted and adjustable fit.
Made with lightweight fabric and comfortable material, these shorts are ideal for hot summer days. With two side pockets for extra convenience, these versatile shorts can be worn to the farmer's market or on a picnic. These are great finds for moms looking for a comfortable look that will still leave them feeling put together.
The Perfect Dress For Every Season
Now, let's talk about the perfect summer dress. Maxi dresses have been a staple for years, but this year they've become a personal favorite of mine. My favorite part is the versatility, I've been rocking Maxis since December! The best moment to buy is any moment, so don't wait to jump on the trend.
My Amazon favorite this season is The BTFBM Women Button Down Ruched Shirt Dress is a versatile piece that can take you from brunch with the girls to date night with your significant other. It's lightweight, breathable, and comes in a beautiful satin fabric that gives you both comfort and style. Not to mention, the ruched detail creates a flattering silhouette that you'll love!
The Summer Skirt To Start Building Your Capsule Wardrobe
In my 2023 Summer Capsule Wardrobe on Youtube, I included this skirt. The Sielou Women's Button-Front Skirt is a great addition to your wardrobe and I loved having it with me on vacation. With a high-waisted silhouette, this skirt is designed to flatter every shape and size.
The lightweight fabric allows for maximum breathability and comfort, so it won't get too hot during those muggy summer days. Plus, the mini length provides just the right amount of coverage so you can feel confident and stylish. The buttons along the front add a touch of sophistication, while the elastic waistband ensures a good fit. Pair it with a classic tank like this for a clean yet casual look!
Poolside Summer Fashion 2023
A Top That Takes You From Water Front To Night Life
Next, we have the perfect cover-up for any pool or beach day. The Verdusa Women's Tie Front Long Sleeve Swimsuit Kimono Cover-Up Wrap Blouse Top is a multi-purpose piece that you can wear from the beach to the streets.
It's lightweight and comfortable, and the tie front detail adds a flirty touch to your warm-weather clothing. Plus, its long sleeves provide extra sun protection for those sensitive mom arms. This top isn't restricted to waterfront fashion either, I styled it for a GNO over on LTK! Head here to check out some outfit ideas if you're looking to take this top from day to night!
Summer Shoes: Comfort Meets Style
The Best Pair Of Flat Sandals in The World
Of course, beach and pool attire isn't complete without shoes, and we've got two options for you. First, we have The Drop Women's Samantha Flat Strappy Lace-Up Sandal. These fun sandals scream summer with their colorful pom-pom detailing and lace-up straps.
They are the perfect addition to any casual beach outfit, plus they're flat, which means you'll be comfortable all day long. You can check out some outfit ideas for these sandals in my Summer Capsule Wardrobe 2023 Youtube video!
Some Fancier Summer Shoe Options
For a more upscale warm-weather option, consider the Dolce Vita Women's Blume Sandal. These platform sandals are perfect for dressier occasions without sacrificing comfort. They come in classic colors like black and beige, making them versatile and easy to match. The Drop Women's Avery Square Toe Two Strap High Heeled Sandals are a great addition to your wardrobe. With their square toe, two straps, and block heel, these heeled sandals offer both style and comfort.The adjustable straps ensure a snug fit, and the cushioned insole provides all-day comfort. They come in classic colors like black, beige, and tan, making them easy to pair with any outfit.
Lastly, check out the PiePieBuy Women's Chunky Braided Heel Sandals. These stylish sandals feature a chunky braided heel, square toe, and adjustable ankle straps. The cushioned footbed ensures all-day comfort, whether you're heading to the beach or going out for brunch.
Dress them up with a maxi dress or keep it casual with jeans and a tank top. These sandals are sure to be the highlight of your summer wardrobe.
Special Occasion Items
A Summer Flare All Year Round
Now let's talk about pants. Most of us are living in very hot climates where pants are probably off the table. But if you're looking for items with some Summer flare that can accompany you through all seasons, these are perfect! The SweatyRocks Women's High Waist Satin Wide Leg Pants are perfect if you're looking for something comfortable and stylish.
These pants are trendy and comfortable and will give you that effortlessly chic look that you're after. They also come with pockets, which is always a good thing. The best part is that these lightweight pants can be worn in the cooler months as well. So whether you're making the transition into Autumn (or even Winter) or filling up an early June shopping cart, these are the pants for you.
Your Go-To 2023 Summer Accessories
Some Secret Fashion Essentials
Now, let's talk about fashion essentials that we can't see you wearing. Yes, I'm talking about nipple covers. The Nippies Non-Adhesive Bra Liner Nipple Covers for Women is a game-changer for any woman's wardrobe. You can wear these under any sheer or thin fabric top without worrying about a nip slip.
Plus, they're reusable, which means you'll save money in the long run. And the best part? They come with a travel box so if you're heading on a trip this Summer, you can bring them with you!
Add Some Shade To Your Wardrobe
Now, let's talk about some accessories you can see! The Lanzom Women Wide Brim Straw Panama Roll-up Hat Fedora Beach Sun Hat UPF50+ is an absolute must-have for any summer day.
It's functional and stylish, and the wide brim will give you enough sun protection while still looking fabulous. Plus, it's packable and can be folded up, packed into luggage and will be good as new when you arrive at your destination.
Your Go-To Summer Purse
Last but not least, we have the perfect bag to tie your summer look together. The Drop Women's Diana Top Handle Crossbody Bag is timeless, elegant, and perfect for any occasion.
The structured design and top handle make it versatile for both day and night looks. Plus, it's a crossbody, which means you'll be hands-free all day.
Summer fashion doesn't have to be complicated. With these must-have Amazon finds, you can easily elevate your wardrobe without breaking the bank. These pieces are versatile, comfortable, and trendy, making them perfect for the busy mom who wants to look chic and put-together.
All of the products featured here will be compiled into this folder to make them easy to refer back to! So, go ahead, add them to your cart, and get ready to rock your summer style!