Sleep deprived? Night shifts? Baby keeping you up? Check out this Easy Eye Makeup for Tired Eyes tutorial now to ensure you look awake and refreshed!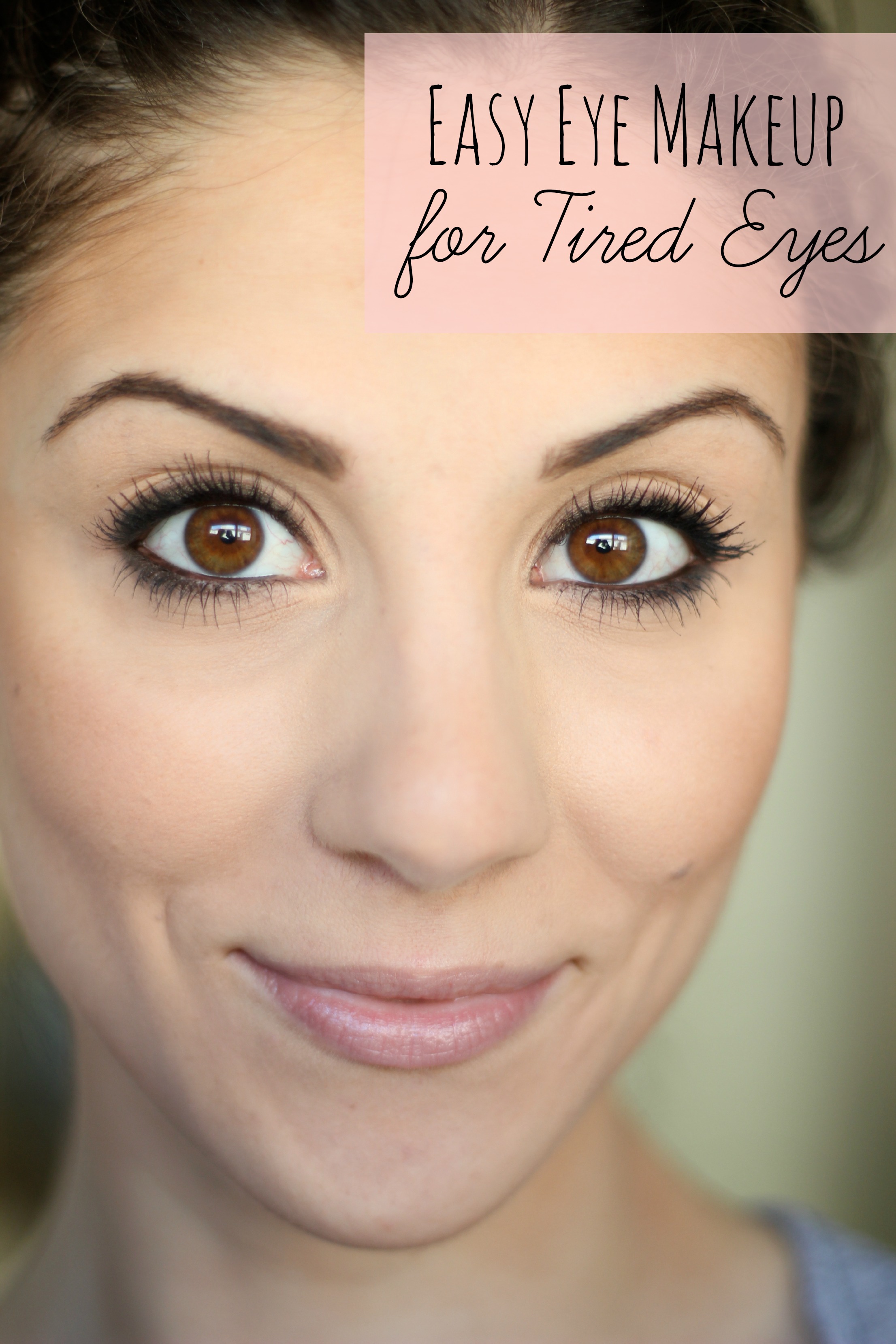 I've had multiple requests for an eye makeup tutorial on my Instagram lately! A lot of you have been telling me I look "refreshed," and while I think you're crazy (because it's a miracle I'm not falling asleep while typing this), I'm happy to share any tips I have for looking a little more bright-eyed!
I've found that a natural, clean eye looks best on me. I don't use a lot of shadows, as I find they tend to make me look tired (and hello, who needs that?). This also takes me less than 5 minutes to do, which is necessary when you have a baby trying to climb all over you as you get ready in the morning.
Easy Eye Makeup For Tired Eyes
I feel like my eye makeup routine is always changing, but here are the current products I'm using. Most are pricey while others you can find at your local drugstore:
Physicians Formula Concealer Stick in Soft Yellow
Amazing Cosmetics Amazing Concealer in Light Golden
Bobbi Brown Eye Shadow in Bone
Clinique Eyeshadow Palette in Spicy (<—this is old and they most likely don't make it anymore. I use the darkest brown in the palette, any dark shimmery brown will do)
L'Oreal Infalliable Gel Liner in Espresso
Smashbox Eye Brightening Mascara in Black
a lash curler
Too Faced Primed and Poreless(or any setting powder)
(Click the photo below, and then zoom in for a larger view)

I have REALLY dark circles. First I draw an upside down triangle with the Physicians Formula Concealer Stick and blend. I then repeat with the Amazing Cosmetics Amazing Concealer, and lightly dab over the entire area to blend.
Next I set the concealer/corrector mixture with Too Faced Primed and Poreless setting powder to prevent it from melting throughout the day.
Then I go over my entire eyelid up to the brow with Bobbi Brown Eyeshadow in Bone. It's a neutral color and looks like I have nothing on, which I prefer. My eyes are very dark, and I find that dark shadows make me look tired. No thanks!
Using the L'Oreal Infalliable Gel Liner, I lightly line the top of my eye and slightly on the bottom (not as heavy on the bottom).
Then I go over the gel liner using the darkest shade of brown in my Clinique Palette. This softens the harsh look of the gel liner. I do this on top and bottom.
Then for my favorite trick, I take my Too Faced setting powder again and swipe underneath my bottom lash line. This prevents any eyeliner from running throughout the day!
I curl my lashes,
And then I apply two coats of Smashbox Eye Brightening Mascara.
Last, I take my L'Oreal Gel Liner and use it in my top and bottom waterline. My eyes are huge, and I don't like how they look without the liner in my waterline. You might skip this step if you want your eyes to appear larger.
And you're done!
Easy, right? I'm sure my routine will switch up again in a few months, but so many of you liked it on Instagram that I'm thinking I finally got something right! 😉 Hope that helps all of you that have been asking!
To see more of my natural makeup tutorials, check out this eye brightening makeup tutorial and this natural makeup tutorial!
Amazing Cosmetics Bobbi Brown natural makeup tutorial Too Faced Cosmetics