Disclosure: This post was sponsored by Target® C9 through their partnership with POPSUGAR Select. While I was compensated to write a post about Target® C9 all opinions are my own.
It's no secret that exercise is my key to sanity, as I've spoken about that many times here on the blog. It keeps me feeling like myself, organized, clear-headed when life around me is crazy, and of course feeling healthy. I've also talked about how I'm NOT a fan of the cold Connecticut winters, and that I've had to modify my workouts around the weather. Today I'm going to share with you my favorite workout to keep me active during the winter season…CrossFit!
I was a CrossFit naysayer for quite some time. I didn't understand how it was worth spending significantly more than a gym membership when ultimately you could get the same results at a regular gym. So I stayed at my gym, where I was in denial about how highly unmotivated I was to work out. It takes all of me to leave the house when it's freezing in the winter, and having no one pushing me to actually get up and GO resulted in me opting to sit on the couch. I ended up feeling incredibly lazy, and my fitness regime fell by the wayside. Which only made it that much more difficult to get back on the bandwagon.
A friend of mine finally convinced me, after much debate ("But I'm too skinny!" "I can't lift heavy weight!" "I don't want to get bulky!!"), to just give CrossFit a try. My husband and I went through the on ramp training together, and I think that's when we both realized just how NOT in shape we were. Sure, we worked out, but it was nothing compared to CrossFit. We both quickly fell in love with the workout and I've been hooked ever since. Let me explain why.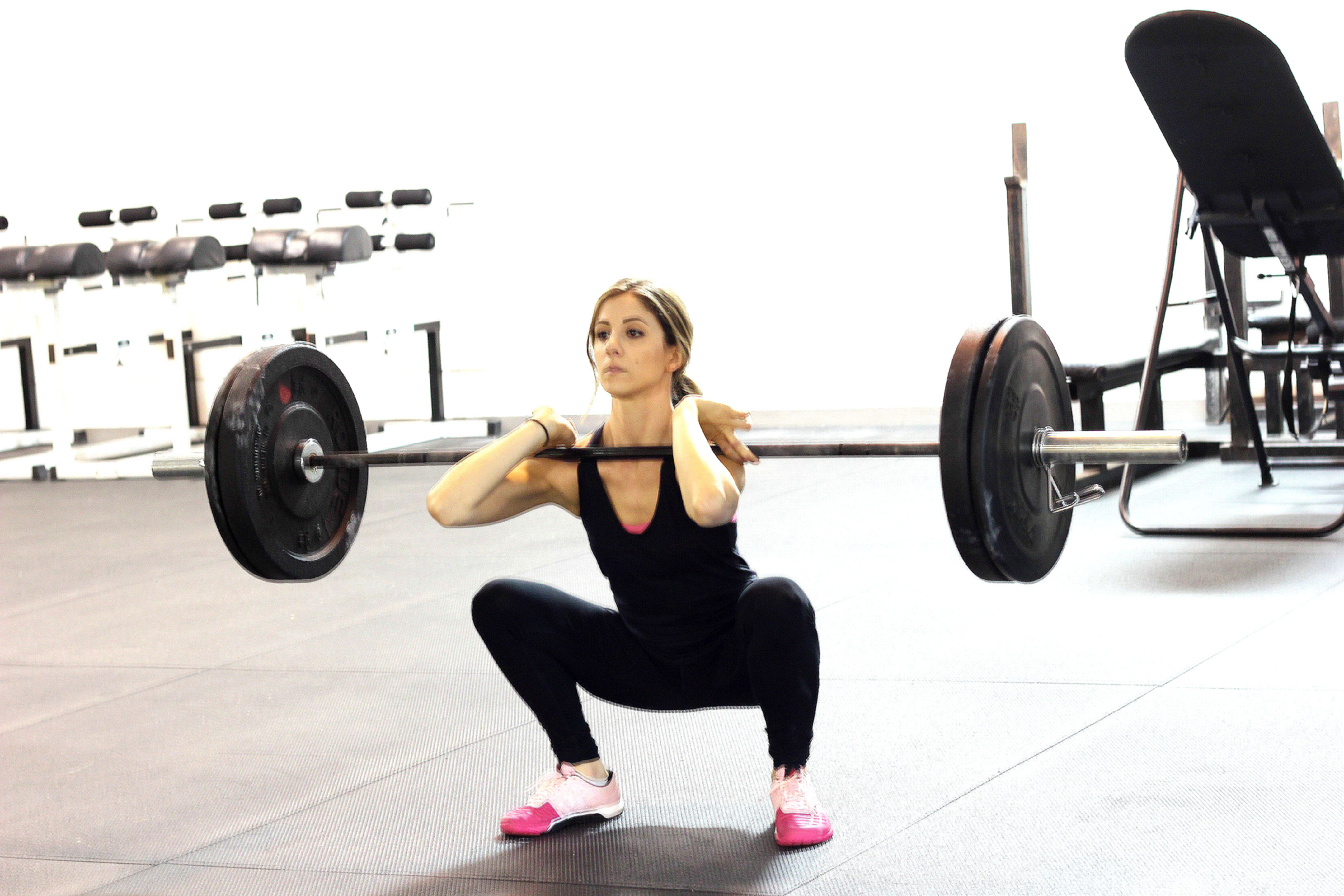 1. It's always different. I am guaranteed a different WOD (workout of the day) every day. I love that this targets different areas of the body, so I'm always switching it up! It incorporates cardio and weightlifting all in one, in just an hour.
2. It's guided. I'm not on my own trying to figure out a workout to do, which always leaves me less motivated. I love that it's a structured format, so you know exactly what you're doing each class. The trainers guide you along to make sure you're performing each movement safely, and also getting the most out of the workout.
3. It's modifiable. I was concerned about continuing CrossFit when I became pregnant, but my midwife and trainers both reassured me that I could simply modify the workouts and lighten my weight and be just fine! So that's exactly what I did. I was able to continue CrossFit up until 28 weeks of pregnancy when I was placed on bed rest (for unrelated issues). And I'm convinced it helped my labor and push my son out QUICK. There are modifications for almost every movement, and the WODs are completely adaptable to anyone's needs.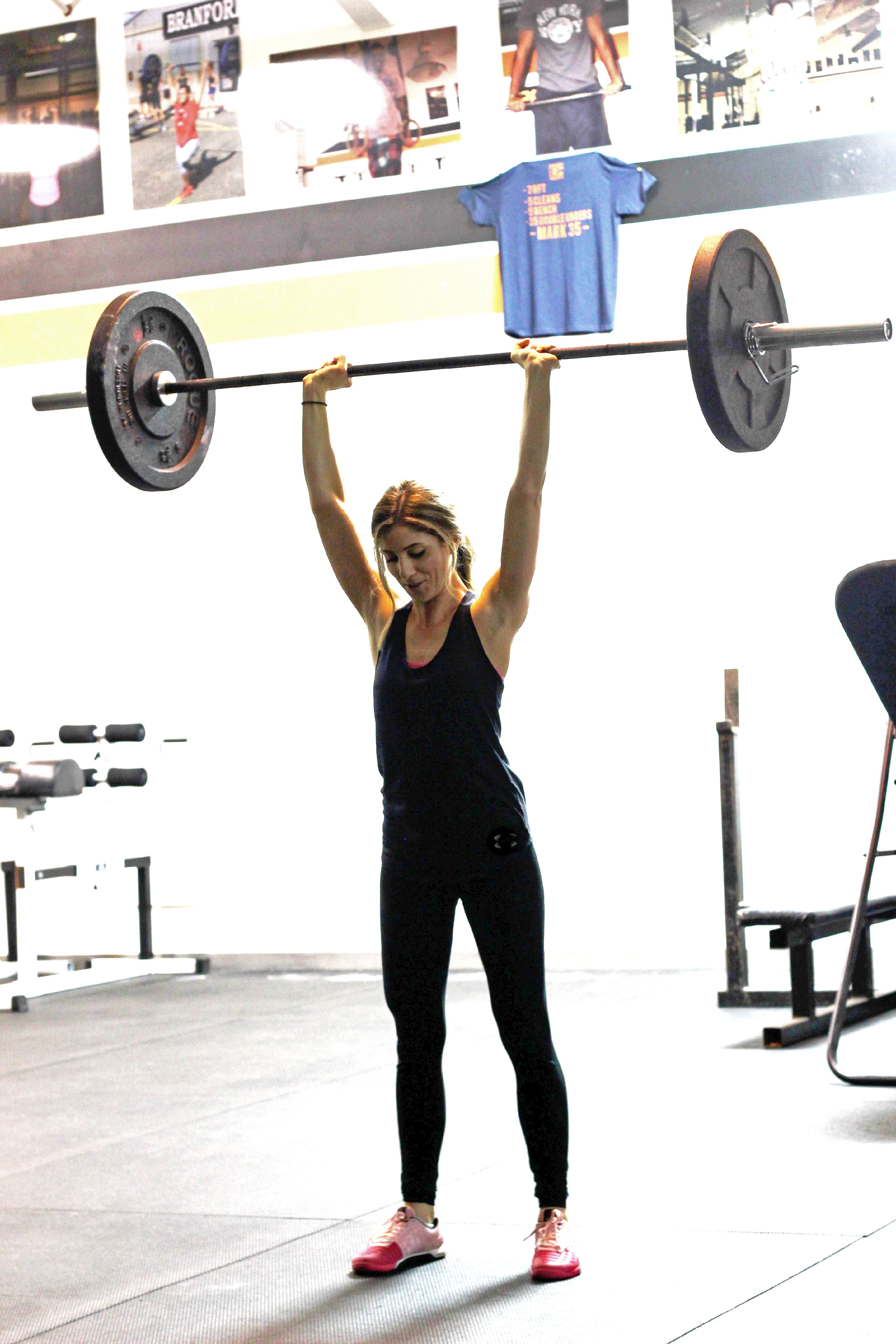 4. The camaraderie. I started attending the noon classes when I realized that was basically the only class I could fit into my schedule with work and having a toddler. I LOVE MY NOON CLASS. I will be so upset if I ever have to leave it for a different time. We have such a great group of people, and we all motivate each other to push through to the end. We all suffer through the pain together, and are so proud of each other when we complete a WOD. And the best part? The person who finishes last is the one who is cheered on most. That's what I love about it. It's not who finishes first. It's just finishing. And we want everyone to finish, and we will be by you cheering you on until you do! You can't get that a regular gym!
5. The progress. Lately we've been focusing on building strength and improving form for certain barbell movements. I've really enjoyed this because I've noticed significant progression every week. As someone built very small-framed, I never thought I would be strong enough to lift heavy weights. I also lack self-confidence in this area. But I continually prove myself wrong on a weekly basis as I watch my numbers increase (with the help of my awesome trainers who know how to give me the push I need). We also have certain WODs we perform for benchmarks, and I like tracking my progress through these as well. It amazes me to see how much I've progressed in even just a few months' time, let alone two years.
One element that adds to my motivation to exercise is having nice clothes to work out in…and appropriately layered for the winter! Feeling good about what you're wearing is an automatic confidence boost! I often hear from friends that they don't want to invest in quality clothing if they're just going to sweat in it. That's what I love about the Target® C9 line. You can get high quality, good-looking workout gear without breaking your budget. And that's just a win-win all around.
I know CrossFit isn't for everyone, and that's okay! I think it's important that we find what fitness routine works for us and keeps us motivated during the winter season. It's so important for us to live active, healthy lifestyles so we can make the most out of our time here on Earth. I encourage you to find what works for you (and treat yourself to some great workout gear by Target® C9 in the process!)!