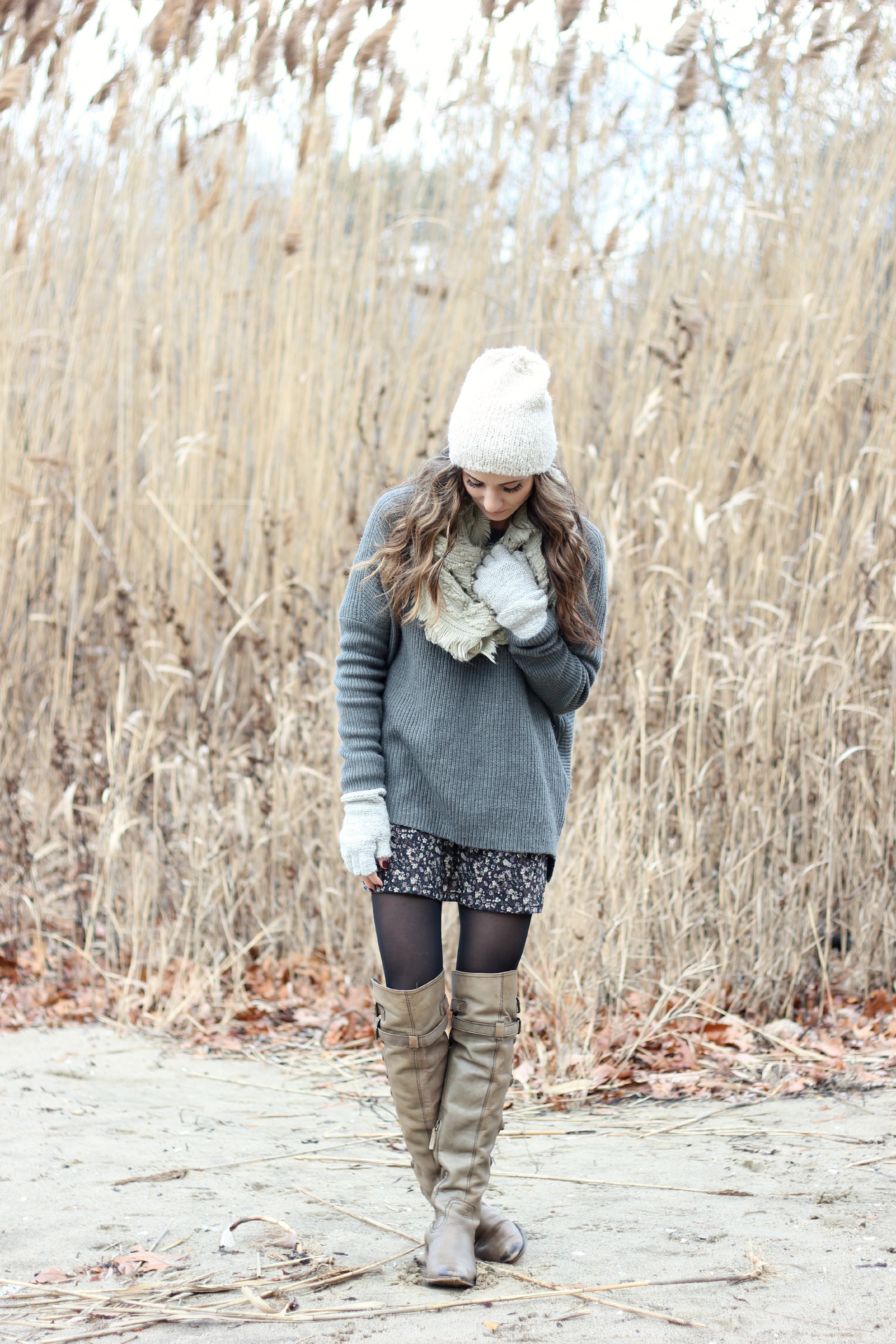 Sweater: Target
Dress: Love Threads
Scarf: Gifted
Boots: Sam Edelman Pierce
Hat: Forever 21
Gloves: Old Navy
Happy 2015!
I've decided I'm not one for resolutions because I feel they set me up for failure. I don't think I've stuck to a resolution in my 28 years of existence. I could make a list of goals, but essentially that's the same thing. And any to-do list is overwhelming for me at the current moment, so that's kind of out of the question to. I think I literally have 5 to-do lists waiting to be checked off lying somewhere around our house….
So instead of setting more goals than I already have for myself or claiming my resolution, I've decided I would just like to do ONE thing. I just want to live more in the moment. I often find myself stressing out about the future, or worrying about what's happening tomorrow, next weekend, next month, or I'm RUSHING to get through everything I think I need to. And I'm so tired of that. I'm tired of the stress I put on myself ALL THE TIME. I feel like I'm blinking and the days are slipping by me, and I can't even remember what I did yesterday. I'm going to be 29 this year, which in itself is frustrating to me. I don't FEEL 29. I feel maybe 22. I'm pretty sure I don't act 29 either. And I definitely know I don't look 29 because all of my patients think I'm 18.  But my point is I'm not sure how I got to 29 so fast. I don't like it! So I want to focus on slowing down, enjoying each day as it's own, and not stressing about the future. Can you relate?
Back to fashion, I'm really digging the oversized sweater trend lately. And I'm loooooving how they look over dresses. I love how the pattern of this one peeks out and adds something unexpected. I've said it before, but I try to see how many different ways I can style a piece from my closet. Lately I've been more intentional with my shopping and not just buying something on a whim because I think it looks cute. I'll even browse Pinterest while I'm in the dressing room to come up with multiple ideas on how to style whatever it is I'm contemplating buying. Try it sometime! 🙂 Also, are you sick of these boots yet? I can't help it, they are my FAVORITE purchase ever. This definitely won't be the last of them!
 I pray 2015 is the best year for us all yet!