Disclosure: This post is written in collaboration with Lunchbox and TRESemmé at Walmart. All thoughts, opinions, and tutorials are my own.
One of my favorite things about summer is attending summer weddings. I love that gorgeous weather is pretty much guaranteed and that beautiful dresses can be worn without the need for jackets! And I love the variety of dresses available to me…I used to wear a simply cocktail dress, but lately I've been having fun with maxi dresses as well. I feel a flowy maxi dress and a pair of rockin' heels is the perfect summer wedding attire!
However, the humidity is not always my hair's friend during these summer weddings, and I'm usually stuck with the question of how I'll wear my hair. I've tried simple up-dos before, only to have them fall out halfway through the wedding. That's why my favorite go-to wedding hair style is are easy boho waves. Boho waves are not meant to be neat looking, so it allows for my hair to be a little wavier than usual if the weather happens to be super humid. It also looks really great with a cocktail dress or an elegant maxi, without looking like you've tried too hard.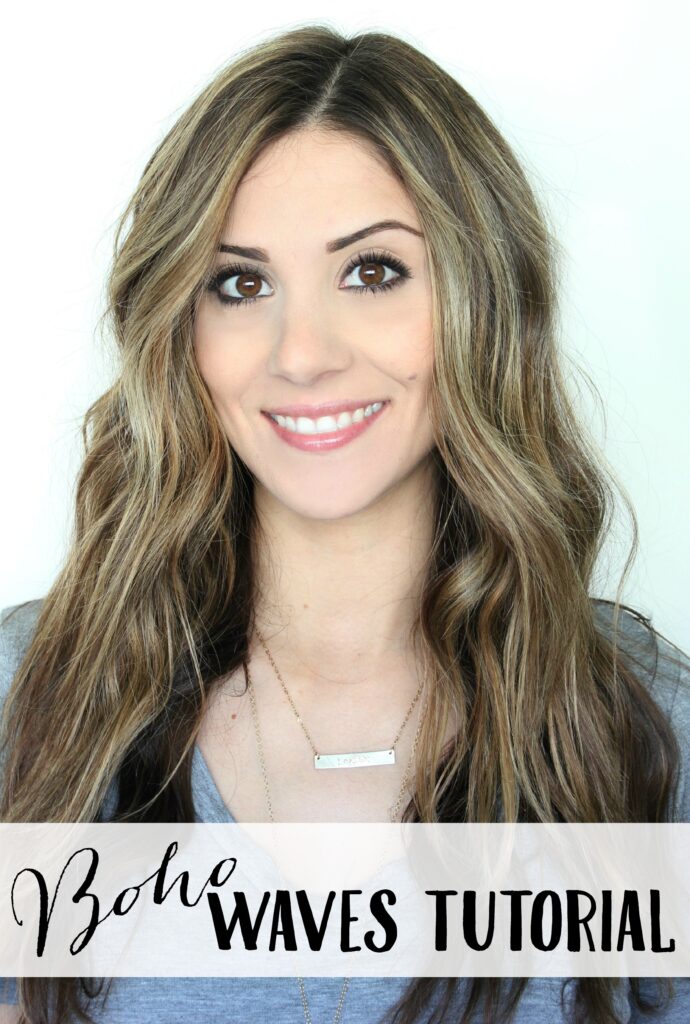 My easy boho waves tutorial is just that….super easy! It only requires a few steps that you repeat over and over until your entire head is finished.

Hair prep: Before starting, I suggest using a sea salt spray and some kind of heat protectant in your hair. TRESemmé has a great line of products that can be found at your local Walmart for CHEAP! No sense in spending crazy money when you can get a great look for less! That's why I love TRESemmé products!
(Also for the photos above, I've already curled the majority of my hair for time's sake.)
1. Grab a small portion of hair.
2. Using a curling wand, wrap the piece of hair AWAY from your face a few times around, leaving about 2 inches of hair out at the end. Hold it there for 3-4 seconds (that's all you need!)
3. Release the hair, and immediately pull the piece of hair taut. This helps to loosen the waves even more. Hold it there for an additional 3-4 seconds.
4. Release, and you'll have a slightly waved piece of hair. Repeat until no hair is left, and you're left with this!
With select TRESemmé products now available at Walmart for the low price of $3.88 (!!!!!!!!!! seriously, how can you go wrong?) you can get beautiful hair for less every day. Whether you're looking for a new hairstyle for work, or a special occasion like a wedding, TRESemmé makes it easy to achieve the look you want with a wide range of salon-quality hair products. At this great price you'll be able to try out a bunch of stylish looks this spring without breaking the bank! Which means more money for that dress or hot pair of shoes 😉 Find your local Walmart by checking their store locator here. (This is especially beneficial if you're out of town!)
And to save even more on your favorite TRESemmé products check your 5/17 Sunday paper to get an additional $2 off Wash & Care or styling products!
For more boho inspired looks, check out this boho braid tutorial and this festival inspired hair tutorial!