This is a sponsored post written by me on behalf of Stride Rite. All opinions are 100% mine.
I remember the first time I bought a pair of actual shoes for Landon, and thinking, "seriously? I just spent $50 on a pair of shoes he's gonna grow out of in a month." I mean, my jaw hit the floor when they told me the price. That's the cost for a pretty decent pair of pumps or maybe even some booties..in MY size. It didn't seem fair to pay that for a shoe so small, and naturally he no longer fits in them.
But I spent the money because I wanted him to have a quality pair of shoes for his growing feet, and ones I knew were comfortable for walking, running, playing, etc. He's a very active little boy, so proper fitting, durable shoes are important.
Since then, I've struggled to find Landon a decent pair of sneakers for less than that price. Until recently when I learned the trusted and beloved brand Stride Rite developed Surprize, an exclusive line of cute and comfy shoes available ONLY at (my favorite store) Target! I have vivid memories of my mom taking us to a local mom and pop shoe store as kids to specifically purchase us Stride Rite shoes. I remember getting so excited to have my foot measured, picking out the style I wanted, and then leaving wearing the new pair of shoes with a balloon in hand. (See, my shoe obsession started at a very young age 😉 My mom always trusted the Stride Rite brand because of their comfort, fit, and durability. And moms always know best, so I value my mom's opinion (especially about shoes as a fellow shoe lover) completely!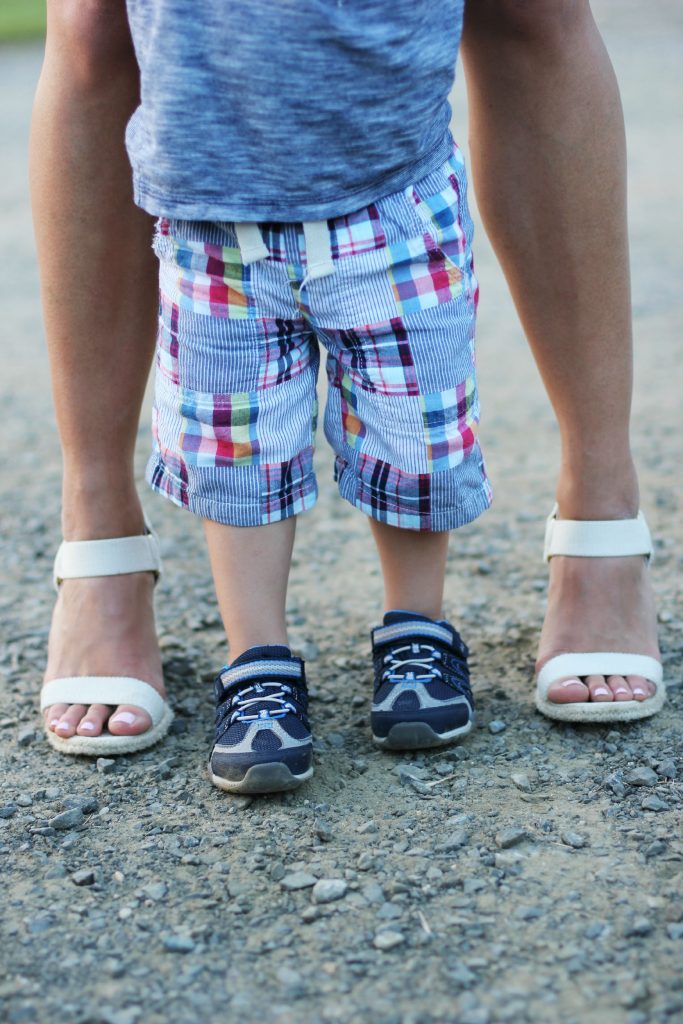 The Stride Rite Surprize line has a variety of styles for boys and girls to choose from, from sneakers to Mary Janes to boots. Landon is starting a little program for two year olds in a few weeks, so I did some official "back to school" shopping and grabbed him the Darion Sneaker in blue! Because all the cool kids have new sneakers, right? 😉 Really it was just an excuse for me to get him a pair! Sometimes he's a little wobbly on his feet with a new pair of shoes, but the second I put these on him, he took off running. Clearly he enjoys them as much as I do! I feel confident knowing his feet will be comfortable because of their memory foam footbeds. Plus they have flexible outsoles to allow for a natural step and proper growth (so important for their growing feet!). And they're built durable with their rubber toes, so I know they will hold up against the "elements" (aka, Landon running around like crazy!).
The best part is Stride Rite's Surprize line is available at ALL US Target locations AND online! And each style is less than $30! Head over to Shop Surprize by Stride Rite to see all the great styles, and check them out on all social channels for more information about the line! You can find Surprize for girls here and Surprize for boys here!
Which Surprize shoe will your little love the most?